Anthony Bennett's Transition and Return to the NBA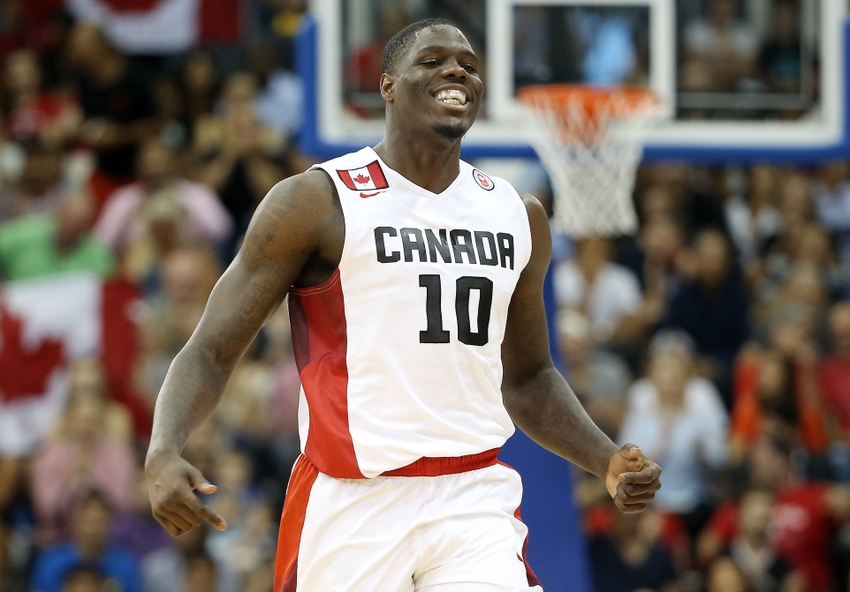 The NBA is the ultimate goal with any basketball player. Some players struggle to make the transition from college to the NBA. Each draft class has a player who does not find the same success in the NBA that they had in college. Current Net Anthony Bennett is a player who has struggled to make the transition.
During this offseason, the Brooklyn Nets signed Anthony Bennett to a two-year, $2 million contract. For the Nets, this is a low-risk, high-reward signing. Bennett has struggled with his NBA career so far and is considered by many a bust. He was drafted number one overall in the 2013 NBA draft. Since then, Bennett has yet to play like a number one pick. Comparing him to players drafted after him, he has really under produced. Names like Victor Oladipo, Nerlens Noel, C.J. McCollum, Micheal Carter-Williams, Steven Adams, Giannis Antetokounmpo, Dennis Schroder, Mason Plumlee, and Rudy Gobert were all taken after Bennett. Many of the players selected after Bennett have found much more success in the NBA.
College Ball
After looking through all these players college stats, Bennett had the best numbers. During Bennett's time at UNLV, he averaged 16.1 points and 8.1 rebounds per game while shooting 53 percent from the field and 38 percent from three-point land. He achieved this over the course of 35 games, playing 27 minutes per game. Clearly, having good numbers in college does not translate to success in the NBA. For Bennett, it may have been the fact that he played in a weak conference in college. Playing in a weak conference allowed him to dominate, but did not prepare him for the NBA level.
NBA Career
Bennett was very underwhelming with the Cavaliers in 2013-14. Due to many health issues, Bennett's game suffered tremendously. Going into Bennett's second season, he had surgery to help with his sleep apnea and asthma. He also had laser eye surgery to help with his horrendous vision. To top it all off, he lost 20 pounds. As a result, Bennett's performance in his second season was better than his rookie year. Despite that, Bennett still was not producing at a level of a number one pick.
Last season, Bennett still could not find his footing. He was signed by the Toronto Raptors, but after only 19 games, Bennett was waived. Since then Bennett, has been on the open market until this summer. This offseason, he signed with the Nets in hopes of a fresh start in Brooklyn.
Why Bennett has Struggled
Summed up before sounds like competition for biggest draft bust in NBA history. Luckily for Bennett, there are a lot more players that can take that title (I'm looking at you, Kwame Brown). But what has gone wrong for Bennett? He should at least be a productive role player. Well, as mentioned earlier, Bennett's health derailed his rookie season. During his second season, there were flashes of Bennett improving. Unfortunately, he did not receive much playing time. He averaged about 15 minutes per game. And in Toronto, he averaged only 4 minutes per game.
It may be that Bennett is not getting the playing time to grow and develop. Looking at Bennett's per 36 minutes stats, he averaged 12 points, 8.7 rebounds, and 0.6 blocks per game in Minnesota. If he were to play 27 minutes per game like he did in college, could he produce numbers close to what he did at UNLV?
The reality is he would not average 16 points and eight rebounds per game. The level of talent in the NBA would not allow him to reach those averages in 27 minutes. However, if Bennett was given 27 minutes a night, he could probably average eight points and 6.5 rebounds per game.
What hurt Bennett was that he was never really prepared for the NBA level. And to this point, he has not been given the playing time against more elite players. What would benefit Bennett the most is more playing time. He has the tools to be a productive NBA player. That can not happen though, unless he gains experience at the highest level of competition. Even sending Bennett to the D-League and increasing his minutes there would help him.
Fit with the Nets
Bennett fits perfectly with the Nets. He is a low-risk, high-reward player. The Nets are in the middle of a rebuild and will give every player a fair shot at proving themselves. The organization is also looking for a fresh start, much like Bennett.
Bennett is in the best place he can be right now because the Nets need to take a chance on players. And for Bennett, this is the second chance he was in need of.
This article originally appeared on