Andre Roberson Quarter Season Review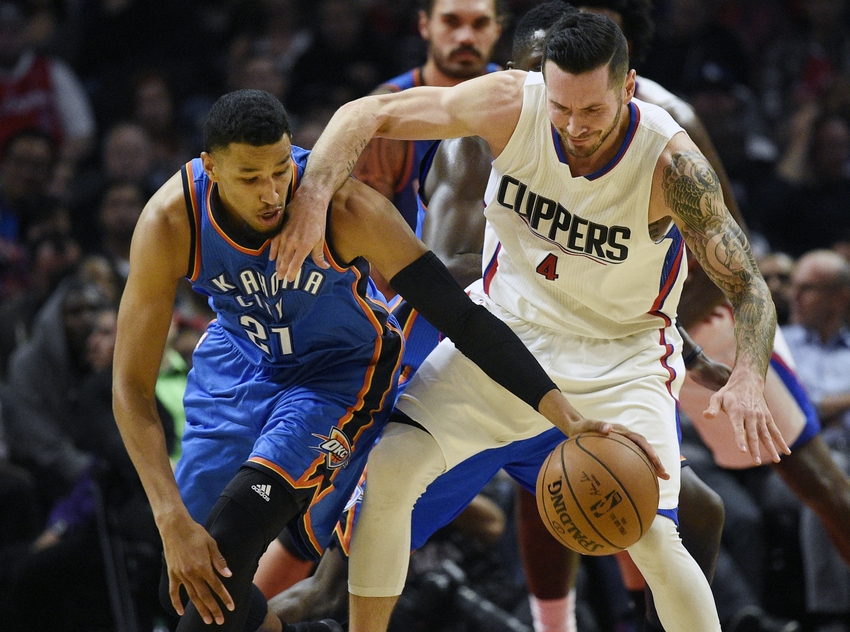 Andre Roberson moved positions and took on a bigger role for the Thunder this season. His defense has been key to the Thunder through the first 22 games.
Andre Roberson has become a player that you know what to expect on a night-in and night-out basis. He is going to guard the opposing teams' best perimeter player every night and try to stay out of the way on offense, but contribute where he can whether it be through offensive rebounds or the occasional timely back-cut.
Roberson will be a restricted free agent at the end of the season after not being able to come to terms on a contract extension with the Thunder that was rumored to be in the 4 year $40 million range. With Kevin Durant's departure, Roberson has had a chance to expand his game and showcase himself to league in an attempt to get a healthy portion of the new TV money in the league.
How has his contract season fared so far?
Offense
At the beginning of the season, the Thunder wanted Roberson to expand his offensive role on the team. They wanted him to try and push the ball in transition off defensive rebounds, be a more willing dribble driver and a more willing shooter when left open as he often is.
We saw him more willing to drive and push the ball in transition in preseason with some success. That success has not really carried over into the regular season for a variety of reasons.
The best option for the Thunder in transition is always get the ball in Russell Westbrook's hands. Since Roberson generally shares the floor with Westbrook, 598 minutes out of 642 minutes played this season, a handoff or outlet pass to Westbrook prevents Roberson from trying to push the ball up the floor more.
Roberson's dribble drive efforts are normally thwarted due to the fact that his defender is normally 10 feet off of him helping clog the paint.
Andre has however increased his willingness to shoot open three pointers. He has increased his 3PA per 100 possessions from 3.3 attempts to 4.2 attempts.  Not only did he increase the volume of attempts, but he also increased his efficiency, making 32.7% on the season, up from 31.1% last season. These are not large increases, but coupled together they are positive.
There are still times where he hesitates to launch a wide open 3 and the entire offense comes to a halt. There are still times where he goes ahead and puts the shot up, but misses everything by a wide margin.
His free throw shooting is beyond horrendous. He is now 6 of 26 on the season (23%). It is possible we see some teams try to hack him before the season is over.
Roberson has also seen a small uptick in assists (0.2) and a small down tick in turnovers (-0.2) per 100 possessions compared with last season.
It is difficult to tell if any of these improvements will stick. He looks like the same player on offense, but we still have a lot of season left to find out.
Defense
There are not enough superlatives to describe Roberson's defense. He is smart, aggressive, disciplined and versatile on the defensive end. He can guard ball dominate wings like Carmelo Anthony and James Harden or he can chase around guards off the ball like J.J. Redick and Klay Thompson.
Roberson uses his defense to disrupt offenses in a variety of ways. He denies and deflects passes with his long arms, moves his feet and stays in front of his man, and does it all without fouling.
In a recent game against the New York Knicks he made everything difficult on Carmelo Anthony. Anthony finished the game going 4-19 from the field and harassed by Roberson all night. Just watch how after giving up deep post position Roberson holds his ground and gets his hands up to block the shot with his off hand.
Andre has been a menace in transition, blocking several shots from a trailing position this year like this one on Andrew Wiggins.
In addition, Roberson also can made some timely defensive plays. Most notably this block on Devin Booker in Overtime against Phoenix.
Roberson's defense has been invaluable all season. Every night he steps up and guards the opposing teams best player and it has been a major key to the Thunder's success this season.
More from Thunderous Intentions
As valuable as Roberson's defense has been this season, his fit with the team now is questionable. His offense was easy to hide with both Westbrook and [REDACTED]. The problem for the Thunder is his defense is so good it will be difficult to find someone whose is a reasonable facsimile.
Sam Presti has a long history of making sure not to let players get to restricted free agency (RFA). However, the Thunder are in a transition year and they have invested a lot in Roberson and all indications point toward him wanting to play in OKC. It will be interesting to see what the next 60 games has in store for Roberson as he inches closer to making an All-Defense Team.
This article originally appeared on