Analyzing the success of the Ersan Ilyasova-Jerami Grant trade
Chris Hughes/FanSided via Thunderous Intentions

Fansided
There's no denying Sam Presti caught a lot of the Oklahoma City Thunder fan-base off guard with the acquisition of Jerami Grant from the Philadelphia 76ers at the start of November – but how successful has the trade been?
With Steven Adams and Victor Oladipo having been tied down to new, long-term contracts, most fans of the OKC Thunder thought their team's business was done. But then, from nowhere, the franchise traded away Ersan Ilyasova and a protected first-round draft pick for small forward Jerami Grant.
The 29-year-old Ilyasova had been involved in all of the Thunder's three games to start the season, making his departure all-the-more surprising.
Grant meanwhile has made four starts from 46 appearances since joining the already-young roster, averaging around 21.5 minutes per game.
The experienced Ilyasova has been in and out of the 76ers' starting-five on the other hand, appearing on 44 occasions, with 31 of those being starts.
But how successful can the trade be considered three months after it went through?
RELATED: Grant, Christon's contracts officially guaranteed
With Grant onside, the Oklahoma City Thunder boast one of the youngest rosters in the league, with an average age of approximately 25 years old.
What's more, besides Russell Westbrook, none of the side's starters are over 25, with Steven Adams being just 23 and Domantas Sabonis being the tender age of 20.
Grant, who himself is just 22, only added more youth to an inexperienced roster that lost Kevin Durant (27), Serge Ibaka (27) and even Dion Waiters (25) over the course of the offseason.
What's more, Grant himself lacks any playoff experience in comparison to Ilyasova, with the former having played for a Philadelphia side who won just 28 games across the course of the 2014-15 and 2015-16 seasons collectively.
RELATED: Where scribes rank the OKC Thunder – week 14
Grant is averaging just 5.9 points per game off of over 21 minutes of play. This means that besides Enes Kanter, the small forward is averaging the most minutes of any substitute. However, the man is boasting a player efficiency rating of just 9.7, which is below that of Kanter, Joffrey Lauvergne and Alex Abrines.
Furthermore, Grant's record as a starter does not bode well. In the four games in which he has been in the starting five, the Thunder have lost. Against the Utah Jazz and Portland Trail Blazers in December the OKC side lost by 20 and 19 points respectively. Last month he started against admittedly harder teams in the Los Angeles Clippers and Golden State Warriors, but the Thunder still lost by over 20 points in each game.
But wait…there's dunks
Whilst Grant's stats may not flatter him, there's no denying he's an athletic, versatile player with potential to grow.
The 22-year-old is arguably the teams best dunker next to Westbrook, with his effort against the Chicago Bulls just one of many this season.
But the athleticism goes further than an eye-drawing dunk. Grant's physicality matches Billy Donovan's style a lot more than Ilyasova's did, and it makes him a lot more versatile.
In the absence of Steven Adams and Oladipo on separate occasions this season, Grant has shown the ability to fill in a pseudo-big man, thanks to his near six-foot-nine frame.
What's more, Grant being 7 years younger than the traded-away Ilyasova also has it's benefits. There's no denial that in the era of the Golden State Warriors, Oklahoma City aren't going to be topping any conferences soon.
But with their young core tied down, the arrival of Grant makes much more sense looking forward, especially with Andre Roberson's contract situation.
The versatile and defensively stellar 25-year-old failed to agree to a new contract at the same time that Adams and Vic did, meaning he could enter free agency, or even be traded away. With that in mind, and the depth of the Thunder's front-court even without Ilyasova, it makes more sense to have brought Grant in when they did.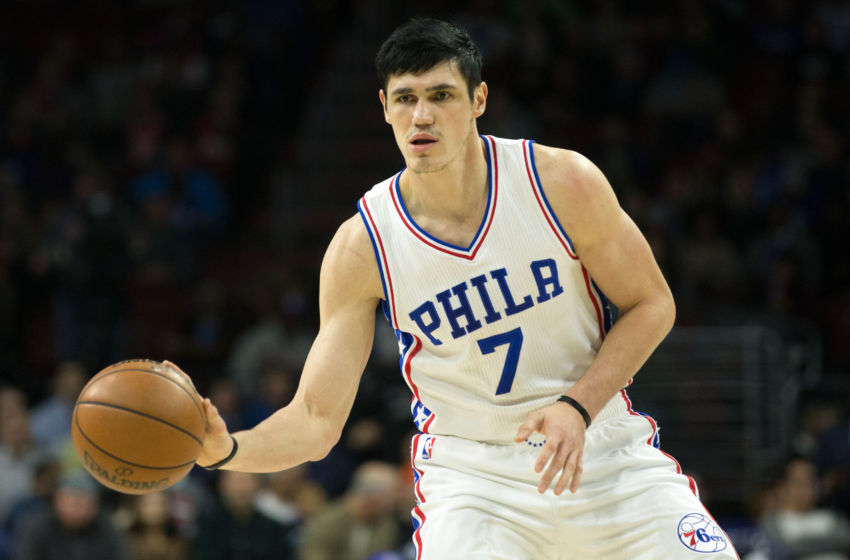 Meanwhile, since being traded to the Philadelpha 76ers, Ersan Ilyasova has steadily enjoyed career-high points returns, having averaged 14.7 points per game. That's almost three times the returns of Grant.
And whilst the power forward may of played more minutes, he's only actually averaging six minutes more per game than Jerami.
In fact, Ilyasova only had one game with less than double-figures over the entire month of January, whilst Grant managed just one, when he scored 10 against the Memphis Grizzlies.
The power forward meanwhile has enjoyed returns of 21, 24 and even 31 since the turn of the calendar year, returns that could've proved vital to the Thunder in times where they've struggled, such as now with Enes Kanter injured.
RELATED: Enes Kanter injuries exposes the OKC Thunder's offense
What's more, Ilyasova's experience could've proved vital with the Thunder's fourth-quarter struggles. The power forward has played nearly 600 regular-season games over the course of his career. Grant boasts just 190 games to his name.
The 29-year-old has also played in more playoff games than Victor Oladipo, Grant, and Sabonis combined.
More from Thunderous Intentions
However, he has never made it past the first round, bowing out at the first attempt with the Milwaukee Bucks in 2010, 2013 and 2015.
What's more, the Philadelphia 76ers are still 13th in the Eastern Conference despite their recent form, and Ersan is bound to get the ball more. In his three games for OKC, he shot just 37 percent from the field and averaged just five points per game off the bench.
Overall, it seems like at this point, its difficult to deem it a complete success. However, with Ilyasova turning 30 this year the deal is seemingly one that will benefit the Thunder much more in the coming years. What's more, Roberson's contract situation was potentially the deciding factor in the trade, with the very realistic possibility that the guard-turned-forward could be traded away before season's end.
Enjoy this? Then check out Chris Hughes' Thunderous Intentions profile here. Alternatively you can follow him on Twitter here to catch when his latest articles drop.
Note: all stats provided feature totals up to end of day January 31, 2017.
This article originally appeared on