Analyzing the potential trade packages for Enes Kanter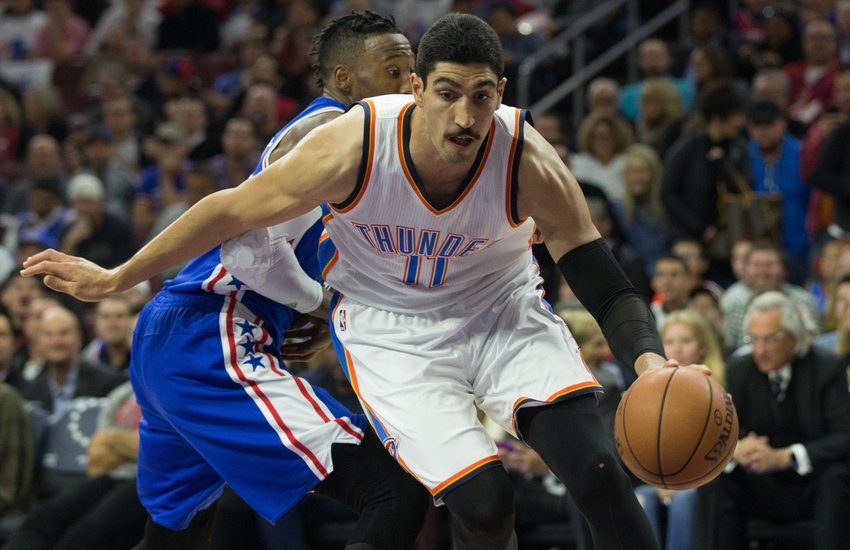 It seems like the nail is firmly in the coffin of Enes Kanter's time in Oklahoma. The big man has struggled to adapt to Billy Donovan's style of basketball, and as he boasts a large contract, is likely to be traded sooner rather than later.
Whilst nothing is certain yet, it does like seem like time may be up for Enes Kanter. The center-turned-power forward simply isn't worth his $18 million dollar salary seeing as he averages just 18.6 minutes per game.
But that doesn't make Enes a bad player. In fact, the Swiss-born-Turk is one of the best scorers in OKC's roster. His shooting returns off limited play and steady shot conversion could make him a valuable asset to another team in the NBA. This means there's a variety of options OKC could explore for the 24-year-old.
Begin the slideshow to look through three potential packages OKC could do involving one of their 'stache bros'.
Vital leverage in a big deal
When you look at the Oklahoma City Thunder and their roster, there isn't a whole lot of talent that they'd want to offer on the trading block.
Players like Victor Oladipo and Steven Adams are vital to the side going forward. People like Alex Abrines and Joffrey Lauvergne simply don't hold a whole lot of weight.
If the Thunder don't land Rudy Gay or Blake Griffin, they'll more than likely look for a blockbuster trade. A Paul George, of sorts.
In a hypothetical trade with the Indiana Pacers, Kanter is the best piece of leverage the Thunder have. With Enes on the block, they'd have to likely offer someone like Roberson, and some draft picks in the future. Without Kanter, OKC would have to give up two starters to land PG13.
A like-for-like
Whilst it's probably the least likely option Sam Presti will explore with Enes Kanter, a like-for-like option is another that could always be explored.
Fans of the Thunder would probably bite the hand off Bryan Colangelo if the option to trade Joel Embiid became available in a straight-up swap, but it's very unlikely.
But for another big man, the idea is there. Swapping Enes for another scoring power forward is a good option for freeing up cap space too. Another option could be Julius Randle, who has averaged 13.3 points and 8.1 rebounds per game this season. Not only this, but the young Los Angeles Laker is earning 15 million less than Kanter.
Another option could be a player part of the Thunder's next opposition: Willy Cauley-Stein of the Sacramento Kings.
Whilst not the best in points returns, WCS has a lot of potential and is being underused at a troubled franchise, meaning OKC could even get something else out of the deal, like the draft picks they so often trade away.
What perhaps might be a smarter move would be getting someone with experience though. When you look at OKC's power forward's and centers, you see a young and hungry group of players, but without Serge Ibaka, you fail to have a composed, experienced head.
For rotation players
Should OKC go for Rudy or Blake, which is seemingly the most likely pursuits, then this seems the most obvious option in the trade for Kanter.
Last week it was reported that the 24-year-old could be traded with the Toronto Raptors for Terrence Ross and Patrick Patterson. Whilst this deal might not set the league alight, it actually gets you thinking.
Following the recent injuries to Semaj Christon and Cameron Payne, OKC were left thin on the point, and needed Victor Oladipo to step in and run the line when Russ was on the bench.
If OKC could acquire a solid two-way guard to help cover this weakness as part of the Kanter trade, whilst also bringing in a solid big man to replace him like-for-like, then OKC could be serious winners of the trade.
Unless they went for some serious firepower, they would also once again save on cap space, which would in turn help them with future deals.
More from Thunderous Intentions
This article originally appeared on