Americans Should Support Iman Shumpert's Decision To Kneel During The National Anthem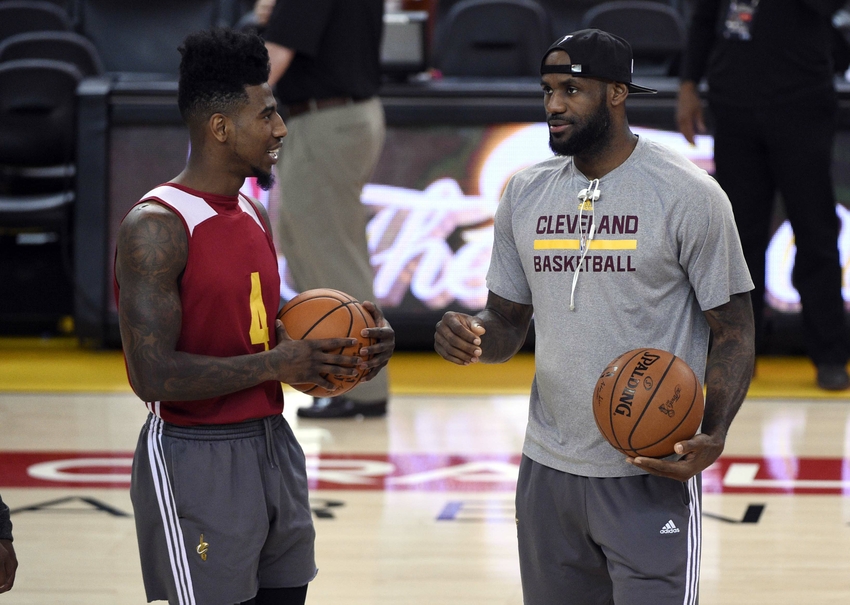 Iman Shumpert has made the decision to kneel during the National Anthem, if given the chance. Here's why American citizens should support his decision.
Americans should support Iman Shumpert's decision to protest the National Anthem. In today's world, there are issues that can't be swept under the rug any longer. If America wants to resolve it's issues, it's citizen's need to refine the definition of what it means to be American and act accordingly.
After Cleveland Cavaliers shooting guard Iman Shumpert released a song called "His Story", it was bound to draw the attention of music lovers and sports fans alike for a myriad of reasons. Shumpert drew headlines this summer after helping lock down Stephen Curry for large portions  of minutes in the NBA Finals.
First, he made headlines with a risque cameo alongside his wife in Kanye West's "Fade" video. Then he made headlines with an arrest for DUI and marijuana possession. Then Shumpert was accused of cheating on his bride-to-be, Teyana Taylor, after using private messages to contact another woman.
Despite the negative publicity, Shumpert is a down-to-earth guy who, despite his constant changes in hair styles, is consistent in the image he wants to convey. Shumpert deems himself to be a "spiritual gangster".
In that phrase, he doesn't mean he's a thug that commits crimes but repents afterwards. He means that he's a spiritual man cut from a tough cloth. A person who, despite the material wealth they've accumulated over the course of a career as a professional athlete, is still a reachable human being who is cognizant of what the average person is going through. The person who doesn't have fame, fortune and the privilege that comes along with it.
Recognizing the issues in today's society is to acknowledge that the principles that America is supposed to represent in theory aren't being reflected in reality. In America, people expect to experience hope, love and justice. Instead, over the past few years there haven't just been mass shootings that raise questions about gun regulation. There has been, unfortunately, a return to the societal issues of the past.
Unarmed individuals, and mostly people of color, have been murdered in cold blood by the people who swore an oath to protect them and be servants to their cause.
To make matters worse, there have been instances of retaliation in which law enforcement officials have been murdered, unprovoked, in cold blood. In fighting fire with fire, the American value system has been compromised.
With saying that I was letting people know I'm not ok with it and that I respect Colin's stance for sure. Now that it's out there I know I will have to consult with my organization before any action is taken. The freedom of speech just opens people up to my mind which is why it's on wax before hardwood.
In his song, "His Story", Shumpert makes it clear that he still connects to the oppressed and downtrodden people in America's society. As he says "ya best believe/I'ma take me a knee for the anthem", his message is clear. He doesn't stand for what he believes the country currently represents. Like Colin Kaepernick for the San Francisco 49ers, Shumpert plans to take a knee during the national anthem to voice his displeasure with the current state of American society.
In the annotation to the song on the website Genius, Shumpert says that he will indeed sit during the National Anthem if given the permission by the Cleveland Cavaliers organization and the NBA, who requires players to stand for the National Anthem.
The Cleveland Cavaliers aren't likely to disallow Shumpert's right to express his freedom of speech. Their superstar small forward LeBron James, after all, has been a booming voice expressing his displeasure with the violent and oppressive culture America is starting to adopt.
However, Shumpert should be careful in expressing the message he wants to convey. There are certainly men and women who have fought in wars with other countries in order for America to have the very same rights Shumpert wants to express. Yet, the current conflict America faces is internal, domestic and divisive. The issue is Americans versus Americans.
As a result, though all Americans are represented by the same flag, to say that the flag represents different ideals to different groups is accurate because in reality there is no standard treatment of Americans by people in positions of power.
Perhaps, the people who have the power to be the oppressor's should see every American citizen as American rather than categorize them by the color of their skin. Perhaps, terms such as African-American, Mexican-American, Native American and Caucasian-American are terms that, after having been built into the psyche of American citizens, are naturally divisive terms that separate the country.
Perhaps, being an American does represent a people from a well-developed country that provides people with opportunities they don't have in other places, but doesn't represent a tight-knit group who helps each other succeed in any way possible.
As Shumpert kneels during the National Anthem, if allowed, these are questions the American people should ponder. Shumpert's decision not to stand for a flag that not only represents the American people's sense of togetherness, but also a deep-seeded divisiveness is justifiable. Shumpert's potential protest will be another instance that illuminates a disturbing reality in America. All Americans are equal, but there are people in positions of power who don't act according to that principle.
What are your thoughts on players kneeling for the National Anthem? Let us know in the comments section or on Twitter @KJG_NBA.
This article originally appeared on