Allen Iverson's Hall of Fame speech was emotional, real and 100 percent A.I.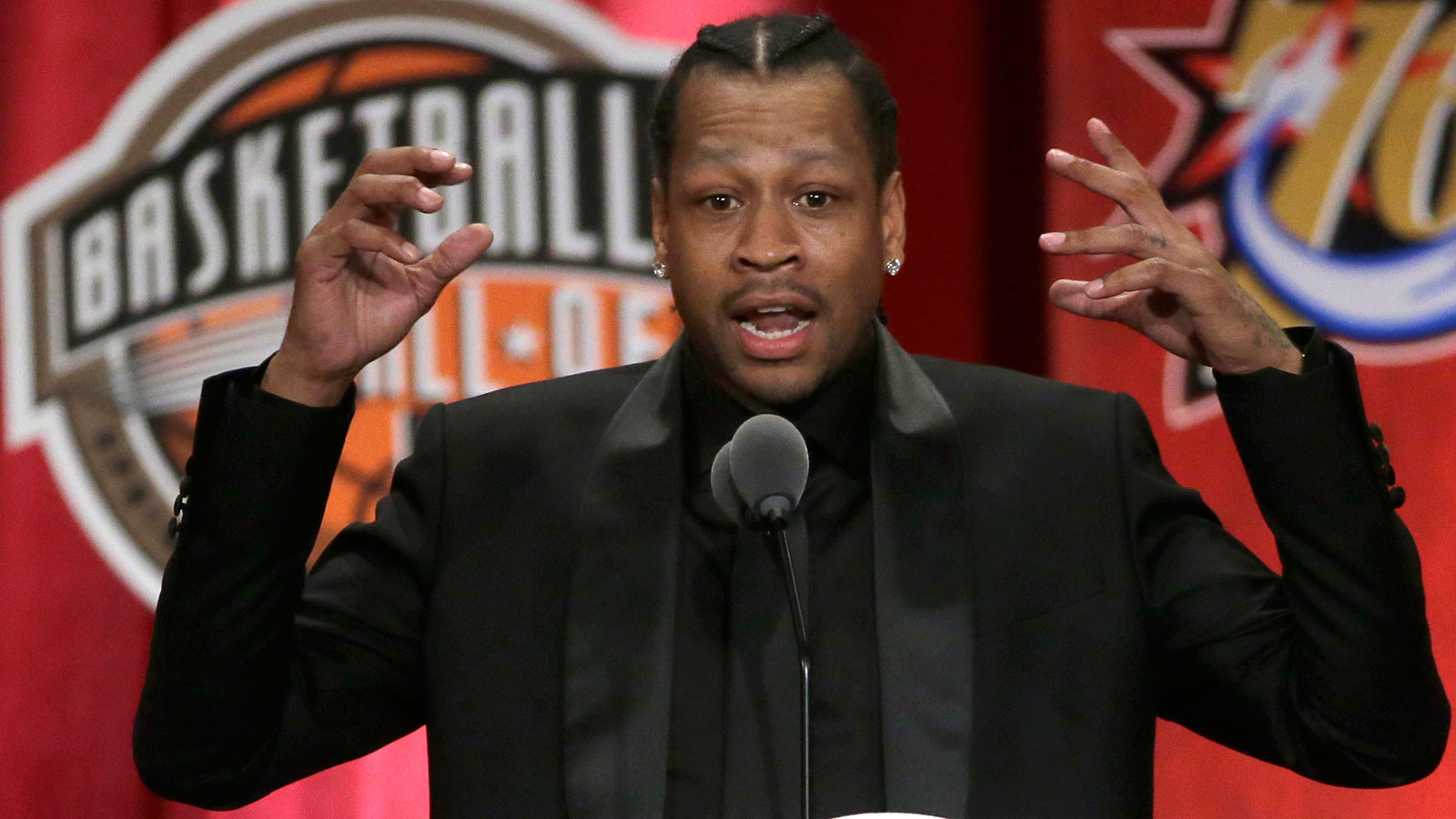 Allen Iverson's Hall of Fame speech: Woooo! Where to start?
If the sight of A.I. in a suit(!) startled you into thinking you might hear some new version of him at the podium Friday night, never fear. His speech was 100 percent A.I. —€" honest, real and emotional from start to finish.
You needed a box or two of tissues just to get through the first 15 minutes, as a choked up A.I. thanked former Georgetown coach John Thompson "for saving my life," recalled his unlikely rise to fame and thanked all the people who got him there, as well as all the great players.
"I remember coming home from school one day…" https://t.co/vkMj9TMhLq

— NBA TV (@NBATV) September 10, 2016
And even the not-so-great players. Like, every teammate he had on the Philadelphia 76ers. Doug Overton!
He thanked Biggie, 2pac, Redman, Jadakiss, Fabolous and Michael Jackson for being the "theme music" to his career!
He shouted out someone named Stanky Wanky!
We were witnessing the realest, most unfiltered Hall of Fame speech ever spoken. And it was far from done, son.
I hope AI go another 30 mins dropping these names… The world is out of touch with real nowadays!!! Keep going bro!!!! I love it!!!!

— Draymond Green (@Money23Green) September 10, 2016
AI's thank you list should be in the Hall of Fame…

— Cassidy Hubbarth (@CassidyHubbarth) September 10, 2016
CDs of AI's speech gonna be available on Canal and 125th tomorrow, on Datpiff later.

— RUSS BENGT$ON (@russbengtson) September 10, 2016
He told of how a walk-on at Georgetown taught him the crossover.
He spoke of facing Michael Jordan for the first time, and how the Chicago Bulls legend "was glowing." (And referenced Rick James and "Chappelle Show" in the process —€" the REALEST!)
He told of talking trash to Tyronn Lue after they met in the 2001 NBA Finals and Lue signed a big free-agent contract with Washington in the offseason.
'Only reason you got that little $5 million a year is from running around after me.' And the man looked at me and said what I would have said: 'Thank you!'
Shaq 👊

Kobe 👊

Tyronn Lue 👊#16hoopclass https://t.co/ATdq7W4fnI

— NBA TV (@NBATV) September 10, 2016
He thanked the Philly fans (who serenaded him with chants of "M-V-P!"), Pat Croce and Larry Brown. His whole family, doing funny voices for his kids. He told his former wife Tawanna, the mother of his five children, "You are a Hall of Famer."
.@alleniverson thanks the fans and city of Philadelphia. #16HoopClass https://t.co/Beq4rYWIKM

— NBA TV (@NBATV) September 10, 2016
And he ended it by thanking all the fake friends for showing him "the signs" so he can spot them if he makes more friends in the future.
Allen. Iverson. A one and only, and now a Hall of Famer.
🎤 drop…

A.I. out. #16hoopclass https://t.co/iUGaygczgf

— NBA TV (@NBATV) September 10, 2016