Alex Len Contract Extension: Trick or Treat?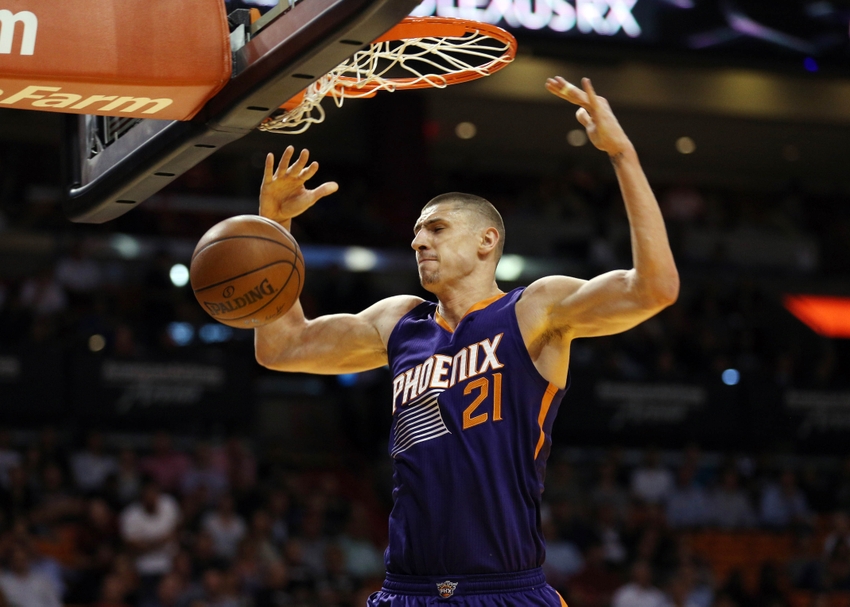 Halloween is a holiday where participating children shout "Trick-or-Treat!" At that point adults either offer children a piece of candy, or play some sort of Halloween prank on them – like give out floss.
That phrase – and the corresponding holiday – has double meaning for Alex Len.
When a team drafts a player in the lottery, essentially the team is shouting "Trick-or-Treat!" Either that player will live up to lofty expectations and give the franchise a treat of talent, or, they will play a trick, and an un-panned out lottery pick becomes nothing more than the remnants of a once lofty dream.
General Manager Ryan McDonough drafted Maryland center Alex Len 5th overall in 2013, passing over Kentucky star center Nerlens Noel because of the impending knowledge that he would miss his entire rookie season due to recovery from knee surgery.
Many fans grumbled that regardless of the injury Noel was more of a sure thing. They argued that his athleticism and skill-set was more exciting and that he could play both the four and the five, placing himself in the Amar'e Stoudemire positional mold.
Other fans were optimistic. Len, at 7'1″, 260 pounds, 19 years old, 7'3″ wing-span, and a background in gymnastics, had a huge potential ceiling, one that allowed for projections as a high scorer with a mid-range game and quick post moves that would be near impossible for smaller centers to defend.
Yet, beginning his fourth season with the Suns, Len's game has proven to be far from exciting, and far less consistent than even the doubters could have expected.
Never able to take hold of the regular starting job, and unable to average double digits in scoring or rebounds, Alex Len has become the ultimate basketball enigma: Even at 24 years old, has he shown all that he can/will be in the NBA, or, given more time, will his game finally catch up with his body and he'll become the dominant center his size and skills projected him to be?
Generally a team can afford to continue to hold the flyer on a center of his size and when a rookie contract expires, offer an affordable short-term extension to see which result comes of it.
But this is no average era in the NBA. In fact, as you may well know, it is the most overpriced era in North American sports history.
This past offseason the salary cap skyrocketed due to new NBA television deals. With that added cap space and money to spend, teams signed players who otherwise would have received far less. And centers – forever the hottest of hot commodities – were far from exempt.
I present to you, a few centers who signed free agent contract this past offseason. These are just five mediocre centers that signed contracts at previously exorbitant rates for players putting up similar statistics:
Cole Aldrich – Career averages of 3.6/3.7/0.6 – 3-yr/$22M deal – average per season: $7.3
Festus Ezeli – Career averages of 4.2/4.3/0.4 – 2-yr/$15M deal – average per season: $7.5
Timofey Mozgov – Career averages of 6.9/5.1/0.5 – 4-yr/$64M deal – average per season: $16
Miless Plumlee – Career averages of 5.5/5.2/0.4 – 4-yr/$50M deal – average per season: $12.5
Tyler Zeller – Career Averages of 7.6/4.7/1.0 – 2-yr/$16M deal – average per season: $8.
Now compare the basic stat line of Len to the above five:
Alex Len: Career Averages of 6.5/6.0/0.7
Notice that those numbers are nearly identical to Mozgov's who receives an average of $16M a season with the Los Angeles Lakers?
Now take this into consideration: the salary cap will take another significant leap this offseason, meaning that a contract signed by Len with statistics comparable to Mozgov's will probably be even higher.
Would signing Len to a similar extension be a trick, or a treat?
Here then enlies the Halloween-themed rub: Yesterday, on All Hallows' Eve, the Phoenix Suns had one last day to reach a contract extension with Len, or allow him to become a Restricted Free Agent in the 2017 offseason.
No deal was struck, and when the clock struck midnight and the year rolled into November, the fates of both Len and the Suns were set: This may very well be Alex Len's last season in a Suns uniform.
Unless he suddenly blossoms into the draft day treat he had originally projected to be, the drafting of a bust center number 5 overall, will be solidified as the ultimate NBA trick.
More from Valley of the Suns
This article originally appeared on