Aging Luis Scola Can Still Help Brooklyn Nets, If He Plays Less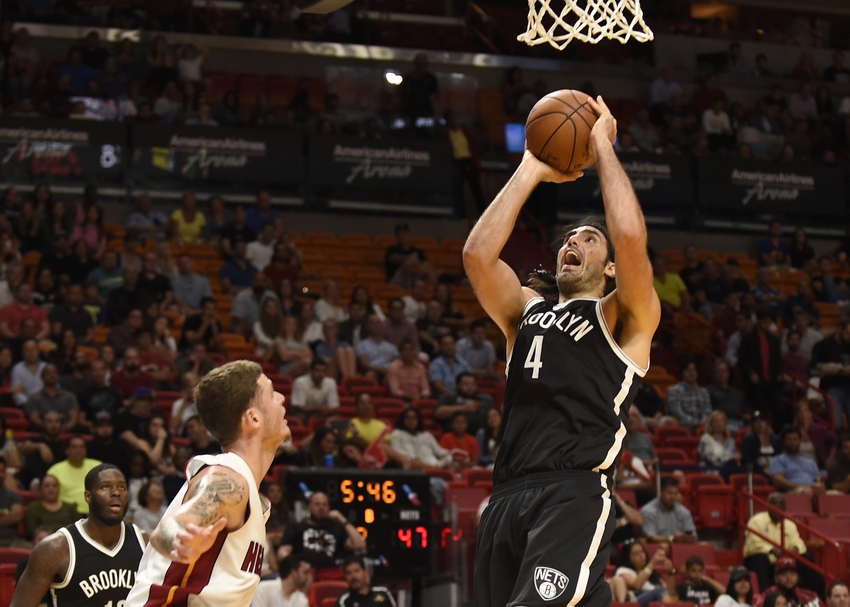 Luis Scola's veteran savvy can be a valuable resource for the rebuilding Brooklyn Nets, but his play is starting to slip too far. It's time for the Nets to pick their spots with Scola and give their younger guys more opportunities.
There are certain things in the NBA that, despite being common knowledge, still take a tough lesson to learn. Perhaps most famous among them is that Father Time is undefeated. Brooklyn Nets power forward Luis Scola is learning that this season.
Orchestrating a full-on rebuild of an NBA team is exceedingly difficult. Teams have to scrape the bottom of every barrel and claw through every haystack without giving up hope of finding that needle.
To that end, it may be time for the Nets to cut Scola's minutes and do even more to find some hidden gems.
Luis Scola is a great guy & good vet to have around but he just can't play anymore. Nets have to hope McCullough can earn some PT eventually

— Tim Bontemps (@TimBontemps) November 16, 2016
Scola has had an undeniably great career. He started playing professionally at 15, broke into the NBA at 27, and has played more than 500 games for five different teams. He was a key part of what was arguably the second greatest international basketball team ever. That golden generation of Argentinians belongs in the Basketball Hall-of-Fame. But his time has come.
It's only been 17 games, but already the numbers show that Father Time is gaining the upper hand on Scola. There are negative ratings up and down the roster, but the Nets are 4.8 points per 100 possessions better with Scola on the bench, according to NBA.com.
The Nets are 5-12 and just came off a seven-game losing streak. They are struggling mightily without Jeremy Lin. The organization may have to throw out relying on veterans to be competitive and focus solely on the development of future assets. They can no longer afford sequences like this:
Sean Marks signed Scola to a one-year, $5.5 million deal in the offseason, and it made a lot of sense. Rebuilding teams need a veteran presence both on the court and in the locker room, something Sam Hinkie found out the hard way. Scola is exactly the kind of heady player teams need around a bunch of young guys. He's someone who's seen everything the league can throw at players. Still, Scola is 36 now, and it's increasingly clear that he isn't the same player anymore. It's time for head coach Kenny Atkinson to turn to other places on the roster.
In addition to Scola and Trevor Booker, who should remain entrenched in the starting lineup, the Nets have a pair of young power forwards on the roster. It's time for the workloads of Anthony Bennett, 23, and Chris McCullough, 21, to increase.
More from Nothin' But Nets
The Nets have a year to find out if Bennett, one of the most disappointing draft picks ever, can be anything. He's still very young and may just need a team to believe in him. McCullough is full of potential and the calls for him, already loud on this site, will only grow louder.
It would be foolish to call for the Nets to stop playing Scola entirely or, worse, cut him. He can be an invaluable teacher for Bennett and McCullough. Atkinson simply has to pick his spots more in giving Scola minutes.
The above clip against the Clippers offers a good example. Scola is overmatched, both physically and from a talent-standpoint, against Blake Griffin and DeAndre Jordan. Why not throw one of the younger, more athletic players out there and see what happens?
Conversely, there are plenty of matchups where Scola's smarts and toughness can keep the Nets competitive. Teams with slower big men, like Al Jefferson in Indiana and Greg Monroe in Milwaukee, provide great chances to capitalize on the things Scola does well. The numbers back it up: Scola's two best +/- scores this season came against the Pacers (+13) and Bucks (+10).
The league continues to trend smaller and become increasingly athletic. The Nets need to keep Scola away from players like Anthony Davis, Karl-Anthony Towns, and Griffin. His years of experience can still help the Nets, but Atkinson needs to go in a different direction against the league's more dynamic big men. It keeps Scola from getting exposed and provides the rebuilding Nets more chances of finding that diamond in the rough.
This article originally appeared on