ACC: Joel Berry A Sleeper For Player Of The Year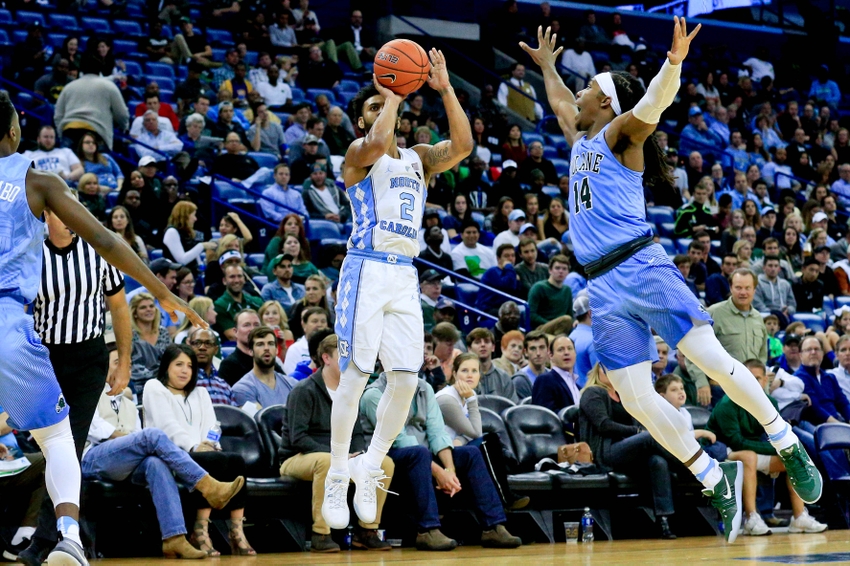 North Carolina has started the season strong and point guard Joel Berry looks like an ACC Player of the Year candidate.
Last season, the narrative surrounding the North Carolina Tar Heels focused on Marcus Paige and Brice Johnson and for good reason. 2015-16 was supposed to be the season that their four years of hard work was rewarded.
They were going to storm through the ACC, rack up individual accolades and win the national championship. Most of that happened. The Heels were one Kris Jenkins buzzer-beater short of overtime in the national championship game.
They almost had it, but Villanova snatched it away at the last second.
Johnson and Paige are gone, but most of that team is back in Chapel Hill for another season. They're joined by a talented freshmen class that gives Roy Williams a plethora of weapons at his disposal.
His most important player is someone that quietly asserted himself as a budding star last season. Joel Berry is off to a fast start in his junior season.
Last season as the third option behind Johnson and Paige, Berry averaged 12.8 points and 3.4 assists per game on 44.6 percent from the field and 38.2 percent from three-point range.
What was most impressive was his tendency to play well in North Carolina's most important games. He had 19 points on 5-for-8 shooting against Virginia in the ACC title game and led the Heels in scoring with 20 points in the heartbreaking loss to Villanova.
Through three games, Berry is averaging 21.3 points per game on 62.1 percent shooting and 53.3 percent from outside. He obviously won't post numbers that ridiculous over the course of a full season. He's still got a chance to have a special season.
He's always had the ability. Now he has the opportunity.
It's the type of development that used to be expected in college basketball. Freshmen and sophomore years were essentially classrooms. A player would learn and develop in their first few seasons before taking a larger role in their junior and senior seasons.
That's harder to find in the "one and done" era. However, every season you can still find a few players that follow the traditional path of development. In their college career they go from role player to star. Think Frank Kaminsky or Denzel Valentine. Now think Joel Berry.
Berry is the ideal college basketball point guard for the modern era. He's not a game manager, but he's not a ball-hog. He's a score first point that still has the ability to distribute the ball.
You're never going to be upset with him for looking for his shot because you have confidence in his ability to get his teammates involved. He pushes the pace without being reckless. A necessary trait in a Roy Williams point guard.
Berry was the focus of Andrew Carter's game recap in the News and Observer after their recent win over Long Beach State. Roy Williams isn't surprised by his hot start.
"I mean, he was a big-time player," Williams said. "He was the MVP of the ACC tournament, so that gave him a great deal of confidence, and then what he did is over the course of the summer, he continued to work, put in the time shooting the basketball."
Berry credits the aforementioned Paige for his development as a player.
"I just thank him for all the time he spent with me," Berry said. " Telling me where to be, telling me what coach wants in different situations and just being a player in general. He's helped me out so much, and I think that regardless, I was a good player but making that transition to college, he helped me a lot with that."
Duke is everyone's ACC favorite due to their highly touted freshmen class and the return of Grayson Allen. Allen is also a popular pick for ACC and National Player of the Year, and a deserving one,  but don't sleep on Berry.
He is the engine that makes the Tar Heels go. He'll likely be their leading scorer, and the talent around him will give him a chance to post some gaudy assist numbers as he develops chemistry with his teammates.
Five North Carolina players are currently averaging double figures and the rotation could easily go ten deep.
This squad is loaded.
North Carolina is absolutely a title contender again. Any worries that they would regress after losing key seniors from last year's team were put to rest during their 40 point trouncing of a solid Chattanooga program.
Leading scorers on title contenders always have a chance to win major awards. It's science. Can Joel Berry hoist the ACC's most coveted individual award at the end of the season?
This article originally appeared on