ACC: Injuries Dominate Duke's Preseason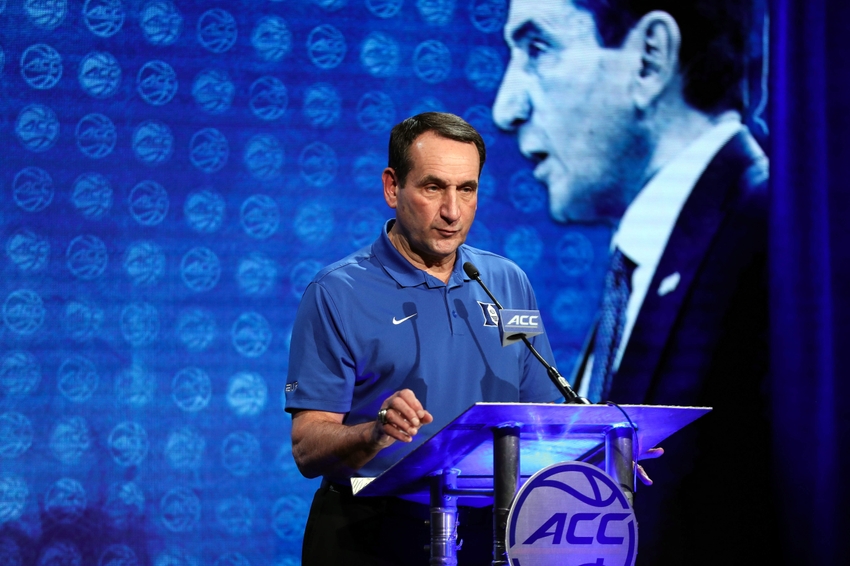 The Duke Blue Devils are easily the most talented team in the country. Will a rash of injuries to their star freshmen players taint their promising season?
After a "down" year that saw them lose to Oregon in the Sweet 16, the Duke Blue Devils are expected to bounce back in a big way. Mike Krzyzewski reloaded this offseason, bringing in the No. 2 ranked recruiting class in the country.
They're favorites to win the ACC and are in the discussion for the national championship.
The class is headlined by Harry Giles, Jayson Tatum, Frank Jackson, Marques Bolden, and Javin DeLaurier. It's interesting mix of frontcourt talent and backcourt talent. But, what if half of them can't even get on the floor?
The injury bug has already bitten Duke. Giles was the first victim, due to yet another knee surgery for the talented big man. Giles' high school career was hampered by knee injuries, making his recent knee surgery sad, but not surprising.
The knee surgery, which occurred in early October, was the third in three years for Giles. The recovery timetable given was six weeks, which means Giles likely will not be ready for the season opener on Friday night.
Giles was the No. 1 overall recruit in ESPN's Top 100 for the class of 2016. He's a do-it-all power forward that can play in the post and on the wing. Before the injury he was most likely going to be a top-five pick in the 2017 NBA Draft.
Because of his bright future it's safe to say that Duke will probably be cautious with his return.
Tatum also suffered an unfortunate injury. Tatum sprained his foot during a practice, forcing him to miss Duke's two exhibition games. Tatum is a 6-foot-8 forward that some think is Duke's most talented player.
Here's wrote DraftExpress.com wrote about his strengths and weaknesses in April after seeing him play at the Nike Hoop Summit.
Tatum has very good size for the wing, standing 6'8 with a 6'11 wingspan and a tremendous frame that continues to fill out nicely. He is more smooth than he is explosive as an athlete, even if he'll surprise you at times with his ability to finish around the rim in transition.

Tatum loves to operate in mid-range spots, where he often looks to overhandle and showcase his polished footwork, ball-handling ability, and very soft touch. He tends to overuse his dribble at this stage of his development, pulling up off a single bounce instead of taking wide open catch and shoot jumpers for example. He's very effective at making tough shots off the dribble, as he creates separation wonderfully, but seems to overcomplicate matters unnecessarily at times, leading to inefficient play.
Tatum is expected to return by Duke's first game of the season against Marist on Friday. As long as they have him Nov. 15 against Kansas I'm sure Coach K and the Crazies will be happy.
Bad things come in sets of three. At least that's what they said on 30 Rock. Remember, anything you see on television is true.
The third injured Blue Devil is Bolden. The big man suffered a left lower leg injury recently, the team announced on Monday.
Bolden started at center in Duke's Oct. 28 exhibition game, during which he scored 13 points and grabbed 11 rebounds. Once the regular season started he was expected to absorb a significant portion of the minutes originally pegged for Giles.
The severity of the injury has been shrouded in mystery, so it's tough to speculate how long he will be out. The only thing we know for sure is that he will be out through the weekend, after which he will be reevaluated.
That means he'll miss Friday's game against Marist and Saturday's game against Grand Canyon .
To say that Duke has been unlucky would be an understatement.
Somehow, it might not matter. Even with these injuries, Duke is still one of the best teams in college basketball, thanks to the veterans they return. If there is one thing this team has it's depth.
Grayson Allen, the projected ACC Player of the Year, brings his 21.6 points per game back to Durham for his junior season.
Had Allen entered the NBA Draft, he likely would have been a first-round pick. Instead he's back at Duke and eager to be a veteran leader.
Combo guard Luke Kennard is also back to provide knockdown shooting and exceptional play-making. He scored 30 points and 17 points respectively in Duke's two exhibition games.
Seniors Matt Jones and Amile Jefferson provide depth on the wing and the post respectively.
Additional potential rotation players include former five star recruit Chase Jeter, and the other talented aforementioned freshmen, combo guard Frank Jackson and power forward  Javin DeLaurier.
A starting lineup featuring Jackson, Kennard, Allen, Jones, and Jefferson is still one of the best lineups in the ACC.
When healthy, this team could go ten deep in their rotation. Even if Giles and Bolden are out for a significant portion of the non-conference schedule, Duke will survive.
They're well coached and still have a cupboard full of talent. If they ever get completely healthy they might just bring a sixth national championship banner to Cameron Indoor Stadium.
I'd bet they'd still prefer that their freshmen stars stop getting hurt. The basketball gods can be cruel.
This article originally appeared on