ACC: Frank Jackson Has Been Fantastic For Duke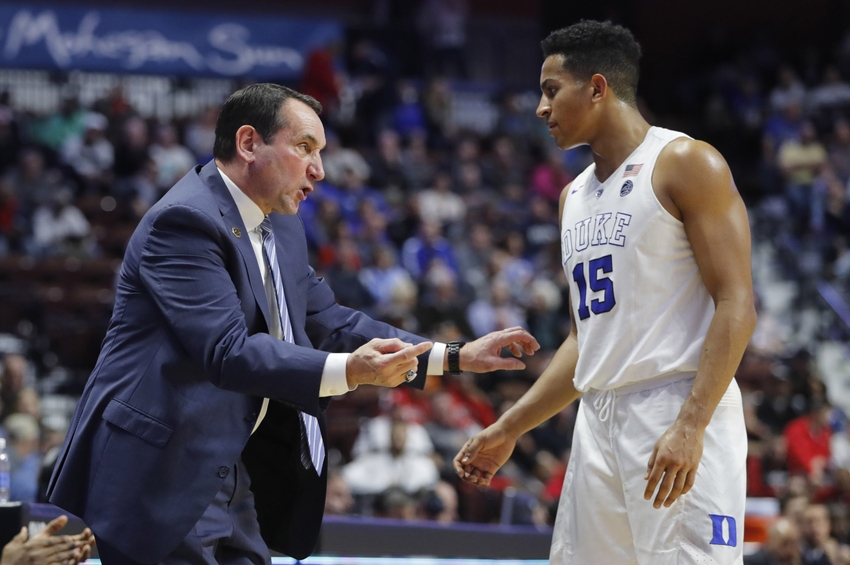 A look at Duke's stud freshman point guard, Frank Jackson.
On almost any other team in the nation, Frank Jackson would be the star of the team and everyone would have talked about his potential before the season.
Jackson, the 10th-ranked player in the class of 2016, according to ESPN, was overshadowed by the first and third ranked players in Harry Giles and Jayson Tatum, respectively, and eventually their injuries that have forced them to miss Duke's first five games of the season.
Also, veterans Grayson Allen and Luke Kennard stole a lot of the spotlight since both have a chance to be All-Americans this season.
With Giles, Tatum and Marques Bolden still out, and Allen and Chase Jeter banged up, Jackson has stepped up and arguably been Duke's best player so far.
Despite being named Mr. Basketball in Utah and going to a high-profile school like Duke, everyone forgot about Frank Jackson, and now he has taken over the nation with his stellar play.
Jackson currently ranks second on the team in points per game with 15.8 through five games. Not to mention he has taken over as a starter for an injured Jeter and has led Duke in scoring twice already, while also finishing second with 21 points against Grand Canyon.
It might not sound impressive that he led his team in scoring in only two out of five games, but remember that Duke has four starters who averaged double-digit points a year ago, including Allen, who finished 15th in scoring last season. Plus, Duke has not had a cakewalk of a schedule.
Sure, Duke scheduled easy wins in Marist and Grand Canyon, but the Blue Devils have also already played two top-25 teams in Kansas and Rhode Island.
Both are very good teams that even Player of the Year frontrunner Allen struggled with — combining to shoot 7-of-26 (26.9 percent). That makes Jackson's play against high-level competition even more impressive.
The freshman guard's two worst scoring nights of the young season came against Duke's two ranked opponents, though. He scored 11 points in each game, but Duke still heavily relied on him as he played 30 and 33 minutes.
In those games, Jackson showed great poise, something that freshman tend to struggle with in big games early in the season. Even though Jackson is a special talent, it's hard to play Marist and Grand Canyon to start the season then-No. 7 Kansas on ESPN.
It's a huge jump in competition and a high-pressure situation that he likely didn't see other than in a couple of high school showcases.
His poise and composure was on full display when he picked up his fourth foul with 3:45 left against Kansas and 4:35 against Rhode Island. In fact, Jackson had three fouls in the first half against the Rams and still didn't foul out.
Even though Mike Krzyzewski was internally screaming at his fouls, it's a great sign for Duke that Jackson didn't foul out.
He kept his composure and didn't commit a dumb foul. He continued to play tough defense against good scoring back courts.
No, Jackson isn't the best defender in the nation. He hasn't had a steal since recording four in Duke's season opener, but he stays in front of his defender and makes his opponent work on offense.
Besides, Frank Jackson could have committed a frustration foul in either game, like Josh Jackson did against Duke.
Granted Kansas still beat Duke 77-75, but Josh Jackson, who was the second ranked player in the Class of 2016, committed a couple of frustration fouls, including a technical, that eventually caused him to foul out.
He lost his composure for one minute and it ended up hurting Kansas in a close game.
While Josh Jackson watched from the sideline, with 20 seconds left, Frank Jackson hit a spot-up three, that would have been well-behind the NBA three-point line, to tie the game. Jackson stepped up off the bench and made 3-of-5 shots, including shooting 2-of-3 from deep.
Both Allen and Kennard touched the ball on that play, which is who Duke wanted to shoot it, but Jackson's poise in the situation and ability to hit a clutch jumper can't be understated, even if he wasn't Duke's first option.
The whole play he hung around the three-point line with his arms extended waiting for a chance to shoot a three.
With Matt Jones, Allen and Kennard playing at least 35 minutes, Jackson mostly played off-the-ball. Jackson's 39.1 percent three-point shooting exemplifies his ability as a spot-up shooter, and that's how Duke used him against Kansas.
He didn't handle the ball a lot, as it is his only game with zero assists, and he mostly hung around the three-point line on offense. Unlike Allen and Kennard who are constantly moving on offense, Jackson hangs in the corner as a kick-out option.
It gives Duke a reliable three-point shooter when the defense collapses on Allen or Kennard.
That being said, Jackson is more than a pure three-point shooter. Only 41.8 percent of his shots come from behind the arc, which is last on the team out of players with more than one three-point attempt this season. Jackson uses his athleticism to get to the rim.
His ability to get to the basket was on full display against Rhode Island this past weekend. Seven of his 11 shots were inside the arc, and he also attempted four free-throws.
Jackson fighting through contact in the paint and scoring 11 points was a welcome sign as he went 0-of-4 from three.
Granted Jackson had problems at times finishing through traffic, but it was just his fifth career game in college.
He also faced a good defensive backcourt with Hassan Martin in the paint, who finished with seven blocks and ranks second in Rhode Island history in blocks.
Still, Jackson showed that he's more than just an outside shooter. He's quick with the ball and one of the most athletic freshman in the nation. Simply put, Jackson is a scorer.
Despite as well as Jackson has played this season, it will become interesting to see how Duke uses him once everyone is healthy. There are already times when Jackson becomes non-existent on the offensive end because he only sits in the corner.
With scorers like Tatum and Giles coming off the bench or joining the starting lineup, Jackson's minutes will go down, as well as his touches.
Although, considering Duke's likely level of success and Jackson's even-keel personality, it's unlikely that it will bother him. Jackson is still an exceptional three-point shooter who will attack the rim when teams overcommit to his shot.
While he might not consistently put up 15.8 points per game with a healthy Duke squad, he will have the potential for easier matchups that Duke will want to take advantage of.
For now, though, Jackson is the star freshman on Duke, and he's already stepping up as a leader.
This article originally appeared on