Aaron Gordon, Zach LaVine looking to move beyond the Dunk Contest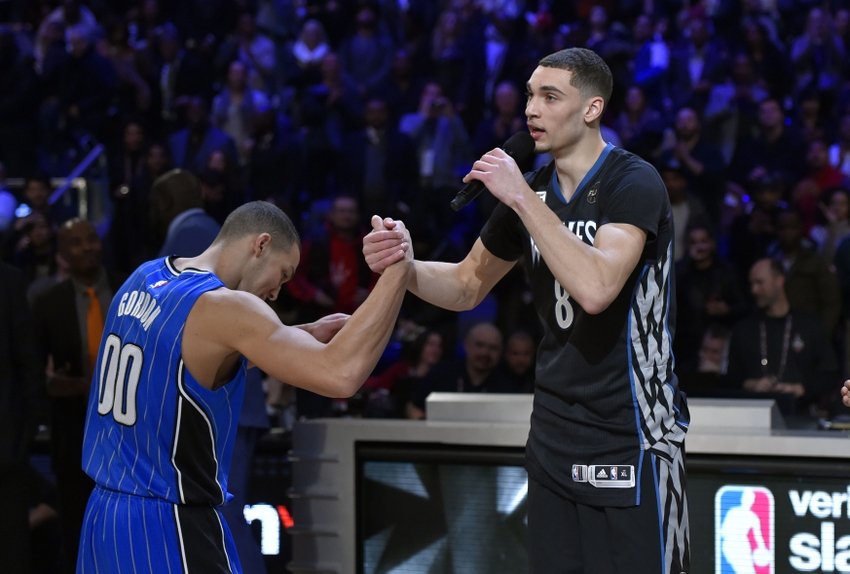 Aaron Gordon and Zach LaVine wowed the NBA in February and everyone wants them to do so again. First, they want to wow in games as basketball players.
It is hard to mention Aaron Gordon to the national media and not talk about that magical evening in Toronto last February.
Gordon walked out of the contest an instant star. To many, he was the dunk contest's winner with his sit-down dunk and incredible athleticism. The contest ended with Zach LaVine holding the trophy. He has said he would like to split it. And neither player knows if they will participate in the dunk contest again in New Orleans.
But February was also a very long time ago. It was a contest and a moment in time. It made LaVine and Gordon household names, but it did not make them basketball players.
The work of taking these super athletes and turning them into basketball players has been a long and often arduous process. It always has been. Teams have sunk plenty of money, effort and resources to doing so through the years. There is a mixture of luck, hard work, situation and opportunity that goes into its success.
Gordon and LaVine are proving to be perfect studies of this in the next few years. The third-year swingmen are supreme athletes. They showed that in their Slam Dunk contest last February in Toronto.
Now they are both trying to find their way on the court, as I wrote for The Step Back earlier this week:
Neither are approaching All-Star status. Gordon, as the fourth pick in the 2014 NBA Draft, likely faces more scrutiny for that. Especially now with the Magic trying to force their way into the Playoffs, experimenting with him out of position to do so. LaVine has the luxury of playing a bit more of a secondary role with potential stars in Karl-Anthony Towns and Andrew Wiggins.

The two players will still make their highlight plays. They will still be in the running when it is time to start dunking in February.

But they still need to become more to make their marks in regular season games in the NBA.
LaVine, of course, is much further along in this process. He got his NBA2K MyTeam Moments card last night with 37 points and seven 3-pointers. LaVine is averaging 20.4 points per game following Wednesday's 123-107 win over the Orlando Magic at Amway Center. He is shooting 48.9 percent from beyond the arc this season.
Magic fans certainly might be having some regret with LaVine considering he was drafted 13th, one spot after the Magic drafted Dario Saric in the 2014 Draft. That argument might be neither here nor there.
Gordon's stat lines are nowhere near as gaudy. But he too is beginning to find his way.
After playing at power forward much of his career, Gordon has switched to small forward and has had some struggles offensively. Gordon is averaging 11.0 points per game and shooting 32.0 percent from beyond the arc. Numbers are still pretty variable, but Gordon has hit something of a slump.
What Gordon though is still very good at is the defensive end. He has posted a 0.7 defensive box plus-minus for a bad defensive team so far and is giving up 39.1 percent shooting on shots he defends. That is significantly better than the national average. He is establishing himself as a fantastic on-ball defender.
So each are clearly still carving out consistency and their place in the league.
Come February, everyone will want to see these two players dunking yet again. By that point though, both players will hope to build off their varying starts, find their roles and be contributing, meaningful basketball players for Playoff-contending teams.
More from Orlando Magic Daily
This article originally appeared on