Aaron Gordon slowly fitting into his new role offensively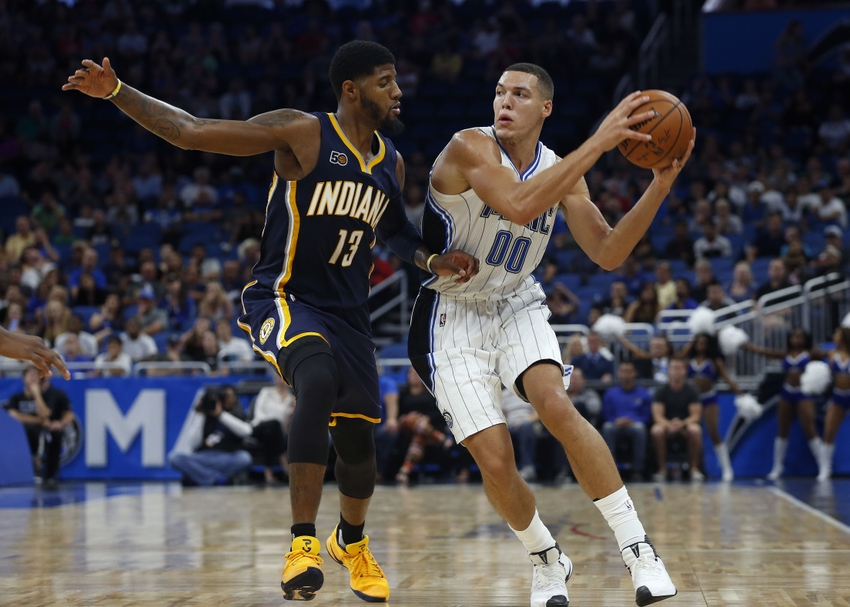 Although it seems more intended to accommodate offseason acquisitions than it is to get the most out of his skill set, Aaron Gordon's new role as small forward can work.
This summer, Frank Vogel said he intended to use Aaron Gordon similar to how he used Paul George in Indiana.
George is an adept ball handler, a strong outside shooter, and a lethal scorer. Gordon has not quite yet proved himself to be any of those. So naturally, this raised a lot of question marks.
In the past, Gordon has generally been considered most effective at power forward where he can take advantage of his athleticism against bulkier, bigger opponents. Some, like CBS Sports' James Herbert, have also argued his size simply is not conducive to effective wing play.
Ultimately, there were simply too many players competing for front court minutes to keep everyone happy. Someone had to move down, and in Vogel's assessment, Gordon was best suited to do so. His versatility suggested there might be a chance for him to succeed at the 3, as Danny Chau of The Ringer wrote this offseason.
As this video from The Ringer displays, figuring out where Aaron Gordon fits is no easy task:
It is still early, but Vogel might have been right on the mark.
Despite a weak showing in Philadelphia on Tuesday, Gordon has been excellent from beyond the arc. He is shooting 36.4 percent (up seven percentage points from last season) and averaging 1.0 more 3-pointers per game.
Not only are his numbers up, but his shot looks better. His noticeably improved mechanics are a strong sign that these improvements are sustainable.
He is also getting the ball more.
Again, it is a very small sample size, but these trends fall in line with the role Vogel outlined for him at the beginning of the season.
Compared to last season, Gordon is handling the ball more, holding on to the ball (slightly) longer, getting more touches in the front court and, most importantly, he is producing more points per touch.
Gordon is averaging 0.714 points per touch, down from 0.821 per touch last year. That is a product of Gordon's increased usage rate — from 17.3 percent to 18.4 percent. He has committed more turnovers too, but that is natural to expect from a young player in a new role with a rising usage rate.
The Magic are giving him more opportunities with the ball and seeing what he can do with it. And it is still very early in the season.
He is not on a Paul George-level of offensive production. But he is moving closer to where he needs to be.
As far as measurables, Gordon and George are not as different as some might believe. Among forwards, they both possess elite speed and strength. In fact, they are listed as the same height and weight – 6-foot-9 and 220 pounds – and use their wingspan similarly to stifle opposing perimeter players.
"I'm long, I'm athletic," Gordon told Orlando Magic Daily after Monday's practice. "I'm not somebody you really want to shoot over. It's not going to be an easy thing to do to make a couple shots here and there."
Speaking of stifling opponents, Gordon has excelled on defense so far this season. He has been one of the Magic's few bright spots here, doing just about everything a team would want out of an upper-echelon defensive wing in the NBA.
While some of the team has looked disorganized defending the pick and roll, Gordon's instincts, athleticism and awareness have allowed him to slip through screens seamlessly and make switches with tact.
Not to mention, he has been stealing the basketball and forcing turnovers at a rate far higher than his career mark.
Perhaps his 4.1 steals per 100 possessions is not sustainable. But continuing at even half that rate would be a strong improvement and a step in the right direction.
Although Gordon has a physical advantage against power forwards when he has the ball, he often struggles to defend bigger players when they post him up. But against small forwards, he can use his strength and size to guard the post.
While the Magic as a whole have been weak in transition defense, keeping Gordon around the perimeter and front court more often gives the team some degree of damage control here.
Orlando Magic Grades: Orlando Magic 103, Philadelphia 76ers 101
He might not grab as many rebounds, but he can get back down the court faster when necessary and stop a fastbreak. The Magic need all the help they can get in that department.
Gordon has been fulfilling his new role as well as anyone could have asked or expected, but the Magic are still underachieving.
An ideal situation for Gordon and the Magic offense would be if Nikola Vucevic and Serge Ibaka could establish respectable outside ranges to allow the team a stronger "inside-out" game.
Vogel mentioned in the offseason how valuable it would be to have enough versatility so the wings and guards could reverse roles with the bigs, the former scoring inside while the latter draw opposing bigs outside.
Inside scoring is still an absolutely critical part of Gordon's offensive game. Serge Ibaka and Nikola Vucevic are not exactly lights-out shooters. But they do not need to shoot 40 percent from three to create some more spacing.
If Ibaka and Vucevic could spread the floor and draw opposing bigs outside, Gordon would be able to drive more often and post up opposing small forwards and bully them for easy buckets.
Until he can create shots and score with the kind of volume Paul George can, that might be necessary for the team's offense to flow.
For now, playing small forward has been maximizing Gordon's defensive acumen while he plays catch-up with where he needs to be produce offense on the wing. Power forward still remains Gordon's sure-shot to consistent scoring and rebounding.
Vogel encapsulated the predicament this summer when, in the same breath with which he said Gordon would be used like Paul George. He told Zach Lowe of ESPN.com, "If Serge Ibaka weren't here, Aaron Gordon would be my power forward."
Gordon is at small forward by necessity. So far, he is making the most of it as he adjusts.
More from Orlando Magic Daily
This article originally appeared on