Love and dunks reign at Aaron Gordon's Dunk Fest in Venice Beach
VENICE, Calif. — Aaron Gordon is out here dunking in jeans.
More accurately, Aaron Gordon is out here dunking in skinny, cut-off jean shorts. And he's not "dunking" so much as attempting to fry our planet's natural laws atop Venice Beach's storied public basketball courts.
The packed crowd at Sunday's first annual Aaron Gordon Dunk Fest — much of which is decked out in bucket hats and #BlackLivesMatter shirts — shouts approval as the 6-foot-9 Orlando Magic forward steps onto the main court to join a "dunk-only" game in progress between some of the greatest dunkers on God's green Earth.
The dunkers give up the ball immediately, and Gordon throws down two stunners in a row: a 360-degree monster that ripples the backboard and a gliding windmill that has his eyebrows flirting with the rim.
Aaron Gordon 360 Cut-off Jean https://t.co/D5gBCWfzv6 pic.twitter.com/4NKsLaPikV

— Dan Carson (@TheDoctorCarson) July 10, 2016
Guys his eyes are at the rim pic.twitter.com/Ll2GPfTFrF

— Dan Carson (@TheDoctorCarson) July 10, 2016
This is the man and the ability driving Dunk Fest — a day of peace, dunks and jaws hitting the floor in the heart of the weird vortex of humanity that is Los Angeles' Venice Beach boardwalk.
Campers, NBA talent and eight of the world's top professional dunkers all converged on the famous stretch of beach for a chance to show out in front of Gordon, the 20-year-old forward whose creativity and disregard for physics single-handedly resuscitated the flatlining NBA Dunk Contest at All-Star Weekend in February.
The day started with a youth camp (Gordon taught fundamentals, and, dutifully, dunked on several children) before shifting toward men's five-on-five games. A solemn vigil was held for recent victims of gun violence, and lastly, the main event: a world-class dunk competition with $5,000 in prize money on the line.
Some highlights from the event:
Of the three dunkers to make the final round of the competition, Jordan "Flight" Southerland and Chris Staples opted to brave the day's greatest challenge: dunking over a 2016 Chevy Corvette — with Aaron Gordon in the car.
It should be noted that before hammering home the dunk that would win him the competition, Southerland asked for the car to be moved farther away from the hoop. You know — for safety.
"Move it out a bit," Southerland said. "I'll be landing over here. I don't want to clip my legs on it."
His legs didn't even come close.
Dubbed "The Man With the Million Dollar Hair," Kevin "Dunk Inventor" Dobbs was the first to use kids in his routine. He would not be the last.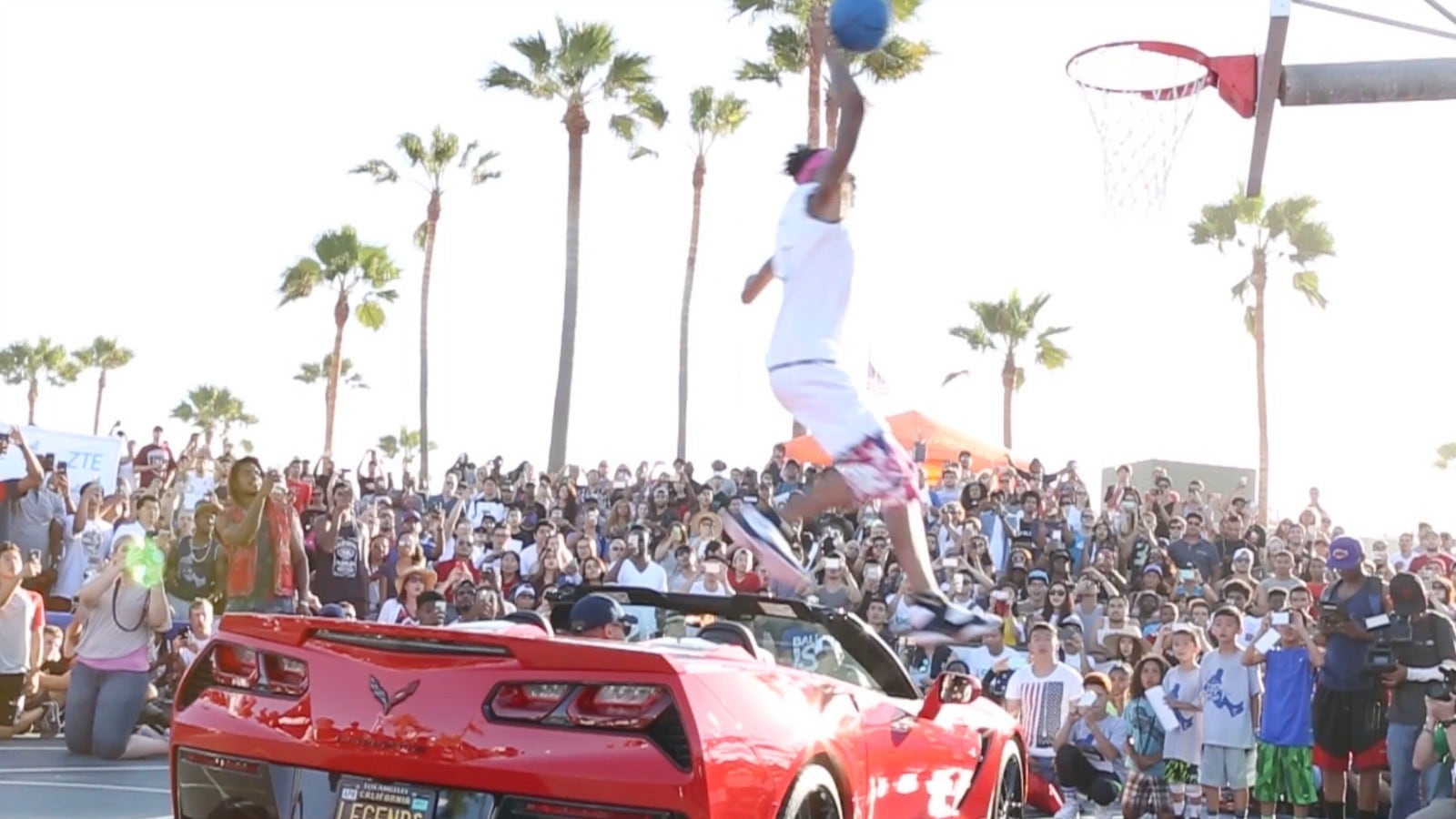 Chris Staples — a viral dunk sensation in his own right — opted for one more child and additional 360 degrees of rotation on his follow-up to Dobbs' kid-clearing sorcery.
There are worse jobs pic.twitter.com/3bFYaNYU6w

— Dan Carson (@TheDoctorCarson) July 11, 2016
In a solemn ceremony before the final game of the day, Gordon, Metta World Peace and VBL players joined hands with local police on the court in a moment reflection for the victims of this summer's wave of gun violence.
"I'm from the hood in Queensbridge projects," Peace said. "My brother did 10 years for drug trafficking … but at the same time, it's not going to change me. … I don't want to see nobody get harmed. Po-po, police … all my people. I don't want to see nobody get harmed."
Gordon followed with a message about the word that matters most: "Love."
"I was never a jumper," Peace said. "I'm more of a defender. Defenders beat dunkers any day of the week … I bite. I bite dunkers … I eat that."
Powerful moment @ Dunk Fest: police join @Double0AG & @MettaWorldPeace on court 4 moment of silence for gun violence pic.twitter.com/DlgAEz9Mcm

— Dan Carson (@TheDoctorCarson) July 10, 2016
Big Baby left all but his lunch on the court. And nearly that, too.
Both a baby and a ruthless Internet person.
Players join hands with police for prayer pic.twitter.com/uUQvuLUtZr

— Dan Carson (@TheDoctorCarson) July 10, 2016
Flight just clearing his throat.
You can love the person next to you, no matter their skin color. Wherever they're from, whatever they've been through
Aaron Gordon
Five-foot-5 dunking sensation Porter Maberry and fellow jam artists Nick Ross, "Flight" Southerland and Mike Purdie joined FOX Sports for an interview, which ended in a reenactment of White Men Can't Jump's most quotable moment.
"You got to see some dunks, you got to be at the beach," Gordon said. "What more can you ask for?"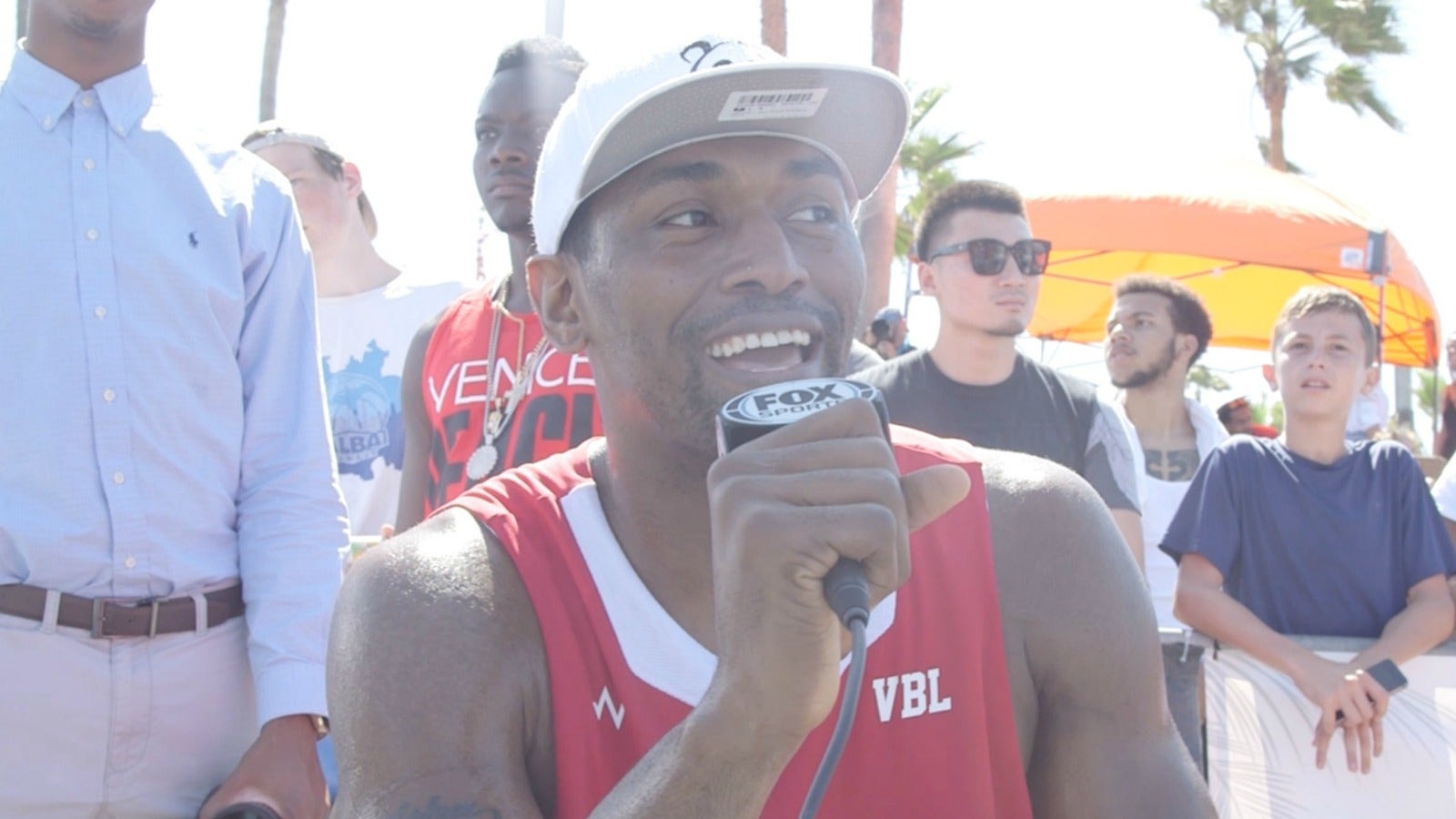 The answer: "Nothing."
Dan is on Twitter. One day Porter Maberry will dunk on him.
Big Baby has arrived pic.twitter.com/YalQA37Asl

— Dan Carson (@TheDoctorCarson) July 10, 2016
Big Baby is so tired pic.twitter.com/FobnUaTvf2

— Dan Carson (@TheDoctorCarson) July 10, 2016
Nick name of the day pic.twitter.com/URJl0t18FS

— Dan Carson (@TheDoctorCarson) July 10, 2016
It's warming up at #DunkFest pic.twitter.com/fPbsKnIbWj

— Dan Carson (@TheDoctorCarson) July 10, 2016
Shoutout to @WGGotBounce & the gang for kicking it w/ @HoopsonFOX @ #DunkFest. Story coming tomorrow #WEGOINSIZZLER pic.twitter.com/8ubF45VY9j

— Dan Carson (@TheDoctorCarson) July 12, 2016