A Triple-Double Streak Ends, but a New Winning Streak Begins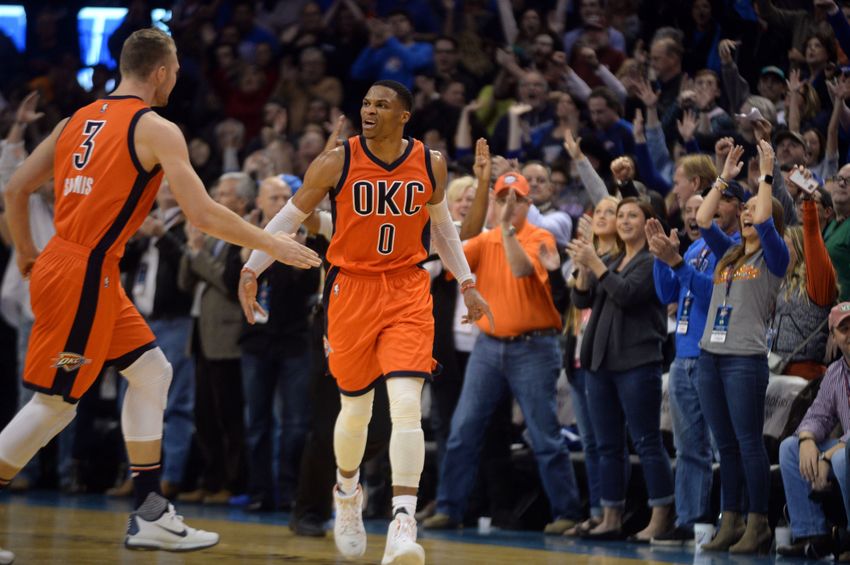 It doesn't matter how we got there; all that matters is the OKC Thunder beat the Boston Celtics 99-96 on Sunday night.
Oh. My. Gosh. I don't even know where to begin with this one. We could talk about Russell Westbrook and his 37-12-6 performance. Or we could talk about the Semaj Christon resurgence in the fourth quarter. No, that's not the proper starting point.
Let's start with why the Thunder should never have been close in this game, let alone win.
VS.
| | | | | | |
| --- | --- | --- | --- | --- | --- |
| | 1 | 2 | 3 | 4 | T |
| Thunder | 21 | 18 | 28 | 32 | 99 |
| Celtics | 24 | 19 | 28 | 25 | 96 |
The Celtics bounced out to an early three-point lead after the first quarter. OKC had minimal ball movement; like every other Sunday game, they came out lifeless. And than Victor Oladipo went down with an injury.
*viewer discretion is advised
They say you don't realize what you have until it's gone; that's exactly the case with Oladipo. With Dipo gone, the backcourt's defense suffered tremendously. Anthony Morrow played in Dipo's place, forcing Russ to guard the Celtics second-best perimeter player. It was not pretty.
Boston jumped out to a 12-point lead in the third quarter, behind a flurry of threes. Celtic shooters found themselves WIDE OPEN (until the fourth quarter), resulting in 32 attempted threes; luckily for OKC, they only hit 11. Eventually the intensity picked up on both ends of the floor at the end of the third quarter, starting with the aforementioned Christon and the bench.
A lineup of Christon-Alex Abrines-Kyle Singler-Joffrey Lauvergne-Enes Kanter brought the Thunder within one at the beginning of the fourth. Christon played so well that Billy Donovan kept him in for the last 14 minutes, and that move paid off.
With Christon paired up next to Russ, the Thunder had another ballhandler to take pressure off Russ. Westbrook was able to take advantage of that, scoring 13 of his 37 points in the fourth quarter. He mixed in layups with mid-range jumpers, and even threw a three in for the fans; it was breathtaking to watch.
Other Players of Note
Want your voice heard? Join the Thunderous Intentions team!
Enes Kanter finished with 14 points and 6 rebounds. The Twin Towers of Kanter and Adams destroyed a smaller Celtics team. The Thunder outrebounded Boston 49-40 on the night, including 14 offensive boards. Kanter's presence had a lot to do with that.
Jae Crowder was a big reason for the Celtics offensive burst in the third quarter, scoring 6 of his 18 in the frame. Crowder fouled out, however, and the Celtics desperately missed him in the fourth quarter.
Al Horford scored 19 points, grabbed 4 rebounds and dished out 6 assists. I still dream about Horford as the Third Wheel in OKC behind KD and Russ. What could have been…
Avery Bradley had a great box score game AND eye-test game, yet he finished the night with a +/- of -12. Bradley is like a mini-Russell Westbrook in that he's everywhere, but it just doesn't come with the efficiency of Russ.
More from Thunderous Intentions
A few more important stats
The Thunder shot 3-21 from three, including 0-15 in the first half. That isn't their strength, and they have to stop shooting like it is a strength.
The Thunder scored 66 points in the paint. That IS their strength. Russ is at his best when he attacks, Kanter is at his best when he is in the post. Lets keep pounding the paint boys.
OKC shot 14-27 from the free throw line. That's a sign of lack of focus, plain and simple. King Joffrey was a 89% free-throw shooter last season, but went 1-4 from the stripe. He's 8-19 now on the season. Yikes.
Alex Abrines got playing time. He plays for the first time in a few weeks and the Thunder win. Coincidence? I think not…
The Thunder will look to build on this terrible-but beautiful-win when they travel to Portland on Tuesday. It will be the first matchup between the division rivals, and will pit two of the best backcourts in the league (assuming Oladipo will be ready by than). Should be a fun one!
This article originally appeared on