A sigh of the times: So long to Kobe, Timmy, and Garnett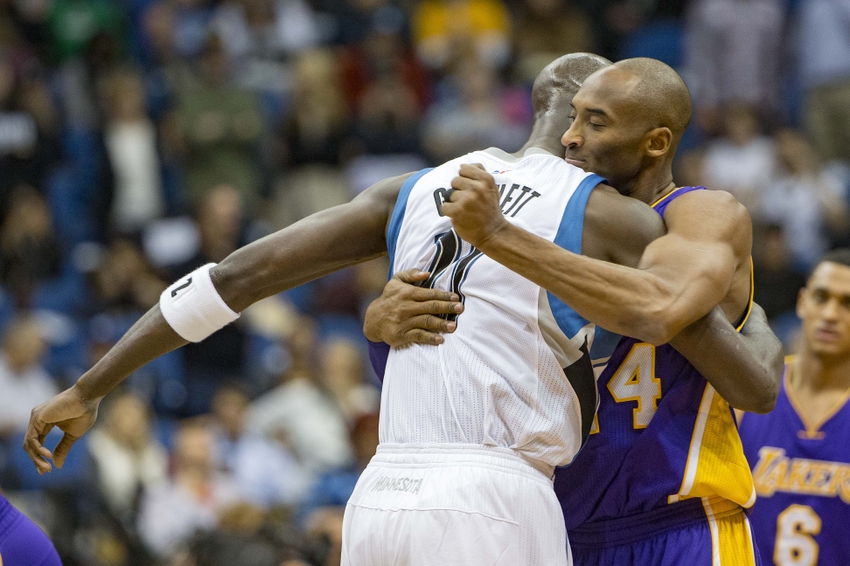 Damn.
Sure, we had ample time to prepare for Kobe Bryant — most of last season, really. Tim Duncan did it in a very, well, Tim Duncan way; casually riding off into the sunset — er, Old Navy. Frankly, Kevin Garnett's retirement on Friday was inevitable — a clock that begin ticking from the moment of his nostalgic return to Minnesota.
But all three — in the same offseason?!?!
Damn.
So, it's worth briefly reminiscing — what do all three have in common? Sure, there's the NBA titles, All-NBA teams, All-Star selections, and the inevitable Hall of Fame ceremony. Their rise to stardom in the league's post-Jordan, pre-Lebron lull is more coincidence than commonality. No, their unifying link is more tactical, more stylistic, and more impressionable.
That's right — the mid-range jumper. The oft-hated, rarely duplicated (these days, at least), "worst-shot-in-basketball-unless-it's-the-right-person-taking-it" mid-range jumper. With these three legends retiring, it's hard to deny that the mid-range jumper is taking a hit too. We are roughly one Dirk Nowitzki (and a Dwyane Wade, to be fair) away from hanging the long two in the rafters, in that dusty spot in between the Sky Hook and the Finger Roll. And while I get it, the three-pointer is exciting, game-changing, and worth more points, there's a part of me that's sad.
If you're like me and hit a portion of your formative years — you know, those high school/college years — during the rise of Bryant, Duncan, and Garnett, these clips take you back. If you didn't, take a minute and watch how smooth (and yes, incredibly inefficient) they did it.
First, the Big Fundamental:
Next, the Big Ticket:
And of course, the Black Mamba:
I know what you're thinking: Kobe shot threes. Of course he did. Actually, approximately 21 percent of his 26,200 career regular season field goal attempts were threes. That's a higher percentage than Lebron (20 percent)! Regardless of those numbers, Kobe will more likely be remembered for transitioning to a Jordan-esque mid-range and post-up game, much more than a three-point shooter. If the current trends continue, you'd expect players like Lebron, Kevin Durant, and even Dirk to increase the 3s and decrease the 2s in their twilight years.
So, there's this: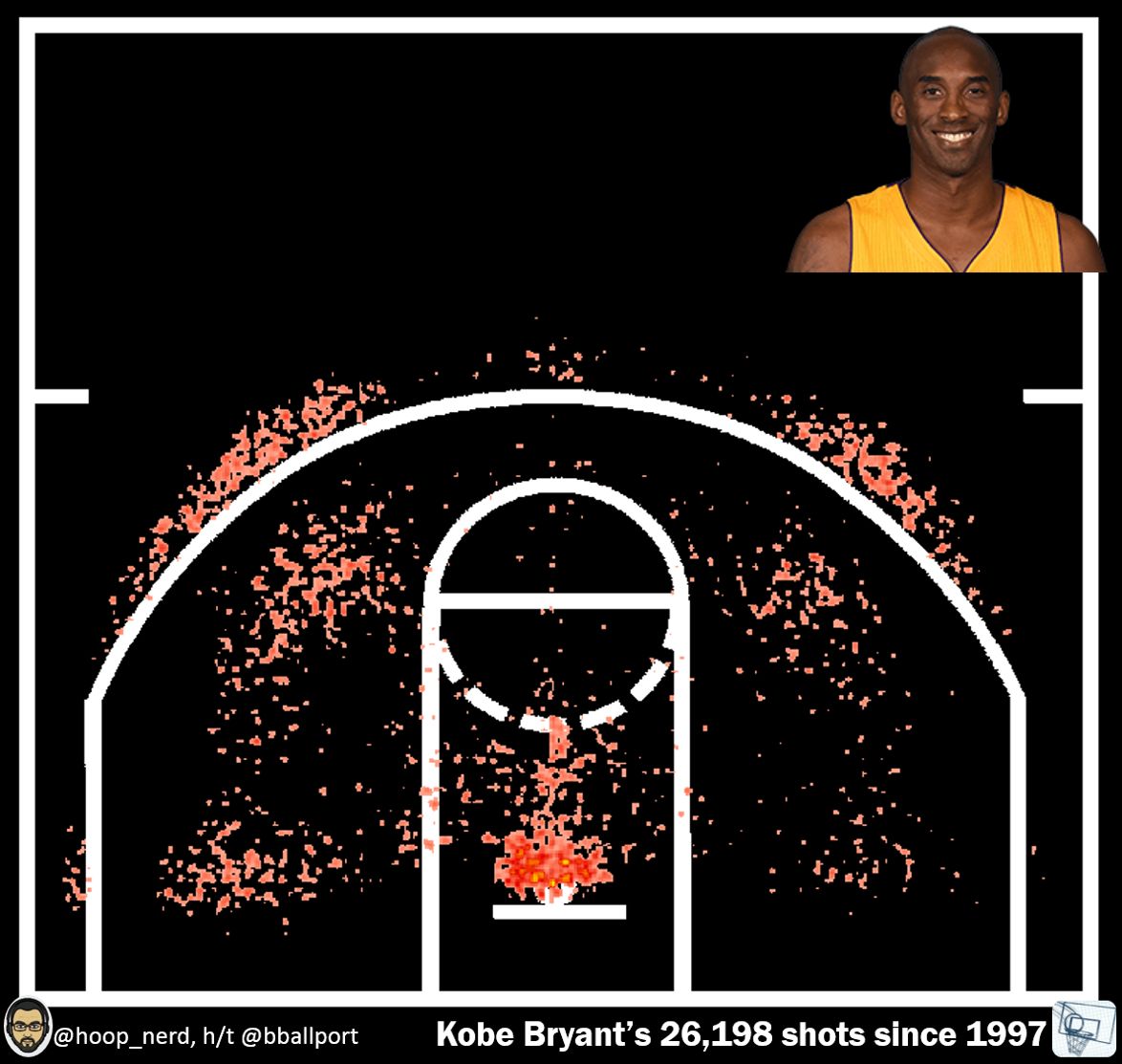 The color-coded areas on the court are hot spots. Yellow is the strongest, red is next, and white/grey is pretty meh. So, a bunch of red indicates Kobe's favorite shot locations. First and foremost, look at those yellow areas at the rim. Young Kobe could get to the rack. Second, look at the activity in and around both elbows. Then, add in baseline activity — on both sides! Find me a two-guard today with that kind volume in the mid-range — not likely. Finally, yes, Kobe has some hot spots from deep — above the break on both sides. The irony is that contemporary long bombers thrive in the opposite areas — in the corners and at the top of the arc. This isn't an indictment on Kobe at all — rather, it's to demonstrate that he's hardly your modern three-point shooter. What will always define him is that proficiency from inside the arc.
And yes, it's not as if KG and TD were the only two remaining Bigs that shoot long 2s. There's LaMarcus Alridge! Marc Gasol! And…and…exactly.
Which leaves this: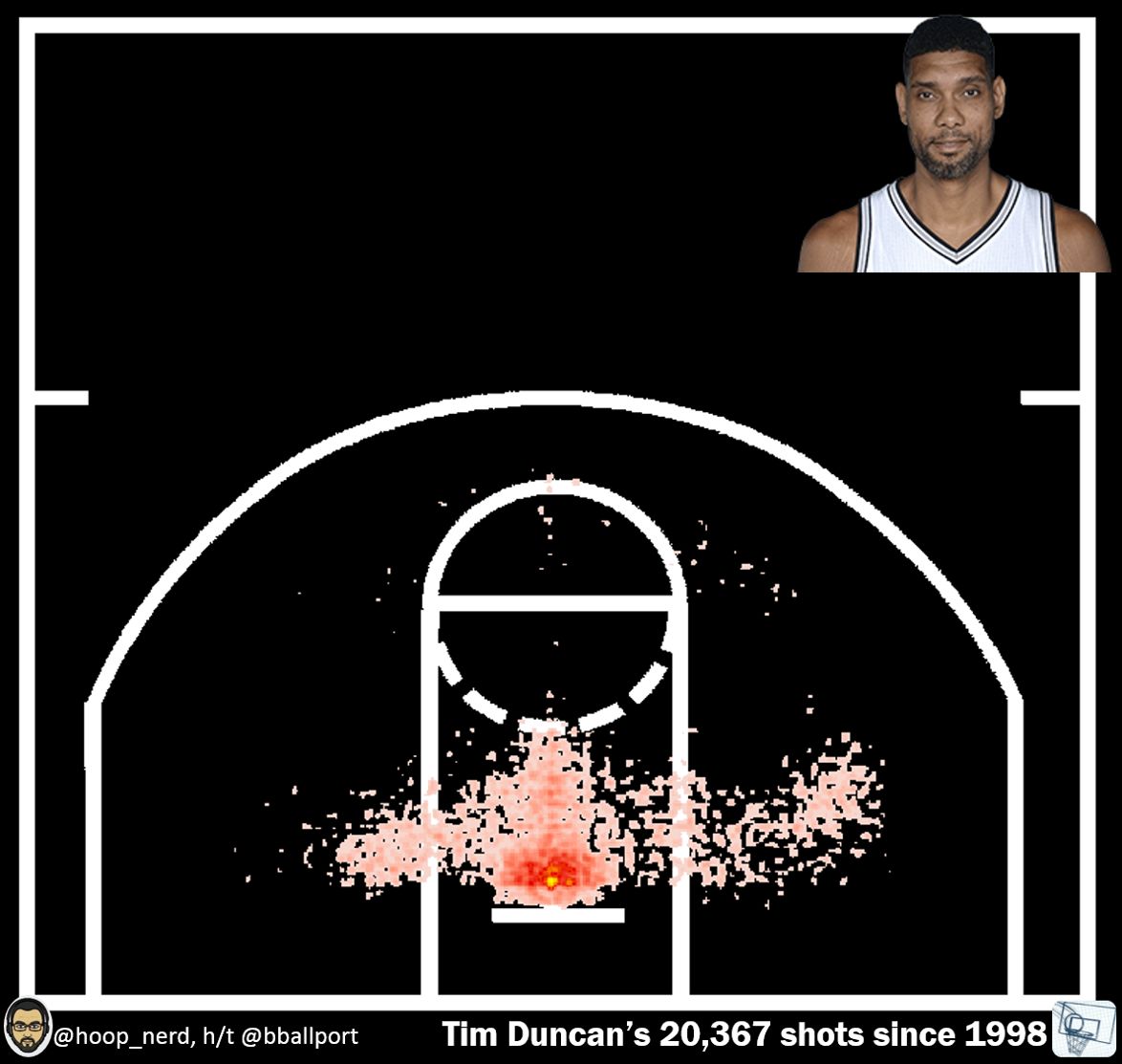 The three-point line is not even remotely a thought, idea, or suggestion. Stretch-4, Stretch-5? That sounds like a pregame routine. And why would threes be a priority for TD? The paint, the blocks, the elbows. Of his 20,367 regular season shots, he attempted 168 threes — which is basically 15 games of Steph Curry last season. Duncan's game genuinely lacked variety, which helped make him so effective and oh-so deadly. You knew what he was going to do, and he still did it.
And this: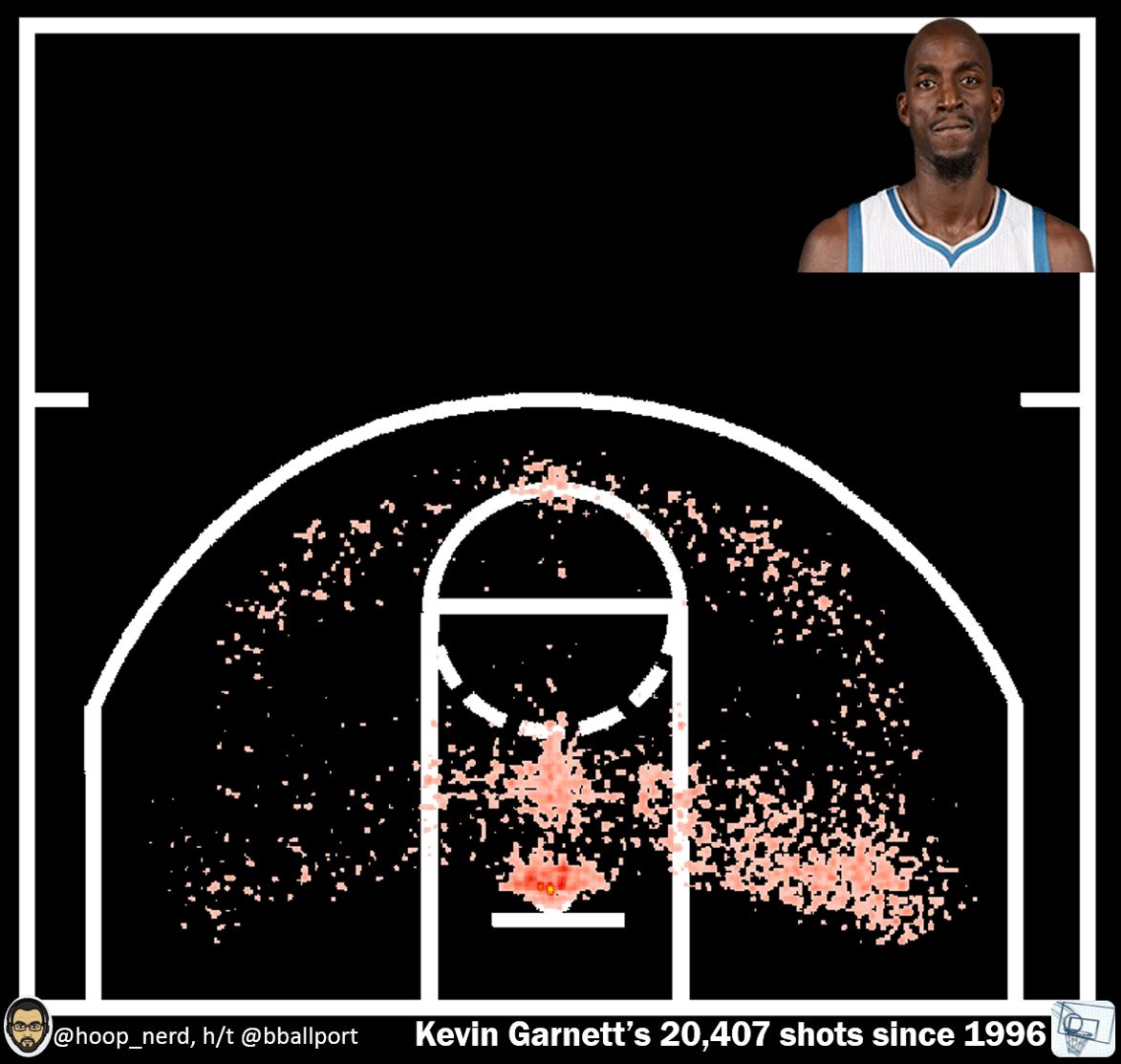 The Big Ticket was a beast inside the arc. As his hot spots indicate, he was dominant in the middle of the paint, a monster at the rim, off the left block and baseline, and from the foul line extended area. Garnett's shot areas don't start until he's 2-3 steps inside the arc — completely counter-intuitive to contemporary logic — and once they do start, they are just about everywhere.
With the mid-range jumper having been on life support for a few seasons now, the retirement of these three may finally signify its funeral. The true barometer will likely come in 2020, when Kobe, Timmy, and KG are speaking in Springfield. What will be the state of the long two? Will it have made the comeback, proving NBA offense is a lot like fashion (styles never really die, and just go cyclically dormant)? Or will we be eulogizing it — remember when people used to shoot in that weird space between the paint and the arc? And even if neither of these drastic outcomes prevail, is there a contemporary, emerging star to carry the torch? Andrew Wiggins? Karl Towns? Boogie?!?
Damn.
This article originally appeared on