A Rudy Gay is opting out email exchange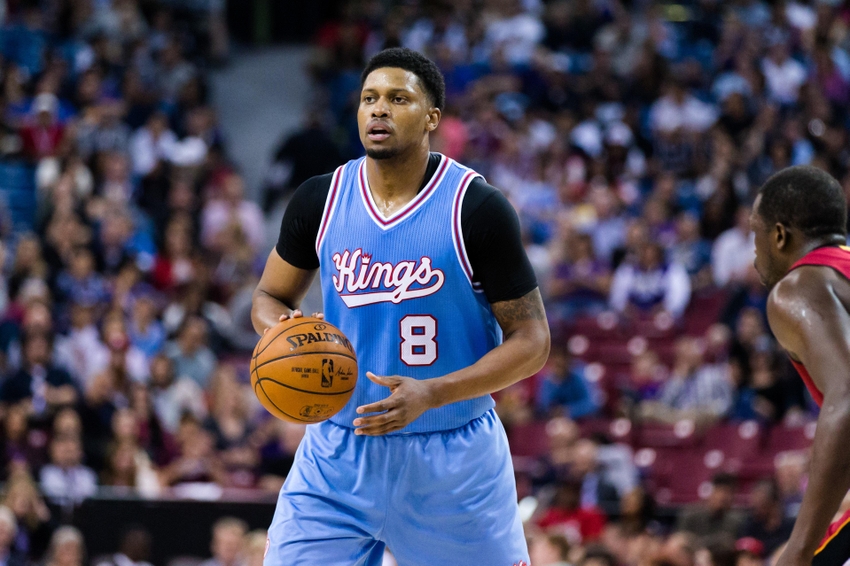 Daniel Lewis (@minutemandan): Derek, it's the first day of fall premieres for television series, but that doesn't mean that Adrian Wojnarowski can't drop scoops on the rest of the league.
Woj published an article yesterday about Rudy Gay and the Sacramento Kings.
Forward Rudy Gay has informed Sacramento Kings management that he plans to use his 2017 player option to become an unrestricted free agent and considers himself unlikely to negotiate a new deal to return to the franchise, league sources told The Vertical.
What was your reaction to this news? Is it news for people that have been following the Gay-Ranadive drama?
Derek James (@DerekJamesNBA): My first thought was that this was like coming home to find your significant other packing their bags and going to stay at their mother's indefinitely: They're gone and so is Gay. It's September 19 and Gay has already decided that he's opting out. Now, when I read reactions from Kings fans, this all made sense. He's on a cheap deal and the salary cap is expected to rise again; opting out to cash in at 29-30 years old makes sense.
I don't know if it's really surprising given how crowded their frontcourt has become — even DeMarcus Cousins has seemingly expressed confusion over the continuing additions. What's hard for me is to figure out a logical destination for him, especially since he figures to be a rental if he is moved. Maybe it's the fun bad trade ideas that are the most fun part of this news.
Lewis: There was an interview Gay gave to Sactown Royalty this summer that was an indicator to me that he was going to opt out of his contract. Gay mentioned that he wants to find some consistency, and from what we've seen of the Kings the last decade, consistency won't be found in Northern California.
If Gay is serious about sticking with the next team that acquires him for the next phase of his career, perhaps his next team will be able to acquire him in a trade at a discount because other teams in the league know he will be a one-year rental at best. Most teams have a good idea of their rotation at this point in the season, and finding a team that needs a starting small forward could be difficult for Vlade Divac and friends.
That being said, we're talking about a 30-year-old small forward that averaged 19 and 6 for the Kings the last two seasons. Reputation aside, Gay still can contribute on the court. There's gas left in that car. I'd use more metaphors, but I think I've made myself clear.
/One hour later…
James: Sorry for the delay — I needed my Chipotle fix.
Anyway, if he wants consistency, I'll be curious to see if he pushes for a trade sooner. I imagine this would become more likely if the team stumbles early on. When I think of consistent and stable organizations, I think of the Spurs, Heat and maybe even the Clippers. (That was weird to type as someone who became an NBA fan in the 90s). The problem is that the Heat and Spurs have Kawhi Leonard and Justise Winslow, respectively. He could at least fill a need with the Clippers, but they may not have the necessary resources to get him. But that's where a discount could come into play.
I agree that Gay still has something left, but finding the right fit will be tricky. A team that can provide consistency and stability is likely to only play him much if he can do things like move the ball. Sacrificing shots for a winning team may be something he could do at this stage in his career and might be easier than in Sacramento. If not, he only gums up the works. Then again, Atlanta was a pace team that replaced Al Horford with Dwight Howard, so what do I know. I may be higher on Gay than some, but I think he's worth a playoff contender at least checking into. Otherwise, just wait and make a run at him on the open market.
/imagines what Gay's next contract could be if he wants a raise
/*shudders*
Lewis: No matter where he ends up, it isn't the greatest start to the Dave Joerger era up in Sacramento. It's never a good thing when a player tells the organization at the beginning of the season, "First opportunity I get I'm putting this place in my rear view mirror."
Maybe the Kings can trade him to Phoenix for Brandon Knight. That sounds like something that could happen.
James: You're right about that and I think that goes back to the inconsistency with the Kings post-Adelman. Like Cousins, Gay has been there long enough to see the carousel of coaches. Although Dave Joerger has a good reputation, George Karl did too and we saw how that ended. It's hard to fault a tenured player for feeling like it will never matter no matter the caliber of coach they have. That may be unfair to Joerger, but that really says more about the Kings these last few years.
The Knight idea is interesting. The Suns have P.J. Tucker, Jared Dudley and T.J. Warren at small forward. At the 4, they have Dragan Bender and Marquese Chriss — both very young players. Adding a veteran rental would allow Devin Booker to start at shooting guard and Eric Bledsoe to slide over to point guard. This might be a better long-term move. Even if Gay wouldn't stay, getting Booker into the starting lineup would be the reward in that deal. They're a young team with lots of intriguing prospects, so it doesn't matter if he leaves that summer. I think I talked myself into this for the Suns.
As for the Kings, Knight would instantly start over Ty Lawson and Darren Collison. I mean, Garrett Temple and Jordan Farmar are their current contingency plans. Getting Knight back for a player they know is leaving would be a real move in the right direction.
Either way, Gay gets a change of scenery by the deadline or gets to jump into a pile of money like Scrooge McDuck next summer.
More from Hardwood Paroxysm
This article originally appeared on