A recap of the Washington Wizards season so far: Who are these guys?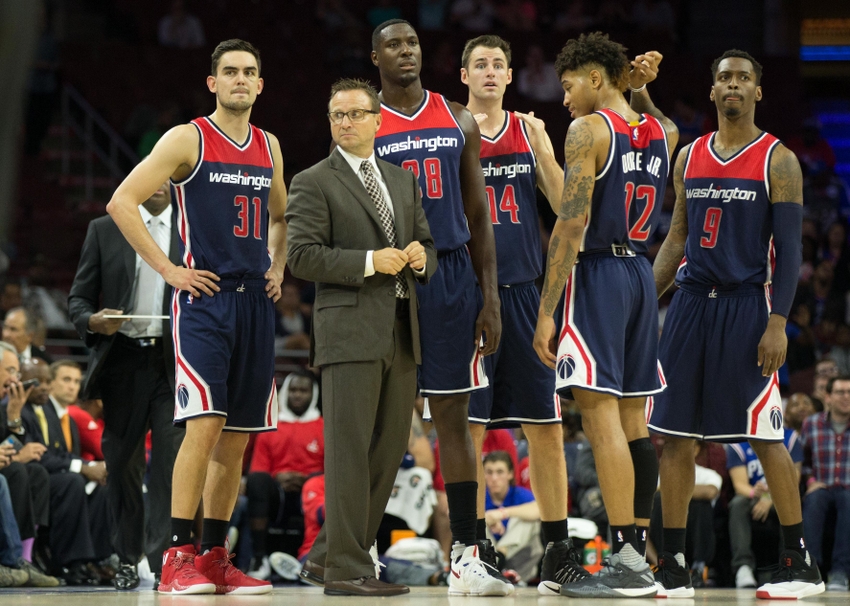 Washington Wizards head coach Scott Brooks hasn't helped the team find their identity, and now that they're in a hole, they must find one quickly.
With nine games now in the books for the Washington Wizards, the main question that everyone still has about the team is: who are these guys?
That question is asked both about who the actual players in the current rotation are and what's the identity of the squad.
With a supposed top backcourt in the league featuring All-star John Wall and one of the youngest, brightest up-and-coming (more on this later) shooting guards in the league, Bradley Beal, are they an offensive team?
Or are the Wizards, a team with a roster full of unknown players and underachieving players, a win ugly with defense type of team?
We really don't know, but with the Wizards currently sitting at 2-7 on the year, the team really needs to figure this out if they want to work their way back to the playoffs this year.
For all of former coach Randy Wittman's faults, you always knew the identity of the team. You knew that the team would play tough, hard-nosed defense and would excel in rebounding.
Even with the predictable offense, which still haunts the team, Washington had an identity.
Last year's team featured injury-plagued players, and so far, this season hasn't been much different.
Beal has already missed two games due to a hamstring issue along with the Wizards' prized off-season pickup, Ian Mahinmi, who has yet to play this season.
It's hard to carve out a consistent identity in the league with two main pieces of the puzzle missing time.
Another low-key brilliant move that Wittman always seemed to put in place was to surround his young talent with older veterans who wouldn't steal the young guys' shine, but just be good enough so that they could set a good example and get their attention.
Players like Al Harrington, Drew Gooden, Jared Dudley and Paul Pierce set the foundation of the team.
Scott Brooks had the luxury of coaching two of the best players in the league during his time with the Oklahoma City Thunder.
However, even with Russell Westbrook and Kevin Durant, the Thunder never truly had an "identity."
You couldn't really call them a lock-down defensive type of team because Westbrook and Durant weren't the strongest defenders, but you also couldn't call them a run-and-gun free wheeling type offense team.
Most of the OKC offense under Brooks called for Westbrook to create and have Durant usually coming off a screen for a three. It wasn't too complicated.
Because of his past successes with those OKC teams, Brooks was a hot commodity in the coaching ranks during the off-season.
When whispers surfaced that a few teams were looking to hire Brooks, the Washington Wizards (possibly) overpaid for his services and landed him.
Starting off, he said all of the right things ("John Wall has yet to reach his potential") and did all right things (went to Orlando to personally talk with center Marcin Gortat in his off-season home).
Brooks has the reputation of being a player coach, so these things are not surprising.
Despite the poor record, it's early enough for the Wizards to turn things around.
If they win two or three games in a row, for instance, they would be right back in the thick of things.
While there have been a lot of questions regarding the team – a weak bench and unproven players that are currently playing a big role in the rotation – the Wizards have actually had a shot at winning two or three of the seven games they've lost by being up late in the fourth quarter, which would make some questions about the team vanish.
If they had an identity, perhaps closing those games would've been easier.
A few players from past teams have all made the observation that this organization and team will only go as far as Wall and Beal's leadership will take them.
It will start with these two stars to determine what this team is. It's no secret that Beal has to play at a higher level for this team to win. Beal was paid this off-season on his potential to be one of the best guards in the NBA, so him upping the level of his play would take the team a lot closer to what they should be.
It's also no secret that this team isn't talented enough to hang with some of the better squads in the NBA by not knowing what they are as a team.
With the Washington Wizards' current starting five of Wall, Beal, Otto Porter, Markieff Morris and Marcin Gortat, one would think the team would have a defensive mindset and rebounding edge to them.
Bottom line is, while it's still early in the season, the Wizards need to take a look at themselves and decide what and who they're going to be.
This article originally appeared on