A Mirror Image: Jusuf Nurkic's Historical Comparisons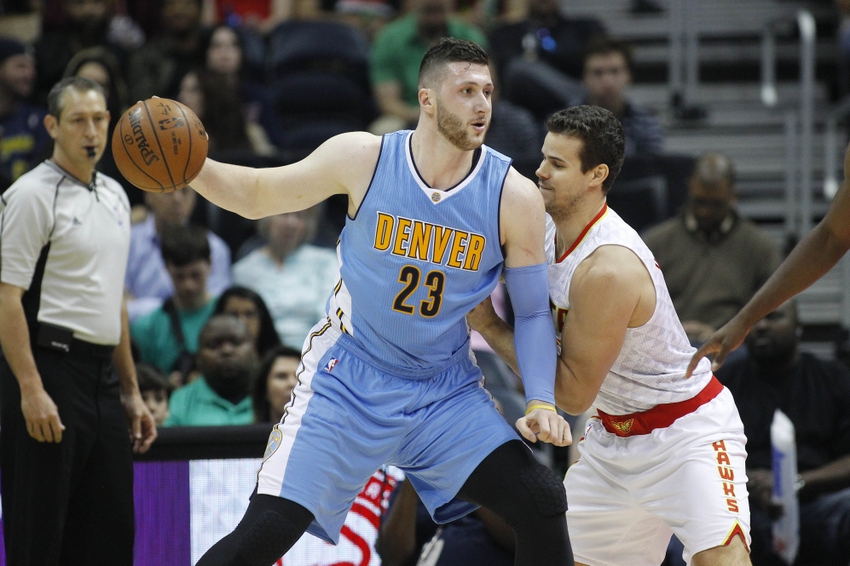 Coming off an injury-plagued season, Jusuf Nurkic will be looking to prove that he can thrive in this league. But will his style be able to play at the same time Nikola Jokic?
Following his rookie year, the Jusuf Nurkic hype-train was beginning to pick up some serious speed. At the time, he was viewed upon as the future of Denver Nuggets basketball. But a lot has changed since then.
Nurkic had surgery to repair a partially torn left patellar tendon, which kept him out action for 50 games last season. This not only hindered his individual development, but it also allowed someone else to take the spotlight in Denver: Nikola Jokic.
In the time in which Nurkic was out, Jokic shined so bright that it is now he who is viewed as the future of Denver basketball. In no way is this a bad thing, in fact it could be phenomenal for the Nuggets.
They now have two incredibly talented big men who they can build a legitimate playoff team around. The only question is whether or not Nurkic and Jokic can play well together on the court at the same time.
Unfortunately Nurkic was injured for the majority of last season, so the two rarely spent time together on the floor. But that allows for a great opportunity for Mike Malone to experiment with the playing styles of his two young big men.
But just how good can Nurkic be in a shared system?
Strengths:
Jusuf Nurkic has a lot of strengths, but where he really shines is from the low post. He's not only good down low on offense, but he mans the paint well on the defensive end too.
On offense, Nurkic has everything you want in a young low post big man: a soft touch, great footwork and the ability to finish with both hands. These skills allow him to finish well off the pick and roll, even when he's matched up against tougher defenders.
Nurkic also has a very good spin move down low, which frees him up to finish with a hook shot from either hand.
Another area where Nurkic stands out is with his massive size. Nurkic stands at 6'11", with a 7'2″ wingspan and is now a lean 245 pounds after he lost 35 pounds this offseason. Through his work with Nuggets strength coach Steve Hess, Nurkic has become significantly stronger while also shedding a lot of weight.
This will better his chances of fighting through contact in the low post, which in turn leads to more scoring opportunities.
On defense, Nurkic has proven himself as an anchor on the interior. He has very quick hands and a surprising lateral speed which help not only his current defensive abilities, but his defensive potential as well.
Last season he averaged 1.4 blocks per game, but per 36 minutes he averaged an incredible 2.9 blocks. As Nurkic finds himself on the floor more often this season, his blocking numbers will skew toward his per 36 minutes averages. That also means that he'll rank amongst the best interior defenders in the NBA, at least statistically speaking.
Weaknesses:
Even though Nurkic has improved physically, he's not much of an elite athlete. Most of his work down low is directly an effect of his strength and finesse, not his explosiveness.
He's not that great a leaper, so he could face some serious troubles against longer opponents on both ends of the floor. That could effectively nullify Nurkic's production whenever he take the court.
However, it should be noted that none of us are too sure how much better Nurkic has gotten this offseason. In theory, his loss of weight should somewhat improve his explosiveness and speed. So this could be a very minor concern for both Nurkic and the Nuggets.
Nurkic also has a very big problem getting into foul trouble. Even though he is a great interior defender, he tends to play recklessly.
There are times in which he appears to lack discipline, and may let his attitude get the best of him. To put it into perspective, last year Nurkic averaged 2.8 personal fouls per game, but per 36 minutes that number jumps to 6.0.
That means that if he were to play more often, it would become even more likely that he'd foul out. If that were to happen, the Nuggets would a tough time against other dominant front courts.
But this should hopefully improve as Nurkic gains more experience in the NBA. Remember, he missed 50 games last year and 20 games the year before, so he hasn't really had enough time on the floor to fully develop mentally.
Who does he compare to?
Ceiling: Artis Gilmore
Floor: Andray Blatche
It's becoming even more clear that the league as a whole, is trending downward in terms of size. So that means that anytime you can find a big man as skilled as Jusuf Nurkic, then you shouldn't hesitate to build around them.
In the Nuggets case, they have two incredibly skilled big men who are both very young. That opens up the possibility for Nurkic and Jokic to become one of the best front courts in recent memory.
If Nurkic can continue his upward trend then he'll be able to dominate against his opponents, especially if he has the option share the load with Jokic.
At this point it appears as if he has a collective skill set which is becoming harder to find in this league. He'll have every opportunity possible to thrive, which could mean very big things for Denver basketball.
Nurkic could truly be remembered as a one-of-a-kind player who really earned his spot in NBA history. But it will take time, hard work and a little bit of luck to see if he can get there.
This article originally appeared on