A look at how the Warriors did in the 2016-17 GM's poll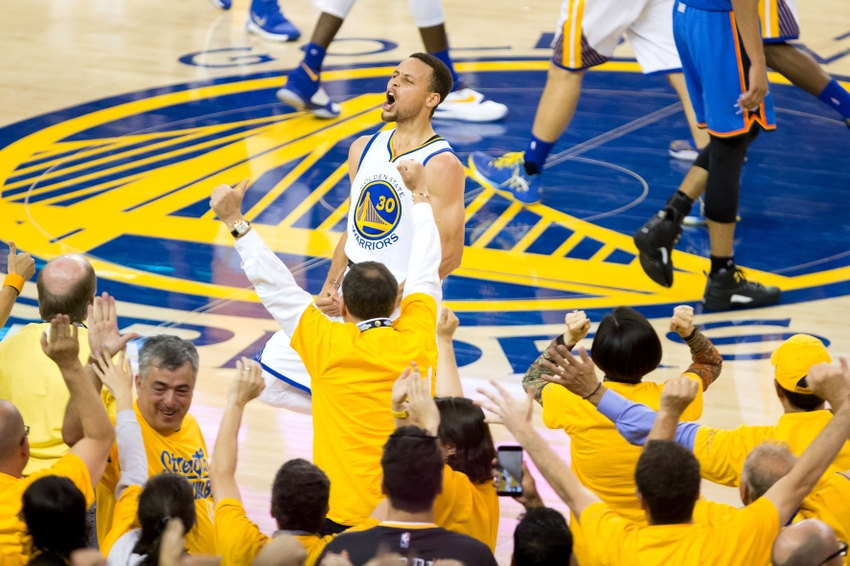 The Golden State Warriors received a lot of votes and recognition in this year's edition of the NBA's GM survey. Here's an in-depth look at them.
Every year, at the beginning of the season, the General Managers around the league complete polls. They give their input on league rankings, expectations, and other general NBA observations.  It's always interesting to see what the guys who get paid the big bucks think.
They're not always right. Only 7.1 percent of GMs thought Stephen Curry would win last year's MVP award. He was behind LeBron James, Anthony Davis, Kevin Durant, and James Harden and tied with Russell Westbrook. The runner-up, Kawhi Leonard, didn't make an appearance on the list.
Their inaccurate guesses are even more fascinating than the times they get it right. But it's cool to see who and what the league's General Managers value.
The Warriors are, obviously, stacked. They're the favorites to win the title. Bleacher Report's Howard Beck wrote a very insightful piece that highlights NBA executives' thoughts on how to stop them. Essentially, you don't. You just hope they mess up.
We're going to take a look at what the General Managers had to say in this year's survey. I'm going to look at team expectations and assessments. Then I'll go into both coaching and the individual players and where they ranked and what the GMs thought of them. Pretty much anything the Warriors are mentioned in. There's a lot to digest so let's get into.
Team Expectations/Assessments
The Golden State Warriors, as a team, were at the top of a couple of questions. They're the favorite to win the 2017 NBA championship, getting 69 percent of the votes. They're the overwhelming favorite to win the tough Western Conference as well.
Just 10 percent of voters thought that the Warriors were the best defensive team in the league. They were behind San Antonio (50 percent) and Boston (13.3 percent) and tied with Cleveland and Utah. Last year, Golden State was sixth in the league in Defensive Rating with Andrew Bogut and Festus Ezeli so losing those two definitely hurt them in the eyes of GMs because they were voted the best defense in the league by 58.6 percent of voters.
In what seems like a no-brainer, the Kevin Durant signing was voted by 80 percent of voters as the one-player acquisition that will have the most impact. The only reason to vote against it is if you believe the 73-win Warriors can't get much better. Record-wise, they probably won't be, but the quality will surely improve. Similarly, this was also voted as the most surprising move of the free agency by 46.7 percent of GMs.
The Warriors finished first in a few of the miscellaneous categories. Oracle Arena was voted as giving the team they best home court advantage by 58.3 percent of voters. They were also named the team that was most fun to watch by a ridiculous 93.3 percent.
Coaching
The Warriors' coaching staff has undergone a few changes over the last few years. Steve Kerr put together a really strong coaching staff, unlike the previous head coach. The staff was extremely important in securing the team's first title in 40 years.
The staff looks a little different now with some assistants moving on to bigger (not necessarily better) things. Luke Walton was voted by 3.3 percent of voters as a new or relocated coach that would have the biggest impact. Last year, Alvin Gentry was the top vote-getter after he left Golden State for New Orleans.
Ron Adams was voted the league's best assistant by 37.9 percent of GMs. He's a defensive mastermind. He also played a huge role in luring Durant to the Bay Area.
Steve Kerr, the 2016 Coach of the Year, was appeared during some portions and, perhaps more interestingly, didn't appear on others. He was voted as the coach with the best offensive schemes and the second best "manager/motivator" of people, with 63.3 percent and 16.7 percent of votes respectively. He did not finish top-three in best coach.
Having a great team clearly hurts Kerr's credibility in the mind of General Managers. Or maybe they're just bitter they didn't land him.
Role Players
The Warriors are going to have one of the deepest benches in the league. Many felt that they lost too much in the Durant acquisition, but the preseason has opened some eyes. Their reserves might be even stronger than last year.
Andre Iguodala was voted by 40 percent of voters to be the most impactful bench player. He was second only to Jamal Crawford. The fact that Iguodala is behind Crawford is quite ridiculous and it shows exactly why GMs have allowed Golden State to build the team they have. They value scoring and seemingly tangible pieces of evidence of production rather than basketball IQ and leadership.
Zaza Pachulia, the Warriors' new starting center, received some votes for most underrated player acquisition. He came cheap and he's a big body for the team. Andrew Bogut got 10.3 percent of votes for Dallas, good for third on the list. Harrison Barnes did not receive a vote.
The Warriors' sensational rookie that they acquired from the Milwaukee Bucks, Patrick McCaw also made an appearance on the list. He was third on the question that asked which player would prove to be the biggest steal of the Draft based on his selection spot. Dejounte Murray of the Spurs at 29 was first, Kris Dunn of the Wolves at 5 was second, and McCaw at 38 was third with 13.3 percent of votes. They're still sleeping on him.
In a fun question, Shaun Livingston earned some votes for which player would make the best head coach in the future. He's a very intelligent leader with a good feel for the game. It wouldn't be surprising.
Draymond Green
Draymond Green made nine appearances on the GM survey. A late second-rounder, Green has turned himself into a legitimate star. All of the General Managers that passed him up don't have a choice but to admire his work.
He got 3.6 percent of the vote, good for third, for the question "which player forces opposing coaches to make the most adjustments?" He was behind LeBron James and Stephen Curry. This one's a little surprising, but his versatility and playmaking does make Green a problem for any team.
He was voted the best power forward in the league by 16.1 percent of GMs, enough for third on the list. He also got 3.3 percent of the vote for best centers in the league, placing him sixth. Also, 8.3 percent voted him the most versatile player in the league.
Green is a defensive anchor for the Warriors. The DPOY runner up for the last two seasons only got 6.7 percent of the vote for best defender in the league, tied with Avery Bradley and DeAndre Jordan. He received 10 percent of the vote for best interior defender, placing him right under Jordan and Rudy Gobert.
What makes him so special is the intangibles. He received votes for being a good head coach in the future which is a testament to his high-IQ. He was tied with Steven Adams for fourth on the toughest player list, each receiving 10 percent of votes. He was tied with Steph Curry for best leader as 10.7 percent of the vote put them behind just LeBron James and Chris Paul.
Green has earned respect. And whether you like it or not, he's one of the best.
Klay Thompson
Klay Thompson has elevated his game every year. He's become one of the top shooting guards in the league. He's an absolute monster on both ends of the court.
He appeared four times on the list. He is second on the best shooting guard list, behind only James Harden. Thompson received 40 percent of the vote, a huge jump from 10.3 percent last year. This is due to a combination of Thompson's own work and a frustration with Harden's laziness and antics.
He's a very good defensive player. He received some votes for best perimeter defender in the league. With the great defenders in the league, it's not a surprise that he didn't rank higher. There's some fantastic players out there.
Thompson's strong suit is shooting the basketball. It's his bread and butter. That's what he does. And he was recognized for it.
He received 26.7 percent of the vote for best pure shooter in the league. You can imagine who was first. Thompson gets a lot of his shots on catch-and-shoot opportunities and 40 percent said he was the best at moving without the ball, tops in the league.
Thompson is gunning for that top shooting guard spot. He'll look to prove a lot of GMs wrong about him. Again.
Kevin Durant
Kevin Durant's decision changed the landscape of the NBA. It eliminated a contender in the West and strengthened another one. It also had individual implications for him though.
Many feel that his individual impact will lessen now that he's surrounded by other stars. Only 6.7 percent of GMs believe that he can win the MVP this season. But 20.7 percent of them would start a franchise would him, second behind Karl-Anthony Towns. A minority feels that his impact could have a breakout season this year with Golden State.
He received votes at two different positions. He and LeBron James were the only two to receive votes for the best small forward, James staying on top with 76.8 percent of votes compared to Durant's 23.2 percent. He received 9.6 percent of votes for best power forward, a position he'll play a lot of this season.
He didn't rank, but he got some votes for best at moving without the ball, most versatile, and the guy the GMs want taking the shot at the end of the game. The first two are aspects that he should improve upon in the Warriors' system. The third one seems a little strange considering how he can pretty much get off a shot whenever he wants, but he was behind Curry and James.
Durant is going to make the Warriors better. He should also improve his individual game as well. While the GMs don't think so, he has a legitimate shot at winning MVP.
Stephen Curry
The two-timing MVP showed up quite a bit on this list. Similar to Durant, many feel that Curry's production will suffer with another MVP next to him. They're probably right. He won't average 30 points per game because he doesn't need to. Curry has owned the league for the last two years, but it looks like the NBA Finals heavily influenced people's opinions of him.
He is behind James and Russell Westbrook as the favorites to win MVP, reaching 10 percent of the vote with Harden. He received some votes for a player that GMs would want to start a franchise with right now. It's odd that he's not higher because he is younger than James so a team would get more out of him for longer.
Again, James was ranked as a player that forces teams to make the most adjustments, receiving 75 percent of the vote compared to Curry's 21.4 percent. He is third with Green with 10.7 percent in being the best leader. His basketball IQ got 6.9 percent of the vote in that category, a distant third from James and Paul. He also got some votes for being a good future head coach.
A hot topic for debate on Twitter, 63.3 percent of NBA GMs said he is the best point guard. He is the best shooter in the league and 60 percent of voters agree. He beat James as the favorite for taking the last shot of the game, getting 75.9 percent of votes.
Curry isn't known for his physical abilities or athleticism. He got 6.7 percent of the vote for fastest player with the ball. This put him above Kyrie Irving and Ish Smith, but below Westbrook and John Wall.
There was an eye-catching exclusion. Interestingly enough, he didn't receive a vote for best passer in the league. Ben Simmons, the Sixers' rookie who is sidelined with a foot injury, does make an appearance.
Curry may have lost the title of best player in the league after falling to LeBron James in the Finals. But now he's healthy and motivated with stronger reinforcements. He's ready to take back his league.
This article originally appeared on