A Glimpse Into the Dallas Mavericks Future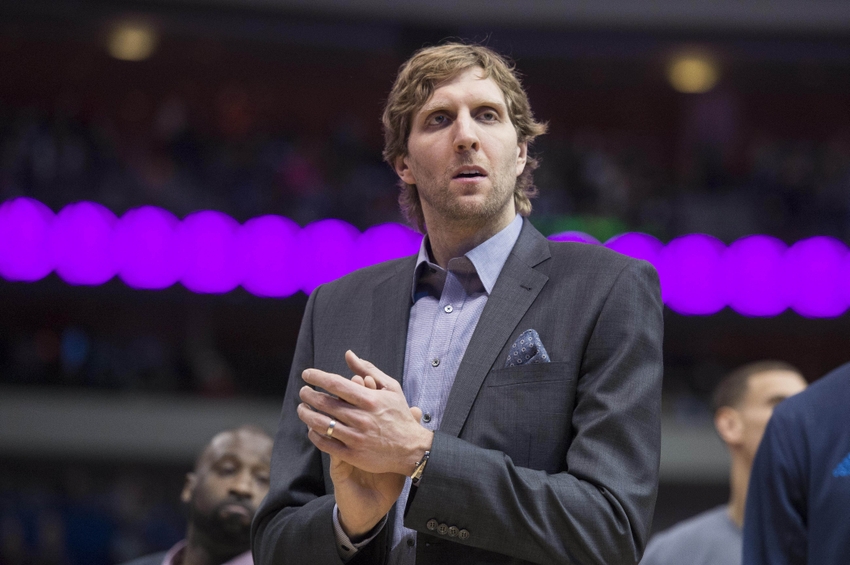 With Dirk Nowitzki being out the past two games due to illness, could these games be a look into the Dallas Mavericks future without their long-time franchise centerpiece?
The beginning of Dallas' 2016-2017 season has been rocky so far, losing their first 3 contests. The Mavs played without the aging franchise player Dirk in the last two games, ending in close, low scoring affairs against their Texas rival Houston Rockets.
Despite some fans unwillingness to think about the inevitable, eventually the Big German will hang them up. He has gone on the record that he plans on playing two more years, but hasn't thrown out the idea of ending his career after this season. After nearly 20 years of greatness, Mavs fans have been spoiled by his offensive prowess and production.
As the curtains slowly start to draw on his illustrious career, lets look at what the past two games have shown us about what life will be like after Dirk.
The Post-Dirk Mavs Will Be a Stout Defensive Team
The 2016-17 Rockets are very talented offensively. Led by sleeper MVP candidate James Harden and a multitude of long range specialists, they can run up the score in a hurry. In their first outing they scored 114 points with James Harden providing 34 points and 17 assists on nearly 50% shooting.
However, in the two contests with the Mavs they were far less effective. Houston averaged 99.5 points in their two outing vs Dallas. Led by defensive star Wesley Matthews, the Mavericks played very tough defense against a ver capable offensive team. While in Game 3 Houston's Harden had 28 points and 7 assists, Matthews played some stifling late game defense and held him to 35% shooting and forced him to turn the ball over 8 times.
While Andrew Bogut may or may not stick around in Dallas, the Mavs have two very stout defenders in Wesley Matthews and Harrison Barnes locked down for a number of years. These two alone make Dallas a force to be reckoned with defensively. Add in some young defensive studs like Justin Anderson, Salah Mejri and Quincy Acy, and the Mavs look like they have a bright future on the defensive side of the ball.
Harrison Barnes and Wesley Matthews Will Need to Play Big Roles
There were many differing opinions on whether Barnes deserved the 4 year, $94 million dollar contract he signed with the Mavs this offseason, regardless though the expectations are high for the Black Falcon in Dallas. Wesley Matthews is another guy who both fans and the front office have high hopes for as he was underwhelming in his first season as a Maverick.
It's interesting because both of these players are in a similar situation where they are both reliably good defenders, but just how big an impact they can have on the offensive end is where the question marks lie. Both players left talented teams where they weren't primary scoring options and came to Dallas where they would see an expanded role.
They have fared decently so far, with Barnes setting a new career high in points in Game 2 and Matthews putting on a show in Game 3. These two young Mavericks have shown that the potential to be great scorers is there, but they aren't at the point where Dallas can consistently rely on them to score a lot.
They are already growing into and learning just how to be offensive focal points, however the pressure isn't on too heavy as Dirk is still a deadly scoring threat, when he is healthy. Whenever Dirk is gone, the Mavs will need Barnes and Matthews to carry the load.
Whether they are ready or not, in two(ish) years they will be asked to put up big numbers and be the number one and two scoring options for the Dallas Mavericks.
There Will Be a Learning Curve Finding Success Without Nowitzki
Dirk Nowitzki is the best Maverick to ever step on the court, one of the top 10 scorers ever, and he has been a steady rock in the unforgiving seas of the NBA. He has carried Dallas for nearly two decades; whether it was game-winning buckets, post season miracles, or locker room leadership, Dirk has been 'The Man' in the Big D.
The Mavs played relatively well without Nowitzki, but they simply weren't the same team. It was apparent that the offense lacked a playmaker, and late in games needed one of Dirk's many clutch miracles to save them.
Filling the void his departure will leave will be nearly impossible, as a player of Dirk's caliber has an impact that can't simply be replaced or simulated. The Mavs will struggle to find a rhythm and identity without the Dunking Deutschman. Dallas will have to go through a period of, not rebuilding per say, but the Mavs will need to retool and create a new team that doesn't depend on the greatness of one of the game of basketball's best to ever play.
It will be a time of adjustment not only for the Mavs themselves, but the fans as well, as we likely won't get the consistent post season visits and overall success that Dirk has led us through.
For now, all we can do it enjoy the time we have left with the beloved Dirk Nowitzki, and hope he can stay healthy and productive for as long as possible.
This article originally appeared on