A funny oddity of Klay Thompson's 60 point night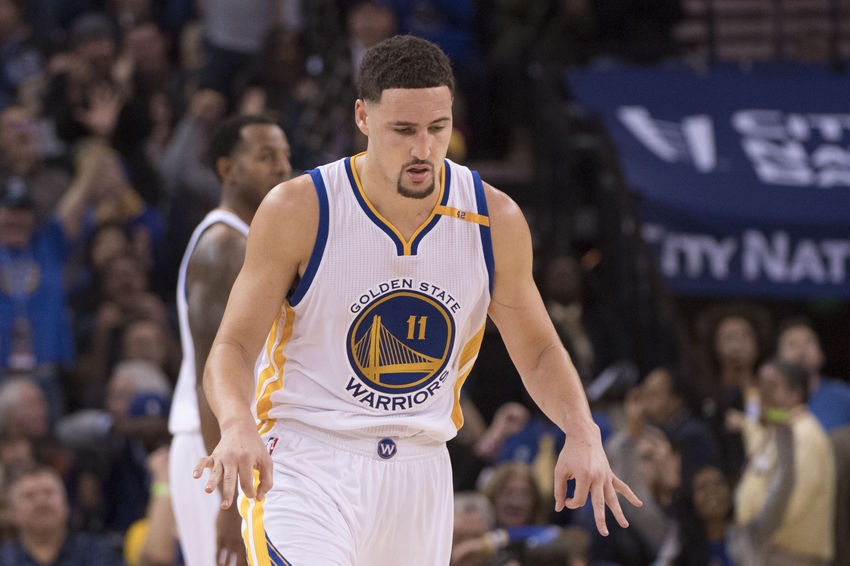 Klay Thompson scored a career-high 60 points in historic fashion. He did it inside and outside, but there was one oddity regarding Indy's defense.
After the Golden State Warriors easily defeated the Indiana Pacers, Steph Curry poured a bag of ice on Klay Thompson's head as he conducted a post game interview with CSN Bay Area. Rosalyn Gold-Onwude asked if that would cool him down, to which Thompson responded with "nah, I'm still hot."
It was an incredible performance that really showcased everything that makes the Warriors special. Their third option on offense was getting buckets at a historic rate, they were blowing out a good team, and they were having a lot of fun. The MVPs genuinely enjoyed that Thompson was going off, scoring 60 points in 29 minutes.
There are a lot of things to pick apart in this game. We could break down every single shot that left Thompson's hands or how Curry found Kevin Durant for his incredible alley-oop, but it's impossible to overlook some of the irony in the Warriors' shooting guard's great performance. Not just how he got his points, but who he got them over.
The Pacers' starting shooting guard is Monta Ellis, former Golden State Warrior. He was a fan-favorite in the Bay Area and Dubs fans were clearly upset when the team decided to trade him to Milwaukee for Andrew Bogut. They boo'd owner Joe Jacob on Chris Mullin's jersey retirement night.
Thompson was coming off the bench, playing behind Ellis who was average nearly 37 minutes per game. The Warriors' rookie out of Washington State wasn't getting much run. The thought of him ever scoring 37 in a quarter as the second option on a championship team wasn't even on most people's radars.
Klay Thompson wasn't the only player playing second fiddle to Ellis, though. Steph Curry was also struggling to find his way behind no. 8. Ellis' USG percentage was 30.7 while Curry's was just 24.0. There was a power struggle to see who really was the alpha male on Golden State.
Ellis was dealt and the team just took off to new heights. Curry went on to become a two-time MVP and one of the greatest basketball players to ever step on  a court and Thompson now holds some of the most prestigious scoring records in league history.
With every ridiculous jumper that Thompson splashed effortlessly, Curry was running up and down the sidelines all the way into the tunnel. Meanwhile, Ellis was getting beaten backdoor and having shots drained all over him. He was being destroyed by the very things he tried to keep down.
Scoring 60 points in 29 minutes is incredible no matter what. The fact that a lot of his damage was done on the player that stood in front of him for the first 37 games of his career is a pretty funny oddity that just adds a little extra to the historic performance.
This article originally appeared on