76ers Rumors: Team Prefers Jahlil Okafor To Nerlens Noel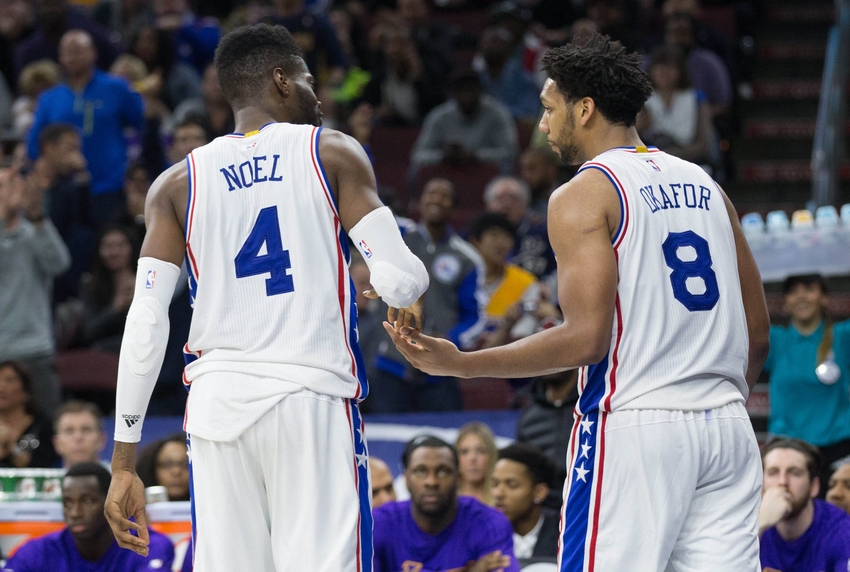 Philadelphia 76ers: Rumor has it that the 76ers would prefer to trade Nerlens Noel instead of Jahlil Okafor.
Philadelphia 76ers rumors continue to revolve around their center position. The 76ers have a logjam in the middle with Joel Embiid, Jahlil Okafor and Nerlens Noel. The 76ers covered themselves because of injury concerns but now need to decide what to do with their three young big men.
Embiid has come on strong since making his debut this season. He looks like a franchise cornerstone and player worth building around. It also further cements what many people thought previously; the 76ers need to trade one of their centers.
Embiid is off the table as the future of the franchise. That means Okafor and Noel are both available and have been for some time. There has been much debate as to which one would be on the move. The 76ers have dangled both Okafor and Noel, and multiple teams have expressed interest.
The Toronto Raptors expressed interest in Noel earlier in the season. Bismack Byimbo left as a free agent, leaving them with a hole in their frontcourt. They signed Jared Sullinger to help fill that void but he has been injured. With Sullinger sidelined for an extended period of time, the Raptors were looking for a big man to fill out their rotation.
Okafor drew interest from the Boston Celtics as well. The Celtics were not willing to meet the 76ers' asking price so talks probably didn't get very far. We now know more as to why the 76ers may not have been pushing an Okafor trade on the Celtics.
According to Steve Kyler of Basketball Insiders, the 76ers do not have much interest in trading Okafor right now and would prefer to move Noel.
The 76ers selected Okafor with the third overall pick in 2015 and has yet to live up to the billing. He struggles defensively but has shown potential offensively. This season he is averaging 10.2 points and 3.5 rebounds per game. That leaves a lot to be desired, especially as Kristaps Porzingis, who was selected right after Okafor by the New York Knicks, blossoms into a superstar.
Despite the lack of production, it makes sense for the 76ers to hold onto Okafor. He is younger than Noel and is under team control for longer; Noel is set to hit restricted free agency following the season. With the contracts we saw handed out this past offseason you can be sure Noel will land a lucrative contract.
While Noel leaves a lot to be desired, he can help a team on defense. He averages 10.5 points, 8.1 rebounds, 1.8 assists, 1.8 steals and 1.7 blocks per game. Injuries have been a problem for Noel, but that shouldn't deter a team from giving him big money this offseason. However, he has to get on the court before the 76ers can realistically try to trade him.
Noel has yet to play this season as he recovers from surgery on his knee. He underwent the surgery in late October right before the season began, but he has yet to take the court. Teams will want to see that he is healthy and able to stay on the court before trading away any assets for him.
The 76ers should start pursuing a trade sooner than later. With restricted free agency looming a team will be less inclined to give Philly anything of value the less time they have to evaluate Noel. The sooner the better for the Sixers if they want to maximize his value on the trade market.
This article originally appeared on