5 Ways Ben Simmons Immediately Will Improve the Philadelphia 76ers
Josh Wilson/FanSided via The Sixer Sense

Fansided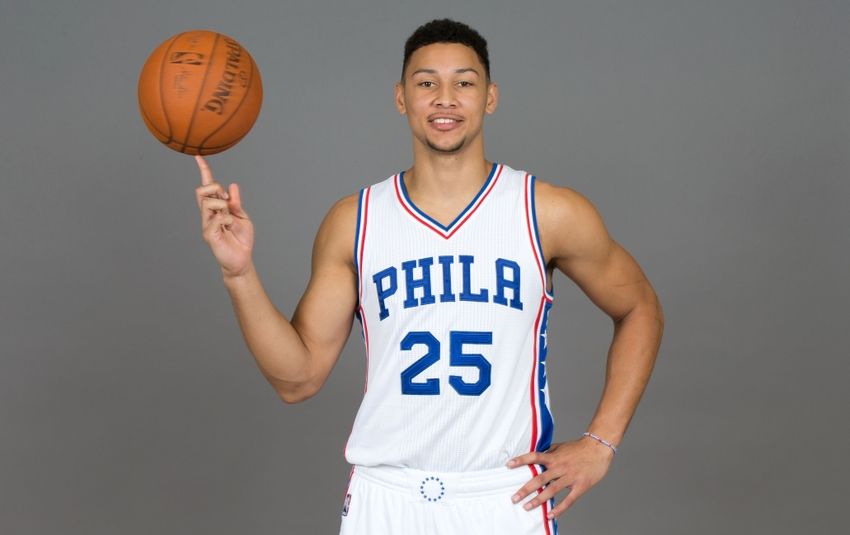 Ben Simmons should be back and playing for the Philadelphia 76ers this season, but how will he improve this team that's doing quite well already?
The Philadelphia 76ers have been pretty freakin' good in the last several games. The team has been streaking as of late, winning five of their last seven games and even coming up with wins in the final minutes of games, something they've struggled with a ton over the last few seasons.
The wins are rolling in, and the Sixers are starting to look like a real NBA team, and a force to be reckoned with in the Eastern Conference. While it still seems like it would take a lot of pieces to fall into place, some Sixers players are talking about the possibility of the playoffs as soon as this season.
This all comes in the middle of Joel Embiid's All-Star campaign, so he is looking better than ever, and his chances of making the Eastern Conference All-Star game are rapidly increasing as his fan vote count gets higher and higher.
But there's one player who will impact the Sixers greatly over the next four years who hasn't played a single game yet. The Sixers top overall pick from this season, Ben Simmons, has been out with an injury for the first several months. While the team still has not given a timetable for his return, it seems logical to expect him back at some point in February or, at the latest, early March. After the All-Star break seems like a good time to bring him back.
So with Simmons, a player who is said to be transformative of a roster such as the Sixers, coming back, how will he improve the Sixers, an already good team? There's plenty of ways Simmons will improve the Sixers this season right away.
Fast break
The Philadelphia 76ers rank at 20th in the NBA in points scored on the fast break. The team has been able to score 14.8 points per game in transition, which is a pretty significant dip compared to their 17.5 from last year.
A big part of that has to do with the fact that Nerlens Noel has not played a whole lot this season, and has just recently been awarded significant playing time by the Sixers. Noel is a great big man to have in transition on both ends of the floor, as he's often the first Sixers player down on every play.
More from The Sixer Sense
Guards love Noel, and finding him in transition is often a sure-fire way to get an assist.
With Ben Simmons coming back, the fast break offense will only be improved even more, as it seems to be improving with Noel back in the games. Simmons is a player who pushes the pace, runs the transition well, and has incredible vision all at the same time.
Simmons will have options in his passing game when he's in transition. While the most optimal pairing seems to be Nerlens Noel, Joel Embiid has been getting better in all areas of his game all season long, and as of late we've really seen him develop an awareness on the floor. This developed awareness helps him move the ball better — and know when to shoot versus when to pass — and also helps him fill lanes correctly and with ease on fast break opportunities.
Given that Simmons will be in the starting lineup, it's more likely that he plays with Embiid than Noel for a majority of his minutes, although he will see a fair amount of both players because of Embiid's current minutes restriction.
In addition to those two, Nik Stauskas and Ersan Ilyasova have become solid 3-point options, and often find themselves open on the wing, even in transition. If the low post is covered — often the first thing defenses will look to prevent on fast breaks — Simmons' next option will be the arc. Sauce and Ilyasova can wait there for a pass, and they can count on many good looks with Simmons running the show.
Simmons' agility and his knack for pushing the pace will make him the ultimate fast-break point forward. His vision on the floor and ability to get the ball where it needs to be will make the Sixers fast breaks more effective than they've been in years.
Controlling the pace
Along with pushing the fast break comes a few other things. Simmons will have an incredible ability to control the pace for the Sixers, and with a control of pace often comes a control of the game.
The more the Sixers can be effective in the fast break, the more the Sixers will be able to score without the opposition being able to counter the Sixers' efforts with much of their own skills. If the Sixers are pushing the pace, and the opposing team can't keep up, then it's almost a sure thing that the Sixers will be able to win games.
The team that dictates the pace often dictates the outcome of the game as well.
Simmons can grab rebounds and push the ball as fast as his body will let him. As discussed previously, he will have options when they're controlling the pace of the game. Dump it off to Noel or Embiid as they fill the lane, find Stauskas or Ilyasova from beyond the arc, or take the ball to the rim himself.
The Sixers pace of 97 so far this year is decently high, but lower than last year's. Simmons will grab rebounds and go, and opposing teams won't be able to keep up unless they have incredible transition defense.
This control of the pace will be easy for the Sixers, but how fast they are able to go will depend on Simmons' conditioning. As he comes off of an injury, he may not be as quick as he typically is. Without a doubt the pace pushing will still be an impact that Simmons exerts on the team this year, but it just might be something that is improved more long-term.
Getting himself and others to the line
Speaking of that fast break, the Sixers are one of the worst teams in the league as far as converting their fast break opportunities into easy free-throws. The Sixers are the seventh worst team as far as free-throw percentage is concerned, and eighth-worst team as far as and-one percentage is concerned in transition offense, according to NBA.com.
The fact that the team isn't getting to the line isn't a huge problem. Many teams don't take free-throws but still have success in transition (the Golden State Warriors are third in the league in points per possession but are dead last in free-throw frequency). The difference is that the Sixers are shooting 7 percent worse than the Warriors on transition plays.
Additionally, the Warriors take a lot of 3-pointers on transition plays where most other teams take shots at the rim.
The Sixers are also near the bottom in straight up score frequency on transition plays, and are in the 13th percentile in transition offense, which means they can't get much worse as far as efficiency is concerned.
One of the big reasons they struggle to get to the line is because their current facilitators just don't have that in their wheelhouse. Sergio Rodriguez and T.J. McConnell have attempted fewer than 30 free-throws combined so far this season.
A big game-changer for transition offense is getting to the free-throw line on those transition plays. With a high pace from Simmons pushing the fast break will come a higher likelihood that teams will foul whoever is taking the Sixers' shots near the rim on fast breaks, therefore increasing and-one opportunities and opportunities at the line.
Simmons can attack the rim himself on fast breaks, set up Noel or Embiid for shots at the rim, and overall just get teams to bite on their dunks and layups.
Simmons' muscle to get to the rim will allow him to initiate contact on the way, and that will get him to the line.
Half-court offense
Everything good about Simmons seems to be all about kicking the pace up, but how about slowing it down? Although there's value in keeping games moving, controlling the pace, and running transition offense well — especially in the eyes of Brett Brown — it's hard to be considered a good team without also having a solid half-court offense behind all of that.
Simmons, despite that he is probably best fit for a fast-paced offense, can also initiate a half-court offense that works.
What we saw in Summer League this year was actually more of that — the half-court offense. That's likely because the Summer League rosters are not rosters that have much time to grow together, and therefore the fast break offense may not be the most refined thing out there, because of the team not really knowing each others' skill sets all that well.
I wrote this piece after watching Simmons in a few Summer League games, evaluating his two greatest skills and how his unique build helps those normal skills become elite. It features many highlights regarding Simmons and his passing especially, but what's interesting is that despite how Simmons, in theory, is a fast-break machine, all but one of his huge highlights were in the half-court, not the fast break.
While Simmons possesses great skills to help the fast-break for the Sixers, he does have the vision and ability to set his teammates up well in set plays. Brett Brown setting up plays that give Simmons options to pass will make him, as well as his teammates, a huge threat.
Shooting?
Coming into his career, Simmons was already being scrutinized for one huge thing — not having a jump-shot to rely on. While at LSU, Simmons, despite being the leading scorer and by far the best player on the team, took just three 3-pointers and only made one of them.
This was looked down on by most people in the NBA world because of how important taking 3-pointers has become over the last few years. The analytics growing in the NBA and becoming more and more accepted as a huge part of the game has resulted in the need for almost every player to have some sort of 3-point shot in their arsenal. That's the main reason that players like Joel Embiid, Kristaps Porzingis, and Karl-Anthony Towns are looked at as incredible players.
While I personally feel like Simmons can get by without a jump shot, I'm not going to argue the idea that it would be a good thing to develop. The Sixers broke his injury recovery down into three main categories, and shooting form was one of those categories. Simmons seems to be back at close to full strength, and has shown off his shot in practices.
In a recent practice, Simmons participated in a corner 3-point drill where he made four of his attempted 5 3-pointers.
I'm not saying we should rely on Simmons hitting 35 percent of his 3-pointers right out of the gate, but I think he'll have a okay shot, especially in the mid-range area of the floor. The Sixers have proven with players that have lower body injuries, they can take advantage and work on things that relate to the upper body — Joel Embiid had almost no long shot before he missed his first two seasons due to foot injury — and I expect nothing but the same from Simmons.
The team needs more shooting threats, and despite the general acceptance that Simmons is a bad 3-point shooter, I think he can prove the doubters wrong.
This article originally appeared on