5 trade ideas for Russell Westbrook the Thunder should consider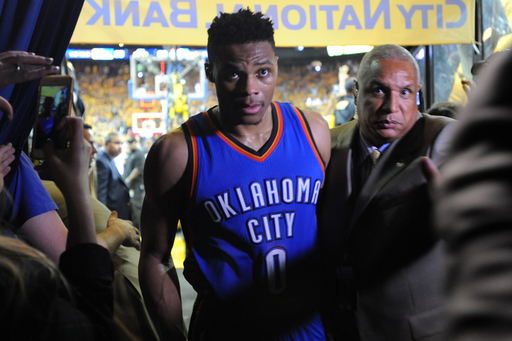 Kevin Durant's decision to leave the Thunder will be mourned by Oklahoma City for the foreseeable future, and the fans of the franchise have every right to take all the time they need in getting over this monumental day in NBA transaction history. However, the 2016-2017 campaign will not wait for this fan base to regroup. There are games to be played and important matters to be tended to.
For OKC's front office, all that matters at the moment is making a decision regarding the future of their remaining perennial superstar: Russell Westbrook.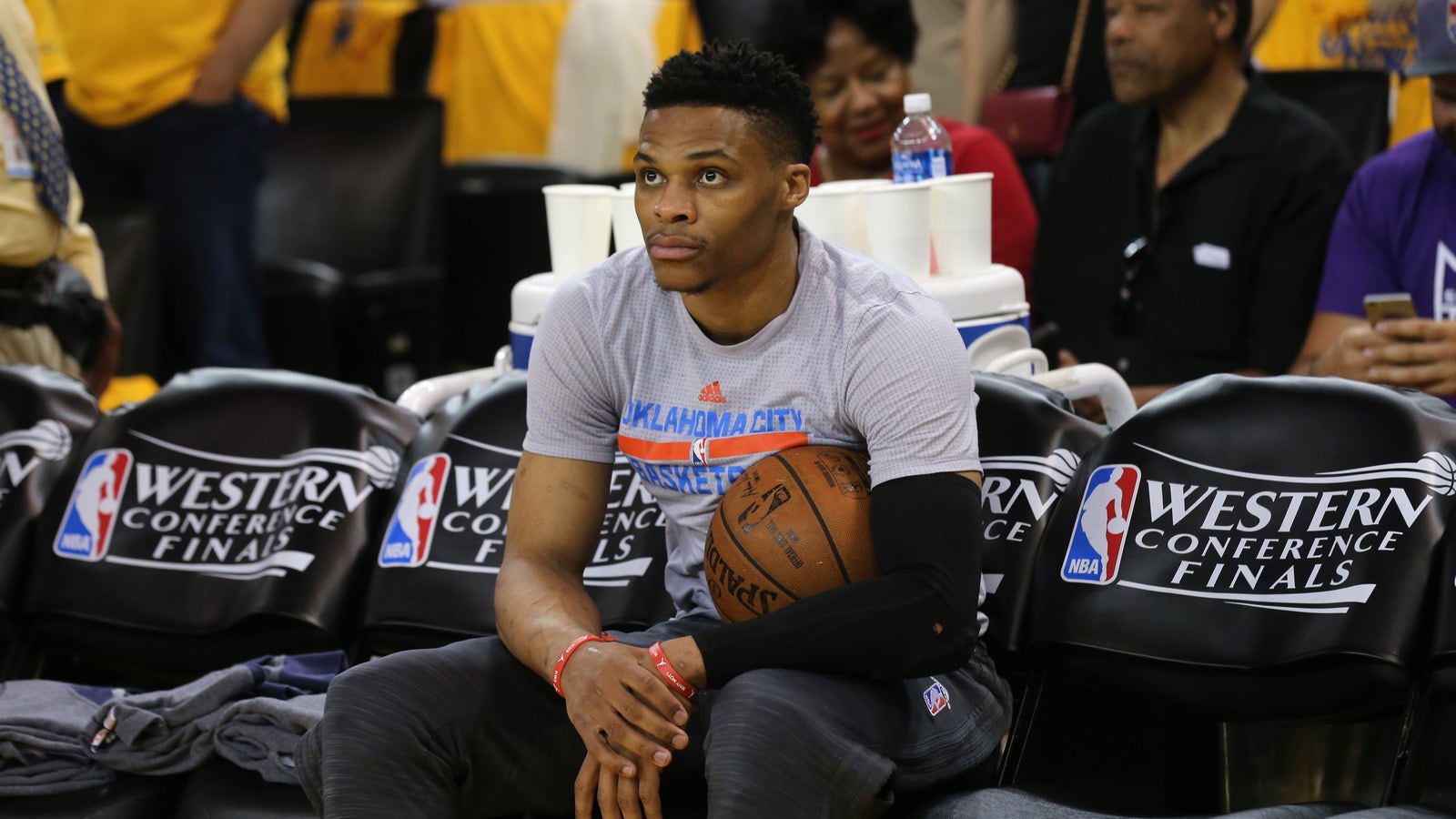 His contract with the Thunder will expire at the end of the 2016-2017 season, and just like the Durant saga this summer –€" every franchise under the sun will be soliciting his employment starting July 1, 2017. Do they hold on to him for the entire season and hope he'll stay because OKC can offer more money than anyone else? Or do the Thunder trade him now, and cash in their valuable asset for as much compensation as they can get? Would other franchises offer anything of equal value under the very reaslitic possibility that Westbrook might be only a three month rental?
If the latter is the strategy moving forward, here are five options Sam Presti and the Oklahoma City Thunder front office must consider proposing to other franchises before it's too late:
Trade #1:
Oklahoma City sends Russell Westbrook (1 YR/$17.8M), Anthony Morrow (1 YR/$3.49M Team Option)
to Boston for Avery Bradley (2 YR/$17M), Jae Crowder (4 YR/$29M), and Marcus Smart (1 YR/$3.58M)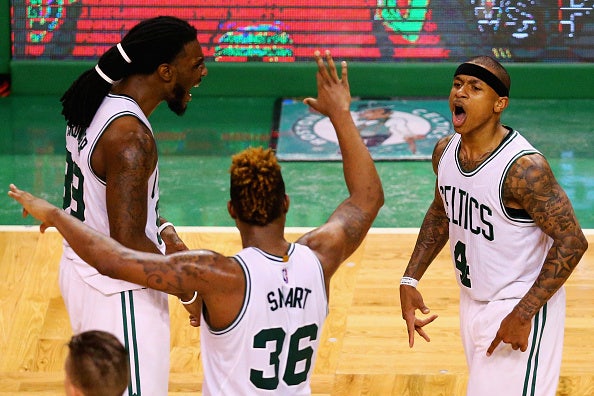 Thoughts: After agreeing to a deal with All-Star free agent Al Horford, there is no doubt that the Boston Celtics are primed for a deep playoff run –€" but are they currently built to compete for a championship? Not quite yet. Despite holding more valuable assets than the rest of the Atlantic Division combined, they lack star power and/or a player worthy of being mentioned in the same sentence as LeBron James. Russell Westbrook is the man who could change that. Yes, the Celtics will have to trade three of their most vital pieces to obtain Russ' services. But here lies the beauty of having a general manager who has drafted, traded for and/or signed approximately 500 shooting guards in the past three seasons — Bradley, Crowder, and Smart can be replaced with Rozier, Jaylen Brown and James Young. A lineup built around Isaiah Thomas, Russell Westbrook, and Al Horford? Holy cow.
Trade #2:
Oklahoma City sends Russell Westbrook (1 YR/$17.8M), Anthony Morrow (1 YR/$3.49M Team Option)
to Los Angeles Lakers for D'Angelo Russell (1 YR/$5.33M with two-year team option), Julius Randle (1 YR/$3.27M with one-year team option), Larry Nance Jr. (1 YR/$1.21M with two-year team option), and Lou Williams (2 YR/$14M)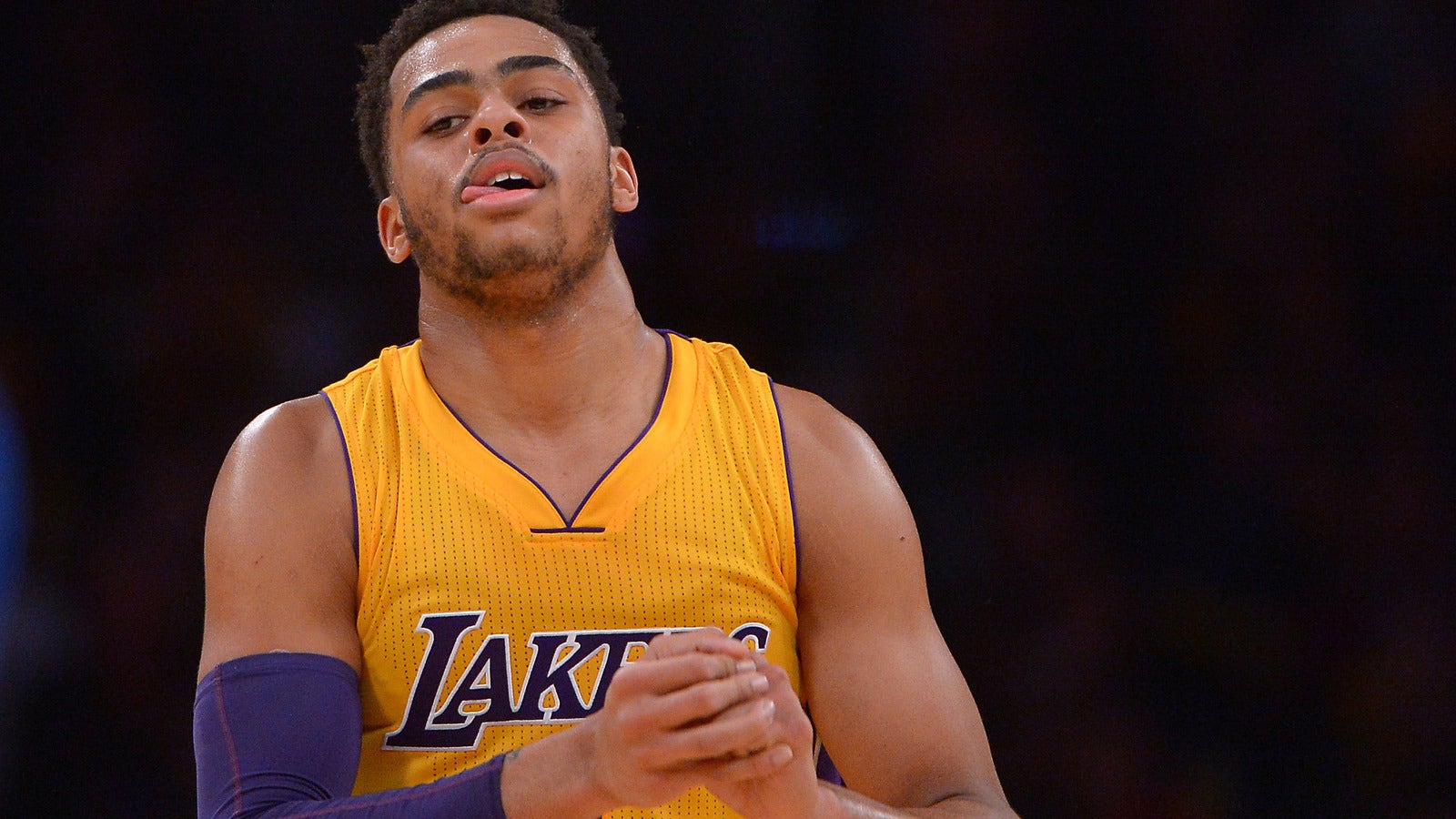 Thoughts: The Lakers may be the laughing stock of 2016 free agency as it seems like they can't even get big-name players to return their phone calls, but they have a very promising young core, consisting of the group listed above in addition to the newly signed Jordan Clarkson. They know this. But they also know they are the Lakers. The Lakers just don't go half a decade without missing the playoffs and/or a single season without having a high-profile player on their roster. They are the Lakers, are they not? Going into the 2016-2017 campaign, they are staring both of these scenarios in the face.
So why trade the franchise's entire future for one year of a superstar who could technically leave after the season? Because you have spoken to Westbrook and he has declared he's going to play for an LA-based team next year no matter what. Because the only leverage you have right now at pulling in a big name (other than being based in Los Angeles) is being able to offer him that precious fifth year and more money than anyone else ever in the history of the NBA. Because there are plenty of D'Angelos, Randles, and Nances out there who will line up around the block to play for the Lakers with this galactic superstar under a long-term contract. There is only one Russell Westbrook.
Trade #3:
Oklahoma City sends Russell Westbrook (1 YR/$17.8M), Victor Oladipo (1 YR/$6.6M)
to New York for Kristaps Porzingis (1 YR/$4.3M with two-year team option), Derrick Rose (1 YR/$21.3M),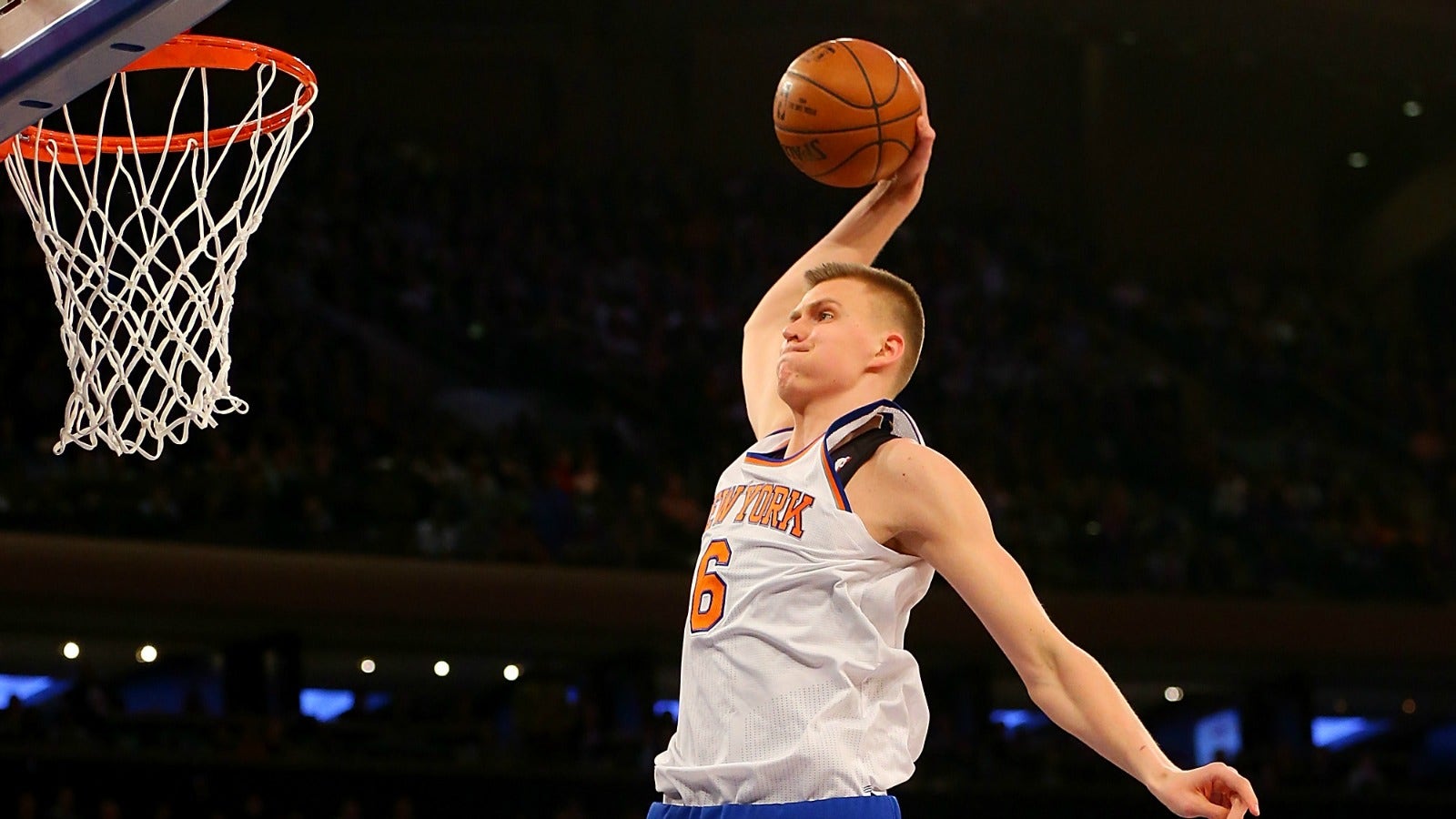 Thoughts: YOU WANNA GET NUTS? LET'S GET NUTS!!!!!!! I'm pretty sure putting the name 'Kristaps Porzingis' into the trade machine is a felony in most states, but, you know what — IT'S NOT THAT CRAZY OK??? There are four superstars (LeBron James, Kevin Durant, Steph Curry, Anthony Davis) in the NBA who you trade ANY player for if given the opportunity. Even the ceiling-less 7-3 Kristaps Porzingis. If Anthony Davis is 4a, Russell Westbrook is certainly 4b. Westbrook, Courtney Lee, Oladipo, Melo, Noah the second-best starting five in the East? If there's anyone out there who thinks this could actually work, it's the Knicks. And the Thunder would say 'YES' to this so fast it would make your head spin.
P.S. this trade can't happen until January, per the rules regarding recently traded players under the NBA's collective bargaining agreement, so, plenty of time to digest!
Trade #4:
Oklahoma City sends Russell Westbrook (1 YR/$17.8M), Anthony Morrow (1 YR/$3.49M Team Option)
to Minnesota for Zach LaVine (1 YR/$2.24M with two-year option/qualifying offer), Shabazz Muhammad (1 YR/$3.05M with one-year option), Ricky Rubio (3 YR/$44.5M)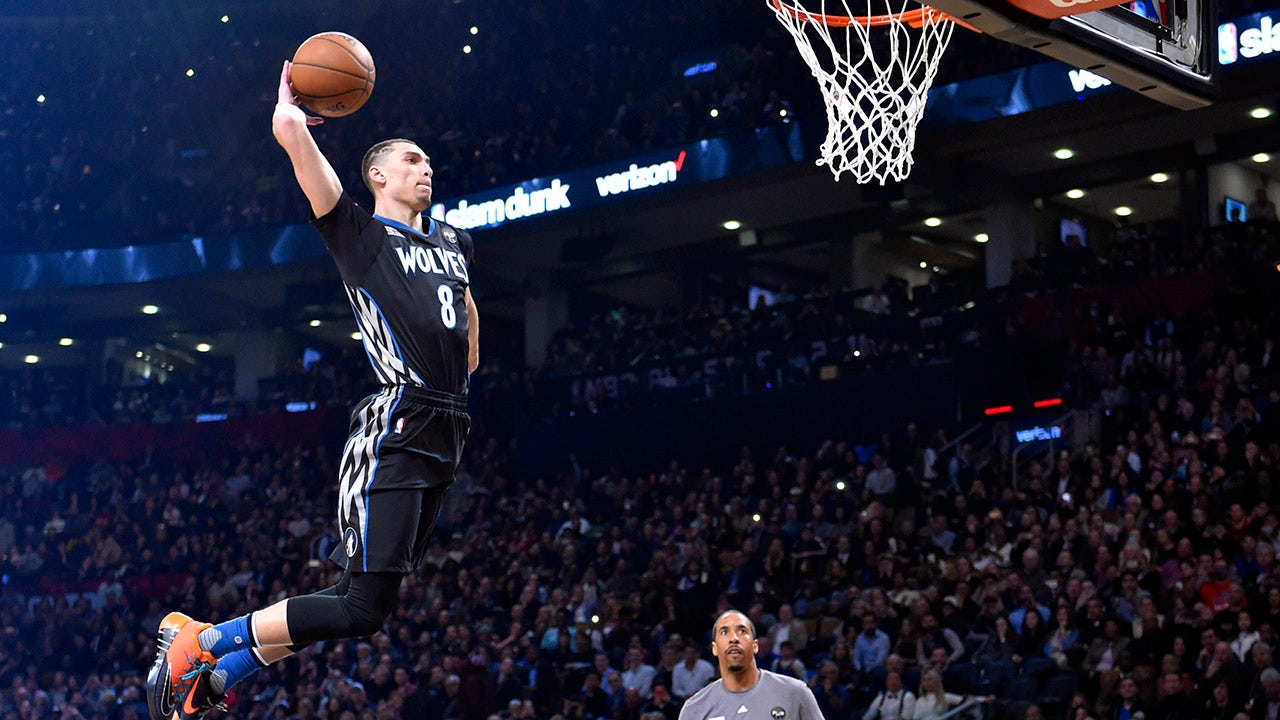 Thoughts: An absolute no-brainer for the Oklahoma City Thunder, but, why would Minnesota trade one of the league's most promising young prospects (LaVine)? BECAUSE YOU WOULD HAVE A TEAM OF RUSSELL WESTBROOK, ANDREW WIGGINS, AND KARL-ANTHONY TOWNS — THAT'S WHY. Of all the options discussed thus far, this "Big 3" might be the scariest long-term monster of them all.
Trade #5:
Oklahoma City sends Russell Westbrook (1 YR/$17.8M)
to Los Angeles Clippers for Blake Griffin (1 YR/$20.14M with 2nd year termination clause), future 1st Round Draft Pick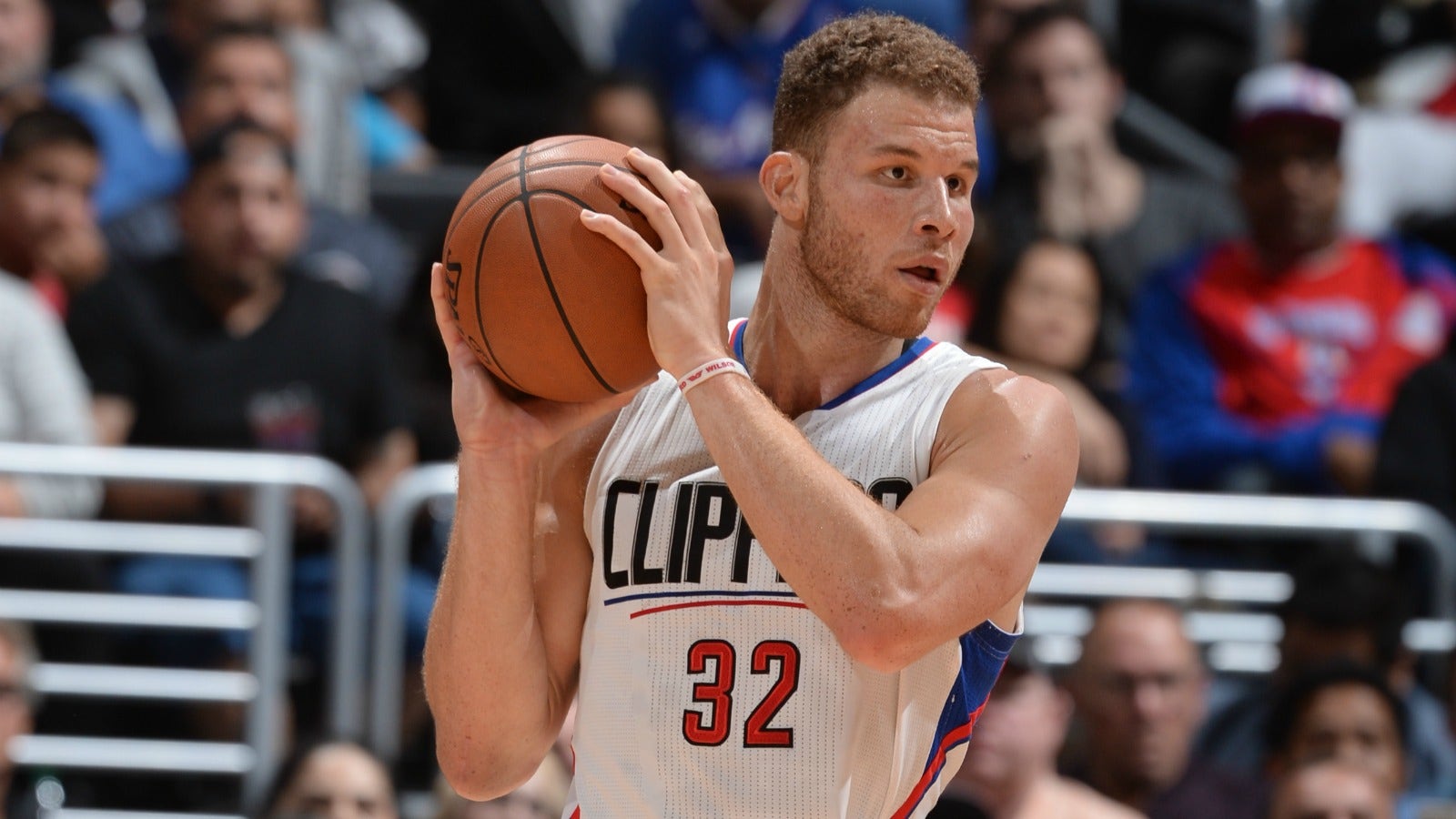 Thoughts: Russell Westbrook is born and raised in Los Angeles, lives in LA during the offseason, loves the city, and will certainly be looking to join a championship-contending franchise the second his contract ends in Oklahoma City. The Los Angeles Clippers cover all the bases — a title-ready roster lacking just one more superstar before they can make the jump to the air the Warriors, Cavaliers, and Spurs currently occupy.
Most importantly, with the NBA's most prominent floor general (Chris Paul) already on the roster, this trade would allow Westbrook to play off the ball as a shooting guard, a position many think he would fit him better than point guard because he won't have to bear the burden of creating for his teammates. Westbrook, under a commensalism relationship with CP3, could be a scoring monster unleashed unlike anything we've ever seen — a wild card that even the Golden State Warriors could have legitimate difficulty facing.
Blake Griffin is certainly worthy of carrying the weight of a franchise on his shoulders. But chronic injuries, inner-team turmoil and DeAndre Jordan's mammoth presence clogging up the paint are all factors that point to Blake needing a fresh start on a team where he can go back to being a ball-dominating offensive player. He would not only get that in Oklahoma City, but also a max contract as soon as his contract expires –€" something that, no matter how well he plays this season and/or if another superstar ever joins the roster, may not be mathematically feasible.