5 trade destinations for Nerlens Noel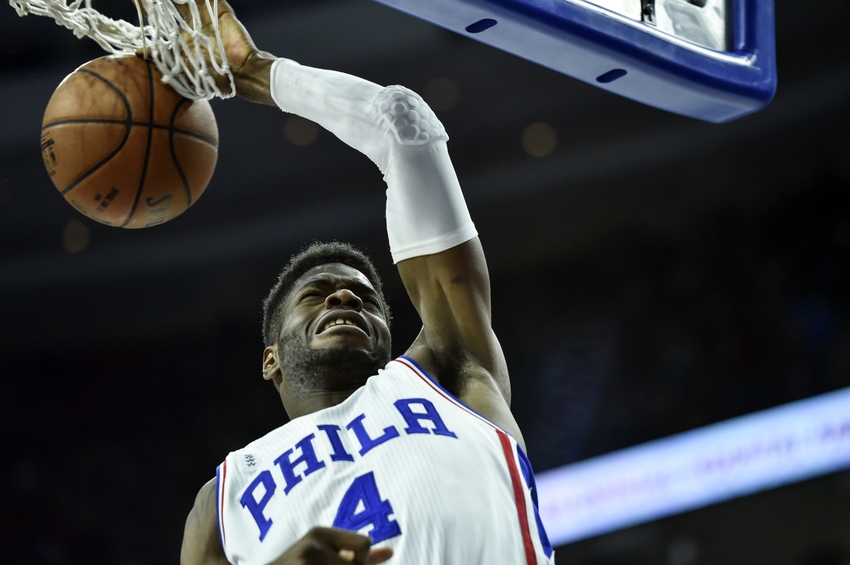 Philadelphia 76ers center Nerlens Noel reportedly wants out. Here are five potential trade destinations for the Philadelphia center.
On Tuesday, Pro Basketball Talk's Kurt Helin reported that Philadelphia 76ers center Nerlens Noel wants out of town. It has been a frustrating four years in Philadelphia for Noel and he wants the 76ers to trade him.
Noel hasn't appeared a game for the 2016-17 76ers, as he recovers from minor surgery to his left knee in the offseason. Though he was drafted in 2013 No. 6 overall, Noel has only played in two of his four NBA seasons to date.
When healthy, Noel is a solid rim protector and low-post presence. In the right situation, Noel can help several NBA frontcourts in the coming years. If he wants out of Philadelphia, here are five teams that the 76ers could send Noel to this season.
5. Portland Trail Blazers
One of the more obvious places that Noel could be shipped to would be the Portland Trail Blazers. Portland is a lousy defensive team that offers no rim protection for head coach Terry Stotts. The Trail Blazers are dead last in defensive rating, 23rd in defensive rebounding, and sixth in opponent offensive rebounding per game.
In short, the Trail Blazers are hovering around .500 in the Western Conference because they cannot protect the rim. They have a strong backcourt with players like Damian Lillard and C.J. McCollum, but this team won't be more than a first-round exit in the 2017 NBA Playoffs if Portland doesn't improve defensively at the rim.
Noel would fit in seamlessly in Portland and could improve all-around under a great player development coach in Stotts. The only problem is that he won't be able to aid Portland immediately because Noel is recovering from knee surgery. If he was able to come in and contribute right away, Noel's defensive presence would certainly offset the Festus Ezeli injury down low.
Portland has the rotational wing players that Philadelphia could want in a trade. Does Portland want another often-injured center in the Pacific Northwest is the bigger question? Trading for Noel might help the Trail Blazers in the long-term, but Portland isn't ready to punt this season just yet, or will they even think about it.
4. New York Knicks
The 2016-17 New York Knicks are a decent team with realistic Eastern Conference Playoff expectations. This team is hovering around .500 and could be in that No. 6 to No. 8 seed come playoff time. It wouldn't be shocking to see the Knicks win a first-round series. The offense is solid and they play well at home.
The problem is that New York is particularly vulnerable at the rim. Spending top-dollar on Joakim Noah in 2016 NBA free agency is not working out. New York also probably doesn't want stretch five Kristaps Porzingis to bang down low unless he absolutely has to. He is far to skilled of an offensive player to see get hurt on the glass against a more physical seven-footer.
For New York to have more balance, the Knicks will need to upgrade its weak bench and bring in some low-post defensive presence. Noah can still play at a high level, but he's not the player he once was to carry that burdensome of a work load.
Noel would be a sound defensive fit in New York. He may struggle in Jeff Hornacek's and frankly Phil Jackson's offense, but he would be greatly appreciated in rim protection and defensive prowess.
New York is a division rival of Philadelphia, so a trade between Atlantic foes could be tricky. The Knicks' issues on the glass aren't immediate, so they can let Noel get healthy before slowly working him into their defensive rotations. However, is he built to succeed in the New York?
3. Boston Celtics
Interestingly, a lot of the teams that could use Noel's low-post presence and rim protection play in the same Atlantic Division as the 76ers. Would the 76ers consider sending Noel to the Boston Celtics for wings or picks?
These two Atlantic Division foes prefer to build through the draft with a bountiful crop of collected picks. Boston is the better team over Philadelphia at this point, but a trade between rivals could prove mutually beneficial.
If Boston wants to be a 50-win team capable of getting to the Eastern Conference Finals, the Celtics need to add some physicality down low defensively. Al Horford is a strong offensive player, but has proven to be non-committal when it comes to grinding defensively.
It is no secret that every team Horford plays on is sub-par on the glass. Noel would be a defensive leader coming off the bench for the Celtics. The Celtics already have a high floor as a basketball franchise, but Noel's inclusion defensively would only improve it.
Philadelphia could get a wing or a pick of their choice for Noel. Boston can integrate Noel into its defensive scheme mid-season so that he can be ready to rock this spring and in the NBA Playoffs. The divisional rivalry is the only thing that might make this deal difficult for the 76ers and Celtics involving Noel.
2. Washington Wizards
Noel has to decide what he feels is more important in the place he lands in a trade: playing time or winning. He can win in 2016-17 as a part of the Trail Blazers, the Knicks, and the Celtics, but he would almost certainly have to come off the bench in a diminished role.
If Noel is cool with being the eighth man in a rotation on a winning team, that's fine. However if it is playing time he covets, orchestrating a trade with the Washington Wizards wouldn't be a bad team for the 76ers to negotiate with.
Like Philadelphia, Washington isn't sniffing the 2017 NBA Playoffs. The Wizards have issues all over its roster, but low-post presence and rim protection are the most glaring. Veteran power forward Marcin Gortat is growing increasingly frustrated in not having a frontcourt teammate he can depend on.
The Ian Mahinmi signing was an odd one, so maybe trading for Noel could help offset that front office gaffe by the Washington Brass. If Washington thinks Noel can help the Wizards out down low, this is a team that the 76ers need to strike up a deal with because the Wizards could offer up some interesting starting caliber players.
Outside of John Wall, Bradley Beal, and Gortat, wouldn't all of Washington's roster be on the table? Would the 76ers take a look at an Otto Porter Jr., a Kelly Oubre, or even a Markieff Morris? Both of these doormat teams in the Eastern Conference need some help. Maybe they can help each other out via trade?
1. Dallas Mavericks
Wouldn't it be hilarious if the lowly 76ers trade Noel to a team that is worse than them? How about to the worst team in basketball in the 3-13 Dallas Mavericks?
Dallas struggles to field a competitive roster most nights because of rampant injuries. Landing two former Golden State Warriors in Harrison Barnes and Andrew Bogut has helped Dirk Nowitzki and company garner three measly wins in 16 attempts. Dallas is a mess.
Noel knows a thing or two about playing in a mess from his time in Philadelphia. It would be a change of scenery for him to go for Philadelphia to Dallas. Maybe he can grow as a player under the watch of strong head coach Rick Carlisle?
Dallas has almost always been an offensive-first team since Nowitzki came to town in the late 1990s. The Mavericks really only championship caliber when they have a clue what they are doing defensively.
Yes, the Mavericks are now light years away from contending in the Western Conference, but investing in a solid young shot blocker in Noel could be a decent start. Noel wouldn't have to worry about the armada of big men that former 76ers general manager Sam Hinkie stockpiled while at the helm of the Philadelphia operation. Maybe Noel can finally play unencumbered basketball for once as a professional in Dallas?
More from FanSided
This article originally appeared on