5 Things We've Learned From The Los Angeles Lakers' Early-Season Action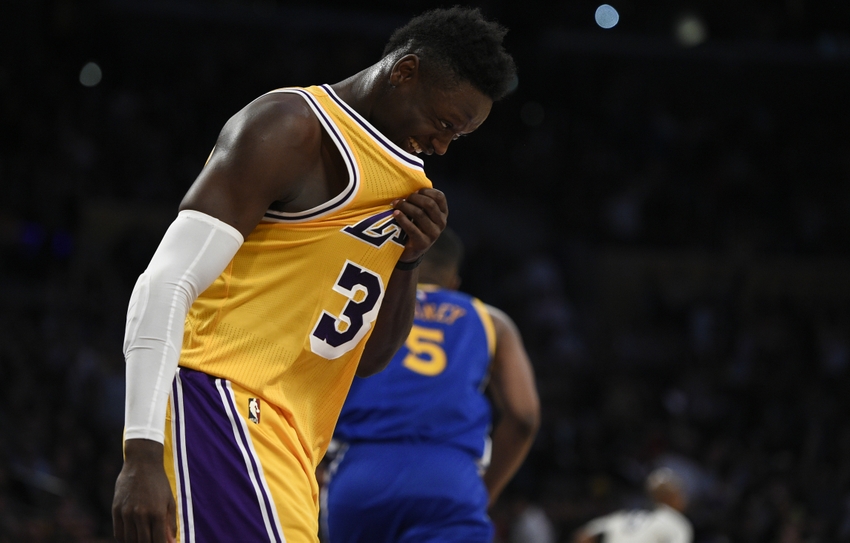 We've learned a lot about the 2016-17 Los Angeles Lakers even though only a handful of games have been played up to this point.
After the worst season in franchise history, things are looking up for the Los Angeles Lakers. They've got an exciting new head coach, a roster full of high-upside youngsters, and plenty of confidence as we roll through the early part of the 2016-17 schedule.
Eight contests are now in the books, which has given us a good first look at the Lakers. While it's still early and holding any judgments would be wise, we've learned plenty from these first few games.
Honestly, there's a lot to like. They're off to a much better start than a season ago, and have shown the ability to compete with some of the best teams in the NBA.
I don't want to jump the gun and start calling them a playoff-caliber club, but the outlook isn't nearly as dark and dreary as it was a couple of months ago.
Either way, I'd still temper expectations. This team is very young, and a lot can change between now and April. With that being said, it's easy to understand why some fans are very excited about the Lakers' early showing in 2016-17.
So here they are–five things we've learned about the Lakers through the early part of the 2016-17 campaign.
Julius Randle Is Primed For A Breakout Season
It's been a long two years as the Lakers have patiently waited for Julius Randle to unlock his true potential. We saw glimpses of the playmaker he could be a season ago, and now the young forward appears to be putting it all together.
He did get off to a slow start, but the past few games have seen him emerge as a rising star for the Lakers. Randle is dominating the boards like he did last season, playing more efficiently on offense and showing serious maturation in his all-around game.
Especially with Luke Walton looking to use him in a Draymond Green-type of role, the early returns have been promising. Randle is doing exactly what the Lakers needed him to do–providing a forceful presence in the paint who can make an impact on both ends of the court.
It's still unclear who will be the star for this Los Angeles team moving forward. While most assumed it would be either D'Angelo Russell or Brandon Ingram, Randle isn't ready to drop out of that race just yet.
Don't be surprised if Randle's stock continues to soar as the 2016-17 campaign rolls along.
Brandon Ingram Has A Long Way To Go
Walton made it clear from the get go that Brandon Ingram wouldn't be thrust into a prominent role. That's been the case up to this point, and seemingly for good reason.
Although there's plenty to like about the rookie, it's clear he's still got a lot of growing to do as an NBA talent. He's had more downs than ups this season, and is still adjusting to the speed, physicality and tenacity that NBA players bring on a nightly basis.
Through eight games, Ingram has averaged 6.4 points, 3.3 rebounds and 1.3 assists per game while earning 20.4 minutes. The worst part is he's currently shooting only 36.4 percent from the field, and only 23.5 percent from deep.
He's shown flashes up to this point, but Ingram is still a work in progress.
Remember, this isn't to say Ingram won't be a star some day–there's a reason the Lakers selected him second overall. However, it doesn't appear he'll be a sensation right out of the gate.
I'm going to trust that Walton knows what he's doing in bringing him along slowly. Ingram may not enjoy a breakout season in 2016-17, but you better believe the outlook on his NBA career is still very bright.
D'Angelo Russell Isn't Yet Ready To Be The Guy
Before the regular season, I predicted that D'Angelo Russell would immediately emerge as the heir apparent to Kobe Bryant's throne as the king of Los Angeles. Unfortunately, as you probably know, that hasn't quite been the case.
While Russell currently leads the team in points per game (15.4), he's been rather inconsistent this season. In three of eight games, he's shot 30 percent or less from the field. The sophomore guard has also committed way too many turnovers while being extremely streaky on offense.
Obviously Bryant had his fair share of bad games, but Russell is still a long way from being the true No. 1. Just ask the Lakers' top five scoring leaders, who are all currently averaging between 15.4 and 14.5 points per game.
Not the type of dominance you want from the potential face of the franchise.
Russell took some time to get going as a rookie, but appeared ready to take a step in his maturation based on his play during Summer League and the preseason. While that step may come in the near future, we haven't seen it yet.
The Lakers need someone who can be "the guy." Russell may very well be the man who assumes that role somewhere down the road, but he's not quite ready.
Luke Walton's Presence Already Making A Difference
Believe it or not, the Lakers are actually looking like a quality club in 2016-17. While the on-court performance has obviously improved, I believe the biggest difference maker is the guy calling the shots.
Yes, Luke Walton's triumphant return suddenly has this Lakers team looking like a competitive bunch. Not only are the players willing to put it all on the line to win for him (via Lakers Nation's Serena Winters), but he's doing what he can to put them in position to be winners.
Walton has done it before with the Golden State Warriors, and he's doing it again with his former team. In fact, he found a way to knock off the reigning MVP and his gang of Finals shoe-ins already this season.
Just think about this–the Lakers are playing better defense, more efficient offense and are showing way more hustle than a season ago. Walton has somehow turned Nick Young into a reliable contributor, and is coaxing the best possible basketball out of Randle.
He's also done a great job of bringing along Ingram at the right pace.
It's all coming together for the Lakers, and Walton is a huge part of this rapid progress. The passion and tenacity have been re-injected into this roster, which could lead to big things very soon.
The Lakers Are A Team Worth Taking Seriously
Through the Lakers' first seven games of 2015-16, they had won only one game. Heck, it took until their 10th game to secure their second win of the year. In 2016-17, they have four wins through eight games.
On top of that, one of those wins includes a 20-point victory over the Warriors.
It may seem crazy, but the Lakers are a team worth taking seriously. Their young stars are showing well, although there's still a lot of inconsistency among the group. It's been an impressive performance from a team that most folks assumed would continue to be awful this season.
Instead, as previously mentioned, the return of Walton has done wonders for this franchise. The coaching is finally there, there's significant talent on the roster and the players are finally showing a true desire to win each and every game.
It's early in the year, but the signs are pointing in the right direction for the Lakers.
It's been quite some time since Los Angeles was worth a second thought. If the early showing in 2016-17 is any indicator, the Lakers should be seen as a threat this season.
This article originally appeared on