5 Things We Learned in Philadelphia 76ers Loss to the Indiana Pacers
The v lost to the Indiana Pacers in overtime on Wednesday night, and many lessons were learned. Here are five of them.
The Philadelphia 76ers lost their seventh game of the season to the Indiana Pacers on Wednesday night in the first of a home-and-home with the Pacers. There were a lot of positives to take away from this game, one of the largest being that the Sixers were not trailing after four quarters for the first time this season.
The Sixers ultimately would lose the game in overtime, but they held the Pacers to 30 points or below in most quarters, and they also held the largest lead of the game with 10 points. The game tied seven times and there were 15 lead changes. It truly felt like an even matchup for the whole game, and felt like an attainable win for the Sixers. The Sixers won the rebound battle on both the defensive end and the offensive end.
All of this was achieved without the efforts of Joel Embiid, who stayed home and did not play. Embiid has yet to make a single road trip with the Sixers this season.
There were a lot of positives with this game, and more imporantly, many learning lessons to take away. Here are just a few of them.
Embiid isn't everything
I'm sorry Philadelphia 76ers fans, Joel Embiid is not everything to this team. Is he a lot? Yes, yes, he is. But he's not everything.
More from The Sixer Sense
While that seems like it might be a bad thing, it's actually a very good thing. After all, we don't want a rookie to have the pressure of an entire team on his back.
Joel Embiid, when he plays, is truly breath-taking. There is nothing on the floor more exciting than him that we've seen up to this point, and any time we get a chance to watch him feels like a blessing. But luckily, we're seeing that there is more to this team than him.
Yes, we already knew Sergio Rodriguez was looking like a true NBA point guard. Yes, we already knew Okafor could score. But we're finally seeing some critical pieces fall right into place, and that's exciting.
The Sixers taking the Pacers to overtime without Embiid is incredible, and if they can keep up with the Pacers like this on Wednesday without Embiid, who knows what they will be able to do on Friday with Embiid.
Going forward, we know that this team is largely about Embiid when he plays, and that's fine. It's nice to see that the Sixers can do things without "The Process" too.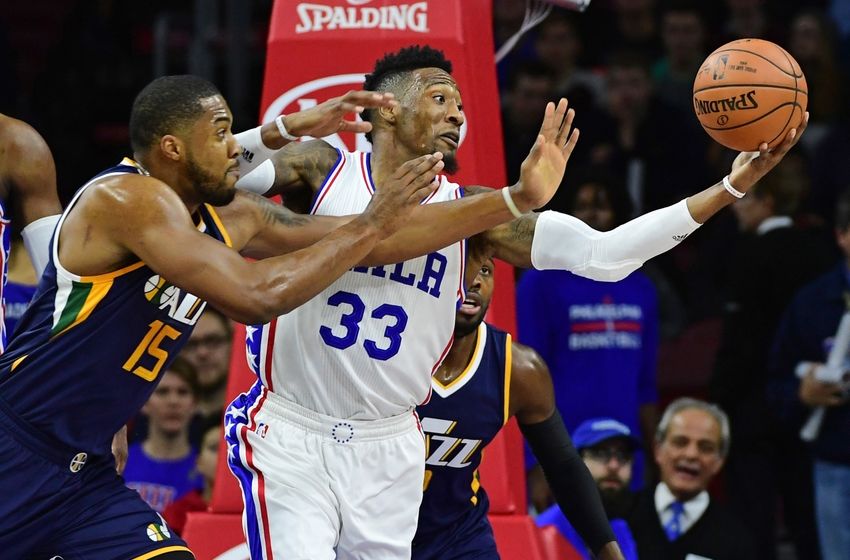 Robert Covington is back
The cries to get rid of Robert Covington and find some better shooting options so early in the season now look quite unwarranted. Really, we should have given him a few more weeks before we started ragging on him. Slumps happen to every player, and although Covington has always been streaky, the fact that he started his first few games with some really bad shooting shouldn't have been too much of a surprise.
Whether or not this is one of the streaks that Covington goes on is yet to be seen, but hopefully Covington is back. Based on his last few games, he looks like he's on fire.
After starting his season 6-for-36 (5-for-30 beyond the arc), he has made 12 of his last 21 shots, including 8 out of his 16 attempted against the Pacers on Wednesday. Covington's 23 points led the team, and he hit five of his nine 3-pointers.
After looking out of form in his first few games, he appears to be back in the swing of things now and ready to go. His form is tight, his release is timed better, and his confidence is stronger. He has a bit more pep in his step, and it's clearly working for him.
Here's hoping Covington can keep this streak going and not fall back into the slumps that we've sen him do so many times before.
Sometimes you just can't stop PG
There's those players in the NBA that can be categorized as "unstoppable." Some of the obvious names are Stephen Curry, LeBron James, and Paul George can often be put in that group as well. These players have a mental switch that, when flipped, allows them to completely take over the game and dominate.
Although there was no divisive moment where George clearly put that switch on, he was a key player in this game, and sometimes there's just no way to stop that.
George finished the game with 28 points off of 56.5 percent shooting from the field. He also chipped in 8 rebounds and 3 assists, as well as two 3-pointers.
The Sixers, although no one expected them to take down George, had a lot of trouble defending him. They were unable to come off of rotations well and guard him beyond the arc — something they've struggled with all season — and were especially bad against him in transition.
The good news is that the Sixers' next game is also against the Pacers. So if the Sixers coaching staff had any sort of epiphany during the game about how to stop Paul Goerge, they can implement it on Friday when the Sixers face the Sixers again.
What the Sixers can also take away from this game is that sometimes you won't be able to stop players like that, and there's not much you can do about it.
Dario to Okafor might work
With the Sixers entering the portion of their rebuild where they're trying to figure out which players to keep around and which players to ship out, they need to figure out also who works best with who. We saw some glimpses of positive play between Jahlil Okafor and Dario Saric on Wednesday for the first time in their young careers together.
In the first several games of the season, there wasn't much time where they were both on the floor due to Okafor not starting any games until Wednesday. The Sixers ran Okafor and Dario in many high-low formats throughout the night, and it seemed to work well.
The threat of Dario Saric taking and sinking a 3-pointer from the top of the arc brought his defender out to challenge him, and left lots of space for Jahlil Okafor in the key to post up and size his defender.
Although Okafor has his flaws as a player, he's almost flawless when it comes to posting up on defenders and having space. He went up against his competition with ease on Wednesday, netting 15 points, a few of those being due to the nice format that comes about with Dario and Okafor being on the floor together.
On a side note, the 15 points and 3 rebounds from Okafor seemed like it was simple for Okafor, and it probably was. He has excelled on the offensive end, but it would still be nice to see him show more effort on the glass and defensive end.
I'd like to see that Saric-Okafor pairing more going forward.
Sixers are building endurance
As the Sixers sat on the bench during a timeout as they were down 119-113 with 37 seconds left, it was clear that they probably were not going to win this one. Another score by the Sixers had just about put the game out of reach.
Dismal looks from Robert Covington and Dario Saric were plastered on CSN, both players who had solid performances and somehow saw this very winnable game slip right through their fingers. They had fight. They were angry. They want to win.
The good news is that the Sixers are almost there. The Sixers keep getting closer to that win. The Sixers were often failing in the fourth quarter in their first few games, and finally had a game where they actually made a comeback in the fourth and pushed the game to overtime. It was very back and forth for the Sixers and Pacers, and it's clear that the Sixers are getting better and better at keeping up with their competition.
The Sixers hung around for four full quarters for the first time this season. That's something to be proud of, despite not walking away with a "W."
Oh, and the Sixers did all of this without Joel Embiid who has been so ever-present all season. It's clear that the first win is coming soon, and possibly even on Friday against the Pacers.
This article originally appeared on