5 Things to Watch for in Sixers vs. Grizzlies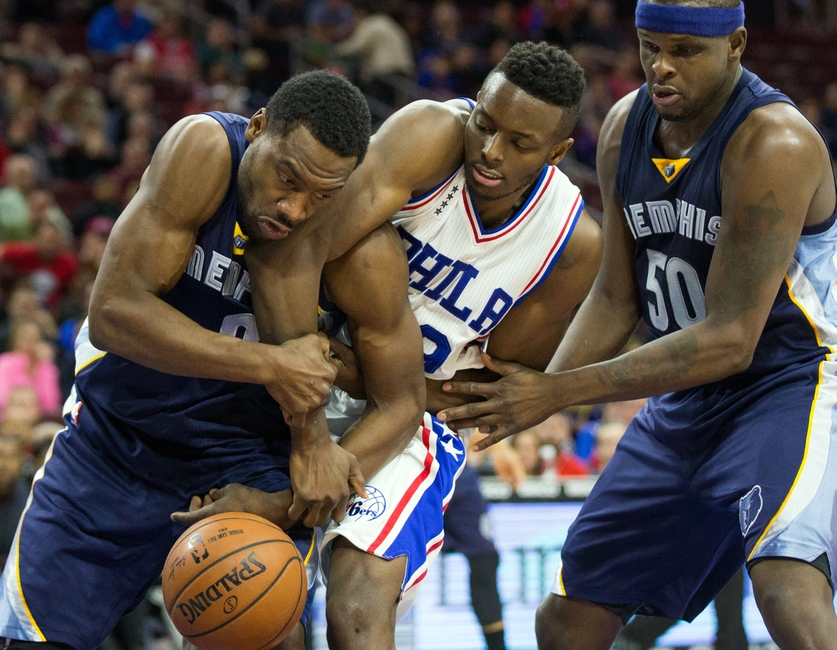 The Philadelphia 76ers and Memphis Grizzlies face off in a preseason game. Here are five things for Sixers fans to look for.
The Philadelphia 76ers are 1-2 so far in their preseason efforts. The Sixers came out strong and rode the hype wave with Joel Embiid and Dario Saric playing their first ever NBA games, winning their first game of the season over the Boston Celtics.
Since then, however, the Sixers have dropped two tough losses to the Cleveland Cavaliers and the Washington Wizards. The games have been close, with the Wizards game even going to double overtime.
Call preseason what you want. Although it may be played at a lower level than the regular season, and may be, in general, not as entertaining as the regular season, it's still fun to see these Sixers play for the first time together. This is a new chapter for the Sixers who are coming off of their third consecutive tanking season, despite Ben Simmons fracturing a bone in his foot.
The Sixers face off against the Memphis Grizzlies on Tuesday, and there are five big things that Sixers fans — and perhaps even Grizzlies fans — should be looking for throughout the game.
Can Sergio keep it going?
Sergio Rodriguez was a huge mystery coming into this season. Rodriguez was a former NBA player that went overseas after a few botched seasons in the NBA. He sought to play in his home country of Spain for Real Madrid. While he was over there getting more playing time and developing himself, it wasn't clear what his plan was.
Rodriguez seemed content with playing the rest of his basketball career in Spain. While the rest of the NBA seemed to forget about "Spanish Chocolate," Bryan Colangelo was quick to pick up the phone and bring Rodriguez in to the fluid roster and point guard situation that the Sixers have.
Rodriguez seemed interested, and it wasn't too hard for the two parties to reach a deal. It's just a one-year contract with Sergio, and he seems to be a stopgap player, but if he plays at all in the regular season like he has in the preseason, maybe the Sixers might want to give him some sort of an extension.
Through the first three games, Rodriguez is averaging 8.0 points, 6.3 assists, and 2.3 rebounds per game. He seems to be the main facilitator of the offense, and is quickly stating his case for the starting point guard position when the regular season rolls around.
While I was leery to say he was fit for that a few months ago, with Ben Simmons — a crafty ball facilitator — out for the first few months of the season, I don't see why the Sixers shouldn't give Rodriguez a chance if he can keep his good play going.
Of course, that's the key. Can he keep it going? Or will he falter off over the next few games? That's certainly something to watch for.
Embiid's game — does it fit?
One of the biggest Sixers storylines this year is surrounding the big man who missed his first two seasons due to injury — Joel Embiid. Embiid is clearly thrilled to finally be on the court, which is great to see. His high spirits are encouraging as things started to look dismal for him just a few months ago as he was still just sitting and watching for two straight seasons.
Embiid's game is pretty unique, but at the same time, reminiscent of some all-time great big men. He is crafty in the key, being able to get to the rim in unique ways during his time at Kansas. On top of that, offensively, he also has a solid 3-point shot.
On the defensive side, Embiid was a menace at Kansas. He has faltered a bit from that so far with the Sixers, but with a recovering foot, that was to be expected.
Based on what I've watched in the first three games, Embiid doesn't really fit with the Sixers just yet. That's not to say he won't, it's just interesting to see the Sixers approach to getting him involved. It doesn't happen naturally, and it seems like the Sixers gameplan in the time that he's on the floor is basically feed Embiid, no matter what's happening around them.
This doesn't seem natural, and it's really not Embiid's fault. It's not necessarily the Sixers' fault either, or the coaching staff, just because they're trying to get him in-game reps as much as possible in 12 minutes. Still, I'd like to see Embiid get the ball in a more natural state, and even work to pass the ball a bit more rather than taking the shots.
We've already seen improvements in this realm in the first few games, so I fully expect to see that continue from here on out.
Is T.J. a scorer now?
This doesn't seem to be getting talked about nearly as much as it should be — T.J. McConnell is averaging 10.0 points per game in the first three preseason games. Again, he's scoring 10 points per game!
This is nothing like the T.J. we knew last year. T.J. was often scoring little amounts during games and moving the ball around a lot. While that's a great skill to have for a point guard, a true starting point guard really needs to be able to score as well as facilitate the ball.
Additionally, it doesn't really do you any good to be able to move the ball around well if your teammates can't sink their shots. Last season, the Sixers were nearing dead last in the league in field goal percentage, so that didn't help McConnell.
Moving into this offseason, it was clear that if McConnell wanted to land a spot on this team, he was going to have to man up and work on his scoring ability. It's clear that he did work on that over the summer.
I'd like to see him make this a regular thing. If Sergio Rodriguez is the main passer, it would be nice to have T.J. McConnell or Jerryd Bayless come off of the bench and fill into a lineup with Nerlens Noel at center. That will give the Sixers advantages in the rim protecting department and scoring department.
On top of that, T.J. really just seems like a great guy, and I'd love to see him make this team. Hopefully he can prove his scoring ability.
Is Grant a more rounded player?
On top of T.J. doing more scoring, Jerami Grant seems to be proving his worth as a more well-rounded season as well. Grant, last season, was mainly a high-intensity player that came on and did well on defense, occasionally grabbing some rebounds as well.
Grant was filling in to be a nice defensive rim protector as well, but his offensive abilities were certainly in question.
Grant averaged an impressive 1.6 blocks per game, but only scored 9.7 points per game. The lack of scoring wasn't a huge issue, it was more that Grant was incredibly ineffective away from the rim, shooting just above 20 percent between even 3 and 9 feet.
So far through the three preseason games, however, Grant is proving to be a rounded player. He's shooting 40 percent from the field (and 40 percent from beyond the arc, which is a huge step over last season, when he shot just 24 percent) while putting up 13.3 points, 4.0 rebounds, and 4.0 assists per game.
I'm enjoying the new Jerami Grant, and really hope he can keep his good shooting and well rounded play going in the regular season. Before we get ahead of ourselves, though, we need to expect him to do that against the Grizzlies.
The underdogs
Of course, this is the preseason, so we can't forget about the underdogs. Most teams have a few players on their team that have little to no chance at making the final roster, but there's always that chance that there's a diamond in the rough.
T.J. McConnell, who was discussed earlier, was the diamond in the rough last season. He did well in Summer League and then preseason, and was put on the final roster and actually ended up having a decent season.
Out of all of the underdogs, Brandon Paul seems to have the best chance of making the team. In just an average of 11.5 minutes per game, Paul is averaging 9.0 points, 3.0 rebounds, and 1.0 assists per game.
The Sixers will have to give him more playing time at some point if they're at all interested to see what he can really do.
Shawn Long isn't doing terrible, but he certainly isn't doing great by any means either. If he doesn't take things to the next level in the minimal playing time he will get against Atlanta, he will certainly lose any chance of making the team whatsoever.
In 12.3 minutes per game, Long is averaging 6.0 points and 3.0 assists per game.
James Webb, at this point, has little to no chance of making the team. He has played an average of 15.3 minutes per game and has scored just 3.3 points and dished out 3.3 assists per game.
This article originally appeared on