5 things the Warriors should be thankful for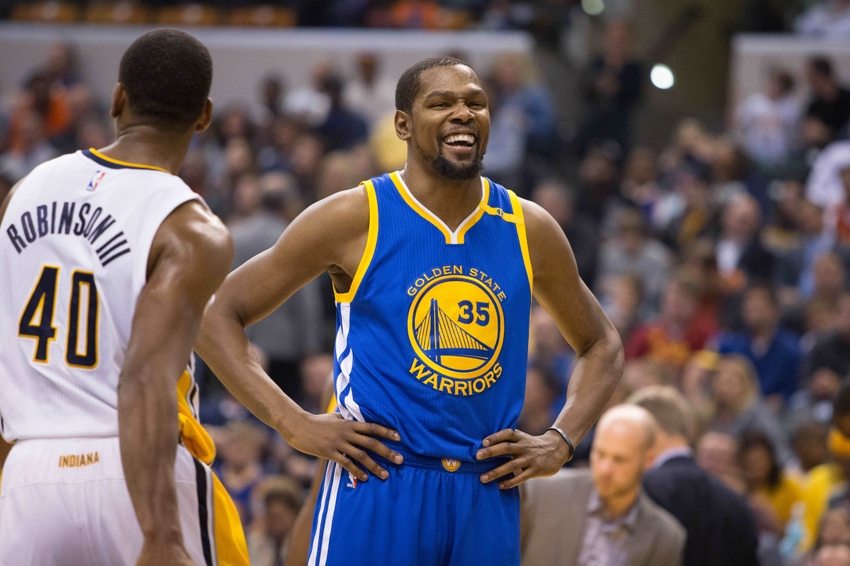 Thanksgiving reminds us of the many things that the Golden State Warriors should be thankful for.
Today is a day for spending time with family, enjoying an abundant feast and reflecting on the things you are thankful for in life. For the Golden State Warriors, there has been plenty to be thankful for over the last few years.
They won an NBA Championship, won 73 games the following year and then added Kevin Durant the next. Things have never better for Golden State and there's way too many things to count that they should be thankful for. Here's five of them.
5. Bob Myers
The Warriors should be thankful that they have one of the best general managers in the game. Bob Myers has ascended his role and now is the President of Basketball Operations, but he earned his way there.
He's also one of the youngest executives in the league and has this team set up to compete for a long time going forward. With Myers at the helm, the Warriors have already made history. They should be thankful for what he has done to the roster.
4. 3-1 jokes
Believe it or not, the Warriors should be thankful for the "3-1" jokes that were made after the NBA Finals. Whether the team has paid attention to them or not, Golden State definitely has even more determination than ever to go out and get the job done.
Sometimes it can be funny to troll a team for losing in such a fashion, but this instead has been a bit of a blessing aside. The Cleveland Indians ended up blowing a 3-1 lead in the World Series, which some have referred to as karma.
It's just pure irony, but it serves a purpose to remind everyone that it's a test to see how teams bounce back. The Warriors are the type of team to take this type of adversity and turn it into something on the special court.
We won't know until the playoffs, but thus far they look like a team on a mission. Not letting things get to them has always been one of their strengths but there's nothing wrong with a little added incentive.
3. Draymond Green's hijinks
Whether good or bad, Draymond Green always seems to have something going on. This past summer wasn't exactly the best for Green and he got into some trouble, but it has helped shape him into a better player and individual.
Everyone knows that he's a competitor and a bit of a loose cannon on the floor and off. That leads to trouble. The big key is that he shows growth as a human being and that is exactly what he has done thus far.
If it can help shape him into a better basketball player and a more mature professional, then the Warriors are going to end up with an even better basketball player. A big year for Green would be winning the Defensive Player of the Year award.
It has alluded him for so long, but he's bringing the focus and energy that it takes. Dedication is important and that's one trait Green has always had. So you take the good with the bad and hope it molds him into something great.
2. Klay Thompson's interviews
Klay Thompson has blessed Golden State with much more than his play on the court. Whether it's bringing his dog with him everywhere or drinking a Coors Light, Thompson knows how to steal the show on every occasion.
His humor can be subtle and he does a good job of not hitting you over the head to let you know that he's funny. The best part of a great team is when they are loaded with personalities on the roster.
Thompson is just one of many and his interviews are always can't miss. You never know what he's going to say while speaking into the mic and quite frankly, you don't know what he's going to end up doing either.
When it's all said and done, there should be a montage of Thompson's interviews. There's a ton of gold to be found in them. He makes it tough on every other player in the league to step up their game when speaking to reporters.
1. Stephen Curry and Kevin Durant
The biggest thing the Warriors are thankful for is having two MVP's on their roster. It's rare for a team to even have one MVP on their team, but the Warriors have managed to add two to their team along with two other top players in Klay Thompson and Draymond Green.
Stephen Curry and Kevin Durant make life a lot easier for the Warriors and watching them unload from deep and put up ridiculous scoring games has the Warriors right where they need to be the season.
As they continue to play more games with each other and continue to get used to what the other likes, the Warriors will become even better for it. That's bad news for whatever team matches up against them in the playoffs.
If they are able to bring another championship to the bay, these two will have a strong argument for one of the greatest dynamic duos of all time. It's still hard to believe that they are on the same team and wreaking havoc on the league.
This article originally appeared on