5 Teams to Look to Trade With
Owen Nelson/FanSided via The Sixer Sense

Fansided
Ever since the Philadelphia 76ers drafted Jahlil Okafor in 2015, they have been frequent members in all trade rumors. Here are 5 potential trade partners.
Cleveland Cavaliers
LeBron James has made it evident that he wants the Cleveland Cavaliers to acquire a playmaker. Despite recently holding in-house tryouts to find their next back up point guard, they may look to the Philadelphia 76ers for their man. T.J. McConnell and Sergio Rodriguez would both be excellent back up point guards for a potential championship side. Those players are currently leading the 76ers in assists, T.J. has 6.1 per game, whilst Rodriguez has 5.4 per game.
T.J McConnell would give the Cavaliers the grit and grind that they have been missing since Matthew Dellavedova left for the Milwaukee Bucks in the summer. When T.J. came into the league as an undrafted rookie, Brett Brown compared him to fellow undrafted player Dellavedova.
T.J. brings high intensity on the defensive end, he gives it his all when fighting through screens, sometimes he can struggle as he isn't your prototypical athletic guard, nor gifted size wise, but flaws are made up with his eye for the game. Offensively, T.J. doesn't opt to shoot all too often, which is perfect for the Cavs. Surrounding T.J. with shooters like Kyle Korver, Channing Frye and J.R. Smith would take his game to the next level.
More from The Sixer Sense
Throughout January the 76ers went 9-5 with T.J. McConnell starting at the one, a very impressive feat for a team who won 10 games all of last season and with a point guard who was deemed not good enough for the NBA.
Sergio Rodriguez would bring a different style to Cleveland. His flashy passes can lift the crowd, however, sometimes he can be a bit too flashy for himself, and end up fooling himself. And he definitely lacks quality on the defensive end. Weighing only 175 pounds is one of the contributing factors, he isn't athletic at all.
Similar to McConnell, his athletic flaws are made up by his playmaking ability. Averaging 5.4 assists in 23 minutes is a decent return for a player who's been plying his trade in Europe for the last six years. Rodriguez is also a willing shooter, he will never shy away from hitting a three pointer, without hesitation in a defenders face.
He isn't lights out, but 35 percent on the year is, again, a decent return. But when his shot isn't falling you must try your best to stop him from shooting. Shooting only 39 percent on all field goal attempts isn't a pretty number, in fact, its very poor. Perhaps if he was surrounded with the Cavaliers bench players maybe he wouldn't shoot as much given the talent they have.
Giving that this point guard tandem is working wonders for the 76ers, it will be interesting to see if they are willing to deal them.
Potential Trade
76ers get
SG, Jordan McRae, 2017 1st Round Pick


Cavaliers get
PG, T.J. McConnell or PG, Sergio Rodriguez
Chicago Bulls
It has recently come out that the Chicago Bulls are interested in the former Duke star Jahlil Okafor. There isn't much scoring coming from the Bulls' frontcourt, Okafor would definitely get a lot more playing, and a lot more touches down low. He would be "the guy" once more. Going home to Chicago may just be what Okafor needs to kickstart his young career.
More from The Sixer Sense
What looks to be an inevitable rebuild looming for Chicago, Okafor is a strong piece to build around. The Timberwolves did it when they traded for Andrew Wiggins. Kickstarting your rebuild with a potential star already in place is a good way to start. It has worked for Minnesota, it should be the route Chicago goes down.
Okafor's talent down low is undeniable but he struggles anywhere from 15 feet and further; he's only connecting on 22 percent (6-27) of is shots from 15 feet and out. But we all knew Okafor is not a shooter, he battles down low, using his excellent foot work and his wide array of post moves. This style of play definitely slow the team down, and the 76ers are a fast paced team, this being the reason why Okafor is more likely to be traded.
The defense and rim protection that Okafor brings is nowhere near good enough to be effective on the defensive end. Okafor's lateral quickness is dire, he struggles heavily when having to rotate. You just can't rely on him making a defensive stop, since he is the last line of defense, he really does need to improve a lot in that aspect of his game. I suppose if the Bulls need a defensive center, then they would opt to play Robin Lopez.
I think the Sixers are definitely interested in trading either Nerlens Noel or Okafor, but with Okafor still have two years left on his rookie contract, he is the most valuable. Therefore being the player most likely traded.
Potential Trade
76ers get
SF, Doug McDermott, SG, Denzel Valentine, 2017 1st Round Pick


Bulls get
C, Jahlil Okafor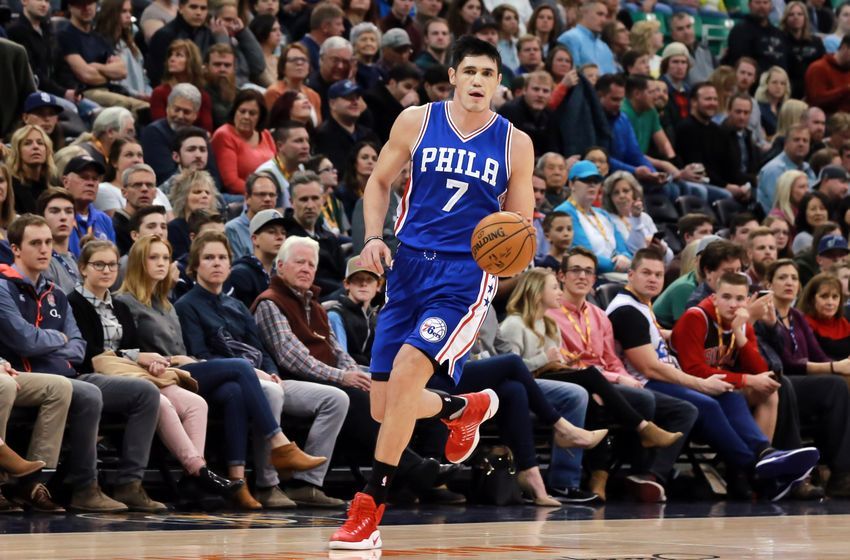 Los Angeles Clippers
Over the last three seasons, Blake Griffin has suffered injury after injury. The Clippers don't have much depth behind Griffin, their back up power forward being former 76er Luc Mbah a Moute. Ersan Ilyasova would give the Clipper solid depth at power forward, and would be a key piece in a championship run.
Ilyasova's stock has never been so high, he's been excellent for the 76ers this season. Ilyasova has shown this year just how valuable he can be, he has helped transform the 76ers from a sorrowful, pitiful team, to a legit eighth seed contender. He could be the piece to tip the Clippers over the edge. The Turk is averaging a career high 14.9 points per game with the 76ers, and is continuing to shot in the high 30 percent from three.
Ilyasova is a 3-point specialist, however, he can't do much more than space the floor and knockdown threes. Defensively, he is a liability, and he isn't the best of rebounders. If he played next to DeAndre Jordan then it would work fantastically, but that would only happen if Griffin is out. You can't rely on Ilyasova grabbing rebounds for you because if you do he will let you down.
If the 76ers are somewhat interested in a trade then they may have to act quickly because he will be a free agent after this year. Also, if Philly doesn't want to pay Ilyasova a lot of money to keep him in Philly, then they should give him up now for decent assets in return; I believe Ilyasova works best alongside a dominant center.
Potential Trade
76ers get
PG, Austin Rivers, 2017 1st Round Pick


Clippers get
PF, Ersan Ilyasova
Boston Celtics
Giving how Boston has an endless amount of assets, it's obvious that they are gonna make this list. Since the trade rumors surrounding the 76ers started, the Celtics have always been involved. Whether it's Noel or Okafor, the Celtics seem to be interested. Okafor's value continues to diminish week-by-week, so perhaps the Celtics are waiting until the trade deadline to then low ball the Sixers. Who would blame them?
The Sixers may be less inclined to trade with Boston given that they're division rivals, but an offer then may include a valuable Nets pick may just be enough to move Okafor a few hours up north. It always feels like Danny Ainge is just patiently waiting to pull the trigger on a blockbuster deal. However, the longer he waits the more time he is wasting, Isaiah Thomas and Al Horford won't be superstars forever.
Even though the Celtics need interior defense, it's hard to see the 76ers trading Nerlens Noel now after he's performed well since finally getting consistent minutes off the bench. At this point it seems like Okafor will be the one moved, though Bryan Colangelo doesn't seem to be in a rush to move either of them.
If Danny Ainge was willing to offer one of the Nets' picks plus a young prospect that still needs work, then I can definitely see Colangelo wanting to accept the deal. The question is whether or not Ainge will step up, be brave, and pull the trigger. He's shied away from it in the past but the Celtics are now against the clock and need to make a trade in order to compete with the Cavs and Raptors.
Potential Trade
76ers get
PG, Terry Rozier, 2018 1st Round Pick (via Nets)


Celtics get
C, Jahlil Okafor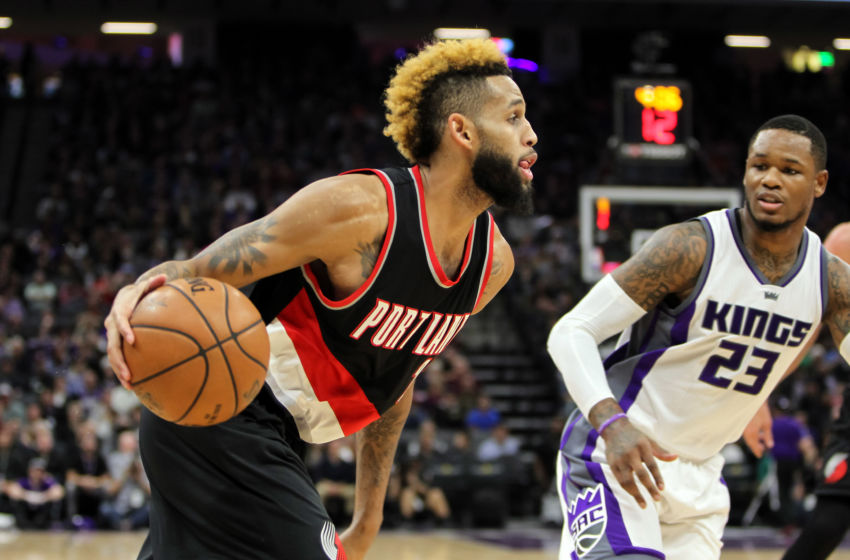 Portland Trail Blazers
In recent months, the Portland Trail Blazers have been popping up in lots of trade rumors, mainly because they have massively underachieved this season. It clear to see that they desperately need an interior defender who protect the rim.
An obvious player for the Blazers to trade for is Nerlens Noel, he is as athletic as any other big man in the league. Despite only playing 18 minutes a game this year, Noel is still getting one block a game. His injuries may have held him back from progressing into a Rudy Goobers-like player, but he is definitely still a solid starting center for any team.
Noel's contract is up this summer, he will be looking for around $20 million a year, about the norm for starting players these days. That said, in the last offseason the Blazers have locked themselves in financially, giving former Sixers, Evan Turner and Moe Harkless over $25 million a year combined. Allen Crabbe also earned a big pay check, $75 million over four years. And so has C.J. McCollum who has signed a four year, $106 million extension.
The Trail Blazers may look to unload Crabbe's or McCollum's contracts to make way for Noel. Noel may be that missing piece to surge the Trail Blazers into the playoffs. Having a strong last line of defense is absolutely crucial and can work wonders. We've seen this with Joel Embiid making the 76ers one of the best defensive teams in the league in the month of January.
It will be interesting to see if Portland are willing to trade a valuable wing to solidify their subpar defence.
Potential Trade
76ers get
SG, C.J. McCollum


Trail Blazers get
C, Nerlens Noel, 2018 1st Round Pick (Protected)
However this month plays out, Sixers fans should expect some rumors to fly around involving their beloved team.
This article originally appeared on