5 teams that should trade for Brook Lopez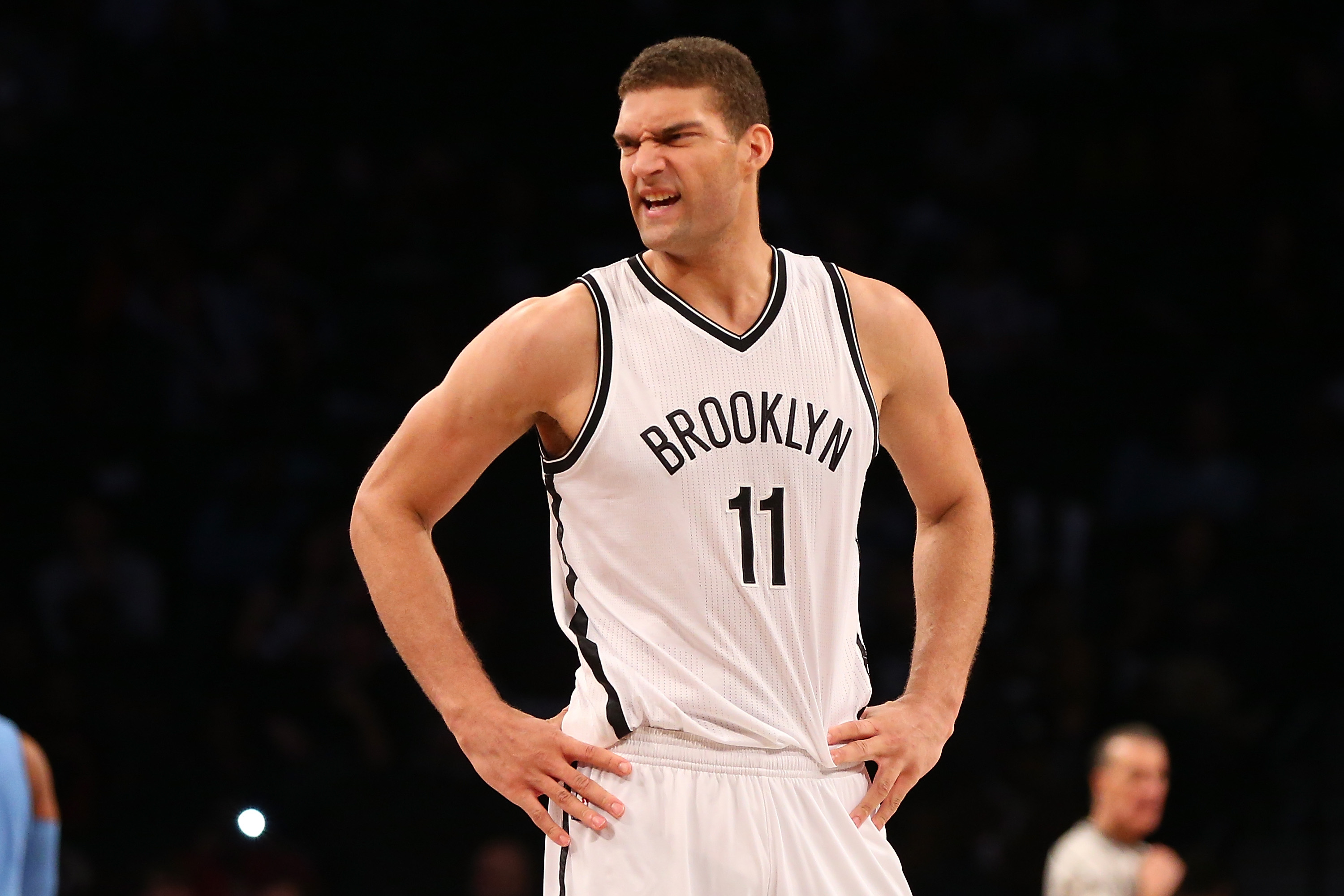 Can the Brooklyn Nets swing a trade for their prized big man, Brook Lopez?
While the NBA season is just getting underway, it is safe to say that the Brooklyn Nets will not be a surprise breakout team this season. They have started the season 2-4, and already rumors have begun to swirl that they will be interested in trading their star, Brook Lopez. It does make sense that they would want to move on from the former top ten pick and All-Star center.
The Nets are a long way away from competing, and currently, they do not have the pieces to add to this team to make them competitive. Most of their future picks are still in the hands of the Boston Celtics after the Nets made the mistake of acquiring Kevin Garnett and Paul Pierce a few years back. The only way to rekindle those picks would be to trade a player with enough value to get some back. With that said, here are five teams that may be desperate enough to replenish the Nets roster in exchange for the impact center.
5) Boston Celtics
One way to get some of those picks back would be to go straight to the source that is the Celtics. The Celtics have been stacking picks for a while, and currently have 15 players who could at the least get into a rotation on almost any NBA team. With that said, this is a team that is lacking a star presence and lacking a go-to player. The team added Al Horford to the core this off-season, but the addition of Lopez could put that front court over the top as an elite group of players.
Horford has played a lot of center in his career, but he has mentioned that he would like to play power forward, which he did when he was at college. Lopez would be the perfect fit at center beside Horford, and together the Celtics would have one of the best traditional big man rotations in the league.
The Nets would not be able to get their 2017 first round pick back for Lopez, but what they can get is a group of young rotational players to build around and draft pick or two. These two teams obviously have been able to deal with each other in the past, and while it would hurt Nets fans to see Lopez jump to a new team within the division, it had to hurt Boston fans just the same to see Pierce and Garnett wearing their black Nets uniforms in the 2013 playoffs. It is a good business decision for each side and helps the Celtics take a step towards a championship, and the Nets take a step toward relevance.
4) Portland Trail Blazers
The Trail Blazers are as exciting as any team in the NBA, but they are still a piece or two away from competing with the elite of the NBA. Damian Lillard is ready to take this team to another level, but a lot of the role players are still in their younger 20's and the experience, and talent of some is currently questionable.
The Blazers do have a strong backcourt duo, and with players such as Al-Fariq Aminu and Alan Crabbe, they have some talent at wing. Mason Plumlee has done a strong job at center, but with the addition of Lopez, they can run a two-bigs offense and can rotate the two for a strong and versatile front court. This team then becomes one of the complete squads in the league. They would be deep at every position, they would have big names on the front and backcourt, and would have lineup versatility to go up against any style of basketball.
Meyers Leonard is a stretch five type, but has dealt with injuries and does not seem to be a rotation fit. He is still 24, though, and may be a player that would intrigue the Nets. Adding him with a draft pick or two could spark the Nets interest and could be a huge addition to an already young and talented core.
3) Houston Rockets
The Rockets made some big moves this off-season to try and establish an identity. It saw a new head coach come in and also saw Dwight Howard leave via free agency for the Atlanta Hawks. Howard would have been an awful fit for the Rockets' new coaching scheme, but it does leave a void at center. The team is relying on Clint Capela, who is a high energy player but is not a technically sound player in his skills at center.
This makes for a perfect fit for Lopez, who is more of a scorer than Howard, and can play at a higher pace than the current Hawks center. He also can take control of the scoring in the paint, which would leave spacing open for a stretch four such as Ryan Anderson.
The Rockets have some young names such as Sam Dekker, Montrezl Harrell and Chinanu Onuaku that may tickle the Nets interest. Some of these names, combined with a draft pick or two, may be able to get the Nets to look into striking a deal.
For the Rockets, this is a team looking to win now. By going out and acquiring guys like Ryan Anderson, Eric Gordon and a new head coach in Mike D'Antoni, it speaks to that. In losing some young players and draft picks it does not take away from the core that they planned to use in the playoffs in the next year or so. In adding Lopez, they get a big-time veteran, a player who fits and a player who may make them legitimate contenders.
2) Charlotte Hornets
The Hornets seem to be in a tricky spot. They are good enough to make the playoffs every year, but not good enough to compete with a LeBron James-led team, at least for the next couple of seasons. They could either go the slow route, try to make solid picks in the early 20s of the draft and hope a big swing on a player such as Nicolas Batum can strike again. Or, they can go out and add a big name immediately and start to build a core around Brook Lopez as the center.
The Hornets had Al Jefferson last season, but injuries and his lack of defense had the writing on the wall that neither party was interested in an extension after his deal. The Hornets may have had this in mind when they drafted Cody Zeller and Frank Kaminsky in the lottery during the Jefferson contract. However, neither is quite ready to be a legitimate starter. They also added Roy Hibbert, but he is more of a solid rotational player at best at this point. Adding a player like Lopez, and packaging one of those names with a pick could be an immediate upgrade and something that has the Hornets competing for a top four seed and a potential trip to the Eastern Conference Finals.
The Hornets have the pieces, and with Kemba Walker growing as a player every year, the Hornets should take a swing at a big name and see where it takes them. It is either that or hanging out with a second-tier team for the foreseeable future.
1) New Orleans Pelicans
Anthony Davis is one of the most dynamic players in the NBA. He is averaging 30 points, 11 rebounds, two assists, two steals and three blocks per game through the early portion of the season. Still, his team sits at 0-6.
The Pelicans have absolutely no talent around Davis. The only names to consider on the roster, Jrue Holiday and Tyreke Evans, have never been healthy enough to be legitimate helpers, and in Evans' case, the jury is still out on whether or not he is even an average NBA player. At center, Omer Asik looks like a worse signing every day that goes by.
The Pelicans locked up Anthony Davis last off-season, but the clock is still ticking. This team is currently nowhere near a championship and needs to do something to get this team heading in the right direction. Adding a player such as Lopez is perfect because it shifts Anthony Davis into the power forward role full time.
It takes a lot of pressure to rebound, and to control the paint away from Davis and gives him more room to do what he wants with the ball in his hands, and to roam on defense. Adding a player such as Lopez, and having arguably the top frontcourt in the NBA then gives players a reason to join Davis, and try to win a championship with a team from New Orleans.
The Pelicans need to make a splash and they cannot sit around and wait to do it. Lopez is a legitimate name and is most likely the best piece in which they could add to their core during the season.
This article originally appeared on