5 Sixers Who Will be in the All-Star Game in the Future
Josh Wilson/FanSided via The Sixer Sense

Fansided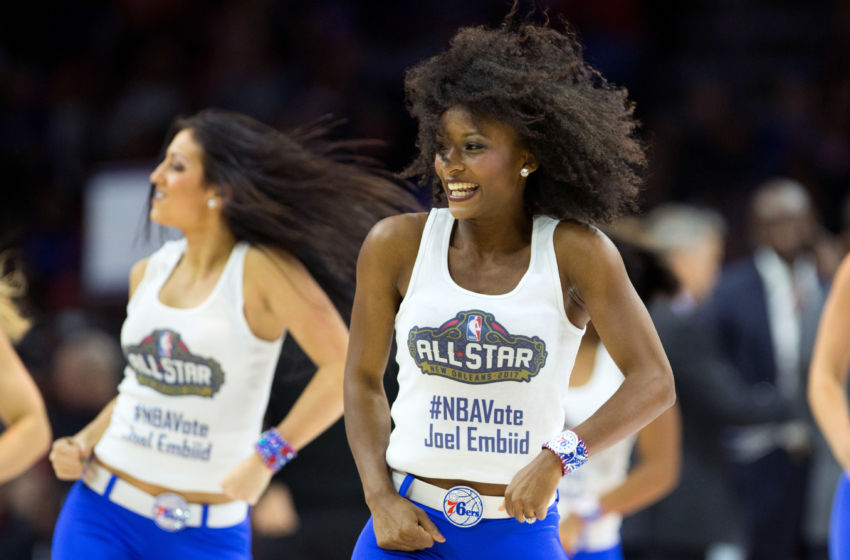 The Philadelphia 76ers were snubbed of having their rookie center Joel Embiid get selected to the game, but they will eventually have players in the game.
This year started with a great amount of uncertainty regarding the Philadelphia 76ers. Would the team end up being similar to last year's, a team full of losing, despair, and wondering how long this tanking effort can go before it starts bearing fruit? Or, under new president and general manager Bryan Colangelo, would this be the year Philly turns it around?
The Sixers are far from completely having turned things around, but it's clear that they are on an upward trend that looks to continue with the future pieces they will have and the pieces playing now that have more developing to do.
One of the great uncertainties of this year was Joel Embiid, the player who would debut as a rookie this season, yet was drafted two years ago. How would he pan out, being a player who hadn't played competitive basketball in two years? Would he be rusty? Surprisingly good? Or perhaps even worse than being bad, would he be just average?
Embiid turned out to be better than anyone predicted. Seriously, if you predicted he would put up numbers like he is, you need to be hired by an NBA team right away.
There are only three players in the NBA averaging greater than 20 points, 7 rebounds, and 2 blocks per game, and Embiid is one of them. The other two are Giannis Antetokounmpo and Anthony Davis, both of which are All-Stars. Despite the fact that Embiid averages 10 minutes less than both of them per game, he was snubbed from an All-Star spot.
Sixers fans won't have to deal with that for much longer. In the future, the Sixers will have plenty of players making bids for All-Star spots. Here are a few of them.
Joel Embiid
Joel Embiid is the most obvious current Sixers player that will be making a bid very soon for an All-Star game. Barring any extreme changes from this season to next, he should be almost a lock for next year's All-Star game, even if he only makes the slightest changes from this year to next.
Embiid should have made the All-Star game this year, yes, and there were a few major reasons that he didn't make it. For one, the voting format changed so that fan votes didn't count as much. That makes it incredibly hard for a fan-favorite player like Embiid to make it into the game, because it's harder for players to win over the votes of media and players. Past that, the coaches select the reserve players, and although Embiid still should have made it in over Paul Millsap, Millsap has proven himself in the NBA to be decent over a longer period of time.
So if Embiid can finish this season strong, and also have a decent pre-All-Star run next year, there's no reason to think he can't be up there as a starter candidate for the 2018 All-Star game, and certainly no reason to believe he won't be a reserve.
Injury issues will be the biggest thing to stop Embiid. So in a sense, the only thing that will stop Embiid from getting that All-Star slot moving forward is his own body. As long as no major injuries pop up — as far as we can tell, the current bone bruise that has kept him out of the last several games is a minor injury — he should have his minutes restriction lifted, or at least increased next season, and that will be an even better thing for his game and his chances of making the All-Star game.
Expect to see Embiid mentioned in plenty of different aspects of the weekend over the coming years, just like he already was this year.
Timothe Luwawu-Cabarrot may just be one of the most surprising NBA rookies this season. It took a while for him to truly prove valuable as an NBA player right in his first season, but he was able to do it.
Over the last 10 games, TLC is averaging 6.0 points, 1.3 rebounds, and 1.8 assists in 17.0 minutes of play. He's shooting 48.8 percent from the field and 37.5 percent from beyond the arc over that stretch.
While those stats don't blow you out of the water, he has provided the Sixers with a decent boost in any way he can over the last several games. The team was patient with his development, providing him very low minutes at the NBA level earlier this season, and sending him down to play with the Delaware 87ers several times, making use of the D-League affiliate.
Some were skeptical of whether or not TLC was ready to come to the NBA this season, and were wondering if the Sixers would stash him for a year or two before bringing him over. But taking the gamble and using a roster spot on TLC this season has proven to be a smart move.
Moving forward, TLC will fill out to be a well-rounded, solid player in several aspects. His passing has been spot-on as of late, and his shooting has taken a significant jump since the team started trusting him with more minutes. He shows incredible instincts on the floor that are going to allow him to have a high usage rate.
Luwawu will prove to be one of the pieces of the Sixers offense that increases ball movement, and also a decent piece to have alongside Simmons in both the half-court offense and in transition. With nothing but solid pieces around him, TLC has all of the necessary tools to become an All-Star in the future.
TLC's All-Star days won't come as soon as Embiid's, but perhaps in the next 5 years, we can see TLC make it into the All-Star game as a reserve, and if he keeps getting better, potentially a starter. The sky seems to be the limit right now for the French rookie.
Ben Simmons has yet to play a single minute of regular season basketball for the Philadelphia 76ers, but most people will agree that Simmons will probably be an All-Star at some point in his career. As the top overall pick, that's kind of expected in the NBA.
A general amount of expectations come tagged along with that No. 1 overall pick from year to year. You're expected to be the Rookie of the Year (although Simmons will be relieved of that expectation this season due to his teammate doing so well, and due to him missing most of the season) and you're also expected to be an All-Star at some point in your career.
Some would even say that there's a title expectation with most top overall picks, or that there should be, but with the NBA Draft becoming more and more of a gamble because of how quickly guys are forfeiting their college careers to declare for the draft, that expectation has wavered a bit.
Simmons has all of the pieces needed to be an All-Star. What are those pieces? Well, he has a solid core around him that he can use his crafty passing ability and his incredible court vision to get the ball to and up his assist numbers. Joel Embiid, Robert Covington, Nik Stausaks, and Timothe Luwawu-Cabarrot are just some of the names Simmons has to work with. And with the Sixers looking to have a high lottery pick this season as well as a potentially big free agency offseason coming up, the team has some options to get Simmons even more pieces.
But above all, Simmons has himself. He proved at LSU that he has the capability of getting to the rim and scoring and controlling the pace of games. If he can transfer those skills to the NBA level, there's no reason that he won't be able to become an All-Star player early on in his career.
Nerlens Noel has the potential to be an All-Star player at some point, but the question is whether or not he will be able to do it as a Sixers player. It's no secret that the team has one (maybe even two) too many big men on their roster, and either Nerlens Noel or Jahlil Okafor will likely be moved at some point within the next season.
The move could be the difference between Noel making or missing the All-Star game, and he may have a better shot at making it if he is traded to another team. Still, even if he's with the Sixers, he should still have a great opportunity to prove himself as a reserve.
Noel in the game as a Sixers player
For Noel to make the game as a Sixers player, he would likely have to be near the top of the league in candidacy for sixth man of the year. In the recent string of success the Sixers had, however, Noel has proven that that's certainly a possibility.
Noel was a solid push off of the bench behind Joel Embiid defensively, and it's arguable that without Noel in those games in January where the Sixers seemed like they could beat just about anybody, the Sixers wouldn't have won many. Noel was on point protecting the rim, and the Sixers won those games with defense.
Noel in the game as a non-Sixer
As a non-Sixer, Noel likely has a much better chance at making the All-Star game as a starter. With Noel being potentially moved to another team, he could be a decent starting center to be the last line of defense for a team at the rim, and could really prove that he's worth a lot.
With that type of exposure, and the increased amount of minutes another team could potentially offer him, it's likely that Noel could prove his worth to the league enough that he gets in as a starter. Still, Noel would have to overcome the new positioning format that chooses just three frontcourt players of any position rather than a center. With offense being more popular than ever to general NBA fans, it's tough for a defensively minded center like Noel to get traction.
Finally, we have the Croatian Sensation himself, Dario Saric. Saric was yet another rookie drafted years ago that didn't play right away in the NBA. The Sixers took advantage of an ability to stash Saric overseas for a few years while he was further developing, and they didn't have to pay him — nor did they have to dip into his rookie pay-grade just yet — for a few years.
That development did Saric good. While it did take some time for his skills developed overseas to transfer over to the NBA this season — the 3-point line being out a bit further really damaged Saric at first — he has really exploded as of late to become a versatile player that is good all-around.
Saric has greatly improved on his defense from start to now this season, something that has really surprised me. He has clearly taken a liking to the coaching staff and really locked in as far as listening to what they have to say for him to take his game to the next level.
His passing — something we saw him improve greatly last season with the Anadolu Efes, has also become great in the NBA as of late.
Over the last 10 games, Saric is averaging 10.2 points, 5.3 rebounds, and 1.8 assists per game in 23.8 minutes per contest (15.4 points, 8.0 rebounds, 2.7 assists per 36 minutes). What's been interesting is that he's taken a step back from being great from beyond the arc like we thought he would (he shot 33.6 percent from the field in those 10 games, but just 18.9 percent from beyond the 3-point zone) but he's still been great.
He shows signs of not slowing down in his improvement, and fans are excited for what's next.
Saric looks as if he could be a great starter or a great spark plug type of energy player off of the bench. Wherever the Sixers place him, he will definitely have a case to make for the All-Star game within a few years. If not that, he will certainly be the type of player to be incredibly crafty in the Skill Challenge.
This article originally appeared on