5 Reasons to Believe in the Future of the Sixers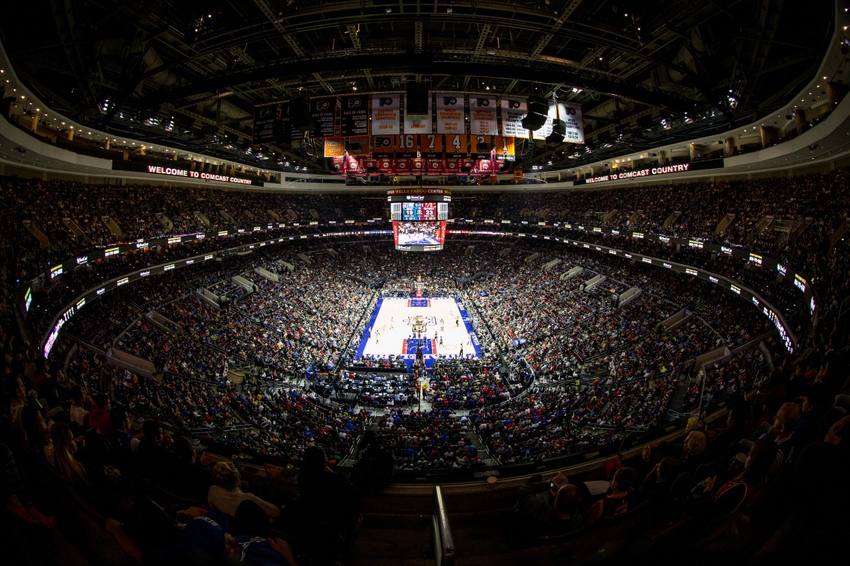 The Philadelphia 76ers have a bunch of reasons for optimism, and the fans should be believing in the future of the team moving forward.
Last season for Philadelphia 76ers fans, it didn't seem like there was a whole lot of reason for optimism moving forward. In December, Jerry Colangelo was added to the staff of the management team in a position that was largely made up, and the future of president and general manager Sam Hinkie was in question.
Partway through the year, it was inevitable that Hinkie was going to either be fired or take a diminished role. Hinkie had no interest in that, and instead stepped down from his position with the team. Colangelo's son, Bryan, filled in where Hinkie left off, with the team not even considering other candidates.
Those who had "trusted the process" that Hinkie put in place saw a dismal future on the way. Colangelo seemed to have a different mindset that would go for "win now" and tear down all of Hinkie's assets. The future seemed negative.
Over the summer, however, the Sixers got the first overall pick in the draft, and selected Ben Simmons, who looks like he'll be a solid athlete. Joel Embiid also made progress, and with this season underway, is impressing everyone around the league.
The tone has completely changed within the organization and within the fan base. No longer is anyone really thinking the future is gray and dark. Instead, the future is bright. It's definitely sunny in Philadelphia, and it will be for a while. Here is why.
Joel Embiid
Joel Embiid seems like the most obvious reason as of late to believe in the Philadelphia 76ers. Around the league, the tone is changing regarding the team, especially compared to the last few seasons. Although the "laughing stock of the league" narrative that was tagged to the team over the last few seasons was largely unwarranted,  Embid is singlehandedly changing the way the Sixers are viewed.
Embiid, despite missing two full seasons to start his NBA career, has debuted with a skill set that is unmatchable from any other rookie in this year's class. He knows how to score from just about anywhere on the floor, and can only go up from where he's currently at.
As it stands, Embiid is averaging 30.6 points, 11.1 rebounds, and 3.8 blocks per 36 minutes as a rookie.
So far, Embiid also doesn't really have much of an awareness on the court. When he doesn't have the ball he basically only does things that will get the ball in his hands, and when he does have the ball, he only does things that will allow him to score. As he learns more, and develops more of an awareness as a player, he's going to get better and better. And really, that's scary.
His nightly highlights that are plastered all over NBA Twitter are great to see, and the Sixers haven't had this type of positivity on their team yet since "The Process" started.
The fact that Embiid completely immerses himself in the culture as well, even dubbing himself as "The Process," is even more of a reason for fans to be excited.
Small deficit losses
With the recent 115-88 blowout loss to the Houston Rockets on the forefront of everyone's minds, this one doesn't seem like something to really carry with us moving forward, but the Sixers have shown in a lot of games that they can hang close late in games.
When thinking of just the rosters that the Oklahoma City Thunder, Cleveland Cavaliers, and Indiana Pacers have, it seems like those are games the Sixers should be losing by an average of at least 10 points. Instead, the Sixers are losing by an average of less than five points against those teams this season.
That's pretty remarkable, even with good performances from Sergio Rodriguez and Joel Embiid tearing it up for the Sixers so far.
Although other losses to teams like the Atlanta Hawks, Charlotte Hornets, Houston Rockets, and Utah Jazz have come with major blemishes (they lose by an average of 26.2 points to those teams) Sixers fans should be encouraged that the Sixers have been able to keep up with teams that feature LeBron James, Rudy Gobert, Russell Westbrook, and Dwight Howard. Also, of the five games where the Sixers were blown out of the water, Embiid only appeared in three (of a possible five).
With the roster the Sixers have, which is still the youngest in the NBA, one probably wouldn't peg the Sixers to be a team that would keep games like that with top-tier components close. Yes, when the Sixers are bad they really are devastatingly bad, but they have the ability to keep games close.
Even if they lose those games in the final minutes, Sixers fans should be happy that the team is showing enough cohesiveness to make it that far.
Bryan Colangelo isn't half bad
Whether you were a believer in Sam Hinkie or not, you have to admit, Bryan Colangelo isn't doing a bad job since he's taken over the position that was left vacant when Hinkie was pushed out by Bryan's father, Jerry.
A lot of people had harsh feeling toward Bryan coming in, and a lot of that was mainly due to their allegiance to Hinkie. It was a strange cult-like following that Hinkie had. He was, and is, often known as a "savior" to some Sixers fans, just because he went against the grain as far as how he chose to rebuild, and challenged the conventional way of building a championship team.
One thing we will never know for certain is if Hinkie ever was going to be able to change gears and switch to a winning mode. What we do know for sure, however, is that Colangelo has been able to do that pretty well.
Colangelo has made additions to this team that look like they'll easily make them a team that's better. Unfortunately, the Sixers have started the season with a lot of those players injured, but Colangelo looks like he's got a plan in place that will compliment what Hinkie gave him to work with well.
Additionally, we've seen Colangelo standing in the player's tunnel late in games, something that shows just how invested he is in the success of this team.
While Colangelo seemed like a bit of a snake when he first came in, he deserves a shot to be respected just as much as Hinkie. For all we know, he could be the part of the process that puts the Sixers right into deep playoff competition.
Stauskas, Covington, and Hollis
There's a lot of obvious players that Sixers fans have been excited about this season, and they all are worth being excited about. That being said, some of the lesser known utility players currently on the Sixers have shown a lot of promise through the first 10 percent of the season.
Nik Stauskas
Nik Stauskas came into the season with lots of fans calling for him to be cut from the team. His awful 3-point shooting in both Summer League and preseason had some fans realizing he may never fill out to be the player we thought he was going to be coming out of college.
Going into his third year in the league, it was time for fans to see something positive from Stauskas after seeing mostly negative things from him.
While he's still not proving that he can be a sharpshooter like we had hoped he would be, that doesn't mean he isn't playing well. From the very first game of the season, Stauskas showed positivity as a slasher on the court, and was driving to the rim with confidence. Stauskas is taking less 3-pointers now, but that's quite alright in my opinion. As long as he can build his confidence up as a player for now, we should expect the range to come with his development.
Robert Covington
Robert Covington was another player that fans got worried about much too soon in the season. With memories of a streaky Covington at the front of the mind, a slump to start this season was something fans were not happy with.
Through his first five games, Covington was 5-for-30 from beyond the arc, which is where he takes a bulk of his field goals (he only took six shots inside the arc in those five games). That translates to a 3-point percentage of 16.7 percent.
Covington has shot 40 percent from beyond the arc in the most recent five games, and is showing that what we saw in the first few games truly was just a slump.
Hollis Thompson has, without a doubt, been the most surprising player so far this season. As one of the players that seemed like he was at risk of being cut coming out of the preseason, he had a lot to prove if he wanted to be considered to be kept past this season.
So far, he's doing a pretty good job of proving that. Per game this season, he's averaging 7.4 points, 3.8 rebounds and 0.7 assists per game on 37 percent 3-point shooting and 45.2 percent field goal shooting.
Adjusted per 36 minutes, that comes out to an average of 13.7 points, 7.1 rebounds, and 1.3 assists. Not bad for a player that was supposedly at risk of being cut a few weeks ago.
Simmons will be back soon
All of the excitement with the success Joel Embiid and company so far this season has made us really forget about one huge piece of the Sixers' future — Ben Simmons. Simmons is a piece that is incredibly versatile and skilled, and one that we were all very excited about heading into this season.
It was unfortunate when Simmons went down with an injury prior to preseason that would keep him out for at least a few months.
That excitement surrounding Simmons before the injury was well warranted. Simmons seems to be one of the most skilled players to come in as a rookie since LeBron James (although I'm sure Karl-Athony Towns and Joel Embiid will be rights up there with Simmons throughout their careers) and showed us a lot of positives this summer during Summer League play with the Sixers.
His vision is incredible, and his muscle that comes along with that makes it even better. He has an ability to see the floor from a perspective of a power forward, with the knack of passing that a point guard possesses. He's worth getting excited about.
Oh, and did we mention the Sixers will probably have him back this year? There have been rumors about Simmons possibly sitting the season out just to be careful with his injury, but a lot of implications from both the Sixers and Simmons himself seem to be pointing to his return this season.
The season is going to be a staggered one for excitement regarding rookies. We got to get incredibly hyped up over Joel Embiid and Dario Saric at the beginning of the season, and Ben Simmons will garner massive excitement whenever the Sixers decide it's the right time to debut him.
This article originally appeared on