5 reasons the New York Knicks are doomed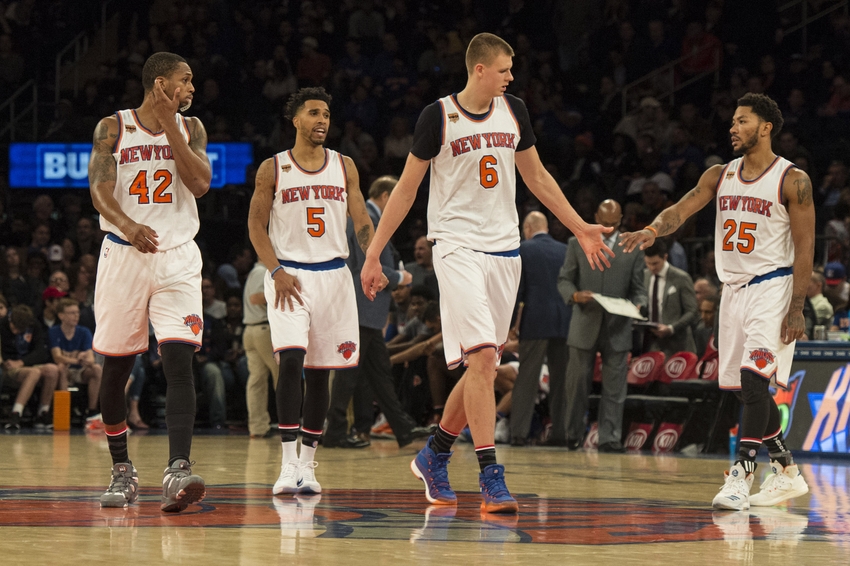 The New York Knicks are 4-6 to start the 2016-17 regular season, and it's only going to get worse.
Prior to the start of the season, Derrick Rose suggested that the New York Knicks were in the same category as the Golden State Warriors, famously referring to both teams as "super-teams." Now, ten games into the regular season, we're starting to see just how delusional this statement was. By radically shaking up their roster yet again, the Knicks have continued their trend of sacrificing future success for instant gratification. And yet again, it's going to end in disaster. Here are five reasons the New York Knicks are doomed this season.
5. Defense
Defense wins championships. We've all heard it before. But if New York's defense is any indicator, they're not even going to make the playoffs. The Knicks have been a horrible defensive team so far this season, and it doesn't look to be improving . The Knicks rank dead last in the league in Defensive Rating (the number of points allowed per 100 possessions by a team). They even rank worse than the Philadelphia 76ers, a team that is literally trying to lose.
The Knicks have a former Defensive Player of the Year in Joakim Noah, but he's not the same player he used to be. He's currently averaging fewer points (4.3), rebounds (8.5), and assists (3.7) than he did during his time with the Chicago Bulls. He's no longer the ferocious, multi-category producing "energy guy" he was before. Now, he's just an aging center with messy hair and a broken jump shot. Even if Noah could still play at the level he used to, there are too many holes in this Knicks defense for one man to plug.
A team like Houston that relies heavily on offense is allowed to not have an elite defense due to the sheer number of points they put up night after night. But New York's offense doesn't even crack the top half of the league. If you can't score, it's important to at least be able to limit your opponents' opportunities. With neither Rose nor Anthony considered a premier defensive stopper in this league, the defensive burden falls on the team as a whole, and right now no one is doing their part. As the season wears on small weaknesses become more pronounced, so be ready to see the Knicks fall further down the standings if they don't fix their defense, and fix it fast.
4. No bench
In basketball it's critical for the reserves to be able to hold down the fort while the starters get their much-needed rest. For New York, this is of extra importance since they have injuring-prone players in Derrick Rose and Joakim Noah and an aging superstar in Carmelo Anthony. However, New York ranks 22nd in bench minutes played and 20th in bench points. These numbers are not going to cut it for this team. And a bench of Kyle O'Quinn (4.5 PPG, 2.9 RPG), Lance Thomas (3.9 PPG, 2.4 RPG) and Sasha Vujacic (1.7 PPG, 1.7 RPG) is not going to be able to consistently put up enough points to keep this team in games when the starters are out.
One of the big problems with this New York bench is their lack of depth at the point guard position. Given Derrick Rose's tendency to get hurt, you would think they would have three point guards on the roster. But Brandon Jennings is the only other official point guard on the team. The question is: when Rose gets hurt again, who is going to play backup point guard behind Jennings? During the preseason, when Rose was away from the team, Jennings saw a ton of minutes and was mediocre at best. If Rose goes down with an injury –and you know he more than likely will– the whole Knicks offense is going to suffer badly.
ESPN predicted a 35-win season for the Knicks, a number that many fans scoffed at. But if New York doesn't find a creative way to increase their bench production, we may well see that prediction become a reality. TNT analyst Charles Barkley voiced his opinion a few weeks ago that the Knicks should bring Kristaps Porzingis off the bench. The thinking here is that Porzingis could benefit from being the first option off the bench rather than a third option in the starting five. It seems questionable given how rapidly the youngster is developing, but it might be worth a try if bench production doesn't improve.
3. Problems with the "Zen Master"
Knicks president Phil Jackson has been a longtime advocate for the triangle offense. This is a system that worked wonders for him during his time coaching the Bulls and the Lakers. But according to a recent report, the Knicks haven't been running the triangle offense very often, and Jackson isn't happy about it.
The whole point of appointing Jackson as president of the organization was to bring a culture change to a franchise that is perennially incompetent. But how is Jackson supposed to create positive change if his team refuses to follow his directions? There is a disconnect going on, either with the players or with the coaching staff — or maybe both. We've seen the power of a well-drilled system at work with teams like San Antonio and Golden State. New York's inability to commit to a style of play and a way of running their offense is going to kill their chances to compete against any disciplined team in the league.
But the problems with Jackson don't stop at the triangle offense. The Knicks President recently referred to LeBron James and his business partners as a "posse." The unfortunate wording sparked a strong reaction from James as well as Anthony, who had some words of his own for Jackson:
"I don't think you have to be a rocket scientist or an educated person to understand what that means to us….To some people, the word 'posse' might not mean anything. It might just be a word. To some other people, it could be a derogatory statement. It all depends on who you mention it to, who you're talking about."
Tension between your best player and the president of the organization is never a good thing.
2. Derrick Rose can't stay healthy
Depth is already a problem for the Knicks. But the point guard slot is particularly worrisome. Derrick Rose has a long history of injuries and he has proven himself unable to stay healthy for a significant stretch of games. Even when he is technically healthy, he misses games due to all manners of apparent discomfort and soreness. A team with a starting point guard who can't stay on the court will have a very hard time building chemistry and staying competitive, especially when the backup option is Brandon Jennings.
Ironically, losing Derrick Rose might not be such a bad thing. He's in the midst of one of his worst seasons as a pro, averaging 14 points and 4.8 assists while playing 31 minutes per game. For comparison, with the 2010-11 Bulls, Rose played only six more minutes per game and averaged 25 points and 7.7 assists per game. Rose is shooting an abysmal 25% from three-point range, and his Player Efficiency Rating (PER) is the second-lowest of his career.
It may be time to limit Rose's minutes by bringing him off the bench behind Brandon Jennings. This would do two things: limit Roses's chances of sustaining another severe injury, and give the Knicks a viable scoring option on the second unit. A starting five offense run by Brandon Jennings might be more suited to the Knicks' style of play, anyway. Jennings is not as ball-dominant as Rose, and this pairs better with Carmelo Anthony and Kristaps Porzingis. Meanwhile, Rose would have the freedom to come off the bench and create his own shot, with other role players playing more of a complementary role in the offense.
1. Carmelo is past his prime
Carmelo Anthony is on the wrong side of his career average in nearly every category. He's still an amazing player, but the signs of age have been showing themselves for a while. This season he's playing a career-low 32 minutes per game. It's sad to see a great player waste the last of his professional basketball years on a sinking team.
Anthony may still be capable of carrying a team into the postseason, but he needs the right pieces around him to do it. He needs young, energetic players who complement his style of play, not a hobbled center and a fragile point guard. Anthony is very similar to LeBron James in his size and strength. The difference is that LeBron does everything, while Anthony is primarily a scorer. Thus, a ball-dominant point guard like Rose is not a good fit to play alongside him. A big man who can't shoot is not a good fit to play alongside him. Courtney Lee, who disappears on the offensive end, is not a good fit to play alongside him.
What Anthony needs is someone like the Pelicans' Tim Frazier or the Sixers' T.J. McConnell to run the offense. Porzingis is a good fit because he can shoot and stretch the floor, but a more athletic center like Bismack Biyombo from the Orlando Magic might be a better fit than Noah. And the Knicks need shooters. When Anthony gets double-teamed, he needs to be able to kick the ball out to someone who can consistently knock down shots. New York needed a Klay Thompson or a Ryan Anderson, not a Courtney Lee.
Sadly, the pieces don't fit and the regular season only gets more unforgiving as it goes on. Maybe we will see a Derrick Rose resurgence. Maybe Joakim Noah will find his heart, and Carmelo Anthony will turn back the clock. Barring that, all signs are pointing to the lottery.
This article originally appeared on