5 reasons the Memphis Grizzlies can still win without Mike Conley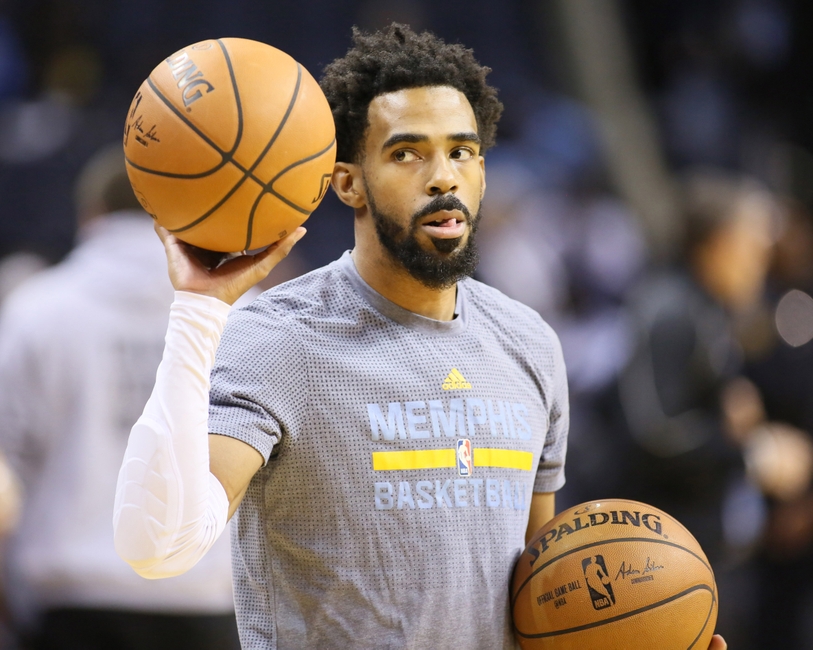 The Memphis Grizzlies undoubtedly will take a huge hit with the loss of Mike Conley to a back injury. The Grizzlies' ship is rocky, but it is not sinking.
The Memphis Grizzlies received a major punch to the gut Tuesday when it was announced Mike Conley would be out indefinitely after fracturing a bone in his lower back during Monday's loss to the Charlotte Hornets.
The Grizzlies gave Conley the richest contract in NBA history this summer. And, believe it or not, he was living up to those lofty standards. He was averaging a career-high 19.2 points per game and a team-best 5.7 assists while shooting 46.7 percent from beyond the arc.
Conley has knocked on the door of being an All-Star for some time now, and it seemed like this year he was going to break through a crowded point guard class in the Western Conference. He was leading the Grizzlies to a winning record, and the grit-and-grind was still present with new coach David Fizdale still trying to push the pace.
Conley was as much the heartbeat of that as anything else as the point guard. The early numbers suggest that too:
Here's some Mike Conley on/off stats to make you cry.

MEM ORTG
ON: 107.4
OFF: 95.5

OPPONENT ORTG
ON: 99.7
OFF: 108.7

via @bball_ref

— Beale Street Bears (@BealeStBearsFS) November 29, 2016
There is very real reason for concern with the Grizzlies for the next 6-8 weeks that Conley will be out at a minimum. The next 20-plus games are going to be a long slog for the Grizzlies.
But there is still hope. Memphis has survived injuries before — namely last year when Conley missed the final two months of the season and the Grizzlies still made the playoffs. There is something about this team and organization now; they just find ways to win.
The road will undoubtedly be tougher without Conley there. The numbers above from Beale Street Bears suggest the Grizzlies will have to make some adjustments and the Grizzlies themselves do not have great point guard depth.
But there is still hope for Memphis. They may not continue their current pace — the team is 11-7 currently — but the Grizzlies can still stay in the playoff hunt as the team waits on Conley.
5) Marc Gasol
The first place to start with the Memphis Grizzlies is Marc Gasol. He does a lot of good things for the Grizzlies and is actually the team's All-Star. Conley may have been well on his way to making his first All-Star team, but Gasol is still the biggest rock in the middle for the Grizzlies. He can still make things go.
Gasol is averaging 18.0 points per game this season. The Grizzlies have moved him further away from the basket than ever before as Conley has taken primacy in the new offense. He is averaging a career-high 3.5 3-point field goal attempts per game, where he never averaged more than one in his career previous.
Memphis is going to to have to refigure its offense around Marc Gasol, and the Spaniard is more than capable of becoming that fulcrum.
Expect for his scoring to get above 20 points per game, for his assists to go up and for his 3-point attempts to go down. Memphis will need Gasol to do everything for the team now if they still want to win consistently.
The question will be whether or not the Grizzlies get enough shooting or make enough shots to free up that space in the paint and on the block.
4) They have done it before
Experience is probably the best teacher, and no team knows how to survive injuries quite like the Memphis Grizzlies. The Grizzlies lost Conley last year to an Achilles injury in early March and he was unable to get back in time for the playoffs. Memphis was 37-25 when Conley went out and was cruising to the playoffs with him, and would ultimately clinch a playoff berth without him, finishing with the seventh seed at the end.
The Grizzlies went 5-15 the rest of the way as injuries began to pile up — Gasol went out in February, so losing both Gasol and Conley sent the Grizzlies into a tailspin– but they still made the playoffs.
This is a team with a strong identity. New coach David Fizdale has changed the identity some and has had Conley push the pace and Gasol hang on the perimeter more. But this team is still a tough defensive team, and we saw that last season when they rallied together to make the playoffs.
The Grizzlies will need that again. They will need veterans like Vince Carter, Zach Randolph and Marc Gasol to boost young players like Wade Baldwin, JaMychal Green and Andrew Harrison. These players will play some bigger roles now, and now is their time to shine.
3) Return of Grit-and-Grind
David Fizdale has increased the pace for the Memphis Grizzlies. They are not the same grind-it-out team they were before. Both Marc Gasol and Zach Randolph are taking more jumpers and Randolph sacrificed minutes to come off the bench, too, so the Grizzlies could have a stretch-4.
When teams are at a talent deficit, though, they inevitably have to slow the pace down and limit possessions.
Memphis is still 28th in pace at 95.2 possessions per game, so this is still a slow-ish team. They just play a more modern style with Fizdale. The Grizzlies are fourth in defensive rating according to NBA.com, giving up 100.2 points per 100 possessions, so Memphis is still quite efficient on the defensive end of the floor.  And they still have elements of this Grit-and-Grind style the Grizzlies made famous for so long. While everyone else embraced 3-pointers and sped up, Memphis slowed down.
Their 3-point attempts per game are up, from 18.5 to 25.3. That number may shrink and the Grizzlies may return to this grind-it-out style.
With Memphis' defense, that could still be very effective in the long run.
2) Trade Opportunities
The Memphis Grizzlies seemed to be in something of a transition phase this summer until they spent significant money on Mike Conley and Chandler Parsons. Add in Marc Gasol's big contract from the summer before and the Grizzlies are pretty set with their core.
They should still have some opportunity to make moves, though.
Memphis is stocked with veterans on relatively affordable contracts. When the trade market opens on Dec. 15, the Grizzlies could very well make some moves to improve the roster.
Zach Randolph is in the final year of a contract paying him $10 million; Tony Allen is in the final year of a deal paying him $5 million; Vince Carter is in the last year of his deal. That is potentially $20 million the Grizzlies could move to a team looking for a veteran or some cap relief and inject the team with some youth and added depth — especially at point guard.
All of those players are pretty fundamental to the team's culture, so those are not going to be easy decisions to make. But Memphis can make deals and the team can get better in the trade market. The opportunity is there.
The Grizzlies will have to heavily explore the trade market when it opens and they will have to make sacrifices. But the opportunity is most certainly there.
1) Chandler Parsons
The greatest mystery for the Memphis Grizzlies remains their latest free agent signing, Chandler Parsons. Parsons has played just six games this season and is averaging 7.7 points per game, shooting 39.1 percent from the floor.
He suffered a bone bruise left knee last Saturday and is expected to miss two weeks, which puts him on the path to return later this week. He would be a big offensive boost and can help make up the playmaking gap that the team loses with Conley.
The Grizzlies need to stay healthy, of course, but they will need Parsons most of all — especially to balance the floor with shooting and play off of Marc Gasol.
Parsons can be that game changer offensively. He is not defensively strong, but the rest of the team can pick him up. The Grizzlies will need him to lift them up offensively in Conley's absence if they want to keep early playoff hopes alive.
This article originally appeared on