5 reasons the Los Angeles Clippers are for real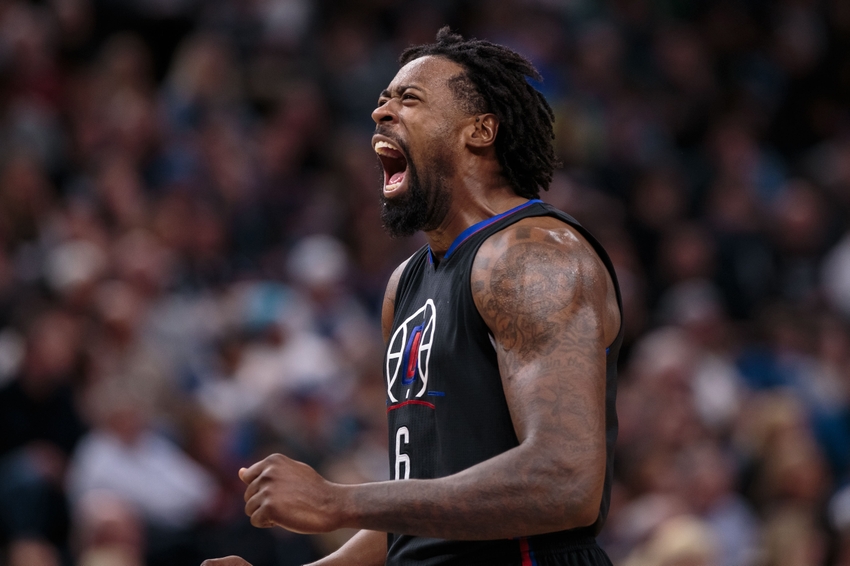 The Los Angeles Clippers are 10-1 through their first 11 games of 2016-17. Here are five reasons this team is a real NBA Championship contender this season.
Yes, the Los Angeles Clippers are the best team in the NBA through 11 games. They are 10-1 with their one loss being by two points to Russell Westbrook's Oklahoma City Thunder, 85-83. Many expected the Clippers to be a top-four team in the Western Conference that was capable of winning 55 games.
However, few thought that they would get off to this hot of a start in 2016-17. The Clippers aren't going away this season. Here are five reasons that Los Angeles is a serious threat to contend for the 2016-17 NBA Championship.
5. Luc Richard Mbah a Moute: The answer at the three?
The Clippers have been a strong team for much of the last decade. However, they have had three primary issues as a basketball team: 1.) Overcoming the limitations associated with Doc Rivers as general manager. 2.) A largely unimpressive bench (more on that in a minute). 3.) Who is the Clippers' fifth starter at small forward?
Rivers is what he is as a front office executive and the bench seems to be better, but could the Clippers have their answer at the three in veteran Luc Richard Mbah a Moute? While Mbah a Moute is only averaging 5.9 PPG in 23.5 minutes per contest, he is showing signs of the three-and-d guy the Clippers have coveted for the entire Rivers era in Los Angeles.
Mbah a Moute is shooting .565 from the field, .429 from three, and has an effective field goal percentage of .630. In his ninth NBA season after starring collegiately for the UCLA Bruins, Mbah a Moute is playing the best defense of his basketball career. He already has 0.5 Defensive Win Shares and has career highs in Defensive Box Plus/Minus (3.8) and Box Plus/Minus (4.1).
For Los Angeles to be successful come playoff team, the Clippers can't lose games at the starting small forward position. Not only can the Clippers tread water with Mbah a Moute at the three, he is grading out as a plus defender and a reliable jump-shooter for them in the early part of the 2016-17 NBA season.
4. Competent bench
So about that Clippers bench? It's not horrible anymore. Rivers has actually put together a second unit that isn't just a bunch of 2010 also-rans. The Clippers are getting production out of its bench for once and that's a scary reality for the NBA's Western Conference.
We've known that Los Angeles' core four of Chris Paul, J.J. Redick, Blake Griffin, and DeAndre Jordan match or exceed every NBA team's best quartet offering. Jamal Crawford has been an isolation offensive dynamo for years in the NBA, but the rest of the Clippers bench had left a lot to be desired. The opposition would take advantage of Los Angeles' thin bench nightly the last few seasons.
Crawford has been good as expected. Rivers' son Austin Rivers continues to be a decent rotational guard in the NBA, overcoming harsh criticisms of blatant nepotism. Outside of that backcourt duo, the Clippers have gotten a boost from two 2016 free agent acquisitions: point guard Raymond Felton and power forward Marreese Speights. Felton gives the Clippers another ball handler in the backcourt to run the offense. Speights is an all-around spark plug in the Clippers' front court.
Will Los Angeles be able to keep winning with their second unit the rest of the way? Potentially, but for now, it is nice to not see the Clippers bench leak like a sieve from yesteryear in 2016-17.
The bench's improvement has allowed to Clippers starters to play an unencumbered brand of basketball. We had not seen the Clippers play a loose, albeit confident style of basketball until this year. This makes them a team capable of winning the West in 2017.
3. Undeniable sense of urgency
The Clippers have taken a page out of the 2010-11 Dallas Mavericks' book of 'Don't Break Up the Band!". Teams capable of winning 55+ games annually are nothing to take lightly. Los Angeles has been an upper echelon team in the NBA since J.J. Redick's arrival and DeAndre Jordan's ascension.
While the Clippers' core four is as good as anybody's in basketball, there is an undeniable sense of urgency with this team. Members of this team have honestly realized that this could be the group's last year of playing together. Los Angeles could be losing a ton of important players in 2017 NBA free agency.
The Clippers have four unrestricted free agents, most notably Redick. Los Angeles also has four players on its roster with player options for 2017-18, most notably Blake Griffin and Chris Paul.
This organization realizes the championship window with this corps is fleeting and finite. There may not be a tomorrow that will look as bright as what the Clippers are putting on the floor today.
They know exactly who they are, what they need to do to win, and have come to the harsh reality this could be the Clippers' last hurrah with this group. There may be better teams in the NBA than the Clippers this season, but no team is thriving in win-now mode quite like Los Angeles.
2. Chris Paul is playing like an MVP
Through mid-November, the 2016-17 NBA MVP has to go to Clippers starting point guard Chris Paul. This guy is absolutely crushing it on both ends of the floor for arguably the best team in the NBA. If Stephen Curry can win a unanimous MVP, does that mean the award is in the bag if Paul keeps up this ridiculous pace of his?
Paul is leading the league in PER (33.6), Defensive Win Shares (0.9), Win Shares (2.9), and Win Shares/48 (.425). He is also leading the league in steals per game (2.9), offensive rating (136), and defensive rating (91).
Interestingly, Paul isn't averaging over 10 assists per game. That doesn't really matter, as he is playing floor general better than just about everybody else in basketball. His nagging on-court demeanor isn't rubbing teammates the wrong way anymore. Frankly, one could argue that it is galvanizing the 2016-17 Clippers.
For the Clippers to be a serious NBA Championship caliber team, their best player has to play at an MVP level. Blake Griffin could be that guy, but with the way that Paul is playing, he's elevating a frustrated basketball culture in Los Angeles and making the case that the Clippers can win it all.
1. Blake Griffin's newfound commitment to defensive excellence
What could top Paul playing at an MVP level? Well, seeing one of the NBA's two biggest ifs come to live would do that. No, the Milwaukee Bucks point forward Giannis Antetokounmpo isn't making threes. The Clippers are getting a newfound commitment to defensive excellence from power forward Blake Griffin.
This is a game changer. Griffin has been a solid offensive player and rebounder for years but had not been the elite defensive player like many thought he could be coming out of the University of Oklahoma.
While he is not a proficient defensively as the other three of the core four, Griffin is in the midst of his best defensive season as a professional. Griffin is boasting career bests in PER (24.4), Win Shares/48 (.247), Offensive Box Plus/Minus (3.1), Defensive Box Plus/Minus (4.0), and Box Plus/Minus (7.1).
To have two strong defensive players in the starting front court for Rivers in Griffin and Jordan, this gives the Clippers the necessary muscle to push around Western Conference elites like the Golden State Warriors and the San Antonio Spurs come playoff time.
Griffin's health is always an issue, but with this newfound appreciation for defense, this could make the Clippers among the favorites to win the West this year. Let's just say getting to the 2017 Western Conference Finals is a very realistic possibility for this team.
This article originally appeared on