5 reasons Philadelphia 76ers can still improve without Ben Simmons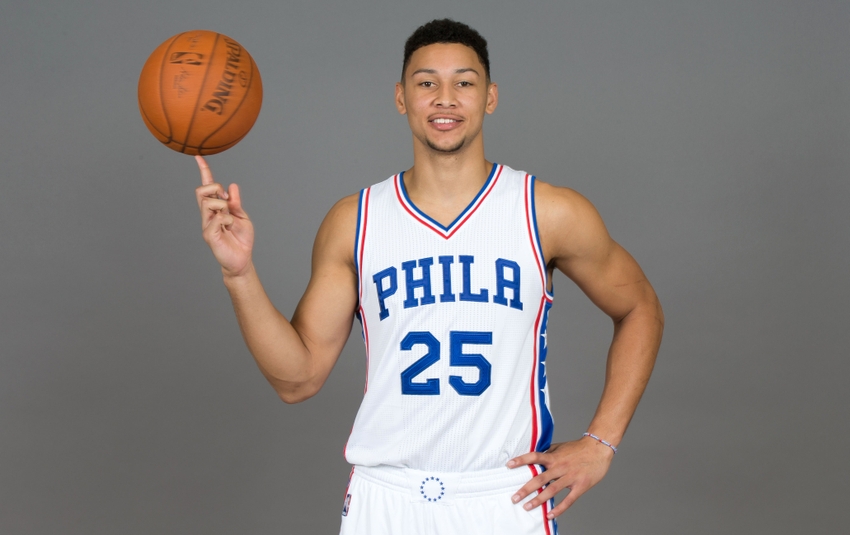 No. 1 overall pick Ben Simmons fractured the fifth metatarsal in his right foot. Here are five reasons the Philadelphia 76ers can still improve without him.
Friday evening was a tough blow for the Philadelphia 76ers. Their No. 1 overall draft pick in former LSU Tigers point forward Ben Simmons broke the fifth metatarsal in his right foot in practice.
The 76ers have had ridiculously bad luck with lottery picks succumbing to injuries before their should-be rookie seasons. Nerlens Noel missed his first season in the NBA after wrecking his knee in college for the Kentucky Wildcats. Joel Embiid has yet to appear in an NBA game after a litany of injuries in college for the Kansas Jayhawks.
Philadelphia can't seem to catch a break (pun intended) with their one-and-done rookies. Jahlil Okafor didn't get hurt before the 2015-16 season opener, but he wasn't without the occasional off the court incident.
So what if Simmons broke his pinky toe? He'll survive and so will the 76ers. Here are five reasons that Philadelphia can still improve without Simmons playing for them on the hardwood for a good bit of this season.
5. Brett Brown is a good coach, despite his record
It doesn't matter that his career winning percentage in the NBA is .191, head coach Brett Brown is still good at what he does. Brown was chosen for a reason to be the coach during The Process in Philadelphia. He stems from the Gregg Popovich tree of player development. As long as he is coaching the 76ers, they'll find ways to improve.
Even coaching a roster devoid of experience and mostly bereft of talent, Brown still has his team playing hard for him. Offensively it has been a struggle in Philadelphia, but his team does seem to be cultivating a defense-first identity. Brown's Sixers are more adept at using their athleticism to stop the other team from scoring than getting their own shots to fall.
More on FanSided:
It's not a winning culture in Philadelphia; frankly it's a losing one . However, all that losing doesn't mean this organization is dysfunctional. The 76ers chose to blow the whole thing up back in 2013 and everybody was on board. It just became too hard to stomach that much losing.
While Philadelphia continued to lose at an alarming rate, the blame was never put on Brown whatsoever. Fans would look to the front office and ownership if they had any gripes with the sanctity of The Process. The 76ers will still lose a lot in 2016-17, but Brown isn't going to lose the locker room. For that reason, Philadelphia can still play better even without Simmons on the floor.
4. Bryan Colangelo is not Sam Hinkie
For all the jokes of him being born on third base as the son of an NBA owner, Bryan Colangelo is still a two-time NBA Executive of the Year with two different franchises. Colangelo ran the front office for his father's Phoenix Suns in the 2000s. He left for the Toronto Raptors and found success in Canada earlier this decade.
Colangelo is a good front office executive, but more importantly, he isn't Sam Hinkie. Hinkie was the former Daryl Morey analytics disciple of the Houston Rockets who was the primary architect behind The Process.
Mathematically, hypertanking made sense as the best course of action to land an NBA superstar. However, The Process became too big of a burden for even Hinkie to stomach. He resigned as the 76ers general manager on April 6 via a multi-page manifesto, better known as the Hinkie Letter.
What hurt Hinkie more than anything was that he was reluctant to speak with the media during the first two years of The Process. For as unconventional as it was, talking about it out loud would have helped people understand the logic behind the hypertanking.
Colangelo is going to make this team better as the year progresses. He's not going to try to bottom out like Hinkie did for percentage chances at draft picks. Colangelo isn't without his misgivings, but doesn't nearly have the stigma of Hinkie. That only helps the 76ers.
3. Ample salary cap space
One way that Philadelphia can improve without Simmons is to use some of that ample salary cap space it has. Hinkie had his issues as the 76ers general manager, but for better or worse did keep it tight in the ledger.
According to Spotrac.com, Philadelphia has $19.3 million in available cap space, $22.3 million if the 76ers renounce their cap holds and exceptions. They might have 20 players under contract, but eight of those contracts aren't fully guaranteed.
This gives the 76ers tremendous wiggle room to trade for a solid role player in Simmons' extended absence. Now that they have a potential superstar in Simmons, the gross rebuilding project in Philadelphia can finally start reaching its conclusion.
The 76ers don't have to target a former All-Star, or even an NBA starter. Last year, Philadelphia brought in Ish Smith to play point guard and the team instantly improved. They were actually able to win a few games with Smith running the point!
Philadelphia won't be able to replace Simmons' potential productivity. The Sixers have the financial resources to recreate him in the aggregate in the form of role players or traditional D-Leaguers. Philadelphia shouldn't look to push back its star rookie. He can take his time in recovery and the 76ers won't be the worst team in basketball in his extended absence.
2. Much of their young corps is still intact
One thing that is definitely getting overlooked about this young 76ers team is that its players endured The Process together. Many players of their young core have been in this organization at least for a year or two. Through constant on-court struggles, they've had to have bonded, right?
Misery loves company and the bonds that some of these 76ers players have with each other could be a galvanizing factor for this team in 2016-17. Honestly, it might actually be better that Simmons isn't playing with them in the first part of the season.
For as talented as he is, he wasn't the best teammate at LSU. Towards the end of the 2015-16 SEC season, it became clear that his Tiger teammates resented him. He was too good to play at a football school like LSU. Simmons might have been better suited to play at a traditional basketball power like a Duke or a Kansas that could've handled a star one-and-done player.
Having Simmons out for an extended stretch would give somebody else on the 76ers roster the opportunity to assert himself as a vocal leader. Simmons is still going to be the best player, but are we sure he will be a willful teammate?
This could be a great chance for somebody on Philadelphia to become that never-say-die type of on-court leader like a Draymond Green or a DeMarre Carroll. Somebody on this roster has that to have that scrappy, hard-working demeanor to inspire this young club, right?
1. This was a 10-win team in 2015-16
The biggest reason that Philadelphia can still improve without play from Simmons is that the 76ers were a 10-win team last year. It's almost impossible to be worse than a 10-win NBA team. Last year had to be the nadir for the 76ers franchise. It's only going to get better from here on out.
Youth and inexperience were the two biggest factors for Philly's abysmal play last season. A roster without proven veterans usually struggle because they don't know what it takes to play in the NBA. Guys like Gerald Henderson, Jerryd Bayless and Elton Brand are going to help this club out significantly in terms of professionalism.
This will be the fourth year Brown will be the 76ers head coach. His system is sure to be more refined and nuanced. Defensively, the 76ers will probably be close to decent. Offensively, well, it might still be a struggle without Simmons. At least Bayless is a real NBA point guard.
Everybody on the team is a year older and a year wiser. There were lessons to be learned last season. Surely some players on the 2015-16 Philadelphia 76ers won't make the same mistakes this time around.
All it's really going to take is to have one starter or role player to pop for the team to offset the Simmons loss this year. Remember that he is a 20-year-old rookie that is afraid to shoot the basketball. This team will find ways to get better with or without Simmons on the floor. Improving on a 10-72 mark from the year before is almost certain for the Sixers.
This article originally appeared on