5 Reasons For Los Angeles Lakers Fans To Be Thankful In 2016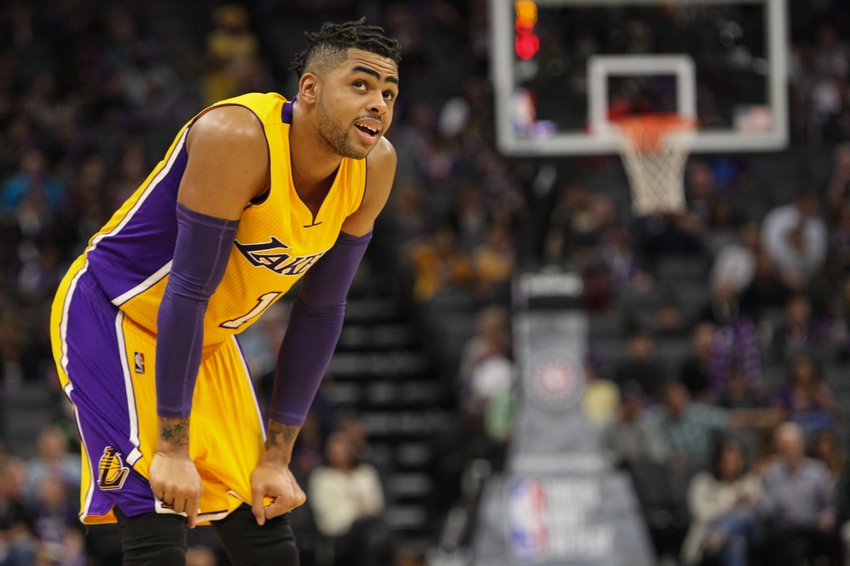 This Thanksgiving, there's a lot more for Los Angeles Lakers fans to be thankful for than there was only a year ago.
If you're a Los Angeles Lakers fan, there's a lot to be thankful for right now. Although the team currently is 8-7 on the season, what we've seen this year has been a major improvement on anything we witnessed during the 2015-16 campaign.
As crazy as it seems, some folks are even talking about the Lakers being a potential playoff team in 2016-17. While I wouldn't go anywhere close to calling them contenders, it's not asinine to think they could earn one of the final seeds in the Western Conference before all is said and done.
But that's still months away. Right now, we're focused on the upcoming Thanksgiving holiday. It's a time when we're supposed to reflect on things we're thankful for. And as previously mentioned, there's plenty that fits into that category when it comes to the Lakers.
The future looks bright for this franchise. They hit rock bottom a season ago, but now is time for one of the NBA's most storied teams to return to relevance.
With that in mind, here are five things all Lakers fans should be thankful for in 2016.
A Quality Team To Root For
Let's start off by saying that, for one, the Lakers are actually a team worth watching right now. They made several improvements this offseason, from a couple of key roster moves to the hiring of one of the NBA's most promising young head honchos.
It's all accumulated into what is a quality Los Angeles team.
There are young playmakers putting up big points on a nightly basis. There are big men throwing down huge dunks, and asserting their dominance in the paint. We've even got a couple of wily veterans doing work and providing leadership when the opportunity arises.
Put simply, all of the pieces are falling into place for this to become a Lakers squad worth taking seriously. As we've seen through the early part of the season, even the NBA's top teams can't afford to take them lightly.
Just ask the Golden State Warriors, who suffered an ugly loss at the hands of Los Angeles.
As I previously mentioned, there's little confusion about the state of this team. They're no contender, but a playoff spot is nowhere near out of the question. A lot of fans threw in the towel last season, but the Lakers are a quality team worthy of your support in 2016-17.
Luke Walton
While the plethora of young talent on this roster has a lot to do with their sudden success, it's the guy calling the shots that deserves so much of the credit. Yes, I'm talking about new head coach Luke Walton.
The former Lakers player came over after a wildly successful stint with the Warriors. Now, he's implementing some of the same tactics that won Golden State so many games in 2015-16, and it's working wonders for Los Angeles.
Not only are the Lakers playing smarter, more efficient basketball, but the tenacity and determination are there. The will to win is much stronger than in years passed, and I have to assume that's because the players want to win for Walton.
Jordan Clarkson even said so at one point this season.
Walton is capitalizing on the talent this roster has to offer. He's molded Julius Randle after Draymond Green, and its showing in his on-court success. The shooting has been better, and the lack of a superstar hasn't kept the scorers from shining on a nightly basis.
Expectations were sky high for Walton when his return to Los Angeles was announced. Up to this point, it's looking like the Lakers brass made the right call in hiring him. Given time, he may even return this squad to annual contender status.
Any true Lakers fan should be very thankful for Walton's presence in L.A.
The Return of 2014-15 Lou Williams
The Lakers originally signed Lou Williams two offseasons ago following a season during which he won the Sixth Man of the Year award. He followed up that electric performance with an average first year in Los Angeles, leading many to dub him a questionable signing.
Well he had no plans of a repeat performance, as he's gotten off to a smoking-hot start in 2016. He's consistently been one of the Lakers' top scoring options, and is one of the key driving forces behind the team's suddenly exciting offense.
As a matter of fact, he's leading the Lakers in scoring through 15 games.
More than anything, he's providing that spark that was missing for most of the 2015-16 season. Whether it's draining buzzer beaters from half court or hitting circus shots that most NBA players wouldn't dare take, Williams is finally paying dividends for the Lakers in a big way.
I was honestly a bit skeptical heading into this season that Williams would ever pan out for Los Angeles. However, I'm glad to admit that I was wrong. He's just the type of lightning in a bottle this Lakers team so desperately needs moving forward.
It's still early, but Williams is making a case for his second Sixth Man of the Year award.
The Best Bench Unit In The NBA
Williams may be the star off the bench for the Lakers, but there's a lot more to the second unit than just him. In fact, the Los Angeles twos may just be the best bunch of bench players in the NBA.
They're currently averaging more than 50 points per game, and still have the highest defensive efficiency of any bench in the league (via HoopStats.com).
It's a big part of why the Lakers are among the top scoring teams in the league, and why they've already entered themselves in the playoff discussion.
It seemed strange when Walton decided to move Clarkson to the bench. However, as we've seen through the early season, it appears to be the perfect role for the former second-round pick.
He's averaging 14.9 points, 2.3 assists and 1.7 steals per game, and has connected on 47.1 percent of his shots.
We've already discussed Williams, and players like Larry Nance Jr., Brandon Ingram and Tarik Black also deserve credit. This bench unit has been outstanding up to this point, and should continue to shine as the season rolls along.
A big part of the Lakers' success can be accredited to the bench's play. If they make the playoffs this season, the twos will deserve a large chunk of the praise.
The Emergence of Julius Randle
The Lakers went into this season wondering who would emerge as the star with Kobe Bryant enjoying retirement. I honestly expected that star to be either D'Angelo Russell or Brandon Ingram. Julius Randle wasn't even on my radar when I pondered the topic.
Well I was off the mark, and it's working out pretty well for Walton and his Lakers.
Because so far this season, Randle has been the star of the show in Hollywood. While he may not be leading the team in points per game, the former Kentucky superstar is killing it in just about every aspect.
His scoring efficiency has improved, he's dominating the glass like he did all last year, and his passing has even been elevated.
More than anything, the confidence and swagger Randle is playing with is remarkable. He carries himself like a star, plays like a star, and has proven that he's ready to put the Lakers on his back.
Best of all is his teammates are carrying their weight, which is allowing him to avoid bearing too heavy a burden.
Walton knew he had something special in Randle when he came back to coach his former team. He spent the time during the offseason trying to mold him into a Draymond Green-type of power forward, and it's worked better than most could have imagined.
Believe it or not, the Lakers may have found their future face of the franchise. That's definitely something to be thankful for, if you ask me.
This article originally appeared on