5 Reasons Devin Booker Should Start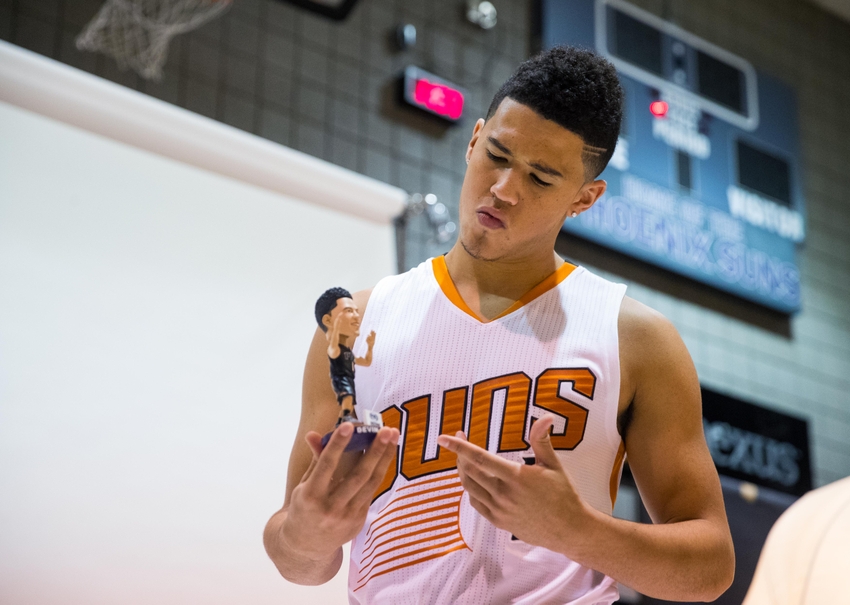 For a Phoenix Suns team looking toward the future, Devin Booker is the guy to build around and should be the team's starting shooting guard this season.
Booker came onto the scene with a bang during his rookie season and emerged as one of the best young players in the NBA for the Phoenix Suns down the stretch.
The 6-foot-6 shooting guard averaged 13.8 points, 2.6 rebounds and 2.5 rebounds in just 27.7 minutes per game for a Phoenix team that finished 23-59.
Devin Booker also finished third in the Three Point Contest during the All-Star weekend.
With training camp opening today, let's take a look at five reasons why Booker should be the starting shooting guard for the 2016-17 Phoenix Suns.
No In-Editor Preview for ONEUPSPORTS Videos
Video Details
ID: fansided-nba/training-camp-preview-phoenix-suns
Source: ONEUPSPORTS
Brandon Knight is not the answer
Phoenix acquired mercurial shooting guard Brandon Knight on February 5, 2015 and have gotten just 63 games out of him in one and a half years.
More from Valley of the Suns
Injuries have plagued Knight for the better part of his time with the Suns, and when he has been on the court, he's been an inefficient scoring threat.
Knight averaged a career-high 19.6 points last season, but had his lowest win shares and Player Efficiency Rating in three years.
Phoenix originally acquired Knight to fill the void left by the trade of Goran Dragic and re-signed Knight to a 5-year, $70 million contract, but that was before Booker came into the fold.
Now that Phoenix has a cheaper and, arguably, more effective option in Booker, starting Knight over Booker seems unnecessary.
Booker has prototypical measurements for an NBA shooting guard
Looking at the measurements of some of the top shooting guards in the NBA, Devin Booker grades out favorably.
Golden State Warrior Klay Thompson—the player who Booker is frequently compared to—is listed at 6-foot-7 and 207 lbs, and has nearly the same frame as Booker, who is listed at 6-foot-6 and 206 lbs.
Houston Rocket James Harden is listed at 6-foot-5 and 220 lbs, while Chicago Bull Jimmy Butler and Toronto Raptor DeMar DeRozan each come in at 6-foot-7 and 220 lbs.
Most guys come in needing to revamp their body to match the physicality of NBA players. Booker simply needs to build on his existing frame by adding definition.
Devin Booker provides Phoenix with needed floor spacing
Booker is one of the best young shooters in the league and, in terms of ability, is the team's most capable shooter in the back court.
Looking at the 2015-16 Suns, only Knight and Mirza Teletovic made more than 100 three-pointers, with Teletovic making 181 three-pointers to lead the team.
Considering the loss of Teletovic, Jon Leuer and Ronnie Price, Phoenix lost 291 of its 738 three-pointers from last season. That's 39.4 percent of the team's three-pointers gone in one off-season.
The front office did bring back sharp-shooter Jared Dudley, who had 100 three-pointers for the Washington Wizards last season, but still has a noticeable gap of shooting to fill.
Inserting Booker in the starting lineup next to an average shooter in Eric Bledsoe would maximize the team's ability to space the floor and employ a more traditional lineup.
Lineups with two point guards aren't as effective as they once were
Phoenix was one of the first teams to trot out a starting lineup with two point guards and actually have success while doing so.
The Suns sent out Eric Bledsoe and Goran Dragic together in the 2013-14 season and finished with a 48-34 record, which is the team's best record since going 54-28 during the 2009-10 season.
Management tried to go all in by signing Isaiah Thomas to a free agent contract after the 2013-14 season and saw it blow up spectacularly.
Talk of discontent flooded the media and Dragic told the Suns to trade him or he would leave in free agency. Both Thomas and Dragic ended up being traded during the 2014 trade deadline.
Phoenix brought back Knight during that trade deadline to try to recreate the two point guard lineup but hasn't seen much success since then.
Phoenix is playing for the future
The 2016-17 Phoenix Suns are set up to win in the future, not the upcoming season.
Of the 15 players on the Suns roster who figure to start the season with the team, just four players are over 30 years old. Tyson Chandler, P.J. Tucker, Leandro Barbosa and Jared Dudley are the elder statesmen of the team.
The other 11 players are 26 years old and younger, with eight of those players coming in at 23 years old and younger.
Devin Booker was the youngest player in the league last season and hasn't even turned 20 yet.
Regardless of his age, Booker became the sixth player to score 1,000 points in a season as a teenager and got a shout out from NBA superstar LeBron James this off season. 
For a Phoenix team looking like a 30 win team, giving young guys like Booker serious minutes has to be the priority this season.
This article originally appeared on