5 reasons Chris Paul will win NBA MVP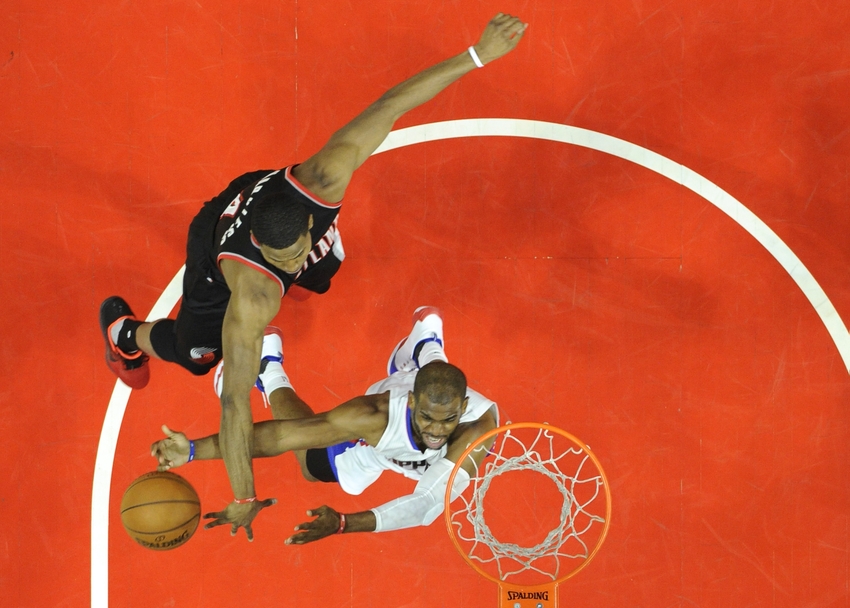 Chris Paul has the Los Angeles Clippers out to an impressive 10-1 start to the season. If Paul sustains his current dominance on the court he'll be on pace to contend for the league's MVP come season's end.
Chris Paul is the NBA's version of Mighty Mouse. Better yet, Atom Ant. The 6-foot guard has balled game-in and game-out throughout his career and has the accolades to prove it. Four-time NBA steals leader and All-NBA First Team honoree, six-time NBA assists leader and All-NBA Defensive first team. Nine NBA All-Star teams are the cherry on top.
Paul has done it all, though the coveted NBA MVP award continues to elude one of the best players to come out of the state of North Carolina since Michael Jordan himself. A franchise-best 10-1 start to the Los Angeles Clipper season that's been downplayed by head coach Doc Rivers indicates the team has no plans on slowing down. Expecting Paul's level of play to continue ascending is a safe bet considering the team is wearing their discontent for playoff flameouts on their sleeve.
Read More: The Los Angeles Clippers are the best team in basketball
The Clippers are marching to the beat of Paul's drum–that's nothing new. But now Paul is looking to avoid settling for regular season awards and head straight for the big cheese. That drive gives his team a good chance to break barriers it's failed to do so in the past, and in the meantime, puts Paul in a favorable position to win the NBA's MVP award. Without further ado, let's begin our countdown to why Chris Paul will come away with the league's highest individual honor come May.
5. Toughness
Newsflash: Basketball is a big man's game. And if you read the first two sentences of the intro slide than you know I've already jokingly mocked Paul's miniature (on-court) stature compared to his league cohorts. Though having to always play the role of Scrappy-Doo in the NBA has made Paul one of the NBA's gritter talents and caused him to develop an armor around his underwhelming size.
This bulldog persona that Paul wears at all times has helped him carve one of the more unique paths on the hardwood. He's invited contact on the court offensively and instigated it on the defensive end. Physicality in all phases of the game is what chips away at guards who're two, three, four and sometimes five inches taller than him, and literally chops them down to Paul's level. More importantly, it allows Paul to get in the heads of these lengthier players, which, as you might've guessed, doesn't end well for those squaring off against Chris.
Sure, sometimes Paul's toughness can go a little off the rails. He's been one of the league's dirtier players since entering back in 2006. The lowlight of his career may be a groin shot he put on Kevin Durant last March when squaring off against the Oklahoma City Thunder.  Still, can you blame him? Every game he's played has probably felt like a re-telling of David vs. Goliath, except there are five Goliaths and they all wanna swat CP3 like a pesky gnat.
It takes some mettle to do what Paul has done, given that it's been such an uphill battle from the jump. But that doesn't stop Chris, as well it shouldn't. His toughness was what blazed his way into the NBA, and it will be what helps vault him to an MVP award by season's end.
4. All he does is produce
I'm gonna have to go all stats guy over here but it's well deserved since Paul's been one of the most consistent players in the NBA. Throughout his career he's averaged 19 points a game, 10 assists, four rebounds, 2 steals and made 48 percent of his shots. In other words, roughly 50-percent of the time the ball leaves this guy's hands it's going in the bucket, and that percentage is exponentially higher if you count his numerous assists.
Need more proof? How about in the past three seasons Paul's landed in the top-10 of the +/- statistic. I know I know, it's a fickle stat that has almost as much to do with the individual player as it does with the other four guys on the court with him. But instead of using that against Paul, consider this: the past three seasons he's been able to overcome chemistry issues, a wonky bench and even falling stars (looking at you, Blake Griffin and DeAndre Jordan) and has still been able to perform at a high-level in a very particular statistical category. That's saying something for the fun-sized guard.
It doesn't appear Paul's production will decline anytime soon. Even at 31 years of age, Paul continues to show off his high motor and prove to be people again and again that he's not just some 82-game guard: he's in it for 110 if need be — he's played in four seven-game playoff series. Paul's performances on the court won't let up until he reaches the pinnacle of his career, whatever that may be, even as father time begins to work more and more against him. One thing is for sure is that if Paul produces the way he has so far this year, it'll land him as the lead dog for the MVP race come season's end.
3. Paul can lead with the best of them
There's no doubting Paul has some of the best leadership chops in the league. He's turned the perennially dysfunctional Clippers into a competent franchise, and did the same with the New Orleans Hornets before that. Paul has even shouldered the burden of demanding excellence from his talented but inconsistent teammates.
Paul has earned every ounce of respect he's got, and it's not because he's done things the easy way. Take this ringing endorsement from Denver Nuggets head coach Mike Malone, who was an assistant coach with the Hornets during Paul's final season in New Orleans.
"All I can speak to from my experience, he's probably the best leader I've ever been around," Malone said. "Being a leader is tough, because you can't be a leader and want everybody to like you. My father's been in the NBA for 30 years. For him, Isaiah Thomas was the best leader as a player he was ever around. Sometimes a leader has to get on guys and say things they may not want to hear, but they need to hear it…I think Chris is an unbelievable leader, an unbelievable competitor, and that's why I think he's one of the best point guards in the NBA."
That's high praise coming from any coach and a testament to the kind of guy Paul carries himself as. He's turned losers into winners and makes no qualms about it because, at the end of the day, all that matters is getting the win. His leadership is an intangible that may not show up on the stat sheet, but it's definitely something MVP voters will consider when the ballots need to be cast next Spring.
2. Believe it or not, CP3 takes and makes the big shots
NBA fans often associate Chris Paul's lackluster playoff record and inability to advance to a Western Conference Finals as a mark of shame on his resume. Though what people are quick to forget is that Paul has often succeeded in the playoffs despite having teammates who shrink in the big moments, making him one of the more over-looked clutch performers in the modern NBA era.
Take stroll down memory lane with me and let's revisit how the last two playoff series wins went for Paul and Clippers. In the 2015 playoffs, Paul and Company were given the unfortunate draw of playing the reigning NBA champion San Antonio Spurs in the first round. After six games, 47 minutes and 59 seconds of grueling competition between these two behemoths, the game came down to a dribble-drive and a high bank shot off the glass from Paul to finally send the Spurs packing. Or how in the 2014 playoffs the year prior, Paul's two free throws in the final eight seconds iced Golden State's chance to advance past the first-round. The loss was so demoralizing for the upstart Warriors that it's what got then-head coach Mark Jackson fired and caused a complete revival of the team. How much more venomous does it get?
Point being, Paul's made of the stuff to thrive in big moments. He's constantly uplifting those around him and dwarfing opponents when the lights are brightest. No other way around it. That clutch gene is an X-factor come the MVP voting time that won't be overlooked by .
1. Everybody hates Chris
It's abundantly clear to anyone following the NBA that Chris Paul's litany of accomplishments pale in comparison to a single MVP or NBA championship. Those prestigious accolades have never been bestowed upon CP3, and it's hard to say what it will take for him to do to earn either one since he's poured everything and more into his career. Still, those repeated brushes with failure have made Paul a grizzled veteran and give him a resolve unmatched throughout the league.
Paul has suffered through those drowning seasons with the Hornets where he was the only viable member on the roster hoisting up his raggedy teammates. He also changed the entire culture of the woeful Clippers and made them an instant contender in the highly-competitive Western Conference. Yet, time and again, it's Paul's failures, or rather, the failures of those around him that have defined his perception among NBA fans. Those negative representations of Paul have firmly placed a chip on his shoulder that will not be easily mended until he earns something as heralded as a title or trophy for the best individual player in the league.
Though don't expect Paul to crumble under all the unfair criticism. It may define who he is now to so many people, but it won't define him forever. Those shortcomings have made him into one of the angriest, most determined players to lace up his kicks in a long time and causes him to dig deeper into his well of willpower. Paul may never win an NBA championship, but he sure as hell won't allow his unequivocal greatness in the backcourt to go unnoticed. Once May rolls around, we'll all see the fruits of his laboring resolve when he hoists his very deserved NBA MVP trophy.
This article originally appeared on