5 Realistic Expectations For The Los Angeles Lakers In 2016-17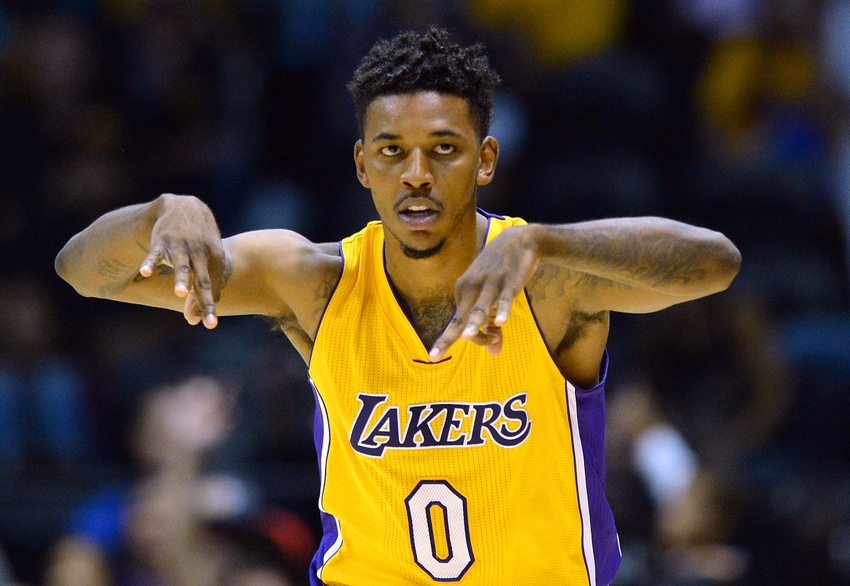 With the Los Angeles Lakers' season set to start in a few days, what can we realistically expect from this team that's undergone so much change this offseason?
Yes, we're only a few days away from the Los Angeles Lakers officially tipping off their 2016-17 campaign. On October 26, they start the post-Kobe Bryant era against the Houston Rockets.
The new season carries with it a lot of intrigue. With so many new faces, a new head honcho and a new direction, there doesn't appear to be anywhere to go but up from here. Unfortunately, the road is still going to be bumpy this young, inexperienced squad.
That's why I wanted to take a look at some realistic expectations for the Lakers' 2016-17 season. With so many "bold" predictions out there, it doesn't hurt to err on the side of caution and mull over what could actually happen between now and April.
As NBA fans, we often want to hear the best-case scenario. However, especially in the Lakers' current situation, it may be easiest to set the bar low and be surprised if this new-look team surprises.
With that in mind, here are my realistic expectations for the Lakers this year.
Jack Nicholson Shows Up To Every Home Game
Okay, so this isn't necessarily all about Jack Nicholson, but hopefully you'll get my point.
In recent years, the Lakers' faithful following has wavered a bit as the former NBA dynasty strung together some terrible seasons. It seemed like the fanbase was starting to slip, with some less invested fans even jumping ship in favor of the Los Angeles Clippers.
The devotion of the Lakers' most prominent courtside staple never wavered, though. And better yet, I don't expect it to in 2016-17 either.
Why exactly? Well, because this team is going to get better this year. They've made some significant improvements this offseason, highlighted by the addition of a young, up-and-coming head coach. While it's still advisable to temper expectations, the Lakers' stock is undoubtedly on the rise in 2016-17 after hitting rock bottom in 2015-16.
So yes, you'll see plenty of Jack this season. I'm sure he'll do plenty of yelling at refs and there will be some ugly looks thrown the Los Angeles bench's way, but he'll be there nonetheless.
Things are looking up in Laker Land, and this robust fanbase will be resurrected in the process.
Yi Jianlian Is A Pleasant Surprise
There's a lot of uncertainty surrounding the Lakers' Yi Jianlian, and understandably so.
The former lottery pick flopped in his first go-around in the NBA, but is looking for a bit of redemption during the 2016-17 campaign. Los Angeles has seen some promising stuff from the Chinese big man, but will it translate to productive play during the regular season?
I'm leaning towards the answer being "yes."
Realistically, Jianlian has all of the tools to be a quality big man for the Lakers. It also helps that unrealistic expectations and a starting role aren't being heaped on him. As we've seen during the preseason, the plan is to bring him along slowly. That, however, may work out in his favor.
That way, Jianlian can take it at a reasonable pace and reacquaint himself with the speed and physicality of the NBA. When that happens, though, I think the former No. 6 overall pick will excel as a key part of the Lakers' bench unit–likely as a center (via Mike Bresnahan).
He's got excellent range, size and athleticism, which should bode well for the Lakers if he's used right. Walton is a smart guy, and should find a way to turn this bust into a pleasant surprise.
 Major Improvement Is Made On 2015-16 Record
I understand this isn't the heaviest of statements, but remember that these are realistic expectations.
In 2015-16, the Lakers finished the season with a franchise-worst record of 17-65. One of the NBA's most successful teams of all time hit an all-time low, leading to an offseason full of drastic changes.
Kobe Bryant retired. Luke Walton was hired to be the leader of this team. Another No. 2 overall pick was added to the equation. So much movement in one offseason can be disastrous, but this Lakers team will survive and thrive (relatively).
Or at least, they'll finish the year with a much better record than 17-65.
My guess is the Lakers manage to win at least 30 games, with the potential for more based on a number of factors. Realistically, it's hard to deny this team has talent–they do have three recent lottery picks primed for prominent roles. However, so much of this team's success will depend on their continued development.
There's a lot of uncertainty for the purple and gold heading into 2016-17. However, if there's one thing you can be certain of, it's that they'll win several more games than they did a year ago.
The Lakers Fail To Make The Playoffs
Yes, the Lakers will improve on what was a pitiful 2015-16 season. No, they will not end their three-year playoff drought.
We've always known that life in the West is never easy. While the East has seen its stock rise in recent years, it's still going to be tough sledding for the Lakers–especially in a division that houses the Golden State Warriors.
Like I mentioned previously, I wouldn't be surprised to see Los Angeles crack the 30-win mark this season. Unfortunately, that likely won't be enough to book a trip to the postseason. They'll need at least 40 wins (probably more), which I don't think is an attainable goal for this young, inexperienced team.
The potential is there for the Lake Show to be a contender in the coming years. We'll see significant progress in 2016-17, especially with Walton at the helm. However, when all is said and done, there's little chance the Lakers find their way into the postseason.
I'm sorry Lakers fans, but I'm just being realistic.
Luke Walton's First Season Is Considered A Success
Believe it or not, Luke Walton is under an immense amount of pressure in 2016-17
The former Lakers player has taken over his former team, and will be expected to quickly point this squad in the right direction. Trust me when I say that's a tall order, especially considering the poor way this franchise has been run since the passing of Jerry Buss in 2013.
Luckily, I think Walton's got the skills and support to get the job done.
There will be some fans who are disappointed, because frankly this team is still a couple of years away from being a true contender. There's a lot of work to be done with this roster built around inexperienced youngsters, but it's a challenge that Walton is more than equipped to complete.
So don't get discouraged when the Lakers fail to crack the 40-win mark in 2016-17. Rome wasn't built in a day, and neither are championship NBA teams. Walton needs some time to mold this team into a championship-caliber group, and this year will be a good opportunity to set the groundwork.
When all is said and done, Walton's first go-around as head coach of the Lakers will be seen as a success. It may not include a postseason appearance or more than 40 wins, but it'll be a big step in the right direction for one of the league's most storied franchises.
This article originally appeared on