5 NBA teams that should start tanking now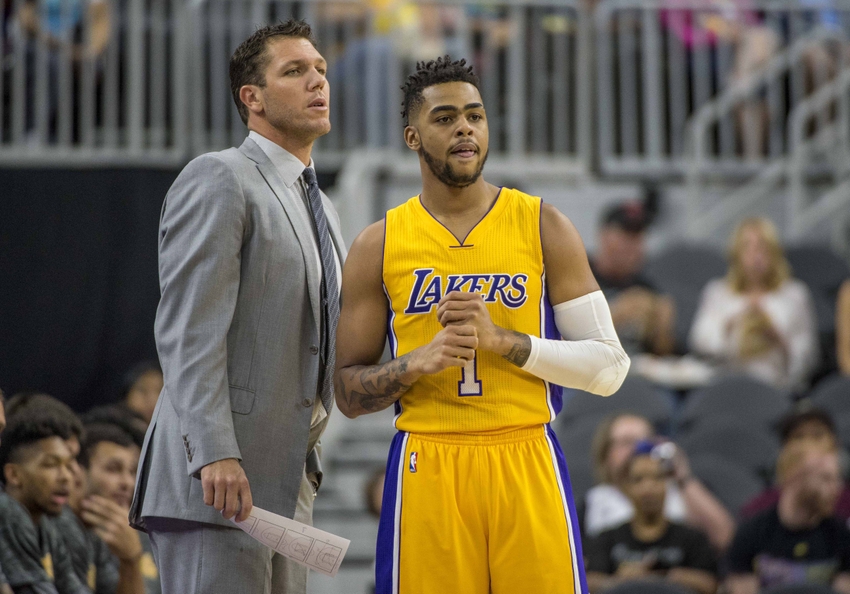 The NBA season is less than a fifth complete, but these five teams need to start tanking right now.
The 2016-17 NBA regular season is still in its infancy. We have little info on what teams are good and what teams are bad. The Los Angeles Clippers, Golden State Warriors, San Antonio Spurs, and the Cleveland Cavaliers are good — that's fairly apparent. The Philadelphia 76ers, Brooklyn Nets, New Orleans Pelicans, and the Dallas Mavericks are bad — we do know that.
What about the other 22 teams that make up the National Basketball Association? The rest is muddled. Only nine of these 22 teams are above .500 at this point of the season. One additional team (Los Angeles Lakers) sports a .500 record. An additional three teams (New York Knicks, Milwaukee Bucks, Utah Jazz) are one game under .500.
To recap, fewer than half of NBA teams have a winning record. Only slightly more than half of all NBA teams are even within one game of splitting even.
It should be noted that numerous teams have struggled with injury early in the season. Others are still incorporating and developing chemistry with offseason additions. They could still be good, or at least not mediocre. Some teams, however, need to give it up right now.
Before we begin, a couple things: 1) Currently possessing a winning or close-to-winning record does not preclude a team from this list; 2) Teams have been omitted from this list for the simple fact that they don't need to tank. Some teams are effortlessly awful.
5. Washington Wizards
The Washington Wizards are now in year seven of the John Wall-era, with nothing to show for the 2010 No. 1 overall pick. Wall is on histhird head coach. The Wizards have only made the playoffs two times since Wall joined the team and were never considered a serious championship contender either season. Last season was a step back, finishing 41-41 and costing Randy Wittman his job.
There was talent around him. Marcin Gortat emerged as one of the best centers in the NBA and paired with Nene presented all kinds of problems for opponents. A backcourt pairing with fellow lottery pick Bradley Beal promised to be great for the next decade and the bench had quality.
Now Nene is gone. Gortat seems like he has regressed. It seems like Beal has been perpetually injured throughout his career, hindering his development both individually and his pairing with Wall. Also, offseason turnover appears to have sapped the strength of the bench. Finally, did the Wizards really think the solution to their problems was Scott Brooks?
Through 12 games this season the Wizards are 4-9 and second-to-last in the Eastern Conference. The Oklahoma City Thunder made clear what was necessary to overcome Brooks' coaching: supreme talent.
The Wizards simply don't have enough. Tank and that talent may be obtained.
4. Sacramento Kings
The Sacramento Kings have not had a winning record or made the playoffs in 10 years. The team has been in a seemingly endless period of transition. Since that last playoff appearance in 2006 the Kings have had nine head coaches and are rather worse than before. Their roster turns over every offseason with the coaching change and ownership change in 2013 appeared to have breathed new life into the franchise, but nothing has really changed.
Endless roster turnover and attempts to win every season have resulted in a mismatched roster of castoffs from other, more successful NBA teams. Ty Lawson failed with three teams prior to joining the Kings and the Memphis Grizzlies and Toronto Raptors did not want Rudy Gay. Also, perhaps most damning, Kosta Koufos is starting.
The Kings need these castoffs, however. If any of their string of lottery picks looked like a legitimate NBA starter they may not have to turn to the Ty Lawsons and Rudy Gays of the NBA world. Nick Stauskas didn't work out and Ben McLemore hasn't shown much in 3+ seasons. Furthermore, the Kings haven't helped themselves much by taking three C/PF in the past two NBA drafts.
All of these picks now sit behind DeMarcus Cousins, one of the best centers in the NBA and the best player on the roster, also a player who seemingly cannot coexist with any Sacramento Kings head coach. Basically, Cousins loses trade value every time he has an outburst on the court.
The Kings need to begin tanking right now. They are 5-9 this season in a stacked Western Conference. Find a team to take Cousins, start there, and move on to any other player on the roster.
Constant rebuilding isn't working. Therefore, it's time to try building from the ground up. Try tanking.
3. Oklahoma City Thunder
I said winning record would not disqualify a team from this list. The Oklahoma City Thunder are 8-6 and in 1st place in the Northwest Division. Russell Westbrook is supremely talented, as he is one of the five best players in the NBA. He is almost averaging a triple-double through 14 games this season — averaging a triple-double!  That is ridiculous. However, the Thunder aren't really that good.
The Thunder are first in their division but only 6th in the Western Conference. They are 4-6 in their last ten games. They can beat a team like the Houston Rockets and the Thunder can play with, and sometimes beat, teams like the Clippers and the Toronto Raptors. Yet they can also lose to teams like the Detroit Pistons and Orlando Magic. Especially relevant, considering the Thunder's championship aspirations,  is the Golden State Warriors ran the them out of the gym.
For all of Russell Westbrook's individual talent, he has no idea how to lead a team. There is about a season's worth of data of Oklahoma City Thunder games with Westbrook but without Kevin Durant. Westbrook puts up great numbers, but is inefficient, and the Thunder's record in these games is 41-33. That's pretty good, but in a conference with the Warriors, Clippers and Spurs it's not good enough.
The problem with the Thunder with Westbrook at the helm is that the games become dominated by him. To a degree, this is understandable given the Thunder's lack of other scorers who can create their own shot. The Thunder are not completely lacking for talent, however. They have shooters and rebounders and defenders, yet they don't win. They can't win as currently constituted, they need another top talent to replace Durant and take the burden off of Westbrook.
Russell Westbrook has three triple-doubles this season. Most noteworthy, the Thunder are 1-2 in those games. Tank now, just for one season, add another player who can create his own shots and score. They will be better for the long-run.
2. Miami Heat
Name a Miami Heat player. Goran Dragic. Hassan Whiteside. Starting point guard and starting center, respectively. Who's next? Udonis Haslem is still there. Justise Winslow looks to be turning into a good player as a starting small forward. I'll give you a couple more: Dion Waiters and Luke Babbitt. They start for the Miami Heat, a team which is 4-9.
Just as important for the Heat as who starts and who plays is who is no longer there. LeBron James is long gone. Dwyane Wade signed with the Chicago Bulls during the offseason. The Miami Heat career of Chris Bosh is over, if not his NBA career.
The days of the Big Three in Miami are gone.
Last season's attempt to give it one last go with Wade and Bosh got the team to the Eastern Conference semifinals, but without Wade and Bosh there is no hope to make it that far this season. There is probably little hope to make it to the playoffs, period.
Dragic and Whiteside are nice complements to players like Wade and Bosh but you don't build a team around them. Perhaps in time the Heat will be able to say Winslow is their centerpiece, that he is that franchise player around which the Heat will build and hang their fortunes. Maybe Winslow already is that player. If so, rebuild around him instead of surrounding him with spare, leftover parts.
With the Big Three the Miami Heat were focused on winning now. The organization surrounded them with veteran, complementary pieces. However, once the stars are gone the pieces are no longer viable. Tank now, win later — that is the Heat's most viable strategy at this point if they want to get back to winning.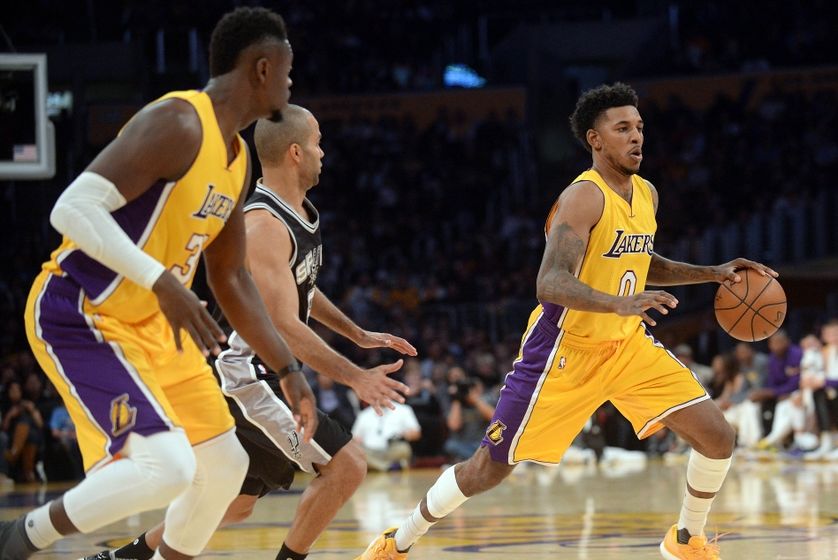 1. Los Angeles Lakers
Luke Walton is a good coach, that much was apparent last season with the Golden State Warriors. Now that he has moved to the Lakers and shed the interim tag, Walton has continued to prove as much. The Lakers are 7-7 this season with largely the same team that finished last season 17-65. If the NBA playoffs started today the Lakers would be included. D'Angelo Russell and Julius Randle have had another year of development and the Lakers added another lottery pick in Brandon Ingram, but this improvement is largely Luke Walton's doing.
The question is whether this improvement is sustainable. The answer is, no. The Lakers are averaging 109.8 points per game, second in the NBA behind only the Golden State Warriors. The Lakers are giving up 109.6 points per game, 27th in the NBA.
Nobody expected the Lakers to perform so well so early this season. For their part, it's better if Lakers do not continue to do so. This is a team with zero depth. Timofey Mozgov is their starting center and what talent they do have is young and not ready to win yet.
If the Lakers did somehow manage to sneak into the playoffs as the 8th seed, what's their future? Lose in the first round and a middle-of-the-road draft pick that will not help next season.
There's no point in trying to get a low playoff seed this season, especially when it's unexpected. The goal of the Lakers needs to be to stockpile as much talent as possible in the short-term in order to win in the long-term. Beginning next season, with another starter-quality talent added, the Lakers can begin to challenge for a better playoff seed.
Tank now.
Numerous other NBA teams may want to think about losing now. The Dallas Mavericks, New Orleans Pelicans, Brooklyn Nets and Philadelphia 76ers are bad. They need to lose in order to get a good draft pick and add talent for the future. However, they don't need to tank –tanking implies some conscious effort. Thereby, trying to lose. Those teams are losing all by themselves. The five teams on this list should try to lose. 
Finally, tanking gets a bad name, but it can work. Ask the Chicago Cubs.
This article originally appeared on