5 NBA players would could be first time All-Stars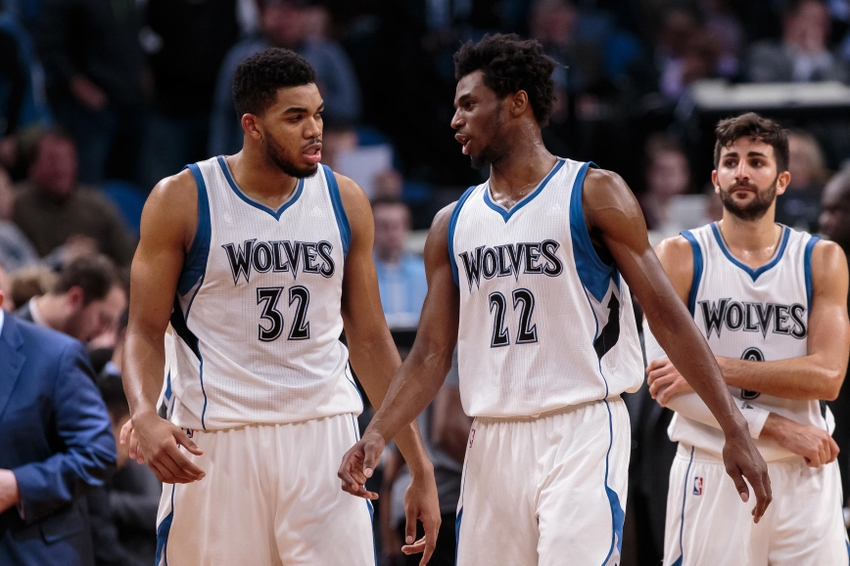 The NBA All-Star weekend is one of the best weekends in sports. Here are five players who could be making their first appearance there this year.
The 2016-2017 NBA season is in well underway and players are all competing for the same goal, an NBA title. The offseason was exciting and busy with players signing crazy contracts. With the season finally here, we are all anxious to see what everyone does.
Players came out of the gate firing on all cylinders. Russell Westbrook is averaging a near triple-double with 32 points, 9.7 rebounds and 9.9 assists per game. James Harden might be trying to prove that he is the best player in the league. He is averaging 30.3 points, 7.9 rebounds and 12.6 assists per game. And probably most surprising of all, DeMar DeRozan is leading the league with 34 points pet game. He has scored 30 points in all but two games this year, including two games with 40.
One thing that all of those players have in common is that they have all been All-Stars before. This year there could be a few guys on the rosters that have never been there before. There are many talented young players and many guys who have been snubs in previous years. These are five guys who could make their first All-Star appearance in 2017.
5. Kemba Walker
Kemba Walker is known for a lot in the state of Connecticut. Who can forget Walker leading UConn to five wins in five days to win the Big East tournament, and then carrying that momentum into the NCAA tournament to win it all? The key play in all of that was Walker's step back jumper that beat Pitt at the buzzer.
Walker is beginning to make a name for himself in Charlotte too. The Hornets are off to an 8-3 start and have early hopes for playoff basketball. This is a lot because of the play of Walker. He is averaging 25.4 points, 5.5 assists, and 4 rebounds per game. These numbers could earn him his first All-Star game appearance as a pro.
Many believed that Walker was snubbed last year when he was not selected and the conversation has begun already this year. Last year he averaged 20.9 points per game and that number is up this year so far. Walker is showing his ability to score and lead a team to wins.
The main argument when it comes to the topic of Walker being an All-Star is all of the point guard talent in the Eastern Conference. We're talking about a conference that has Kyrie Irving, Kyle Lowry and John Wall playing in it. So far, Walker leads all Eastern Conference point guards in scoring. This could be the year that Walker makes the triumphant leap from above average NBA player to NBA All-Star.
4. Kristaps Porzingis
New York almost rioted when Porzingis was taken fourth overall in the 2015 NBA Draft. People didn't think that a skinny kid from Latvia could be successful in the NBA. Well, critics quickly turned into fans as Porzingis had a very good rookie campaign. He averaged 14.3 points and 7.3 rebounds per game. He showed ability to play in the post, range out and shoot the 3-pointer, and play lock down defense down low.
Porzingis finished second in Rookie of the Year voting behind Karl-Anthony Towns but this year Porzingis has his sights set on a bigger goal. In the offseason, he worked hard on ball-handling and moves to help him create his own shot. Early in the season, it seems to be working. Porzingis is averaging 20.3 points per game and is showing New York that they have a good young player who can be the leader of this team for a long time.
Porzingis has emerged as the best player on the Knicks who so far have been mediocre. This is a player who can win an MVP before his career is over and this year could start his legacy as an All-Star.
Aside from the numbers that Porzingis is putting up, the NBA All-Stars are chosen by the fans. Popularity has skyrocketed for Porzingis since he entered the league. New York will definitely be on their computers and voting for number six. At 7-foot-3, he has the ability to make noise in the All-Star game but also the talent to compete in the 3-point contest. This could be the year where the product from Latvia makes an appearance at All-Star weekend.
3. Andrew Wiggins
Coming out of Huntington Prep School, Wiggins drew comparisons to LeBron James. He played a season at Kansas and coasted through college basketball. Everyone knew who the first overall pick would be in 2014. The Cavs took Wiggins and traded him to Minnesota. Well, Minnesota made a great deal.
Wiggins had a good first two seasons but here in his third year, he is taking the next step. Wiggins is averaging 27.4 points per game and is part of a good young core for the Timberwolves. They have the chance to be a good team in the upcoming years.
Beginning this year, the All-Star game could have members of the Timberwolves in it for awhile. The athleticism was never in question for Wiggins but his jump show was. He is shooting 49 percent from the field and 52 percent from behind the arc.
Wiggins' 27.4 points per game is good for eighth in the NBA. He has really shown his ability to score the basketball and Minnesota is happy to put the ball in his hands. Nothing is a sure thing when it comes to sports but Wiggins could probably book his trip to New Orleans this year.
2. Mike Conley
Mike Conley certainly took advantage of the NBA salary cap increase. In the offseason, he signed the biggest contract in NBA history which was good for five-years, $153 million. Many were confused by the deal but it was a panic move for Memphis who couldn't afford to let their best player walk.
Conley enters his 10th season out of Ohio State. People have thought he was snubbed time after time during his career. This year could be his chance to stop the snubbing. Conley is averaging 18.7 points and 6.2 assists per game. This is the highest points per game mark of his career so far.
The Western Conference is full of great point guards. Steph Curry, Damian Lillard and Russell Westbrook are just a few names. James Harden is another guy who has been playing like a point guard. The question is, can Conley compete with these guys or even jump one of them? It will be hard, especially since the Grizzlies are hanging around the .500 mark.
It is crazy to think that a player who has never been an All-Star signed a contract worth $153-million but Conley did just that. This season is his chance to earn his money and earn his first All-Star game appearance.
1. Karl-Anthony Towns
Karl-Anthony Towns was selected first overall by the Timberwolves in the 2015 NBA Draft. It was clear that he was going to be an NBA stud ever since high school. He attended St. Joseph's high school in Metuchen, New Jersey and being from New Jersey I had the pleasure of watching him throughout high school and even competing against him. It was never a question that he was going to be an NBA player, it was just a matter of time.
Towns won the NBA Rookie of the Year award last season and in his second season, he already looks like a veteran. Towns is averaging 22.3 points and 9 rebounds per game. He has shown ability to shoot mid-range and 3-point jumpers, take the ball to the basket and dominate people down low. Towns has found a home in Minnesota and they don't look like they are going to let him leave.
Towns can make something special happen in Minnesota along with Andrew Wiggins over the next few seasons. As for personal goals, Towns could check one off of his list this year. The All-Star game seems like a lock for Towns who has emerged as one of the league's best young talent. Whenever there is a conversation on who to start a franchise with, Towns is selected often because of his amazing talent at such a young age.
It was never a question on who would be selected first overall in 2015, it was just what team would get the chance to draft KAT. Because of his leap in production and his popularity, Towns seems like a sure thing to get to New Orleans this year.
More from FanSided
This article originally appeared on