5 NBA players having breakout 2016-17 seasons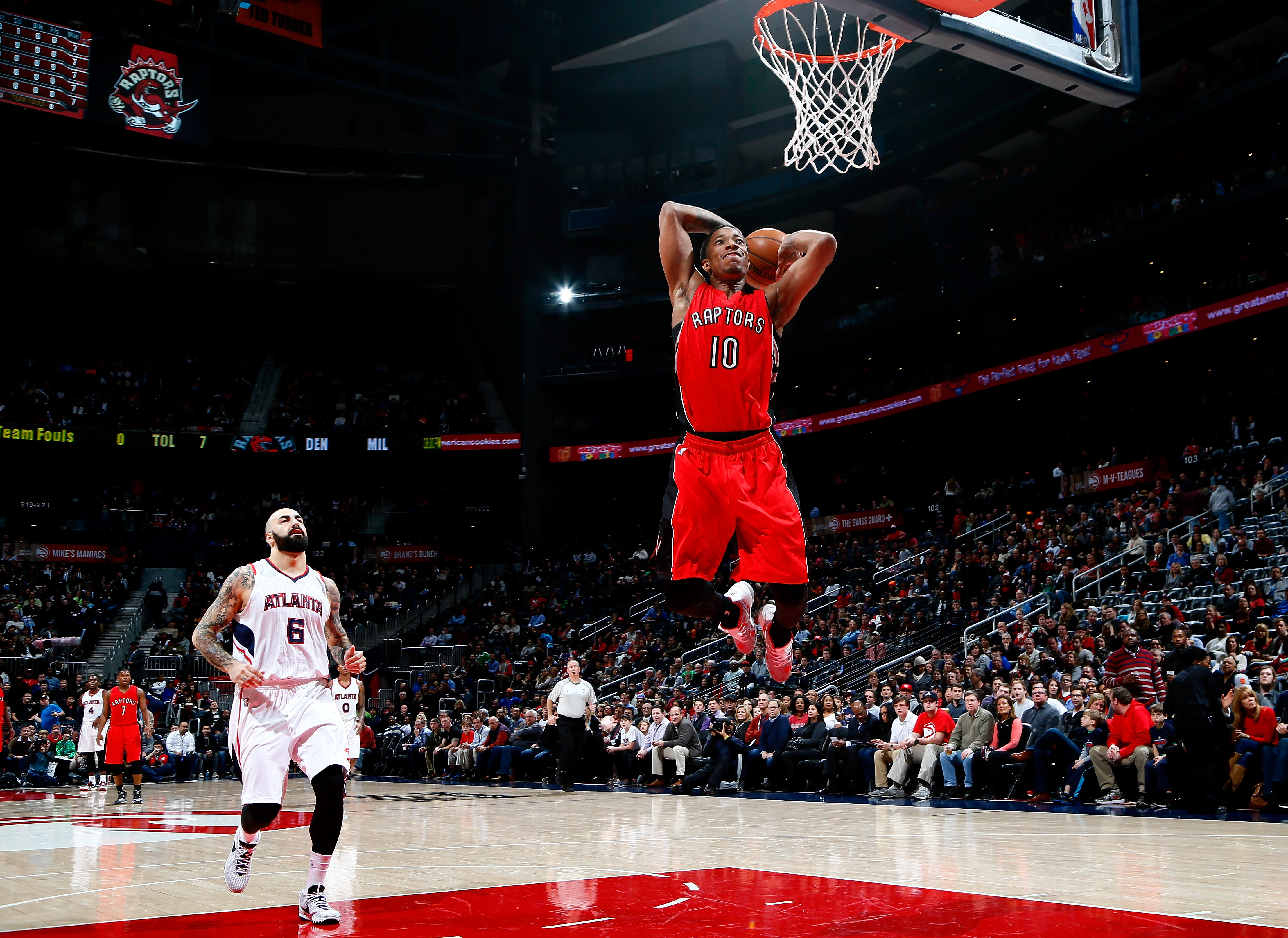 The 2016-17 NBA season is only a couple weeks old and these five players are already having breakout seasons.
The 2016-17 NBA season has been underway since Halloween and we've been witnesses to great performances. Some of the performances are not surprising, such as Russell Westbrook already having three triple-doubles. We all knew that he would go absolutely berserk after the departure of Kevin Durant to the Golden State Warriors.
It's also not surprising that James Harden is putting up astronomical numbers in Mike D'Antoni's offense. After all, D'Antoni had a player like Raymond Felton putting up All-Star numbers when he coached him. Therefore, one can only imagine what Harden, a player who is significantly better than Felton, would do in that high-powered offensive system.
Additionally, the incredibly strong start for Anthony Davis is not a surprise either since we're all aware of his other-worldly talent. The only question with him is his durability for the entire season.
Along with seeing individual performances that were expected, we've also seen some that are totally unexpected so far. Certain players are having excellent starts to the season and surprising critics. One of them is a well-known name that is taking his game to new heights so far. The others are lesser-known players that are receiving the chance to show what they can do and taking advantage of their opportunity.
Out of all of the players currently experiencing breakout seasons, there are five that stand out the most. Let's take a look at who these men are.
5. Dennis Schroder – PG – Atlanta Hawks
Dennis Schroder is a name that is well-known in Germany and is on his way to being a familiar name in the NBA. His professional career began when he was 17 years old in the German professional league. After spending three successful years improving his skills and winning a few awards, Schroder entered the 2013 NBA Draft. Due to his length and playing style, he received strong comparisons to Rajon Rondo. As a result, the Atlanta Hawks selected him with the 17th overall pick in the draft.
Schroder's career didn't take off early due to Atlanta already having Jeff Teague as their established point guard. However, it wasn't a total disappointment since he put up good numbers while averaging only 18 to 20 minutes per game. He is finally receiving his chance to be the starting point guard this season since Teague was traded to the Indiana Pacers. There were expectations for Schroder to have a breakout season due to a significant increase in minutes. The result so far has been impressive.
Schroder is currently averaging 16.3 points, 6.2 assists and 3.8 rebounds per game. This is easily his breakout season and he is only going to get better. When you consider the fact that he's about five years away from reaching the prime of his career, this is just a taste of what the young German can do. The future is definitely bright for him and it's great that we're seeing the beginning of what should be a stellar career.
4. Joel Embiid – C – Philadelphia 76ers
After playing one year of college ball for the Kansas Jayhawks and being selected third overall in the 2014 NBA Draft, there were high expectations for Joel Embiid. After all, he was able to receive the Big 12 Defensive Player of the Year award and numerous all-conference honors in only one season. Additionally, his game is modeled after Hall of Fame center Hakeem Olajuwon and the Philadelphia 76ers felt that they had their franchise center.
Unfortunately, Embiid wasn't able to play for his first two seasons in the league. He suffered a broken bone in his right foot which led to him sitting out the 2014-15 season. After suffering setbacks with the healing process, Joel was forced to miss the entire 2015-16 season as well. Therefore, even though it's his third year employed by the NBA, it's actually his rookie season right now. In order to protect their investment entering this season, the 76ers announced Embiid as their starting center. However, they also expressed that they would limit his minutes and give him rest on back-to-back games.
So far  this season, Embiid is clearly establishing himself as one of the better centers in the league. He is averaging 18.0 points, 7.3 rebounds and 2.3 blocks per game. He is also shooting nearly 80 percent from the free throw line. What makes those numbers even more impressive is that he's doing it in only 22 minutes per game. Once he starts receiving 30-plus minutes, he has a serious chance at becoming the best big man in the league.
Not all rookies with high upside show their potential right away. However, Embiid isn't one of them. His breakout season is happening right now and fans in Philadelphia should be excited about the future of their franchise.
3. Harrison Barnes – SF – Dallas Mavericks
There has been a lot of hype with Harrison Barnes for more than five years now. It started in high school where he was considered to be the top prospect in the country. As a freshman at North Carolina, his name appeared on the preseason All-American team. While he didn't quite live up to the lofty expectations set for him in college, Barnes still had a very good two-year stint. The Golden State Warriors eventually drafted him seventh overall in the 2012 NBA Draft.
Despite winning an NBA Championship with the Warriors and being a contributing factor, Harrison was recognized more for being the teammate of Stephen Curry, Klay Thompson and Draymond Green. Therefore, he decided to sign with the Dallas Mavericks this offseason. It presented him with the opportunity to get paid significantly more and to be a featured player in their offense.
So far in the 2016-17 season, Barnes is averaging 22.3 points and 5.9 rebounds per game. His point production is more than double what his career average is. Additionally, his field goal percentage sits at an impressive .491. It's also a career-high despite Barnes taking twice as many shots as he did in Golden State.
Harrison Barnes was always seen as a special player with a lot of potential. He is finally starting to show that potential and, at the age of 24, will only get better. The Mavericks have found the player for the great Dirk Nowitzki to pass the torch to.
2. T.J. Warren – SF – Phoenix Suns
College basketball fans are aware of the incredible scoring talent that T.J. Warren has. He spent two years at North Carolina State where he experienced a good first year and an even better second year. Warren's minutes were limited as a freshman, but he was still selected to the ACC All-Freshman team. However, as a sophomore, he took his game to new heights by averaging 24.9 points, 7.1 rebounds and 1.8 steals per game. It led to him being named the 2014 ACC Player of the Year and a second team All-American.
After his stellar sophomore campaign, Warren entered the 2014 NBA Draft and was selected 14th overall by the Phoenix Suns. He spent the majority of his first year bouncing back and forth between the NBA and the D-League. However, he showed signs of his potential as a rookie. Warren's game continued to improve in his second year, but his minutes were limited as a backup. He also suffered a broken right foot that cut his 2015-16 season short.
Things have changed a bit for Warren so far in his third season. He is the starting small forward for the Suns and receiving over 35 minutes a game. The result has been Warren experiencing his breakout season. He is currently averaging 20 points, five rebounds and 2.1 steals per game.
A lot of talk surrounding Phoenix's young squad has focused on Eric Bledsoe and Devin Booker. However, Warren has actually been Phoenix's best player so far. The sky is the limit for this talented wingman who should soon become a household name.
1. DeMar DeRozan – SG – Toronto Raptors
As one of the top prospects in the high school class of 2008, DeMar DeRozan had high expectations placed on him. He was receiving NBA comparisons that ranged from Vince Carter to Kobe Bryant. Physically, his frame and athleticism were already fit for the NBA, but his overall skills were still raw.
He spent a year developing those skills while playing for the USC Trojans. Some of his immense potential was put on display when he led the Trojans to the 2009 Pac-10 title and a bid to the NCAA Tournament. It would be his first and final year on the USC campus as he chose to enter the 2009 NBA Draft. He was selected ninth overall by the Toronto Raptors and was seen as their next great player.
DeRozan's first seven years in the league saw steady improvement from him. His scoring, passing ability, ball handling and defense gradually improved to the point where he received his first All-Star bid in 2014. DeMar was also an All-Star last season and clearly established himself as one of the better players in the league.
This has all changed for the 2016-17 season. DeRozan currently leads the NBA in scoring by averaging 33.2 points per game. It's nearly 10 points higher than his career-best PPG last season of 23.5. He is also averaging 4.9 rebounds and 1.6 steals per game. Both of those are career highs for him. What's even more impressive is his .510 field goal percentage and this seems like more than just a hot start to the season.
Perhaps it was his gold medal experience in Rio this summer or him entering his prime at age 27. Whatever it is, his game has elevated to a completely different level. When you go from being considered "one of the better players" to having your achievements compared with Michael Jordan, then it's clear that a breakout season is happening. This is exactly what's happening with DeMar DeRozan.
This article originally appeared on