5 free agents the Miami Heat should target in 2017 free agency
Frank Urbina/FanSided via All U Can Heat

Fansided
The Miami Heat need to make a major splash this offseason. Here are the top five players the team should target in free agency.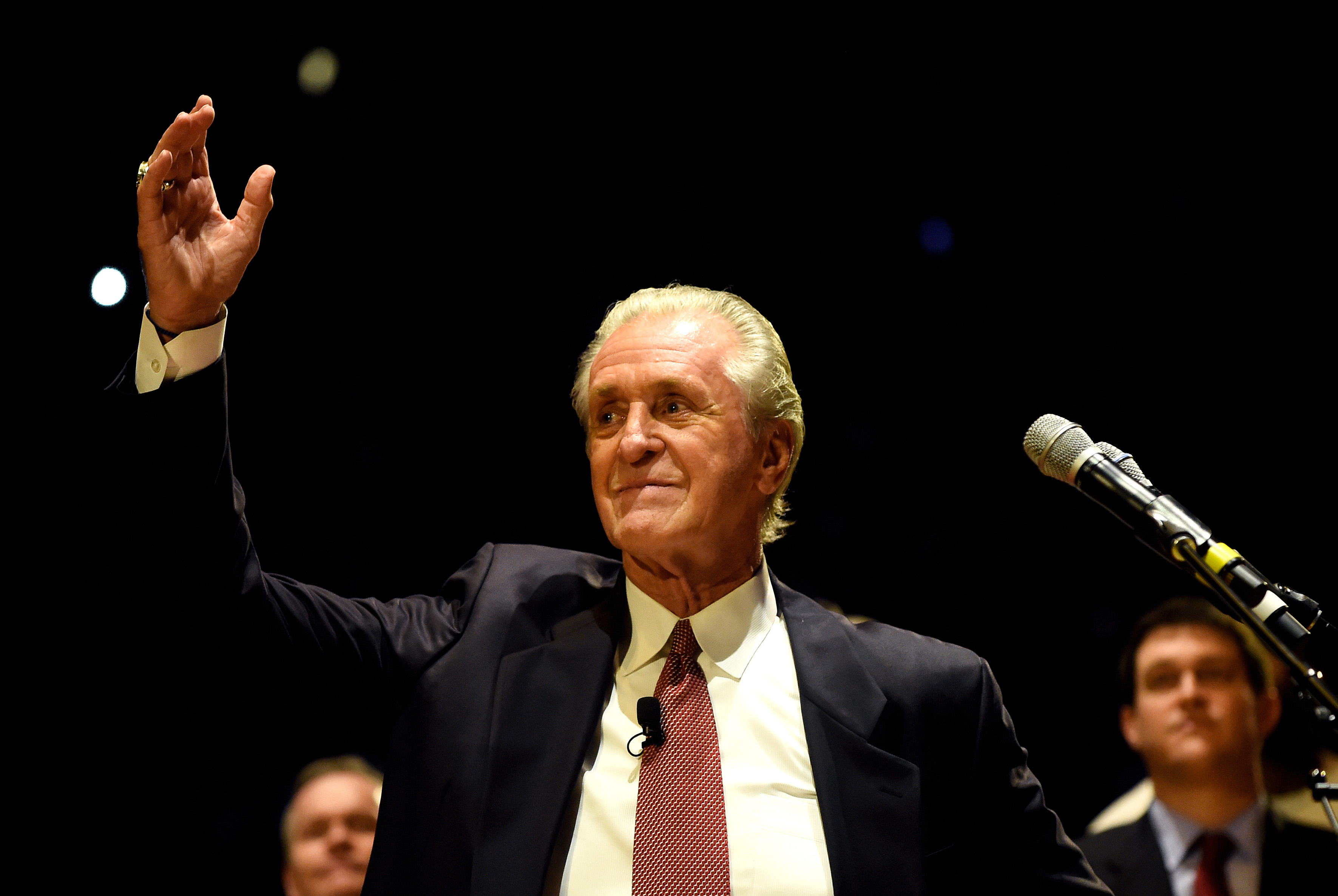 The first year of the post-Dwyane Wade era has been a tumultuous one for the Miami Heat. To say the least. The team currently has an 11-30 record, which is second worst in the NBA. They've had so many injuries that the league granted them a provisional spot to add a 16th player. Justise Winslow is out for the season. Josh Richardson's development has seemingly stagnated. The list of adversities goes on and on.
There is, however, a light at the end of the tunnel. For starters, a top three pick is very likely in Miami's future. Adding a Markelle Fultz or Lonzo Ball would be huge, and really speed up the rebuilding process.
But I understand, people are sick of talking about tanking and potential draft picks. So let's look for other positives. How about the fact that Pat Riley is about to have money to spend. A lot of it.
Starting on February 9th, Miami can apply for salary cap relief to get Chris Bosh off their books. That date is the one-year anniversary of his last appearance for the team. Relief from the Bosh contract would open up almost $24 million in cap room. Add in the money that would be saved if every player the Heat signed to one-year deals last offseason took their talents elsewhere, and you have about $37.5 million to spend.
That's enough to add one max-level player, and another mid-level free agent. It's comforting to know that at least Miami has the resources to make a splash in free agency. So the question now becomes, who's there for the team to target?
After hours of painstaking research, I came up with a reasonable list of players the Heat could go after this summer. Let's get to it.
Honorable Mentions
Before we get started, I wanted to talk about a few different guys who didn't quite make the cut. I consider these players secondary targets for Riley and GM Andy Elisburg.
For example, Clippers shooting guard J.J. Redick would fill a hole for the Heat. He's a career 41 percent three-point shooter, currently averaging 16 points per game. His effective field goal percentage is a healthy 57 percent. Redick's fit with Miami is an obvious one, as the team desperately lacks shooting.
Toronto's Patrick Patterson is another player who could pique Miami's interest. Patterson is a stretch-four with some playoff experience. For his career, he's a 37 percent three-point shooter, which suites Hassan Whiteside's talents perfectly. He also doesn't need to see a lot of the ball to be effective. Patterson knows his role and plays it very well.
If Riley were to prefer a stretch-four who's been a little more productive throughout his career, he could go after Ersan Ilyasova instead. Ilyasova is still just 29, and has been more than solid for Philadelphia. He's scoring 15 points per game, while making 37 percent of his threes. Though he's a worse defender than Patterson, you could mask that by playing him next to Whiteside for long stretches. His pickup wouldn't be the leading story on SportsCenter, but could be a sneaky good one.
There are more free agent possibilities that I didn't get to mention, because either the fit wasn't right, or the suggestion was too ludicrous. Kevin Durant didn't turn down the Heat last offseason to join them after a year of tanking. Stephen Curry is (probably) not leaving Golden State. Jrue Holiday is really good, but so is Goran Dragic. And Dwyane Wade… eh, I'll hold off on discounting a potential Wade return. For now, at least.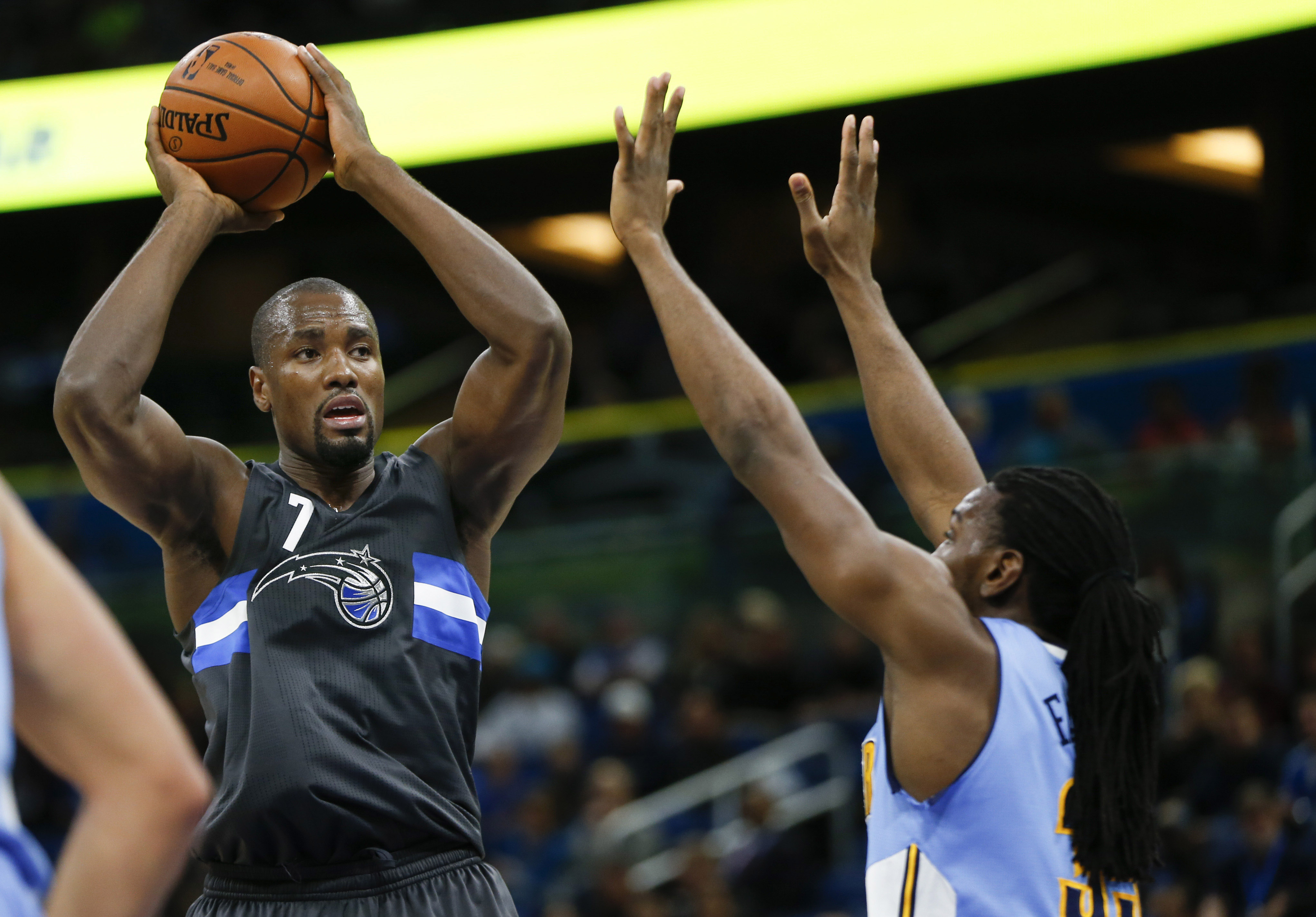 5. Serge Ibaka, PF, Orlando Magic
Serge Ibaka is a familiar foe for Heat fans. He was the starting power forward for the Oklahoma City Thunder back when they played in the 2012 NBA Finals against Miami. More recently, his Orlando Magic beat the Heat after he nailed a pretty difficult shot to force overtime. So I get it, we don't like him very much.
That doesn't change the fact that he's still a solid player, and would be a great addition to the roster. Ibaka is averaging 16 points and pulling down seven boards per game for Orlando. He's shooting 49 percent overall, and 38 percent from three, while blocking almost two shots a night.
Whiteside and Ibaka would be an absolute force defensively. Combined, the two are averaging almost four blocks, and would make scoring around the rim extremely difficult for opponents. Ibaka has the athleticism to chase around opposing power forwards while Whiteside manned the paint.
Offensively, the duo would fit nicely too. Ibaka, the outside threat, and Whiteside, the rim-running post player. Ibaka is a very adept spot-up three-point shooter at 37 percent. For reference, that's a higher rate than Richardson, Wayne Ellington, and Dion Waiters, Miami's main three-point specialists. Obviously, putting a shooter at the four next to Whiteside is also vital to his success. Clogging the paint with another non-shooter would limit his effectiveness, and the team's as a whole.
Further, Ibaka may not be the greatest distributor ever (currently averaging only one assist), but has shown flashes of improvement this season. Here you can see him drive it in from his corner spot and find Nikola Vucevic for a layup.
Ibaka's growing ability to make plays like that one (or this one) would help the Heat's front-court reach heights that aren't possible with Luke Babbit or Derrick Williams.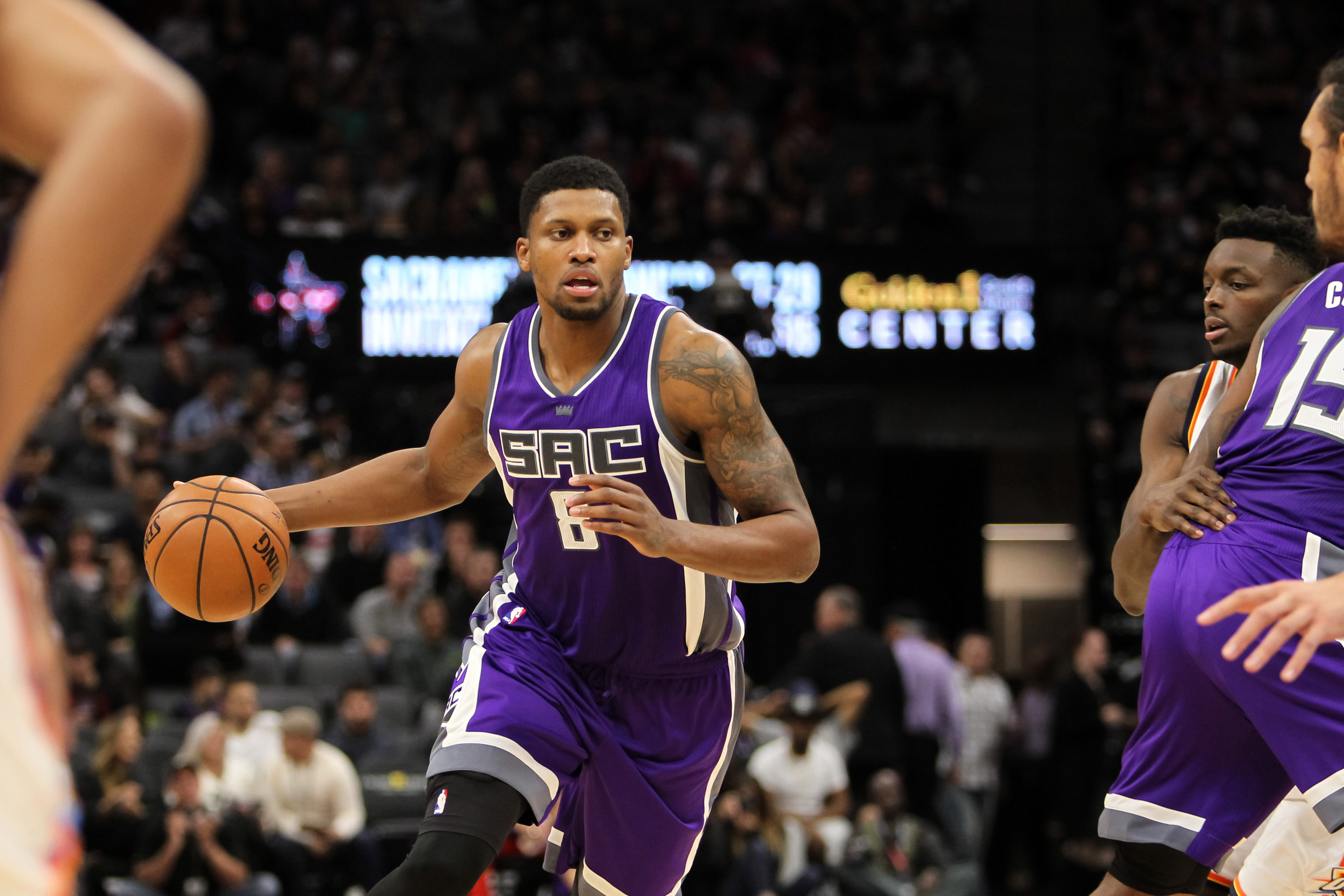 4. Rudy Gay, SF, Sacramento Kings
Rudy Gay is a player who has been rumored to be on Miami's radar for what feels like forever. And if Riley were to strike out with his top targets, it would not surprise me to see Gay in a Heat uniform next season. Riley has mentioned numerous times he wants this to be a quick rebuild. Quick rebuilds usually don't take two years of tanking. Meaning he'll do anything to turn this roster into a playoff-caliber one as soon as possible.
Although fans of analytics wouldn't love a Gay signing, he's not as bad of an option as some make him out to be. Gay just turned 30 a few months ago, and is still playing high-level basketball. He rebounds well from the small forward position at six a game, and is averaging 19 points.
His three-point percentage this season is respectable (36 percent). Even more promising, he's making his five free-throw attempts per game at an 85 percent clip. That's an area in which this Heat team desperately needs help (they're the worst FT-shooting team in the league).
Gay is also underrated in his play-making ability. The key for a Gay signing to work is for him to accept a transition to the four. Gay has been in the NBA for ten years, and doesn't have the athleticism he once did. To be effective, he needs to be a stretch-four at this point in his career.
Though his three-point shooting isn't great, the Heat's staff has shown that they can improve a player's jumper in an offseason of work. Just look at what James Johnson has been doing. Johnson currently boasts a 38 percent three-point percentage, which is by far the best rate of his career. Miami could work similar wonders with a player as talented as Gay.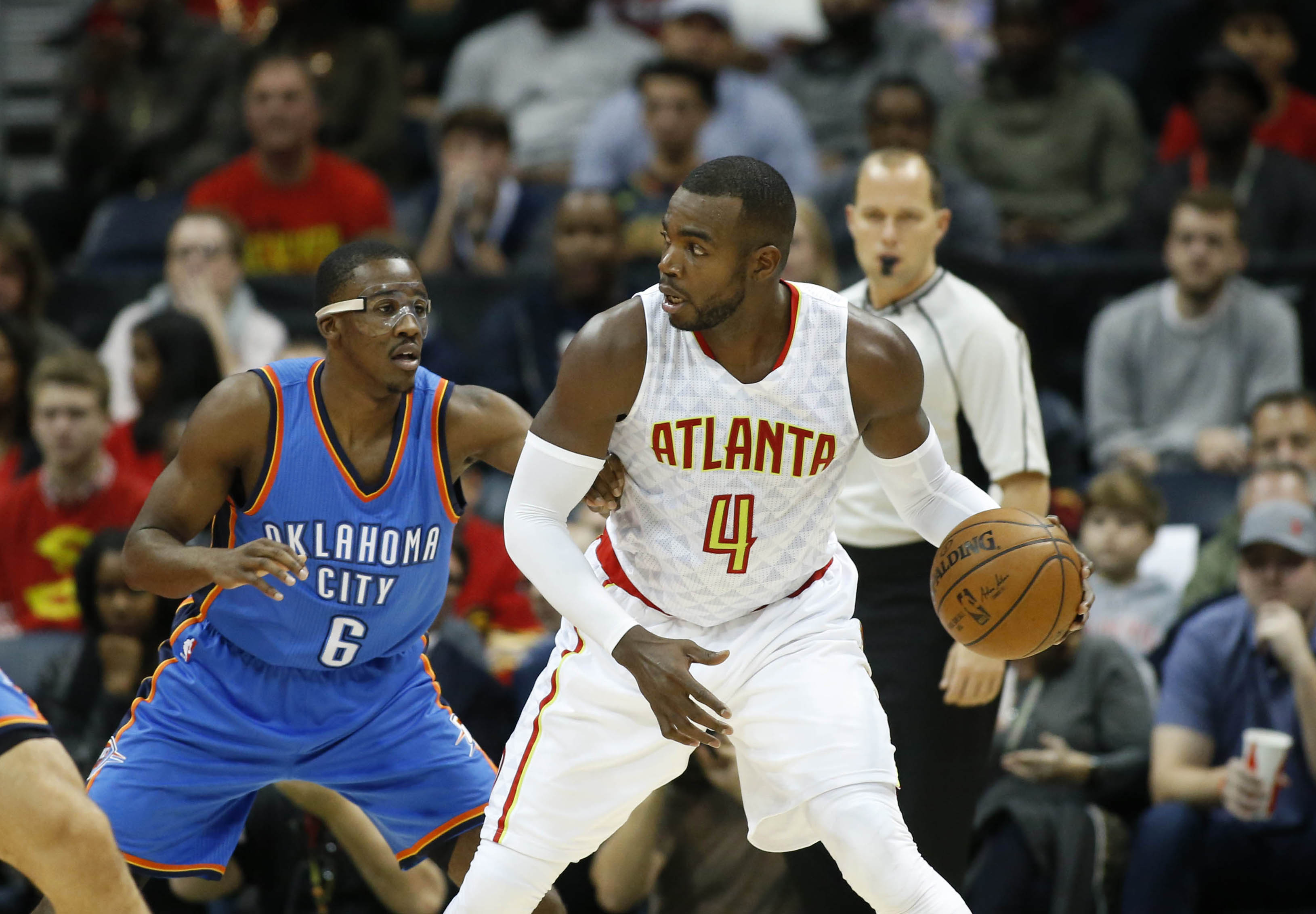 3. Paul Millsap, PF, Atlanta Hawks
You'd be hard-pressed to find a player as underrated as Paul Millsap is on a yearly basis. His numbers have taken a slight dip this season, but he's still a favorite of most basketball nerds.
Millsap's raw numbers are impressive enough. He's averaging 18 a game, to go with eight boards and four assists. Not many power forwards are putting up numbers as well-rounded as that. Although he's never been a great three-point shooter, his shot is still good enough to warrant respect. He makes threes at a 33 percent rate, and averages over one per contest.
Where you can really see Millsap's brilliance is through his advanced stats. Last season, he finished the season with the NBA's 13th-highest Win Shares (metric for number of wins contributed by a player), ahead of guys like Paul George, Jimmy Butler and Damian Lilliard.
This year, his Win Shares rank 44th in the league, which is still impressive. His Value Over Replacement Player (a stat for how much better a player is than a replacement-level guy, like a D-League call-up) is 27th. That's higher than two other stud power forwards in Kevin Love and Blake Griffin. So yeah, basically, Millsap is really freaking good.
One downside to going after Millsap, however, is his age; he's about to turn 32. But if you were to look for a guy to be a stopgap at the four until the team could find a long-term solution, he's the perfect candidate. Millsap's good enough to fit on any roster, and I get giddy at the notion of him tossing lobs like this to Whiteside.
Imagine the role Johnson currently plays for the Heat, and pretend he could also efficiently score 18 every night. That's who Millsap is. Supremely talented and a great option for Miami.
2. Gordon Hayward, SF, Utah Jazz
The first few players I mentioned are all power forwards. With good reason too; that's by far the team's biggest need. Though some may suggest looking toward the draft for a four, this class is deep everywhere but in big men (because, of course).
Regardless, that's not the only area where the Heat require an upgrade. The team is also in desperate need of a wing player who can score. Winslow is not that guy, and won't be for the foreseeable future.
Also, it's starting to seem like Richardson's plateau is that of a 3-and-D specialist (which is perfectly fine, those still aren't that easy to find). And Waiters is a one-year plug-in at the 2-guard. Which leaves Miami still searching for a guy with the ability to score 20+ a night from the perimeter, aside from Dragic.
The best one available through free agency this summer is Gordon Hayward. The six-year veteran out of Butler is currently enjoying his best season as a pro. He's averaging 22 points, to go with five rebounds and six assists per game. Hayward is a 39 percent three-point shooter, and 87 percent from the line.
He currently ranks 15th in the NBA in Win Shares, despite having missed the first few weeks of the season with a dislocated finger. He's been the total package for Utah, and is starting to prove himself as one of the best wing players in the league.
Hayward is exactly what Miami needs to solve their scoring woes. If Riley manages to add a player like Fultz through the draft, to go with Hayward, and his current core? That would be a grand slam offseason. Fultz-Dragic-Hayward-Winslow-and-Whiteside is good enough to fight for a top four seed in the East. And possibly more.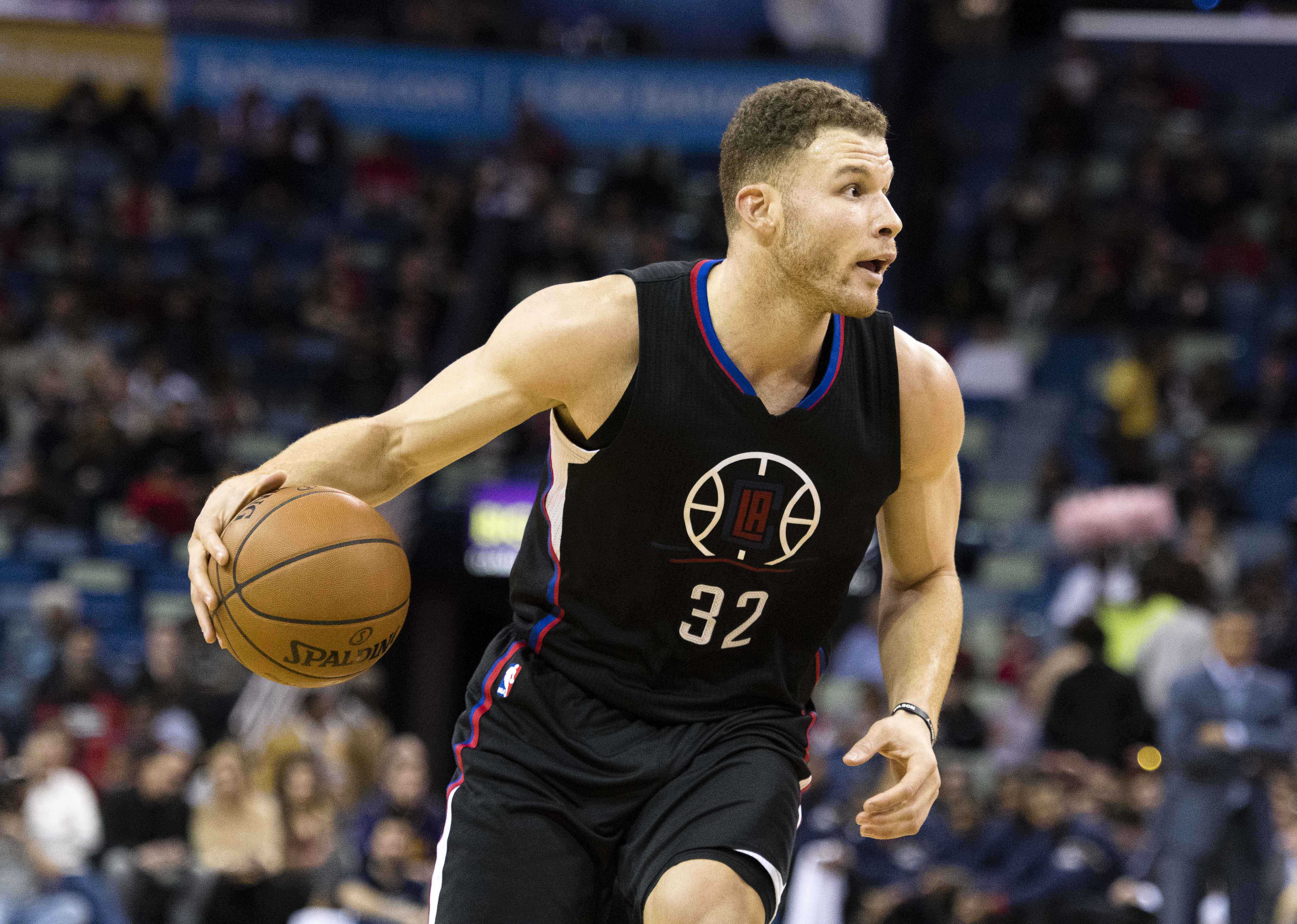 1. Blake Griffin, PF, L.A. Clippers
The best player available for Miami to go after considering talent and team need is Blake Griffin. If it weren't for the way Griffin's last season ended (suspension and injury), and how this season has gone (just injury), this list would have simply been me thinking up five different ways for Riley to woo him instead.
Unfortunately, Griffin has had his fair share of injury troubles, both early on in his career and more recently. After a fast start to the season, both by the Clippers and their power forward, Griffin was forced to go through arthroscopic knee surgery to, "clean up loose bodies in his knee." To a layman like me, that doesn't sound good.
Considering all that's happened with Bosh, one has to wonder whether Riley would even want to get himself into another situation involving a player who struggles to stay healthy. Griffin, though, is good enough to chance it.
Before going down, he was averaging 21 points, to go with nine boards and five assists. He's not a three-point shooter whatsoever, so it's alright to question how he would fit alongside Whiteside. But the fact that Griffin is familiar with making a similar situation work with DeAndre Jordan, a player often likened to Whiteside, that makes this potential fit all the more enticing. Let's not forget, the Heat also have coach Spoelstra, who's great at tailoring his offenses to match his personnel.
What we have to ask next is: would Griffin ever seriously consider leaving the Clippers? I don't think he has much of a choice. Los Angeles is probably one more playoff failure away from blowing the whole thing up anyways. And who would be there, looking through the wreckage, seeking out the scraps he could turn into his own treasures? You can guess who.
This article originally appeared on