5 free agent signings NBA teams are already regretting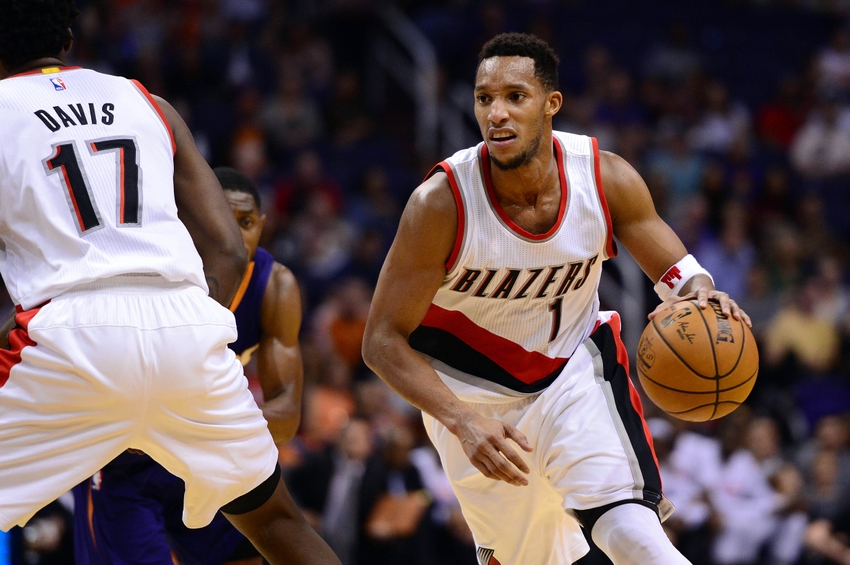 Most NBA teams are about ten games into the 2016-2017 season, but there are some free agent signings teams are already doubting.
NBA teams use free agency to help them bolster holes on their roster. Talented players have many suitors and bidding among teams drive up contract prices to risky levels.
This offseason saw record amounts of money spent, and not all of those deals will work out. It's an inevitable result of free agency and happens to teams annually. The result is being stuck overpaying players for years, which can impair franchises. Though the season is young, there are five players teams probably already regret offering this summer.
Though the season is young, there are five players teams probably already regret offering this summer.
5. Evan Turner – Portland Trail Blazers
Contract: Four years, 70 million
Evan Turner was the second pick in the 2010 NBA Draft to the Philadelphia 76ers and was ultimately deemed a bust by the end of his rookie contract. Though he has become average to good in almost all aspects of the game, his outside shooting is poor.
Coach Brad Stevens put Turner in a position to succeed in Boston, utilizing him as a versatile ball handler off the bench. Trail Blazers General Manager Neil Olshey gambled that Turner's skills would translate well to the Northwest and brought him in as his high-profile addition this summer.
Why this contract is already regrettable
Trouble began for Evan Turner in Portland right away, as Maurice Harkless outplayed him during the preseason and earned the starting small forward role. And while that was a red flag, it didn't necessarily mean that the Turner signing was doomed. Theoretically, the Trail Blazers surrounding him with shooting should help bring out the most in his game. His strength as a secondary ball handler and versatile defense makes him a natural for the sixth man in Portland, albeit an expensive one.
Evan Turner has floundered off the Trail Blazers bench so far. His plus minus on the year is -102, which places him 405th out of 405 qualifying players. The gap between him and number 404, Jeff Green, is 12 points. Damian Lillard and C.J. McCollum have been forced to handle more of the scoring load this season as a third playmaker has yet to step up. It was a role Turner was supposed to fill, but he's fallen to the third man off the Trail Blazers bench. He has appeared to have lost the confidence that he had in Boston. Based off of the early returns on this contract, Turner may be a bad decision for Portland.
4. Miles Plumlee – Milwaukee Bucks 
Contract: Four years, 52 million
The Bucks brought Greg Monroe to play center last year and he proved to be best served for a bench role. Miles Plumlee, the oldest and second best of the trio of Plumlee brothers, eventually filled in at center for 14 games and did some of the little things Greg Monroe didn't. He set good screens, rebounded and made lineups work. He was active on defense; his 36.7 percent rim contest percentage was tenth in the league last season according to Nylon Calculus data. It was unclear after the season whether Miles Plumlee was in the Bucks long-term plans.
Why this contract is already regrettable
Miles Plumlee went unsigned for about a month in free agency before eventually re-signing with Milwaukee for four years and 52 million dollars. He has decidedly failed to live up to his contract so far. The Bucks opened the season featuring Plumlee in a starting role like they had experimented with the year prior.
Greg Monroe has been the focus of the Bucks bench units, with the starting unit relying on perimeter playmakers. Miles Plumlee is primarily used on offense as a finisher, so that explains his 7.9 points per 36 minutes. But his 6.1 rebounds per 36 minutes thus far this year is horrendous for a center. He is still an active and mobile defender and may be the Bucks best presence at the rim, but he demonstrates few other NBA skills.
John Henson started over Plumlee in the Bucks last game and it was recently announced that he would remain the starter. It only took eight games for that to happen. Plumlee has shown he is the same player as he was a year ago, and it's hard to blame him for that. It's just hard to justify paying 13 million to play someone 13 minutes per game. Milwaukee is committed to paying the duo of Henson and Plumlee 24 million per year in the next four years and it could hinder their long-term development if they would like to own the future. The Bucks made a poor decision withPlumlee.
3. Brad Beal – Washington Wizards
Contract: Five years, 128 million
Bradley Beal's five-year,128 million dollar contract is the sixth largest contract in the history of the NBA.  The talented23-year-oldd would have drawn a max contract elsewhere in the free market, but this is surely a risk. Since arriving in the NBA, Beal has started 241 of 358 possible games for the Wizards.
Starting 67 percent of your team's games over four years is foreseeable if you went through major injury issues, but Beal is yet to go through a major injury. Since the start of the 2014-2015 season, five of the nine ailments that have prevented Beal from playing have included the word "sore." But his talent is undeniable, and you make gambles on talent.
Why this contract is already regrettable
Things in Washington are bleak so far this offseason. John Wall publicly admitted to tension on the court with Beal and rumors that he wants to leave Washington have only picked up momentum. Offseason signee Ian Mahinmi is yet to play, new coach Scott Brooks hasn't been successful, and the Wizards are 2-7. The team is publicly pointing fingers for failures as frustration builds. Beal started 1-8 from the field then missed most of the Wizards win over the Boston Celtics on November 9. He hasn't played in the week since with what the club has called hamstring soreness.
When Beal has played this year, he has struggled. He has shot under 30 percent from three thus far and is only averaging 15.4 points per game. This is troublesome. He is average at best in most areas of the game and doesn't give much when he isn't scoring efficiently. When the Wizards extended Beal, they expected him to truly emerge as a second franchise player alongside John Wall. Instead, they have just gotten more of what makes him so frustrating.
The Wizards could be left with just Bradley Beal and Kelly Oubre in the future if they aren't careful. Bradley Beal isn't the only problem in Washington, but he hasn't provided any solutions this year either. If the current trajectory of this season continues, then Wizards fans will be in for a rough one.
2. Timofey Mozgov – Los Angeles Lakers
Contract: Four years, 64 million
At 7'1 and 275 pounds, Timofey Mozgov is a physical center who also displays the mobility necessary to be an adequate rim protector and pick and roll finisher. He is also a relatively skilled player; a career 72.9 percent free throw shooter. The Nuggets acquired him from the Knicks in the Carmelo Anthony trade and later dealt him for two first round picks from Lebron's Cavaliers.
He started in the playoffs as the Cavaliers made a run to the 2015 NBA Finals but fell out of favor when Tyronn Lue took over as Cavalier's coach last year. He lost his starting job and played less than 20 minutes per game; culminating in him being inactive entirely when the Cavaliers came back from a 3-1 deficit to beat the Golden State Warriors in game seven of the 2016 NBA Finals.
Why this contract is already regrettable
The Lakers organization knew what they were getting with Mozgov. He has started each of the games he has played in so far this year and played ably for about 20 minutes in those contests. His 7.8 points and 5.1 rebounds per game don't really move the needle for the Lakers, but he provides steady veteran play.
He has done what he has shown he is capable of doing. Coach Luke Walton has the Lakers sitting at a surprising 6-5, playing quality basketball with a mix of youth and veterans.Mozgov is the Lakers' best rim protector and he elevates their team defense when he's on the floor. He plays the role the Lakers ask of him.
Paying Mozgov 16 million dollars this year, for this Lakers team, is defensible. But his level of play will tail off as he advances into his thirties. His presence and his contract may limit the Lakers. Bouncy lineups featuring Julius Randle and Larry Nance Jr. at the 4 and 5 this year have had some success and Mozgov will prevent the Lakers from exploring that.
He isn't the long-term answer at center and his guaranteed 16 million dollar cap hold may be difficult to move. The Lakers will seek to make moves up the Western Conference sooner than later; 33 and 34 old Mozgov being owed 16 million dollars a year will be a hindrance on that. This regrettable contract really isn't the fault of Timofey Mozgov, but rather just one that was doomed from the start.
1. Boban Marjanovic—Detroit  Pistons
Contract: Three years, 21 million
7'3, 290- pound, 27-year-old Boban Marjanovic took NBA Vine by storm when he arrived in San Antonio. The massive Serbian showed a diverse skill set and excelled at finishing on the pick and roll and drawing fouls. Over the offseason, the Detroit Pistons surprised many when they signed Boban Marjanovic away from the Spurs.
Marjanovic had prepared to accept the Spurs near minimum offer, but then the Pistons came calling. They were offering a guaranteed 21 million. According to San Antonio Express-News' Jeff McDonald, the Serbian didn't know if he should take Detroit's money. When he approached coach Gregg Popovich about the Pistons offer, the Spurs coached laughed and said "Get your (butt) out of here. Go. You've got to do that."
Why this contract is already regrettable
Marjanovic hasn't shown that he was worth being added by the Pistons so far. He's only played in five of their eleven games, 30 minutes total. Detroit has paid Marjanovic roughly $853,659 to score 15 points for them. Franchise centerpiece Andre Drummond takes up most minutes as many minutes as possible at center for the Pistons.
Fellow Spurs cast-off Aron Baynes takes up the residual minutes. When Drummond missed Monday's game against the Thunder, Marjanovic only played 12 minutes. The Pistons got their look at Boban Marjanovic, and that look hasn't inspired them to actually play him. Marjanovic probably hasn't lost the skills that made him look like a viable backup big. But the Pistons don't have any rim protection among their forwards and the Serbian can't cover much ground himself. Barring multiple injuries, he probably won't play meaningful minutes for the Pistons.
The franchise is paying between 35 and 37 million for their three centers the next couple of years. It's wholly possible that Boban Marjanovic's contract prevents the Pistons from acquiring talent down the line. He was a gamble for Stan Van Gundy, but he doesn't appear to be a gamble that will pay off.
Too early to call: Jeff Green (Magic: one year, 15 million), Al Jefferson (Pacers: three years, 30 million), Mahinmi (Wizards: four years, 64 million), Chandler Parsons (Grizzlies: four years, 94 million)
This article originally appeared on