5 Bold Predictions For The Toronto Raptors' 2016-17 Season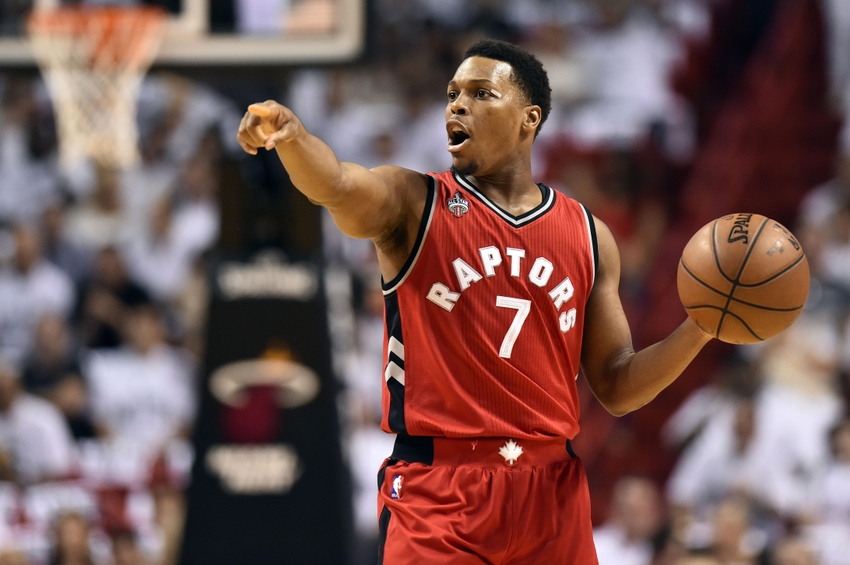 Coming off another impressive season under Dwane Casey, there's a lot to like about this Toronto Raptors team. Will any of these bold predictions come true before the 2016-17 season is over?
Heading into 2016-17, the Toronto Raptors have been burdened with some heavy expectations after coming within one series of the 2016 NBA Finals. Although there's some uncertainty after a big offseason loss, there's no denying this Raptors team is overflowing with talent.
So what can we expect from Toronto this upcoming campaign? No one knows for sure, but I've put together some bold predictions to help keep your hopes high.
Realistically, it's completely feasible for the Raptors to continue their dominant ways. They still have four of their five starters from a year ago, and another year under Dwane Casey likely means more positive progress for the NBA's only Canadian franchise.
Now let's remember that these predictions are meant to be bold. They're meant to push the limits of logic, posing feasible outcomes that may seem unrealistic on the surface. Don't take it too seriously — it's only September and there's still plenty of time before real basketball is even played.
So here they are — my five "bold" predictions for the Raptors' 2016-17 campaign.
Rookie Jakob Poeltl Emerges As Rising Star
This offseason, the Raptors landed Jakob Poeltl in the 2016 NBA Draft. The Utah product was considered by most to be the top center of this year's crop, so expectations are high for the young big man.
I'm predicting he'll live up to those expectations — earlier than the Raptors are anticipating.
Poeltl was a mixed bag during NBA Summer League, putting up impressive numbers in one game and slumping the next. Casey already suggested the rookie could spend some time in the D-League (via the Toronto Sun), but that doesn't mean it'll last long if it even happens.
What makes Poeltl such an intriguing prospect is his size, power in the paint and solid shooting abilities. He was drafted as a potential replacement for Bismack Biyombo, but he's got a long way to go defensively to fill his role effectively. Still, the overall talent and physical tools are there for him to make an impact early and often in 2016-17.
At this point, he's expected to provide depth at center behind Jonas Valanciunas. However, when all is said and done this season, he could force the Lithuanian big man onto the trading block.
Raptors Surprisingly Trade Away Jonas Valanciunas
Speaking of Valanciunas, the Raptors will at least consider a midseason trade this year to give them that extra push towards the playoffs. If that is the case, they could be looking to move a starter at a position with plenty of upside. It just so happens Poeltl will be emerging as a capable starter at center, as previously predicted.
So why not move the former fifth overall pick?
Sure, the Raptors would be giving up a lot by parting with Valanciunas. He's an excellent force in the paint, using a 7'0″ frame to dominate the glass and put up consistent points. We saw the type of damage he can do during the playoffs last year, but there's no denying he's struggled with inconsistency throughout his four-year NBA career.
If Poeltl shines early on, Toronto could choose to sell high and get big value for Valanciunas. Especially with a dearth of outstanding big men out there, you better believe a team desperate for size would put together an intriguing package for Valanciunas.
Would this be a risky move for the Raptors? Absolutely. However, as we've seen, general manager Masai Uruji knows how to build a great roster and knows what's best for this team. If the right offer crosses his desk, don't be surprised to see him send Valanciunas packing.
Jared Sullinger Earns First All-Star Appearance
Up to this point in his career, Sullinger has been more hype than production. The former top recruit and first-round pick has the skill set to be a star, but still has a lot of potential left to be unlocked heading into 2016-17.
Maybe this change of scenery will help him get a little closer to his ceiling?
I'm banking on it, as I'm predicting he'll earn his first trip to the All-Star game. He's got an outstanding supporting cast in Toronto, and a coaching staff that appears invested in making the most of his talents. It's a great situation for Sullinger to be in.
Especially in another contract year, Sullinger will be looking to prove his worth to the Raptors. He's likely to start at power forward and spend time at center as well, allowing him to flex his versatility. He needs to improve on his efficiency from the field and rebounding totals, but the potential is there for him to flourish.
If Sullinger can keep his weight in check and earn big minutes, we could watch him take a huge step forward. Don't be surprised to see him average a double-double in 2016-17, and earn a trip to his first All-Star game.
Raptors Finish Season With Fourth Seed In East
With the recent rise in the Eastern Conference and the Raptors' relative continuity heading into 2016-17, this season could go in a number of directions.
On one hand, the Raptors could finally put it all together in Dwane Casey's sixth season at the helm. They've improved every year since he took over as the head coach, so why not do the same this season?
On the other hand, Toronto didn't make any major improvements this offseason. Some would even say they took a small step back with the departure of Biyombo via free agency. So it's easy to understand how someone would come to the conclusion that they could stumble a bit.
That's exactly what I'm doing here.
While I don't think they'll be in any danger of missing the playoffs, I doubt they make it two years in a row as the East's second seed. They'll definitely be a team worth taking seriously, but some hiccups throughout the year will land them in the middle of the pack come postseason time.
Don't worry, though…
Raptors Earn Trip To NBA Finals, But Lose
Even after falling to the No. 4 seed, this Raptors squad is still a serious contender in 2016-17. Even with some regular season struggles, the NBA Finals are a realistic destination for this team.
The backcourt duo of Kyle Lowry and DeMar DeRozan is verging on dynamic, while the frontcourt should flourish with a revitalized Sullinger and emerging Poeltl. Finish it off with the 3-and-D talents of DeMarre Carroll, and you've got an excellent starting five.
Their depth isn't the greatest, but it's definitely enough to get them past some of the East's best. That's why I'm predicting they overcome the Cleveland Cavaliers and earn a trip to the 2017 NBA Finals. It's bold, but that's the point.
Unfortunately, I don't think they have enough firepower to overcome the best the West has to offer. Whether that's the Golden State Warriors, San Antonio Spurs or Los Angeles Clippers, the Raptors aren't going to be able to capitalize on the opportunity.
It'll be a disappointing end to their season, but it proves this is still a Toronto team on the rise. Casey and Ujiri have quietly put together an outstanding roster, with some rising stars and dependable veterans. Put simply, the future looks bright for the Raptors.
While it might not culminate in a Larry O'Brien Trophy, it'll be further proof that Toronto deserves your respect.
This article originally appeared on