5 Big-Name Trade Targets For The Los Angeles Lakers In 2016-17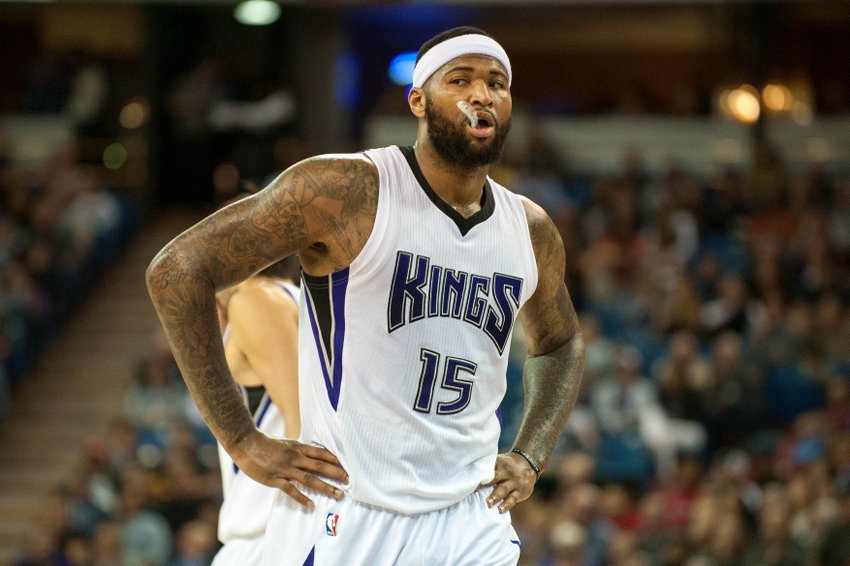 If the Los Angeles Lakers don't believe they have their future face of the franchise already on the roster, they could swing a trade for one of these big-name players in 2016-17.
Let's face it–the Los Angeles Lakers are in a strange situation right now. Kobe Bryant is gone, which leaves them without a proven superstar. There's plenty of young, high-upside talent on the roster, but the Lakers are still waiting for a star to emerge.
If that doesn't happen early in 2016-17, Los Angeles could simply opt to trade for their next star player. While pickings are always slim in the middle of the season, it's not out of the question considering this team's affinity for blockbuster deals.
So who would they trade for in this hypothetical scenario? There are quite a few names out there that could be had for the right price. Unfortunately, the Lakers would likely have to part with at least one top prospect and what few draft picks they have left. It's a risky move for a team that needs all of the building blocks it can get.
Still, in the spirit of speculation, it seems like the right time to take a look at possible trade targets.
So here they are–five big names the Lakers could target via trade during the 2016-17 campaign.
Philadelphia 76ers C Nerlens Noel
At this moment, the 76ers have three starting-caliber centers on the roster. It only makes sense for one of them to get shipped out to make room in the rotation for the other two, right?
Well that's what Philadelphia's been trying to do for the last few months. They were reportedly offering Nerlens Noel, Robert Covington and a handful of draft picks to secure another top draft pick back in June (via ESPN's Marc Stein), but failed to strike a deal. Despite their failure, it's hard to imagine they've lost interest in finding a taker for one of their young big men.
Right now, it seems like Noel is the top option to be sent packing.
The Lakers seem like a realistic landing option for the defensive sensation. Even though they spent big bucks on Timofey Mozgov this offseason, the center position is easily their biggest area of need. Finding a young, high-upside player like Noel to fill the void would be a huge step forward.
Now it would obviously take some serious assets to acquire Noel, and the Lakers are already likely to send their 2017 first-round pick to the 76ers. Still, if finding a dominant presence in the paint is the goal, bringing Noel to Los Angeles would be a way of achieving it.
Philadelphia 76ers C Jahlil Okafor
If the Lakers can't convince the 76ers to give up Noel, maybe they can swing a deal for Jahlil Okafor? There was supposed to have been mutual interest between Okafor and LA leading up to the 2015 NBA Draft, but the Lakers went with D'Angelo Russell instead.
While it's debatable that Okafor has more upside than Noel, he also has more baggage. The former No. 3 overall pick has dealt with off-the-court issues since entering the NBA–most notably a video surfaced of him getting into a fight with a Boston fan after a night out (via TMZ).
Now playing in Los Angeles wouldn't be the best idea for a young, immature player, but the Lakers would benefit from Okafor's presence. He's obviously more talented than Mozgov, and would help provide an offensive spark down low.
One lineup can only have so many young stars, so I'd be hesitant with this trade. If it were to happen, though, he could spend time learning behind Mozgov. It might actually be a best-case scenario for Okafor, who still has a lot of growing up to do.
The only reason I think the Lakers would gamble on Okafor is he'd cost less than Noel, but still provide similar upside. Maybe playing under a coach like Luke Walton would put the Duke product on the right path.
Denver Nuggets PF Kenneth Faried
I know this one is off the wall, but hear me out.
The NBA is currently trending towards small ball, focusing on athleticism and tenacity instead of power and size. The Lakers already have plenty of athleticism on the roster, but adding another playmaker down low wouldn't be the worst idea.
That's where a player like Kenneth Faried comes into play.
Now Faried has had an up-and-down career since the Nuggets made him a first-round pick in 2011. While he's slowly developed his offensive game, inconsistency has soured Denver on him as their star player. A change of scenery is likely, and could present an intriguing opportunity for the Lakers.
Los Angeles already has two young power forwards in Julius Randle and Larry Nance Jr., both former first round picks. However, neither has the experience or motor of Faried, once lovably nicknamed the Manimal. Even if the Nuggets don't see much of a need for him, the Lakers might.
Walton is a big fan of tough, hard-working players down low a la Draymond Green. Faried is in a similar mold, making up for his lack of size with hustle and athleticism. If he starts to miss Green, he could find a suitable replacement in Faried.
And seeing Denver's eagerness to move on from the Manimal, the Lakers wouldn't have to fork over too much to get him.
Chicago Bulls SG Jimmy Butler
On draft night, the Bulls made a big effort to trade for guard Kris Dunn — using Jimmy Butler as a trade chip. While that didn't come to fruition, it's not crazy to think Chicago could still be interested in parting with Butler.
It also happens that the Lakers have a couple of exciting young guards of their own who could pique the Bulls' interest. Los Angeles may not be willing to part with Russell, but Jordan Clarkson could be an option if Chicago sees enough upside in the former second-round pick.
Either way, it's an intriguing option for the Lakers if they truly are set on acquiring a superstar.
You can believe trading for Butler would bring a ton of excitement to the Los Angeles faithful. He's proven to be an elite scorer for the Bulls, allowing the team to pawn Derrick Rose off on the New York Knicks this offseason. Butler has all the makings of the face of a franchise, but Chicago doesn't appear interested in him being the face of their franchise.
If they could get him in a trade involving Jordan Clarkson and a future draft pick, the Lakers would be glad to make him the new face of the franchise. I don't think it's very likely, but crazier things have happened.
Sacramento Kings C DeMarcus Cousins
Over the last couple of years, we've routinely seen DeMarcus Cousins caught up in the rumor mill. Every time he has a bad game or throws a temper tantrum, reports surface the Kings are looking to trade him. While the team has recently stated otherwise, that could change at any moment.
So why couldn't the Lakers swoop in and solve Sacramento's problem for them?
As you've probably figured out by now, I don't think Mozgov is the solution at center. They may be paying him a boatload of money, but he's an average starter at best. If this team is going to contend in the near future, they need a dominant big man who can lock down the key.
Cousins is obviously capable of doing that on a nightly basis. He's also an excellent asset on offense, which the Lakers can always use more of. That's why finding a way to bring Boogie to SoCal makes plenty of sense.
While Los Angeles isn't exactly a better place for Cousins to chase a title, he'd have way more opportunities to build his brand with the Lakers. He'd immediately take over as the face of one of the NBA's most storied franchises. What more could a young center in need of an image adjustment ask for?
Who knows how much the Kings would want in return, if they were even willing to listen to offers. However, if they were, I'm sure the Lakers could convince them to part ways with Cousins by packaging some picks with one of their top young players.
It would be a very risky move, but one that could expedite the rebuilding process in Los Angeles.
This article originally appeared on