5 best players in Boston Celtics history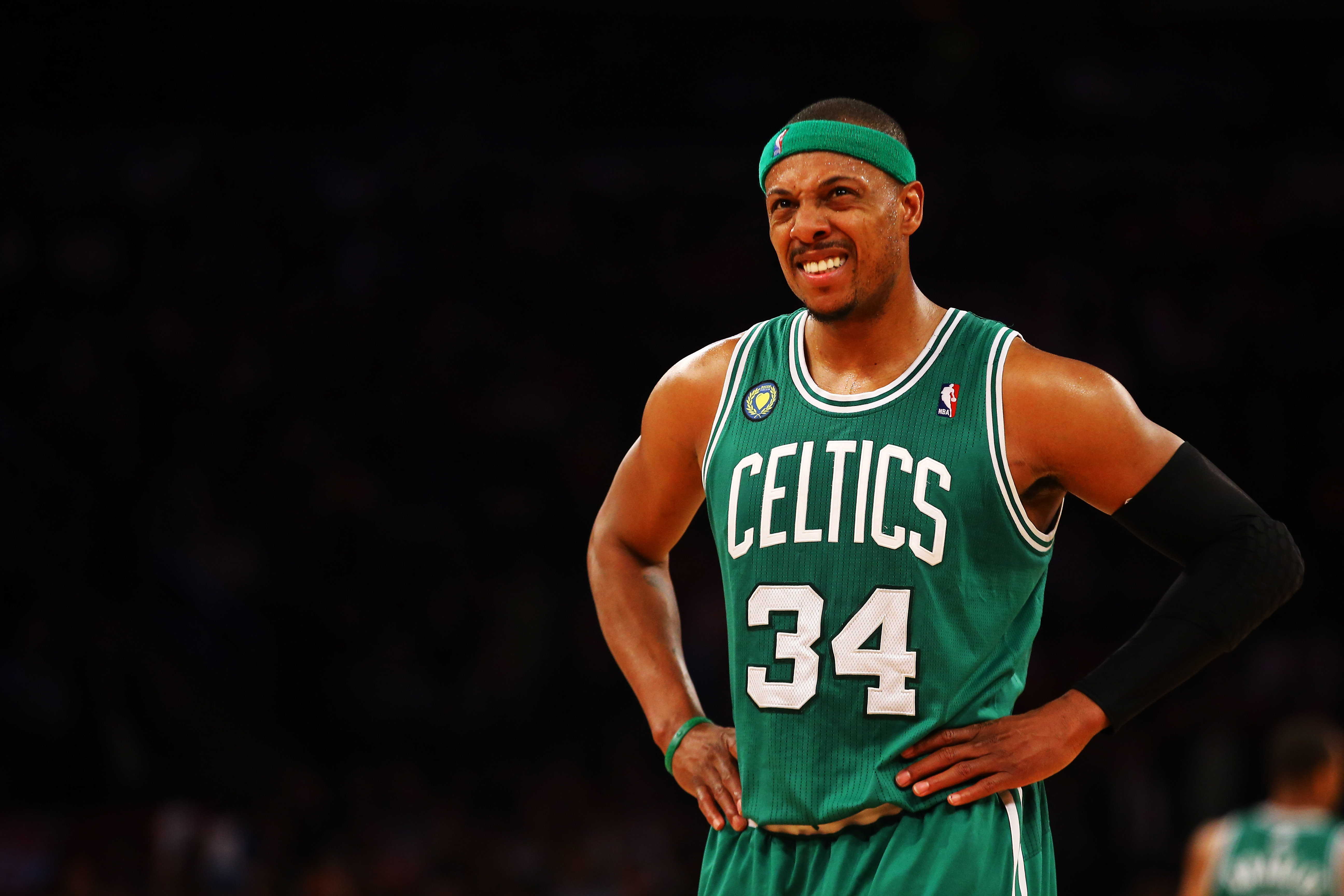 With Paul Pierce entering his final NBA season, here are the five best players in Boston Celtics history.
Paul Pierce will spend his final NBA season with the Los Angeles Clippers, but he will always be best-known as a member of the Boston Celtics. He has already gone public with a plan to officially retire as a Celtic after the 2016-17 season, and Pierce will then formally end a likely Hall of Fame career where it began.
Pierce has a place as one of the best, and perhaps most-underrated, players of his era. He is one of the best players in the storied history of the Celtics too, which is a high accomplishment all on its own with the Pro Basketball Hall of Fame littered with Celtic green.
Pierce's legacy as a player will only be only slightly diminished by his end as an aging role player, with the Brooklyn Nets, Washington Wizards and now with the Clippers. But where does he rank among all-time Celtics' greats?
5. Paul Pierce
Pierce is second in Celtics' history in points (24,021). He's also top-10 in franchise history in steals, assists, field goals made and attempted, three-pointers made and attempted, free throws made and attempted, offensive rebounds, player efficiency rating and win shares. Given the lengthy, often successful history of the franchise, Pierce's list of individual accomplishments is noteworthy.
But where Pierce suffers in comparison to the others on this list is championships. The Celtics made two NBA Finals during his time with the team, winning one in 2008 when he, Kevin Garnett and Ray Allen formed the first "Big Three" of the last decade or so.
Pierce's longevity, playing 15 of what will ultimately be 19 NBA seasons as a Celtic, places him firmly alongside the others on this list. But rings are the thing compared to those other greats, and Pierce falls short there through no fault of his own.
4. Kevin McHale
McHale started less than half his games as a Celtic (400 of 971), but he is still fifth in franchise history in points (17,335), second in offensive rebounds (2,358) and field goal percentage (.554).
McHale was a key figure in the re-establishment of the Celtics-Lakers rivalry in the 1980s. His notable clothesline of Lakers' forward Kurt Rambis during the 1984 NBA Finals, which would have definitely drawn a substantial suspension if it happened today, helped set the tone for Finals matchups that would occur later between the two teams.
The Celtics won three titles during McHale's time with the team, in 1981, 1984 and 1986. He was a seven-time All-Star, a two-time NBA Sixth Man of the Year and he earned All-NBA Defensive Team honors six times (first team three times, second team three times).
McHale was part of one of the greatest front courts in NBA history, with Larry Bird and Robert Parish, and he was the one of the three that had to accept a bench role for most of his career. That team-first attitude is not often found today, since starting status carries cache regardless of actual playing time.
McHale didn't physically look the part of a great player, with arms that looked too long even on a 6-foot-10 inch frame. But his ability to score in the post was virtually unrivaled during his career, and the big men of today could take some lessons.
3. John Havlicek
"Hondo" is the Celtics' all-time leading scorer with 26,395 points, and he has also played the most games (1,270) in franchise history. He helped define the sixth-man role we've come to know now, and his list of accomplishments is long.
Havlicek was part of eight Celtics' championship squads, with team going 8-0 in those final series. He was an 13-time All-Star over 16 seasons (1963-1978) and an eight-time NBA All-Defensive team selection (first team five times, second team three times).
Havlicek's name doesn't quickly come to mind when thinking of the NBA's all-time greats, and there's probably a strong argument that I have him too low on this list. Long-time teammate Bill Russell once called Havlicek the best all-around player he ever saw, which is obviously high praise and says it all.
Havlicek's all-around skill set, and ability to function as a shooting guard and small forward, would fit well in today's increasingly position-less NBA game that demands multi-faceted skills from all five players on the floor. Even though it's usually a fruitless exercise to compare across eras, since things constantly change, I'm comfortable saying Havlicek would be a great player today too.
2. Bill Russell
Russell's big man rivalry with Wilt Chamberlain in the 1960's was absolutely unequaled for a long time in the NBA. While he was not nearly as prolific scorer as Chamberlain, Russell was an unrivaled rebounder (22.5 per game for his career) and a great defensive player while winning 11 NBA titles in his 13 seasons as a Boston Celtic.
Russell became a player/coach for the Celtics for three seasons when Red Auerbach decided to retire, helping lead the team to the final two titles of his career (1968 and 1969) while "coaching" many of the his legendary teammates. Russell would go on to coach the Seattle Supersonics for four seasons (1973-1977), with two playoff appearances, and the Sacramento Kings for one campaign (1987-88) with a 17-41 record.
Russell's legacy is obviously and clearly as a Celtic. Today, at 82 years old, he's an ambassador for the franchise and a landmark legend for NBA history as a whole. If there could be co-No.1s on this list, and maybe there can be, Russell would be one of the two.
1. Larry Bird
"The Hick From French Lick", "Larry Legend"…however you want to refer to Bird, he's my No. 1 on this list of great Celtics.
He entered the NBA in 1979, and immediately led the Celtics to a 32-win improvement over the previous season. His 1979 NCAA Championship Game rivalry with Earvin "Magic" Johnson carried virtually seamlessly into the pros, as the two were central figures in the Celtics-Lakers rivalry throughout the 1980's that helped revive the league on and off the floor.
A lingering back issue shortened Bird's career a bit, but he is the Celtics' all-time leader in points per game (24.3) along with being third in total points (21,791), third in assists (5,695) and fourth in total rebounds (8,974) in franchise history.
Bird was a three-time Three-Point Shootout champion at All-Star Weekend, with six seasons among the top-10 in the league in makes from beyond the arc. He was also a remarkably proficient free-throw shooter, with a career regular season rate of 88.6 from the foul line.
Bird made the most of what outwardly looked like limited physical gifts by being fundamentally prolific while filling the stat sheet, and he was an underrated trash talker that could back it up. The ultimate compliment to a past player is how modern advanced statistics regard him, and Bird ranks highly all-time by virtually all those measures.
This article originally appeared on